Vastness territory where nature is omnipresent, Québec represents a world of discoveries. During our road trip in the province, we focused on this wild natural side of the region, which led us to explore several national parks.
Quebec national parks are grouped under the name "SEPAQ", literally "Société des Établissements de Plein Air du Québec", administered by the Quebec government, although some of these parks are part of the Canadian national parks network. Only three parks in Quebec are given the appellation of "Parks Canada".
With over twenty destinations located throughout Quebec, according to the organisation's official website, these parks list more than "6,995 km² of protected areas".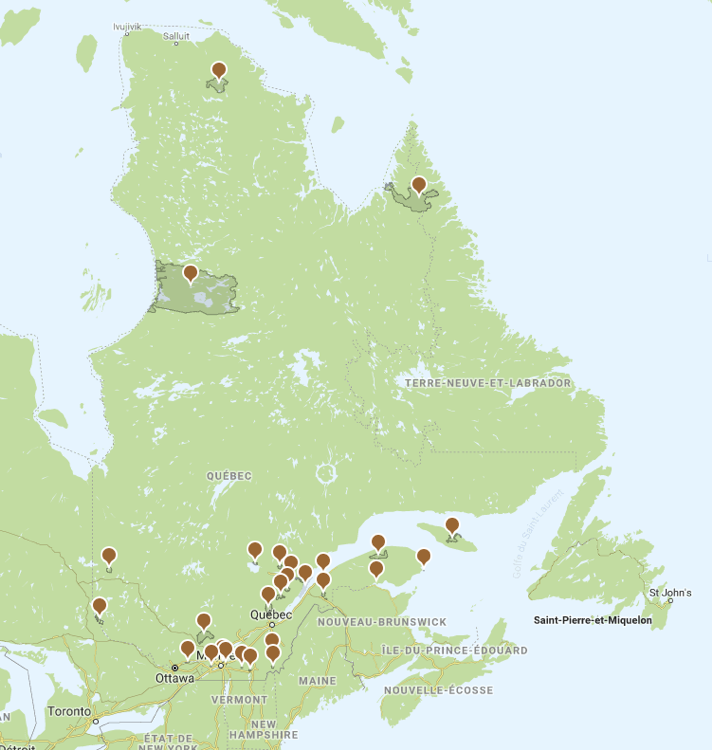 We took the opportunity to explore six of them to discover their fauna and flora. Whether hiking, canoeing or driving, we loved to venture into these incredibly rich places where nature is utterly authentic. Each park has its own particularities, and I'm going to write about a particular one for this article.
However, before starting, two small clarifications should be given.
Firstly, what is a national park?
Here are the terms used by SEPAQ:
« A national park is an area representative of a natural region and whose vocation is to preserve natural and cultural heritage. The ecosystems thus protected from logging, mining, and hydroelectric exploitation can develop according to their natural processes for the benefit of future generations.
A national park also must make the territory accessible so that everyone can discover the natural and cultural resources it protects. Discovery programs and low-impact activities, such as hiking, canoeing and camping, are the preferred means of discovering these areas.
The national park concept is everywhere in the world, and Québec is no exception. The actual network meets all of the international standards defined by the International Union for Conservation of Nature (IUCN). In this context, Québec's national parks are managed to maintain the balance between the conservation of natural and cultural heritage and public access.
The concept of a national park is present all over the world and Quebec is not to be outdone since its national park system meets all the international standards defined by the International Union for Conservation of Nature (WCU). In this context, Quebec's national parks are managed to maintain a balance between the conservation of natural and cultural heritage and public accessibility. »
A speech that shows the desire to be attached to these places where only nature matters. If you are interested in their projects or actions, you can visit their website www.sepaq.com.

Also, each national park is subject to a daily fee. Many parks offer seasonal passes, and SEPAQ offers a full pass for 67.70 CAD, about 50 CHF, which allows entry to all the national parks they regulate.
As we were not going to exceed this amount, we chose to pay for the entrance to the parks individually. We chose to, especially, never spend the night in one of them, since this logically increases the admission fees. Of course, camping sites, bungalows or even typical chalets are available in all national parks, but it is mainly travellers who stay several days in the parks who sleep in these places.
Now that we have some overall explanations, I'm going to write about my favourite national park. So let me introduce you to :
La Mauricie National Park
As soon as we set foot on the Canadian territory and rented a car, we took the road directly, after 7 hours by plane, to La Mauricie National Park, which was the first stop on our road trip. It took us about two hours from Montreal airport to reach the town of Saint-Mathieu-du-Parc, where we spent two nights exploring the park. This location is one of the park's gateways, but above all, it is the closest place to the hike we had planned to do.
INFORMATION:
La Mauricie National Park, which was created in 1970, is one of those administered by the Canadian government, so it does not appear on the map above. Located in the region of the same name, it covers nearly 536 km² and offers a concentration of Canadian nature and its authentic heritage.
It is full of coniferous forests but especially of lakes! I must say, I've never seen so many in such a short time. Indeed, more than 1,000 lakes of all sizes are scattered in the Mauricie area.
GETTING THERE :
This park is located in the heart of Quebec, halfway between Montreal (200 km) and Quebec City (190 km). The most efficient way to get there is by car since the park is not served by public transportation.
DAILY RATE:
Adult 7,80 $
Senior (65 years and more) 6,80 $
Young (17 years and under) Free in 2018
Family 15,70 $
ACTIVITIES:
This national park is full of all kinds of activities! There is something for everyone: swimming, hiking, fishing, kayaking, and many more activities. In any case, it is impossible to get bored and you can spend a whole week there without having had enough adventure.
Our host advised us to do the most famous hike in the park, the Waber Falls one: 9.2 km by canoe (round trip) and 7 km by walk (round trip). That's a lot to just see waterfalls, but we wanted to surpass ourselves and they are catalogued among the prettiest in Quebec. Besides, I had never been in a canoe before.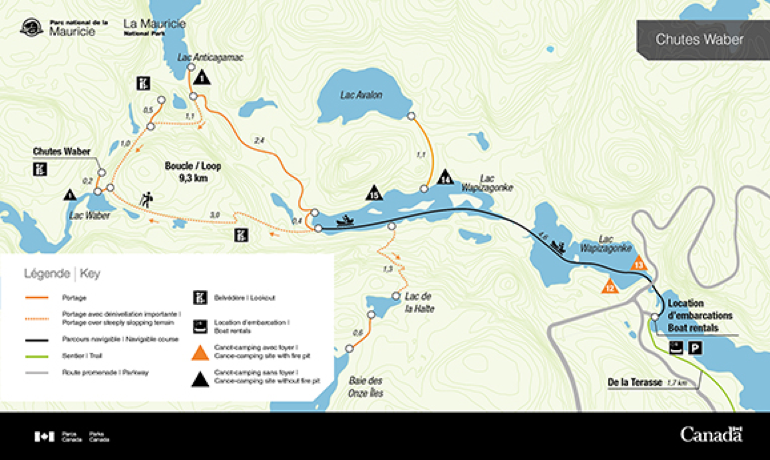 We started this adventure by renting a canoe for the day at the Wapizagonke Lake picnic area. Having never been in a canoe before, I really didn't know what I was getting into…
Before renting the canoe, a short questionnaire was proposed by the concessionaires in order to learn more about our level. We answered almost all the questions by deduction except the last one, which was: "Have you ever sailed (canoe, kayak, etc.)?" When we clicked on "no" and the term wrong answer appeared on the screen, I thought we wouldn't be able to rent a boat. Well, that was not the case! After paying $55 (renting or some activities in the parks are somewhat expensive), we started our 5 hours adventure in the park.
In the canoe, we discovered life jackets and oars. After being equipped, we found ourselves a little confused next to our canoe, since we didn't really know how to handle this boat. After a few moments of observing the people around us, we literally threw ourselves into the water.
I must admit that the only fear I had was to capsize, not for myself but for my camera, even though it was well protected in my waterproof bag (so not many pictures will be taken during the time in the canoe).
So, canoeing is a pretty nice activity, no previous experience is required and we were getting our bearings. After crossing a bridge, we entered basin number 3 of Wapizagonke Lake where a vast expanse of water opened up for us, an impressive sight.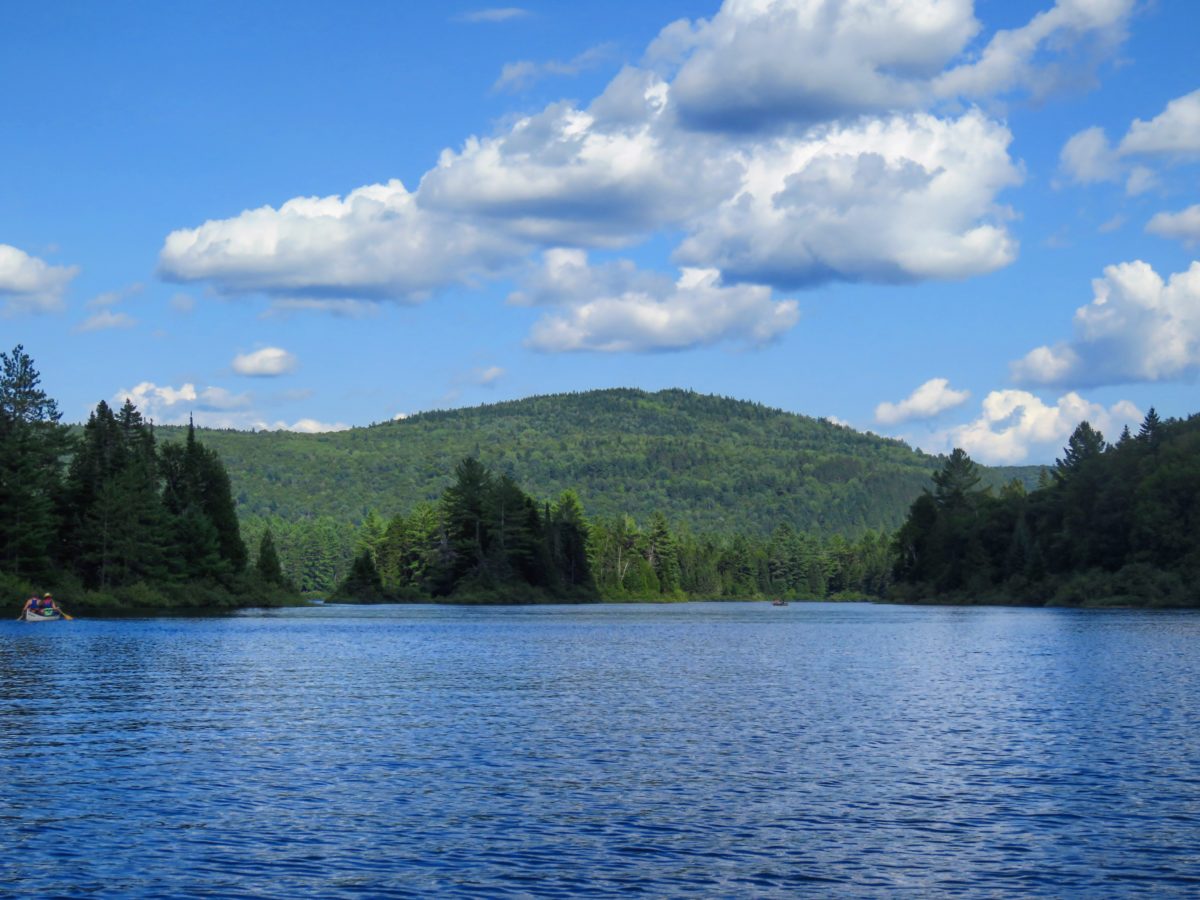 We found ourselves in the middle of a typically Canadian landscape! As the water was mirroring, it allows the reflection of the surrounding forests. While observing this magnificent landscape and paddling with enthusiasm, I was, at that moment, completely delighted to be canoeing. The return wouldn't be so idyllic.
However, after about half an hour in the canoe, it was necessary to pass some old beaver dams, in other words get off the canoe, soak our feet in the muddy water and carry the canoe. Exhaustion guaranteed when you are not used to it. After that, it took us about half an hour by canoe to reach the starting point of the hike.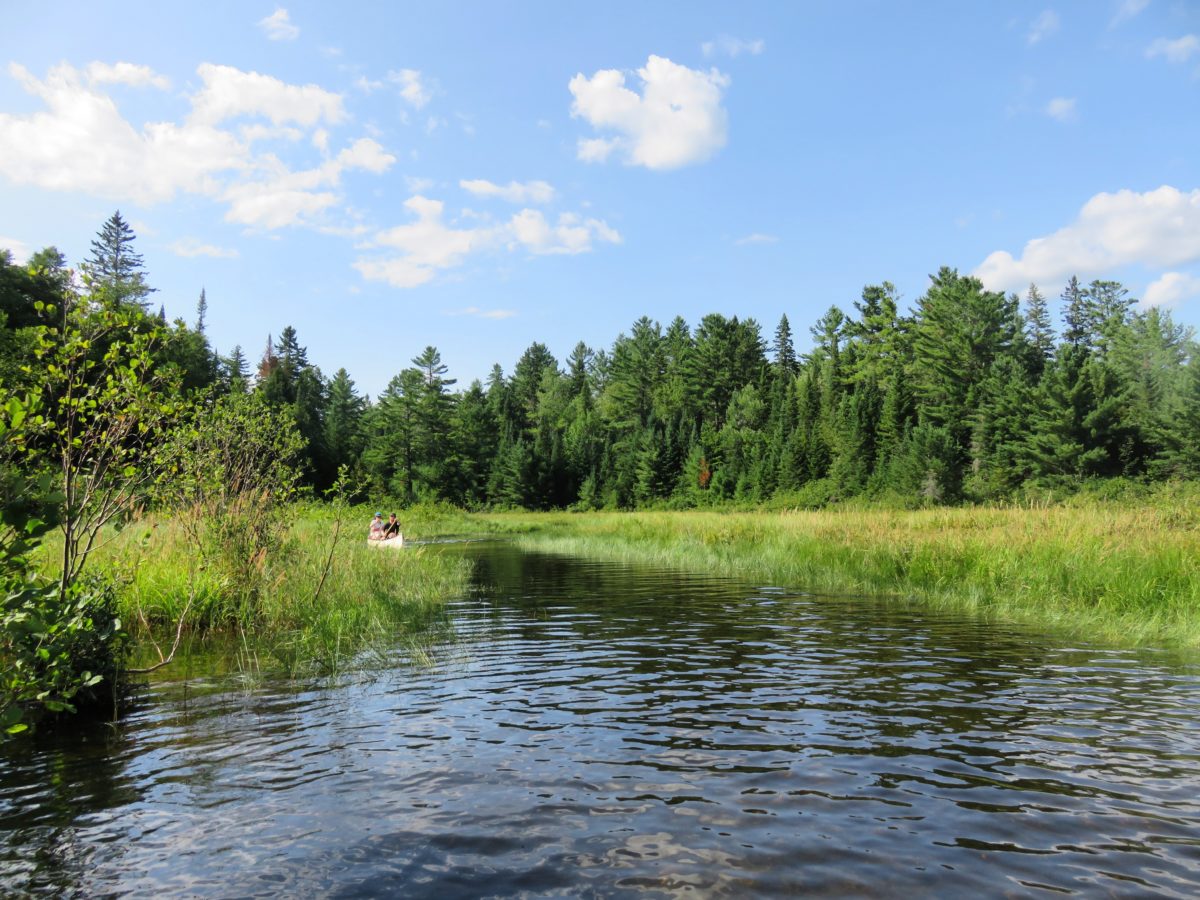 After an hour of hiking on a semi-developed trail through Canada's conifers and without meeting any animals that didn't look like squirrels or birds, we finally heard the sound of the water flowing, gently at first, then after taking a wooden stair ramp, above the racket.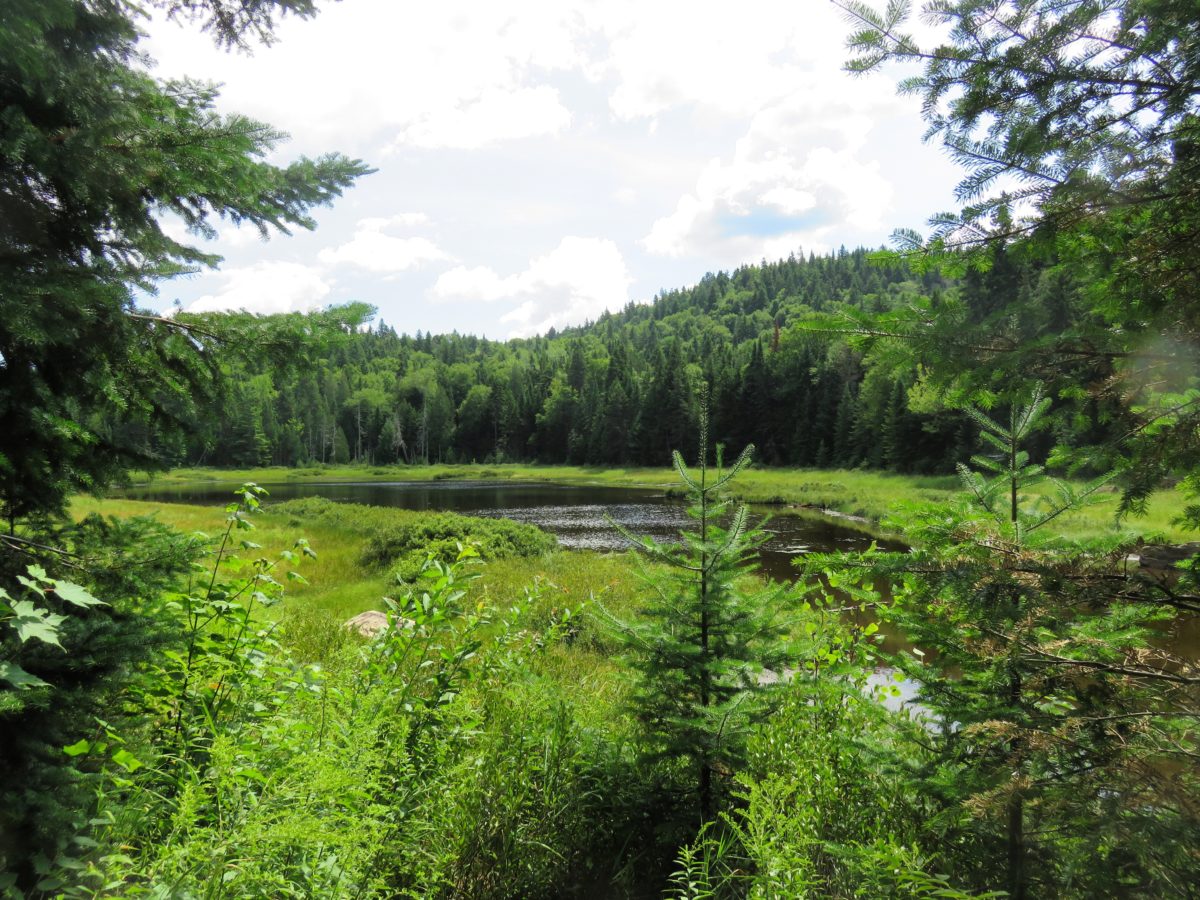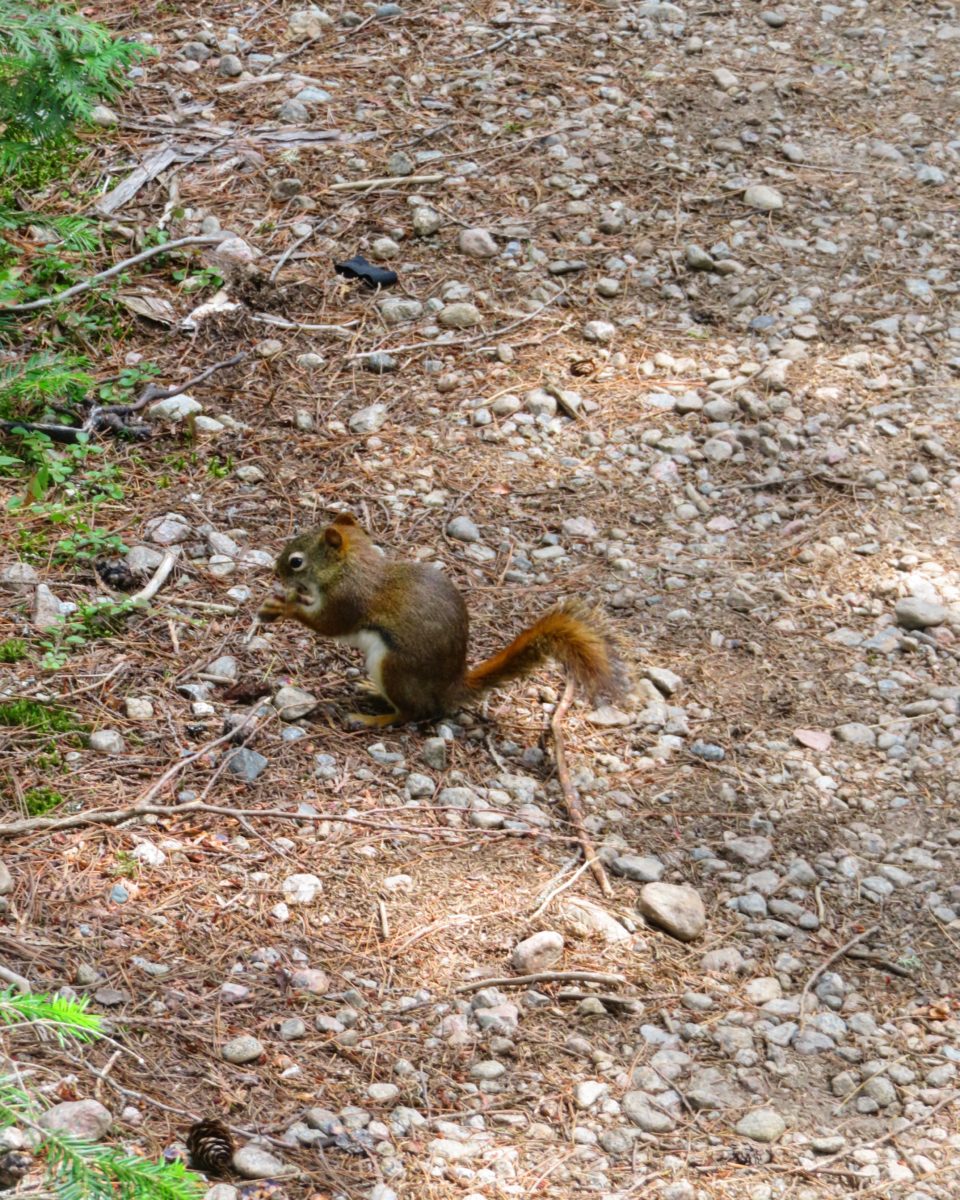 The Waber Falls are quite small but the natural effect is present and allows you to soak up this pretty place for a picnic around noon. It is a very popular excursion in the park, we were clearly not the only ones enjoying this beautiful Quebec jewel.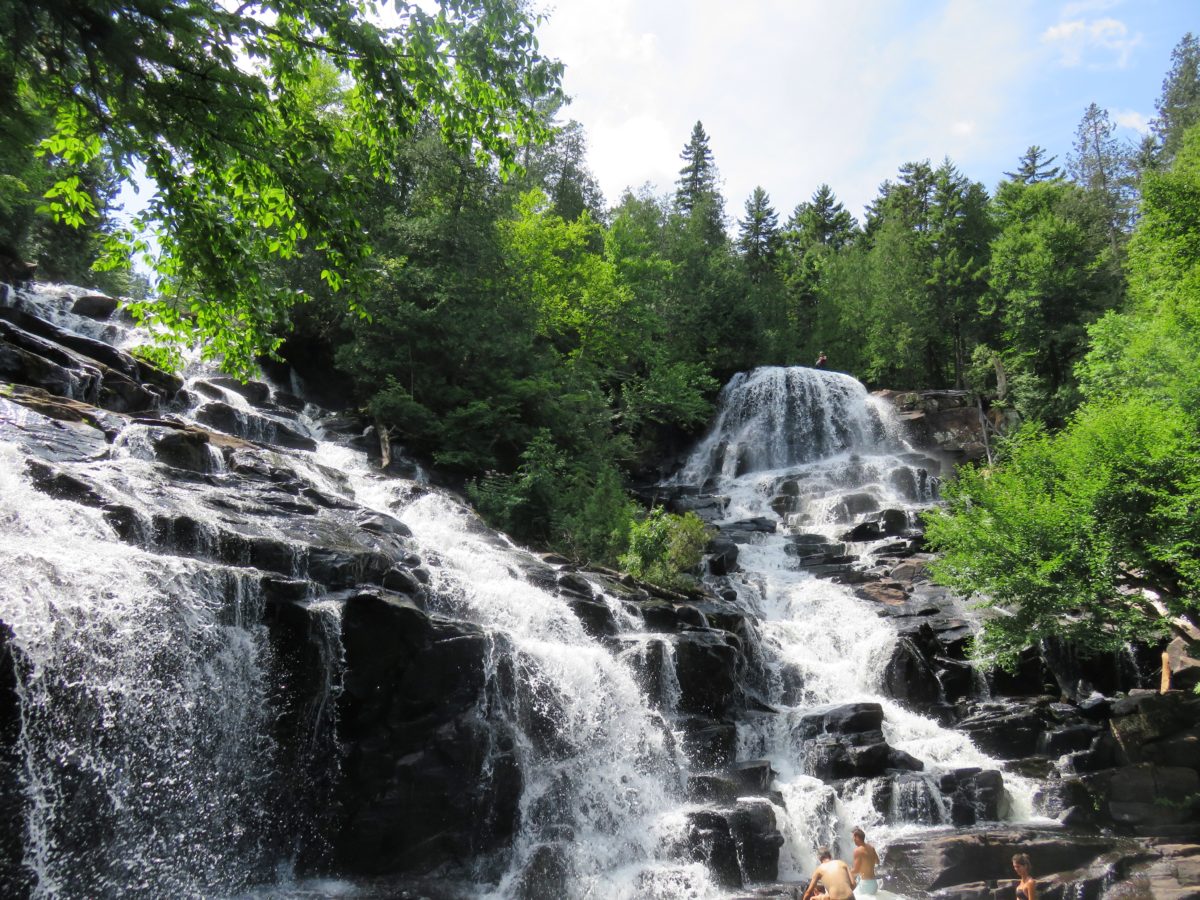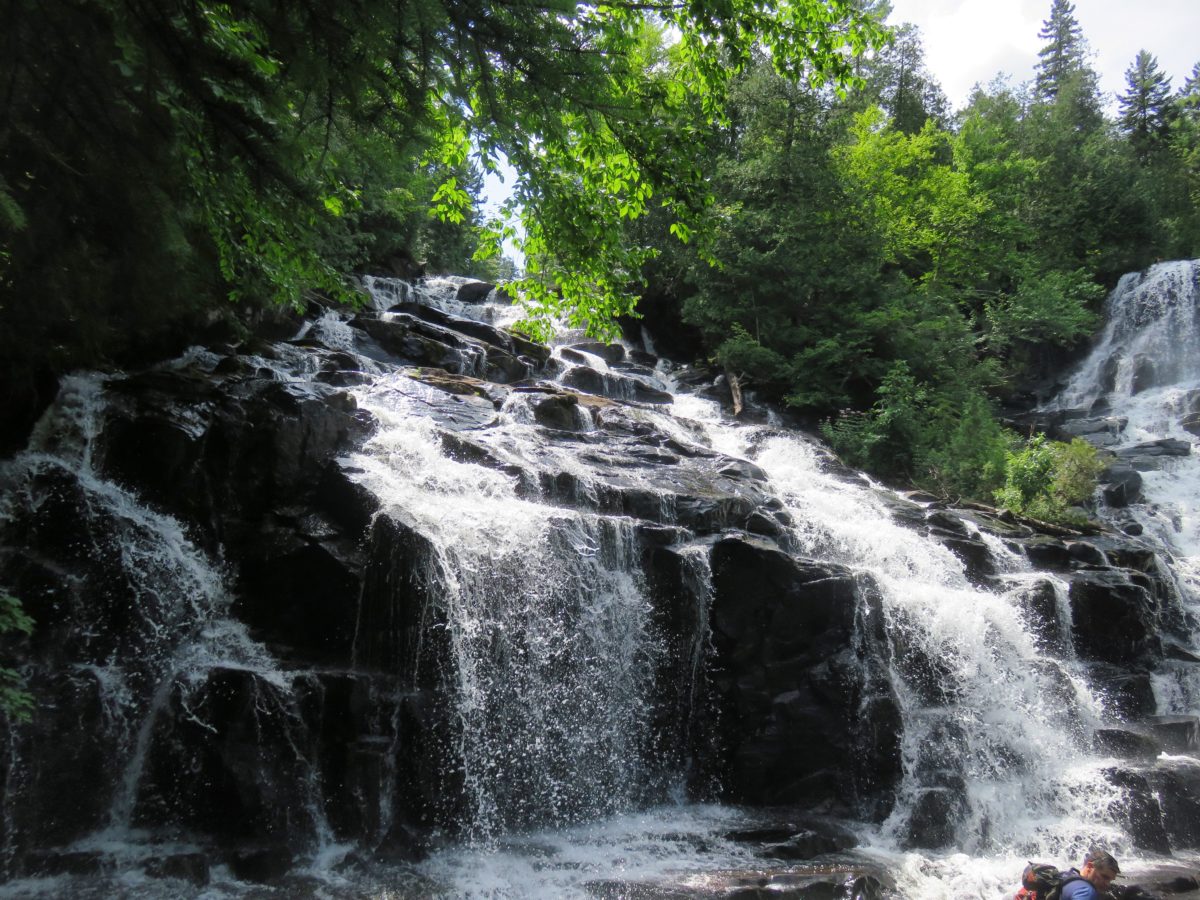 We left with a lighthearted step after having recharged our strength thanks to the lunch prepared by our kind host, however the tiredness was gradually starting to be felt and add to that our bodies still a little bit under the jet lag, the return was not restful and I was clearly less happy to paddle for an hour.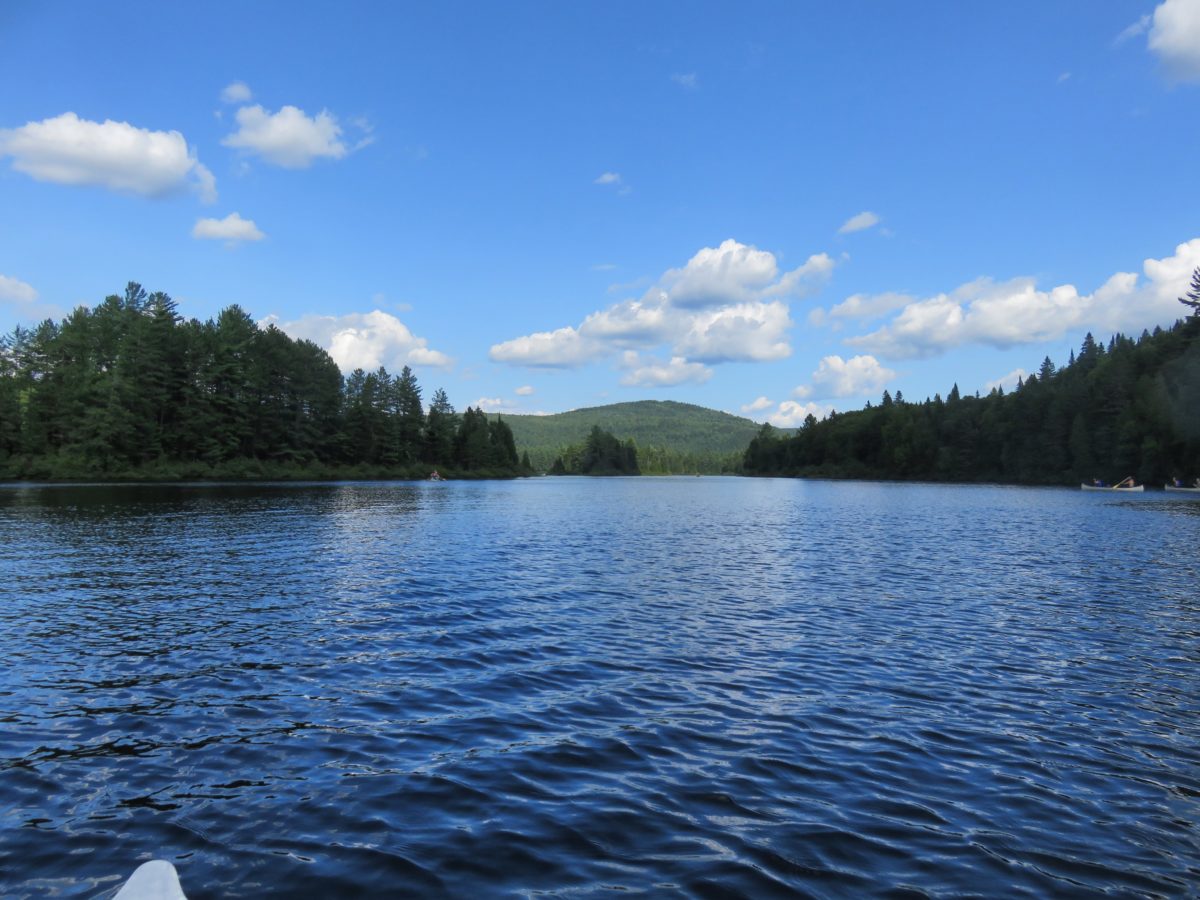 Despite a return a little more difficult, this escapade in the Mauricie Park will remain one of my best moments in Quebec.
We left by taking the only paved road in the park that offers wonderful views on the park and the lakes. We did not venture further than Wapizagonke Lake, being too tired and dreaming only of a good shower. However, if you continue on this road, magnificent panoramas of lakes, forests or cliffs are revealed to the visitors.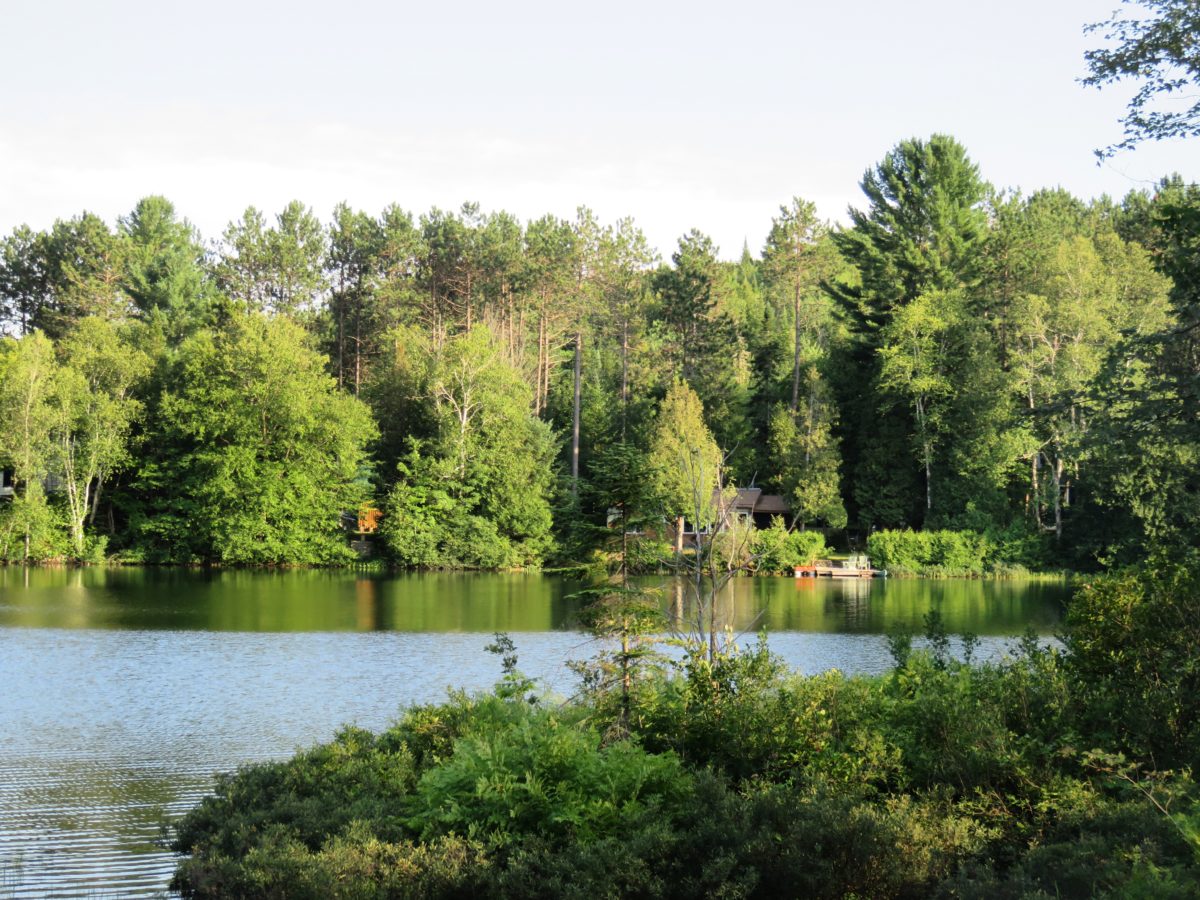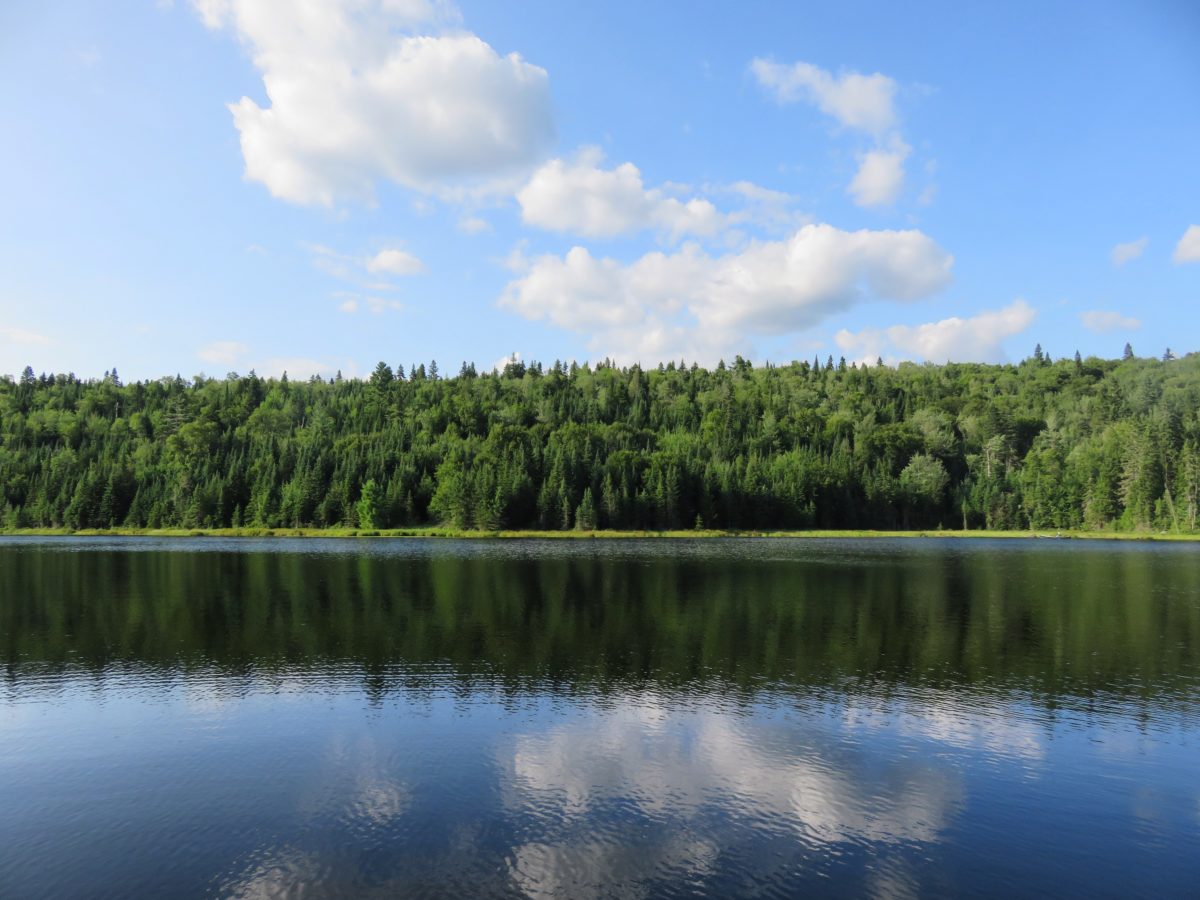 "Stars" of the park:
Several animals have made Mauricie National Park their home. However, the best way to observe them in the wild is to be attentive and perceive them in the early morning or late afternoon. Many behaviours are to be adopted if you encounter any, but rest assured, everything is explained in the official park guide given at the reception desk.
This park is particularly famous for its bears, Canada geese, red foxes and even wolves. Moreover, about ten activities with naturalists are proposed to discover them.
And then, stay on your toes, since another predator is prowling around La Mauricie National Park… The mosquito! And this Canadian "bibitte" (little beast in Quebec) is very stubborn even when we are covered with mosquito repellents!
ACCOMMODATION:
We spent our two nights at Suzanne's who runs guest houses with her family. Through Airbnb, these cottages are very welcoming and allow us to meet people, our first Quebecers (cultural shock guaranteed but only nice encounters). In addition, the family also has a charming bistro where the food is delicious and the atmosphere is authentic.