During our trip, Sri Lanka brought us many memories and experiences. It was my first time in Asia, and it was a great discovery!
As with every country, there are comments, clichés and stereotypes, but it is my own impressions that count in the end. In this article, you will find some things that struck me about the pearl of India.
A BIT OF HISTORY BY WAY OF INTRODUCTION
The country has been undergoing a tourist and economic rediscovery in recent years as a result of many upheavals, which is why travellers did not venture to this beautiful island in the Indian Ocean.
Thus, the country is undergoing profound changes following the civil war that pitted the Sri Lankan government, led by the Sinhalese Buddhist majority and aided by India, against the movement of the Liberation Tigers of Tamil Eelam (LTTE), a Tamil separatist organisation and placed by some countries on the official list of terrorist organisations.
For 26 years, from 1983 to 2009, this conflict initiated for various reasons (independence of the Tamils in the north of the island, questioning of different religions, a government that was only Sinhalese, etc.) caused many deaths (the figures are between 80,000 and 100,000). With the end of the war, following the death of the historical leader of the LTTE, these two communities now live together, without clashes, but the final reconciliation does not yet seem to be planned for this decade.
RELIGIONS
Several ethnic groups share the territory! The origin of these communities can be traced back to their religion. There are nearly 70% Buddhists, mostly Sinhalese, 13% Hindus, the religion of the Tamils, 10% Muslims and finally Christians with 7% of the population.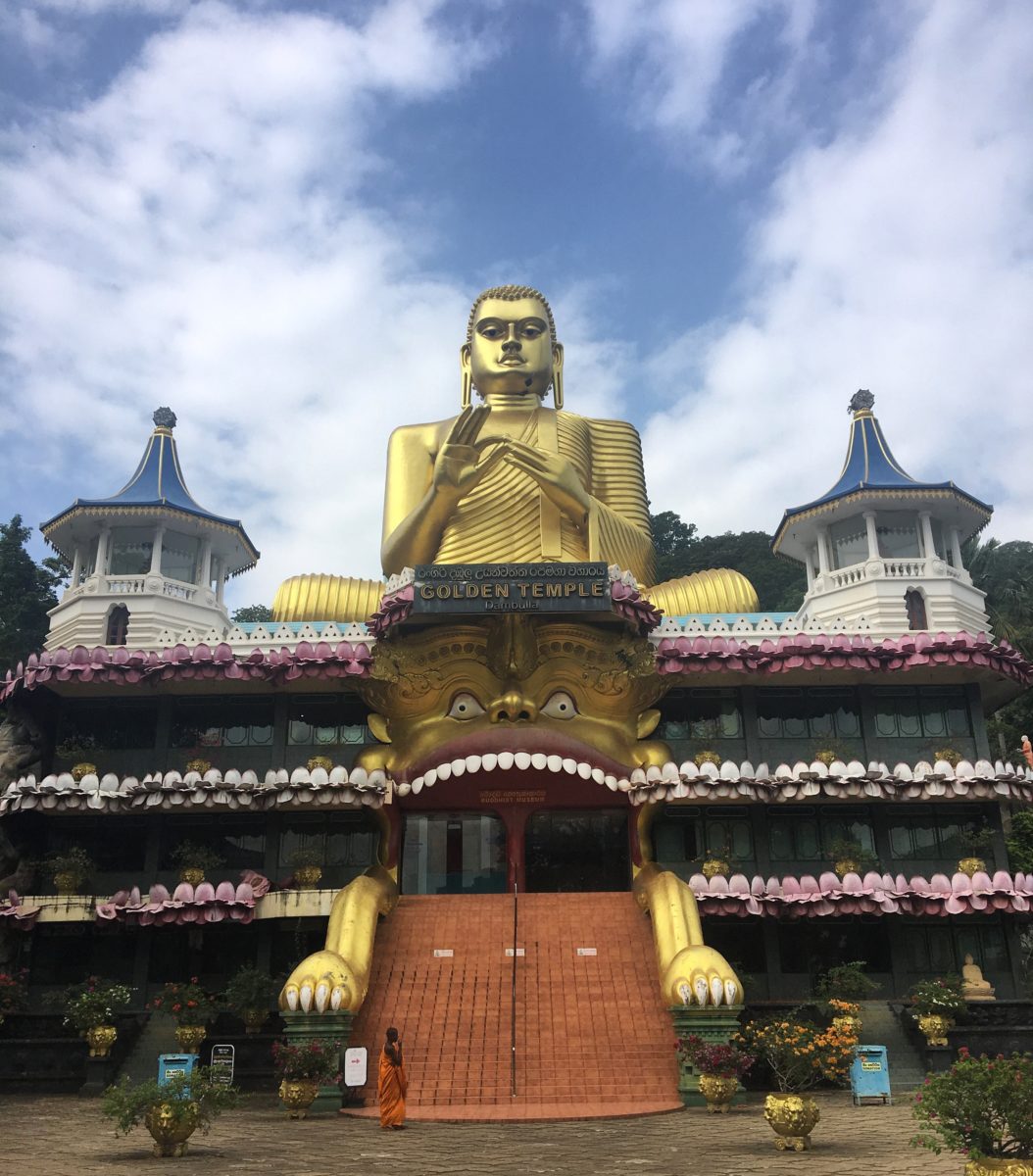 From the history of the country, I was surprised, when I was learning about the country before the trip and from my friends' reports, to discover that all religious communities live together in a so-called real tolerance of each other's faith. I found this somewhat utopian, but I thought that they had learned from their "mistakes" of the civil war and that they wanted to calm the country down and restore it to its pre-war glory. Naturally, in this kind of conflict, religion is an aspect used politically, it is a means to turn people against each other and not an end in a war. Everything is political…
During our stay, and from the statements of our driver, I felt that indeed they respect each other and live in peace. Some places are inhabited mainly by one religion (mostly Muslim villages), but they all live together without any problems.
However, as we didn't pass through the main cities of the country, Colombo and Kandy, we had access to this idyllic idea through the image of the countryside, which is much calmer than the cities where the current situation has deteriorated in recent years. Indeed, since mid-2017, the reality is less enchanting in these centres, with growing discrimination against the country's Muslim community, following numerous clashes between Buddhists and Muslims. And then, Easter 2019 was a nightmare for this country! The attack on the Christian and tourist population of the island was claimed by the Islamic State, a group that instrumentalizes the Islamic religion. Despite this atrocious event, I hope with all my heart that the country will be able to recover just as it did in 2009, so that the inhabitants as well as the tourists will feel safe to discover its wonders.
For Sri Lankans, it is difficult not to have a religion, they are believers and it is important for them, whatever their attachment, to have faith. We also had difficulty in making our driver, who is Buddhist, understand that we are atheists out of personal opinion. He absolutely wanted to show us all the sacred places in his country, although we were not particularly interested (seeing one by religion was interesting but several, it became repetitive). Believing us Christians, he took us to Nuwara Eliya to admire an Anglican church on purpose and did not understand our explanations for not feeling the faith. He almost blamed our parents for not educating us about it. Whether the faith of our relatives or not, that it was a personal choice was even more mind-boggling to him.
Animals observations
Animals are an integral part of the country and one of the main reasons why Sri Lanka seemed to me to be a nice destination. Whether in the wild or in protection centres, Sri Lanka's wildlife consists of many species.
You can also find here an article on the conditions of elephants. The pachyderm being the flagship attraction of the island, Sri Lanka also abounds in friendly monkeys that you can find everywhere, mainly at archaeological sites!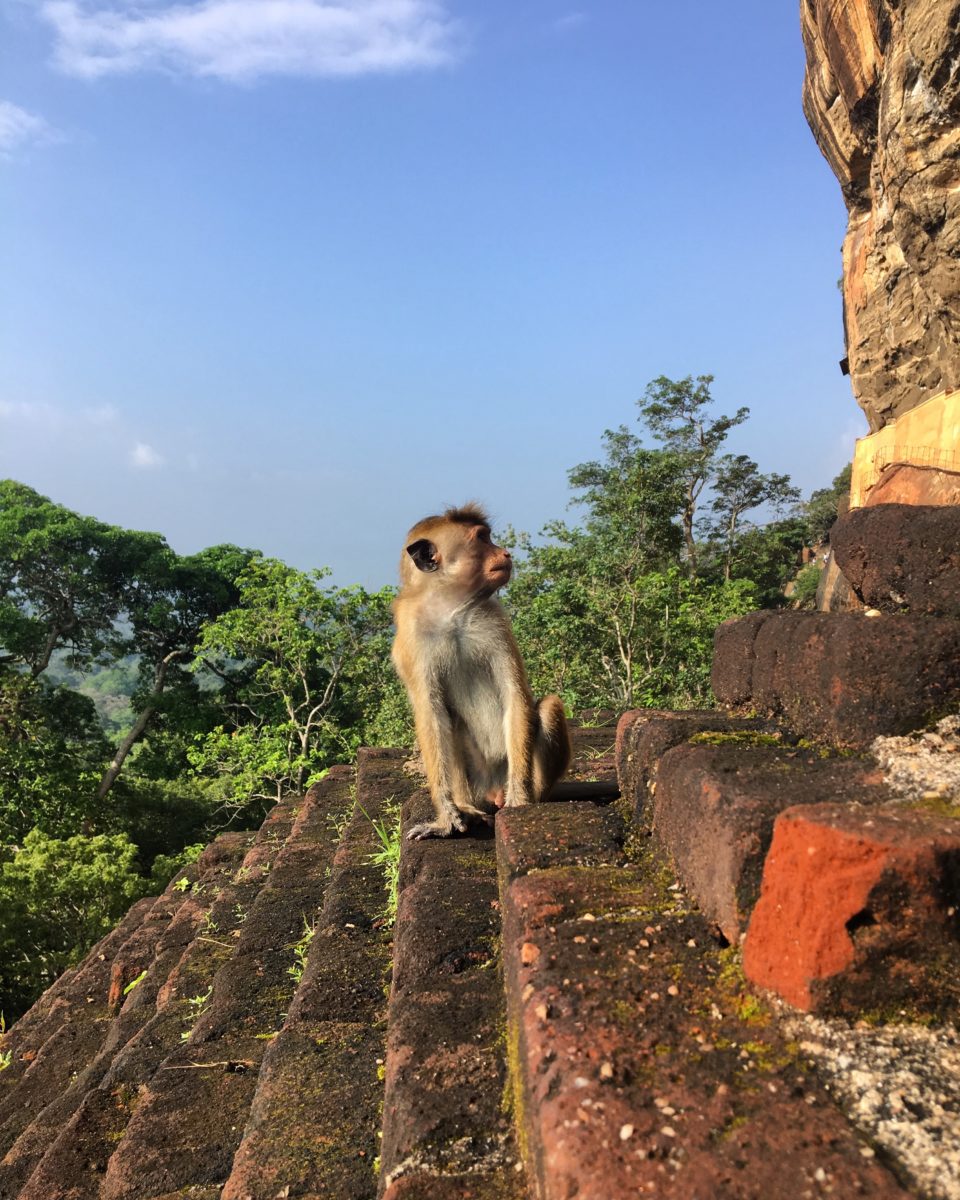 Sri Lanka is also a safari destination where you can observe elephants, many varieties of birds and even three leopards in the Yala Park in more than a dozen parks.
We did not include a visit to one of these parks in our itinerary, which in retrospect could have been a great place to observe. However, we preferred an excursion in the primitive forest of Sinharaja to discover less popular animals (ahh spiders…) and less common on the island. This is an experience that I highly recommend. We undertook this expedition with the Sinharaja Rest guesthouse.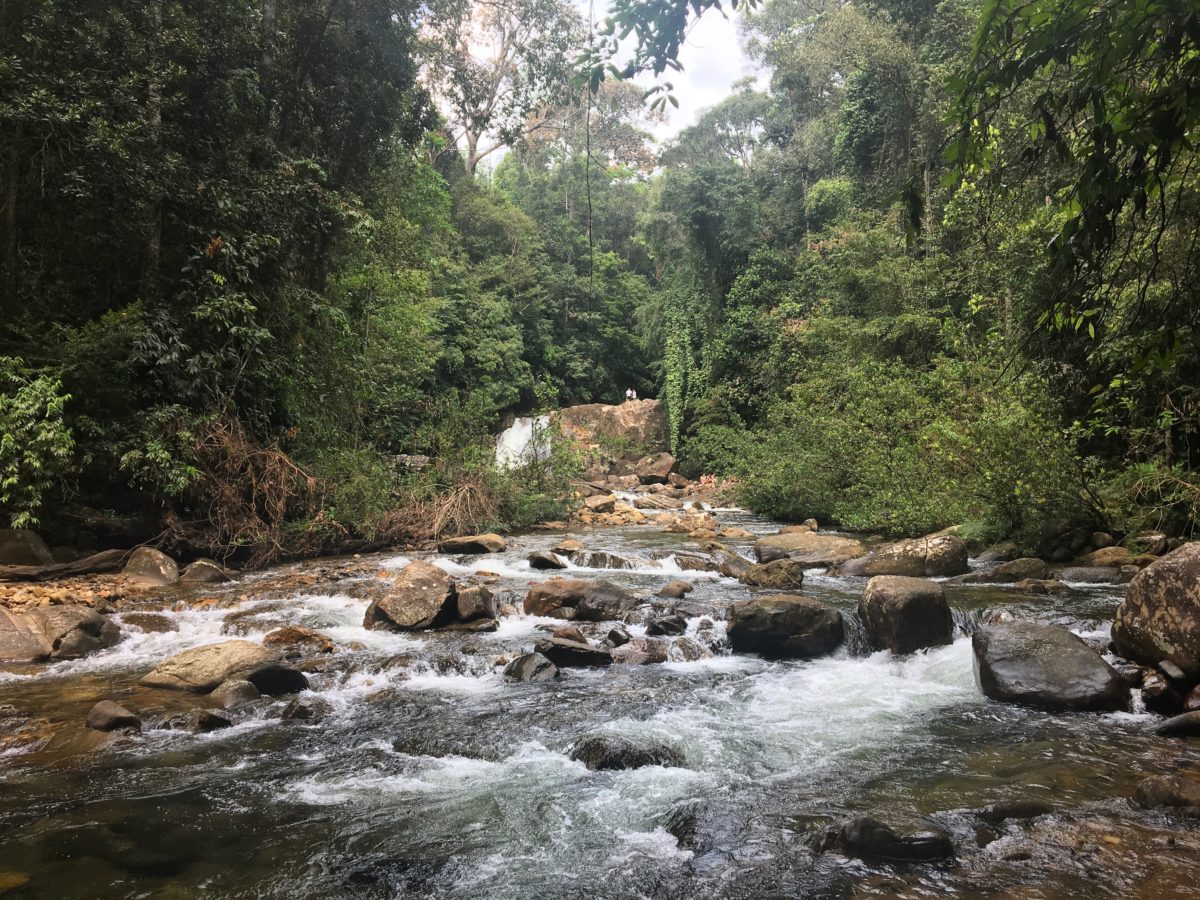 As in many less developed countries, there are also hundreds of stray dogs. Despite my great love for these adorable animals and even though that I had specifically vaccinated myself against rabies, it was difficult for me to cuddle them, probably for fear of being bitten or licked on a wound. Luckily for them, my traveling friend, whose love for dogs is immeasurable and whose fear is non-existent, would go to meet them. Naturally she was paying attention to the signs that the dogs were giving off so that I could then calmly and quietly give them gentle cuddles. The only impression we got from all these encounters with dogs is that they are very much lacking in love and that they are very happy to find someone who plays with them willingly.
A DAILY SCENERY
The day dawns and beautiful music tears the morning away. We vaguely recognize Für Elise, in a more electro version of the musical piece composed by Beethoven. Our driver explains that it is the bakery. As they don't have an official shop to sell the bread, it is in a kind of tuk-tuk, in which the baker wanders to sell his bread buns. The same goes for the fish merchant or the ice-cream seller, which is more usual for us since we have already seen itinerant ice-cream sellers.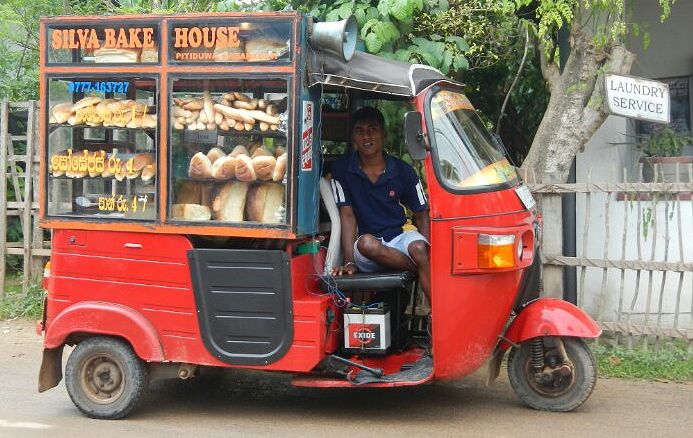 INTERACTIONS WITH SRI LANKANS
While travelling, I often look for human contact with the inhabitants, friendly and inviting to share their culture and their country. A simple smile can make the climate of a place so much more pleasant. So when I travel, I like to observe the views, animals or people around me to imagine their lives, perceive how they dress and style their hair, laugh, eat, etc. I particularly like to look at what they reveal through their eyes. And then, as the poet Georges Rodenbach said so well, "the eyes are a window to the soul".
Naturally, it is my own impressions that are described afterwards, so they are totally subjective.
The first impression we felt was that of the attention of the men who undressed us with their eyes as soon as we set foot on the Sri Lankan territory. It's an intimidating, unsettling, dark and deep look, but at times it's a laughing and sincere look. As a result, it was quite difficult to determine whether the person is honest and was trying to help us or, on the contrary, was judging us or get an eyeful of us.
Undeniably, they are curious. In most hotels, the young grooms would always ask us the same questions, such as where are we from, whether we like Sri Lanka, whether we are married, etc. Although they may have an idea in the back of their minds, I think they have a real interest in talking with us as it is a way to practice their English, to discover and open up to the world!
Speaking of getting married, we had a conversation with our driver that I won't easily forget. Wanting to get to know us a little bit more, he asked us directly if our boyfriends agreed to see us travel away from home without them. Seeing two young women traveling as we did was a premiere for him. We explained to him that we clearly didn't need anyone's permission to tell us what to do. Cutting off the part where we tried to explain our vision of an independent woman, he replied by asking when we were planning to get married. Once again we were a little perplexed by his question and we declared that getting married was not what we envisioned in our future, that we already had to build a stable relationship and above all that we did not see the need to tie the knot while being in a love relationship. I can't describe his face, but almost in a disconcerted reaction, he added: and the children, it's going to happen soon? You would think that at the age of 20, as a woman, we are only inspired by that. We don't need to explain our answer to you to understand that we were totally out of step with the Sri Lankan way of life.
But frankly, we are still laughing at this conversation with him, and overcoming our differences, it has allowed us to ask him questions about their way of seeing family life which is different, of course, according to religions. Afterwards, he was very happy to show us pictures of his family and to explain to us that arranged marriages are not common in Sri Lanka, at least not among Buddhists; that they are free to love whoever they want, although divorce and homosexual couples are not yet properly accepted in their daily lives.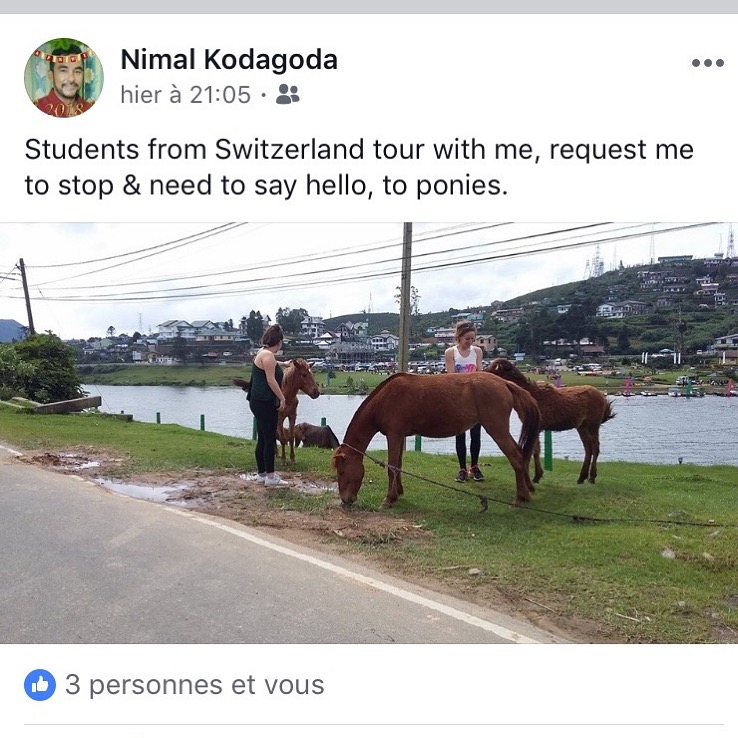 And then he posted us everywhere on social networks! But each time with friendliness.
However, there are also less pretty truths such as the one of a man masturbating on a beach, spying on a French woman we met in Ella or another of our encounters feeling more and more stuck by a man in a public bus that a passenger had to intervene to calm his ardour to see a woman alone. Fortunately, we didn't personally experience this kind of reaction from the locals, although when we took the bus, we had to deal with a suspicious man who stared at us for long minutes that I changed places to get closer to my friend, as the gaze was becoming so intense. Afterwards, he got off the bus, and as we were in the traffic jam at the exit of the bus station in Galle, he continued staring at the bus, which was us, until we were out of his sight. I hope I saw wrong, but I had the impression that his right hand was getting dangerously close to under his sarong, where his manhood was beginning to rise; in the middle of the city!
Moreover, from the bus, if we looked out of the window, from time to time, drivers also made some obscene gestures with their mouth or tongue. These are totally unacceptable behaviours, which made us furious, but never put us in danger.
You can read that I spoke only about men, since in Sri Lanka, obviously, they are everywhere! As for Sri Lankan women, they are very discreet. Despite this, they are rays of sunshine when their faces light up to greet us back after our sincere smiles. In their eyes, I read curiosity or entertainment, gentleness and above all, kindness.
Despite this, some of them suffer or do not realise the social pressure of the country. For example, it will be frowned upon for her to smoke in public, for her family/academic choice or for her wardrobe, if she dresses provocatively or in a more western style. She will only get disapproving looks, probably even outrageous comments. The place of women is almost non-existent, even if they gently dare to express themselves and assert themselves.
Yet things were beginning to move forward in early 2018 when an initiative to combat sexism revoked a 1979 law that prohibited the sale of all alcoholic beverages or working in establishments selling or manufacturing alcohol to women. Hailed by a majority of the population as a sign of openness, the Conservatives had opposed the lifting of the ban, which led to the reform being overturned by the government. Their motivation for the invalidation of this reform was that it would increase women's dependence on alcohol which would destroy their family culture… How dumbfounded I was by what I was reading!
However, especially in the places where we were staying, we met emancipated and attaching women who conformed very well in their role as hostesses while participating more in the tasks of the house than in the management of their businesses/hotels. Besides, I was deeply touched by the matriarch of a family towards Hikkaduwa. We ate in her small restaurant, located by the roadside and far from any civilization but next to our hotel. At first glance, the restaurant did not look like much, but the food was delicious and the service, by a man, efficient. As we were leaving, a smiling woman, out of nowhere, came running up to us to thank us, if I think I understood her signs correctly, for having come to dine in her family restaurant. Although Sri Lankan women are stingy at showing affection in public, this woman took me in her arms and that brief moment upset me. A simple universal gesture that transmits to me her investment, her emotions and her happiness that we came to eat in her restaurant and that we enjoyed. This will remain the highlight of this trip.
It was the first time that I had travelled to a country with such enormous differences between men and women, and seeing this gender gap really challenged me, as a woman and above all in terms of my values, since I really felt it and not just through the diffusion of ideas on television or in books. It should also not be forgotten that what I have observed is also sometimes observed in our society, in Switzerland .
I just wanted to shed some light on the issue of women travelling in Sri Lanka. We met women travellers who were travelling on their own and who didn't take any notice of all this. Personally, I never felt insecure, but being with a friend certainly reinforced this feeling. Moreover, I am well aware of always being careful and not going out at night in remote places.
Sri Lanka has much to offer to those who seize the opportunity to travel there. Tell me about your adventures in this country or elsewhere as commentary, I would be happy to read you.