Alessandra, Swiss girl… Nice to meet you!
Hair in the wind and music in your ears at the window of a crazy bus in Sri Lanka, dancing the tango in Buenos Aires, enjoying la dolce vita, watching a football game in Milan, losing your memory in Prague, eating empanadas in Valparaiso or discovering our beautiful Swiss regions, life is too short and the world so vast to explore.
A billion things come to mind when I think about defining my travels, it whirls around in my head. Trying to put into words what I felt, sharing the little joys that make each trip so different yet so lively, these are the genes of a passionate traveller and an aspiring chronicler.
On this site, Wanderlust Ale, I relate my peregrinations around the world and in Switzerland, but also my encounters and impressions as I live them: with curiosity and wonder.
This is how a friend of mine sees me: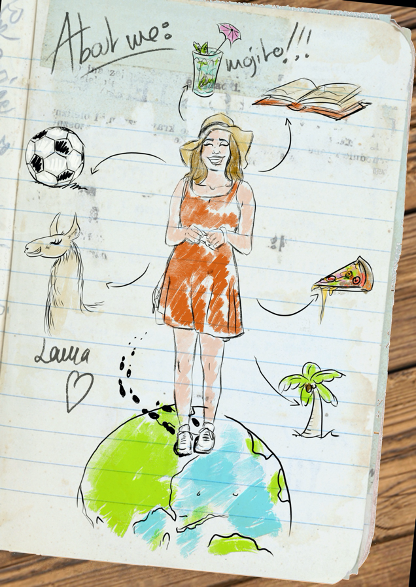 By the way, I wanted to thank her for all the work she has done. Without her creativity and talent, I wouldn't have a logo or this beautiful sketch of me. Have a look at her work on her Instagram page, you won't be disappointed!
I hope this blog will bring you a bit of inspiration or evasion for your future travels.
For any question, information, or a short comment, the Contact page is at your service.
Welcome to Wanderlust Ale and enjoy your reading! ☼
Travelling is yours,
Ale