Edinburgh has seen the birth, growth and death of many writers and especially their greatest masterpieces. It is therefore not insignificant that the city was declared the first by UNESCO: City of Literature. A well-deserved title, since the city, arouses curiosity, that impalpable atmosphere that gives inspiration to the greatest writers. And host nowadays a dozen of Edinburgh's bookshops.
It is true that culture, in all its forms, is present in Edinburgh, but literature is the one that stands out the most, or I would say that has touched me the most. My only desire is to return in August for the International Book Festival, which is one of the most famous in the world. And then, I discovered the history of these writers linked to the city but also to Scotland.
The famous Sir Walter Scott (1771-1832) dominates the city with his Gothic monument, the Scott Monument, which stands 60m high on Princes Street. No writer has ever been offered such a monument. The view from the top is grandiose, as are his works: "Waverley", "Ivanhoe", "The Lady of the Lake" and so many others… Incredible importance is given to this author, since even Edinburgh Central Station is named after his novel, "Waverley", and is thus the only station in the world to have been named after a literary work. But his fame is legitimate in view of his books, which spread the Scottish myth of lakes and warriors dressed in tartan, which he revived in his novels.
However, if Scott's writings are rooted in Scottish lands, we discover another author with incredible posterity who anchors a novel more to the seaside: Robert Louis Stevenson (1850-1894) with his famous "Treasure Island", but we cannot quote this writer without also mentioning his short novel "The Strange Case of Dr Jekyll and Mr Hyde", which in many metaphorical ways reveals the plurality of Edinburgh.
Robert Burns (1759-1796) was one of the first Scottish poets to make a name for himself and then to become a symbol of Scotland, mainly through his poems written in Scots, especially the famous 'Auld Lang Syne', which is now a traditional New Year's Eve song. It is also worth mentioning Sir Arthur Conan Doyle, the famous father of the detective Sherlock Holmes, who was born in Edinburgh in 1859 and graduated with a degree in medicine. In fact, the pub in the city that bears his name is one of the most authentic and beautiful in the Scottish capital. But back to the writers, and don't worry, I'll give you a shortlist at the end of the article of the best places to read in Edinburgh (and yes, that can include pubs).
Contemporary literature also has its place in Scotland and Edinburgh, notably with Irvine Welsh and her famous 'Trainspotting', Alexander McCall Smith and his numerous crime series, or Ian Rankin with his police saga featuring police inspector John Rebus, an inspector very much influenced by the ambivalent character of Dr Jekyll and Mr Hyde… Although widely acclaimed throughout the world, Rankin remains attached to Edinburgh, where he can be seen at the Oxford Bar, which his fictional anti-hero Rebus also frequents. Moreover, it is said that he also frequented the Elephant House, a café where a young mother without any money wrote the beginning of a saga that was to make her internationally famous, thanks to a young wizard… Indeed, Edinburgh has become the city of reference for Harry Potter, and it is hard to imagine that in 1997, only about twenty people came to listen to J.K. Rowling tell his novel at the International Book Festival. Since then, Harry Potter has been everywhere in Edinburgh and many people are following in his footsteps, me being the first with this article: The complete Harry Potter tour in Edinburgh.
A true muse for writers, Edinburgh is also a place where many scientists and thinkers have lived. We can mention Adam Smith, to name but a few, since it was in the Scottish capital that the philosopher and economist wrote his economic theories, and we cannot forget David Hume, another important thinker of the Scottish Enlightenment. His statue, like Smith's, sits enthroned in the Royal Mile and is touched on the big toe every day by thousands of tourists, and students (yes I did too…) who would be lucky enough to do so before going to study in Edinburgh.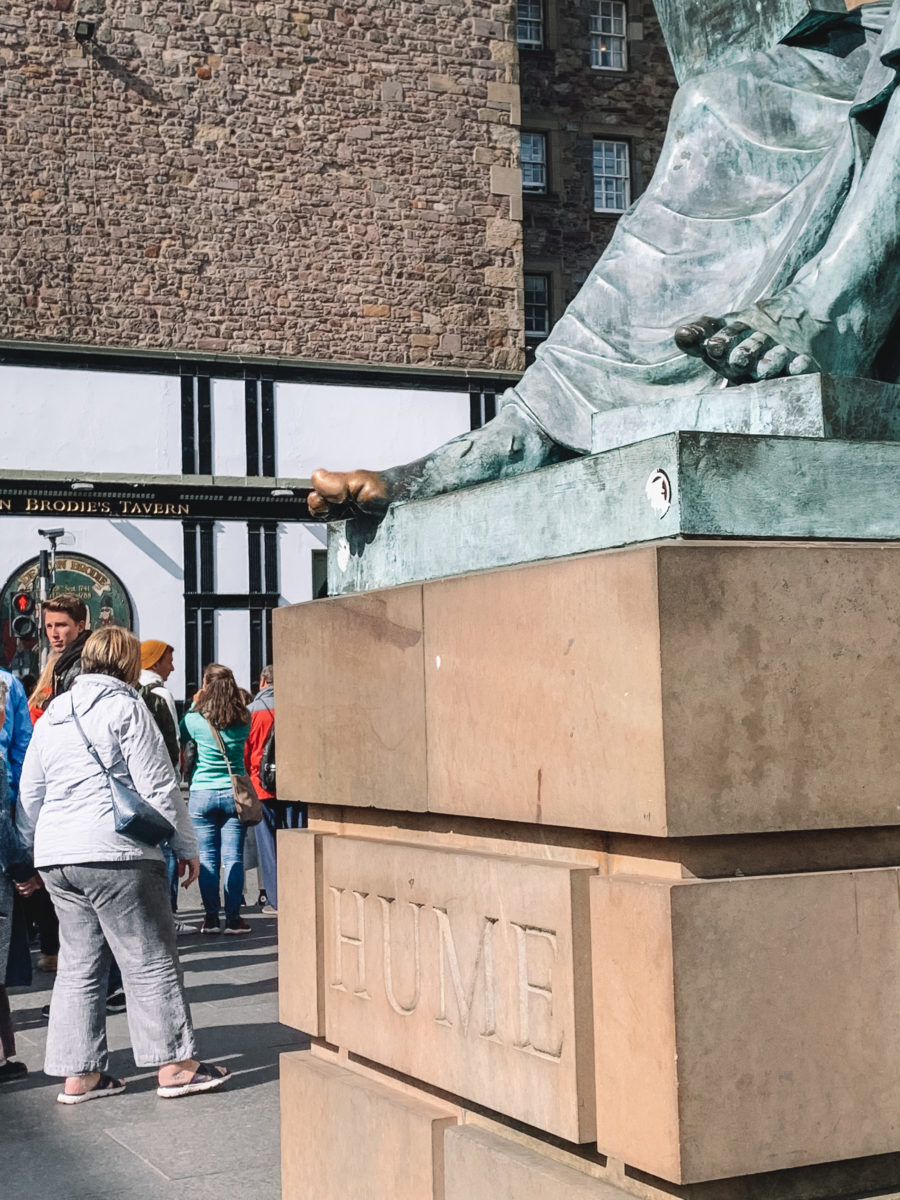 It is therefore not for nothing that the Scottish capital has been nicknamed the Athens of Scotland, in reference to this crossroads of culture, knowledge and exchange. And I felt this vibration, the same one that made me want to rob the bookshops' shelves in order to understand and discover new things. I wanted to leave with all the books… from all Edinburgh's bookshops.
But then, with two suitcases when I arrived and 4 months of exchange in my wallet, I was reluctant to go on this mission. But as you can see below, I did bring back about ten books from various Edinburgh's bookshops.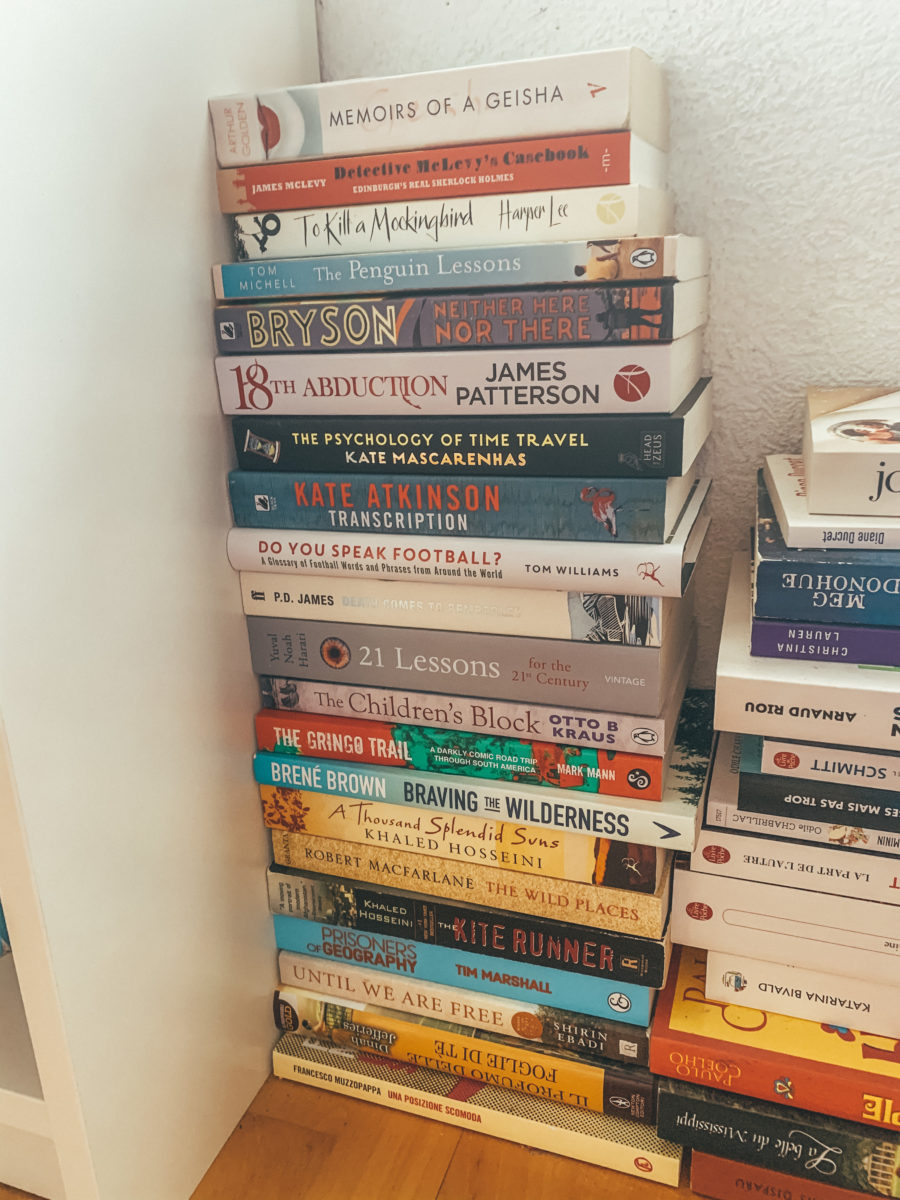 Whether you are on a book hunt or in the mood for an unusual stroll through the streets of Edinburgh, I invite you to take a stroll through the City of Literature. You will find all the addresses directly in each section, and the map below helps you to get an idea of the distances between each bookshop. At the end of the article, I'll add a few bookshops that I had the chance to come across during my Scottish escapades, but also a list of places where you can quietly (or not) enjoy a good book.
Map of Edinburgh's bookshops
THE NATIONAL LIBRARY OF SCOTLAND
George IV Bridge, Edinburgh EH1 1EW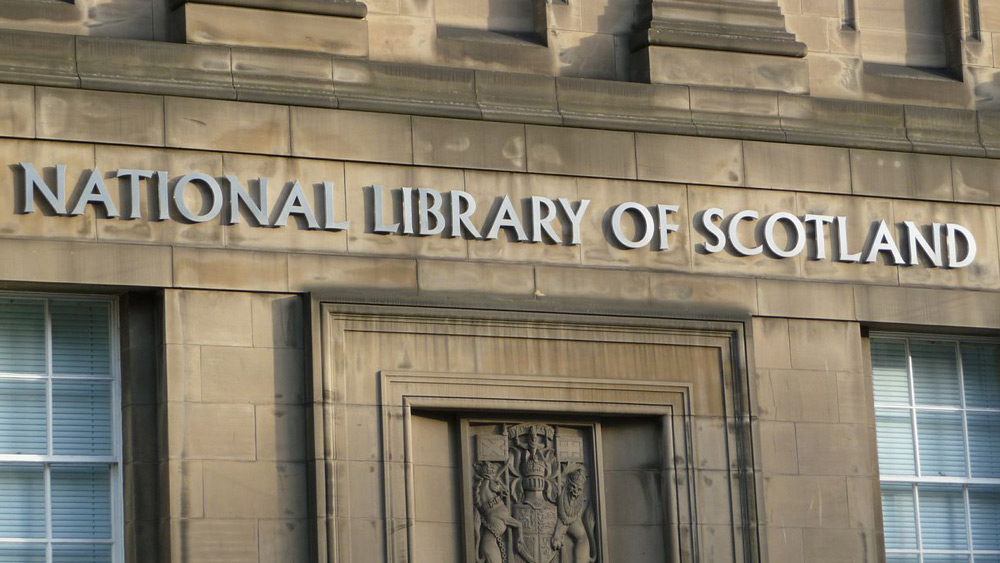 I'm cheating because this is not a bookshop, but the National Library of Scotland is a foolproof place to find books. Situated on George Bridge, it is not only architecturally magnificent but also houses the very essence of Scottish literature. There are nearly a million books in the area, including copies of the Gutenberg Bible and the first copy of Shakespeare's works.
However, I was unable to venture into the reading rooms as I did not have a membership card. Usually, I love to go to libraries to study, but in Scotland, the comfort of some of the cafes or my room was enough.
The strength of the library is that it succeeds in bringing Scotland's past to life, mainly through various free exhibitions in the main building. Moreover, although it is not a bookshop, you can, next to the café in the main entrance, buy a book about the region from a wide range of Scottish titles.
"Edinburgh is a city of the mind. A writer's city."
Ian Rankin
ARMCHAIR BOOKS
72-74 West Port, Edinburgh, EH1 2LE
https://www.armchairbooks.co.uk/
Armchair Books is an institution in Edinburgh. They describe their shop as "very nearly alphabetised chaos", which sums it up pretty well.
Situated right next to Grassmarket, Armchair Books is my favourite bookshop in Edinburgh! Literally, I could spend hours rummaging for vintage editions or get lost in its floor-to-ceiling stuffed passages of books, lured by beautiful book covers.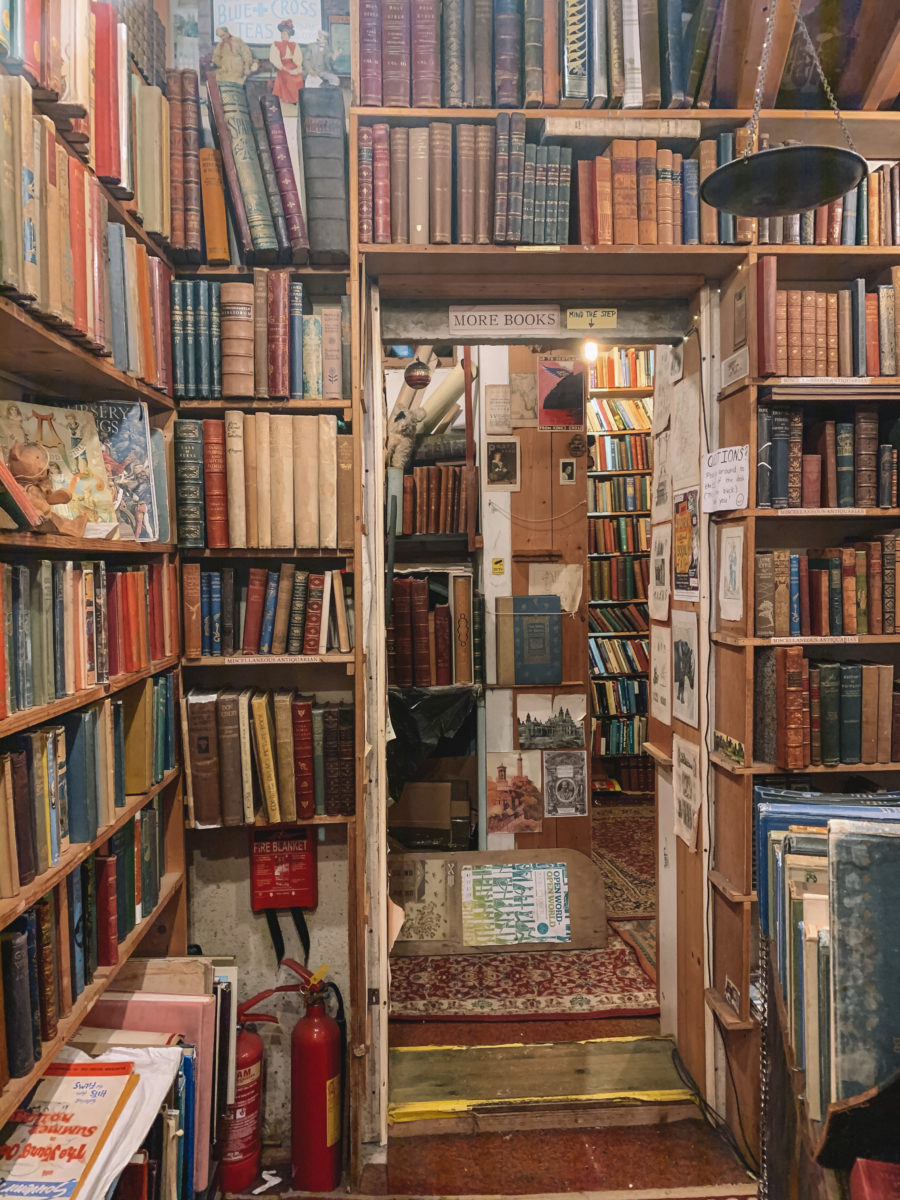 On each of my visits, there was always something that caught the eye. Moreover, this bookstore must have the rare distinction of being, perhaps, the only one in the city that feeds off its disorganization. For the customer, it is a real pleasure to browse and look for the rare pearl in this emblematic literary sanctuary. It is precisely this kind of bookshop where the notion of time is lost and is also envied since all the time in the world could not be enough to read all that it abounds in.
Although completely disorganised at first glance, one quickly notices that the shelves are still classified by category. There is a multitude of collections, ranging from classic English literature (this is where I found my favourite edition of Jane Austen, Pride and Prejudice) to travel books and economic or scientific editions on various themes.
This place is also the dream of the Instagrammers who love to take pictures there, but for me, it was more of a refuge for the amateur of second-hand books that I am. But it is true that without Instagram, and my hours of stalking, I would never have discovered this place and although the photos are often beautiful, in reality, the atmosphere is even more incredible.
"It is impossible to live in Edinburgh without sensing its literary heritage"
J.K. Rowling
EDINBURGH BOOKS
145-147 West Port, Edinburgh, EH8 9DP
Right next door to Armchair Books is Edinburgh's largest second-hand bookshop and you can't miss it. This maze is just around the corner from West Port Street, and for visitors, it is the Louvre of unexpected discoveries. Formerly known as West Port Books, this eccentric Edinburgh icon has been appealing to book lovers in the city for over twenty years.
Don't be discouraged by the huge bull's head that is enthroned in the shop, which is its emblem. At first, I didn't feel like going in, but the owner saw me hesitating on the doorstep and approached me. He asked me if I was looking for something in particular, and I simply told him that I loved discovering the bookshops in the towns I was visiting. He burst out laughing and told me something, but I have to admit that I didn't understand so I laughed with him (you know that kind of embarrassing situation). Very kindly, he first showed me around the section dedicated to Scottish writing before being called by customers. Before leaving, he explained to me that I absolutely had to go down the stairs in order to find wonders according to him, in the basement…
When a stranger tells you to go down into his cellar, it may hide something… but I laughed at the thought and went down the few steps to discover a maze of works of all kinds, contemporary or ancient, and an impressive collection of music scores
.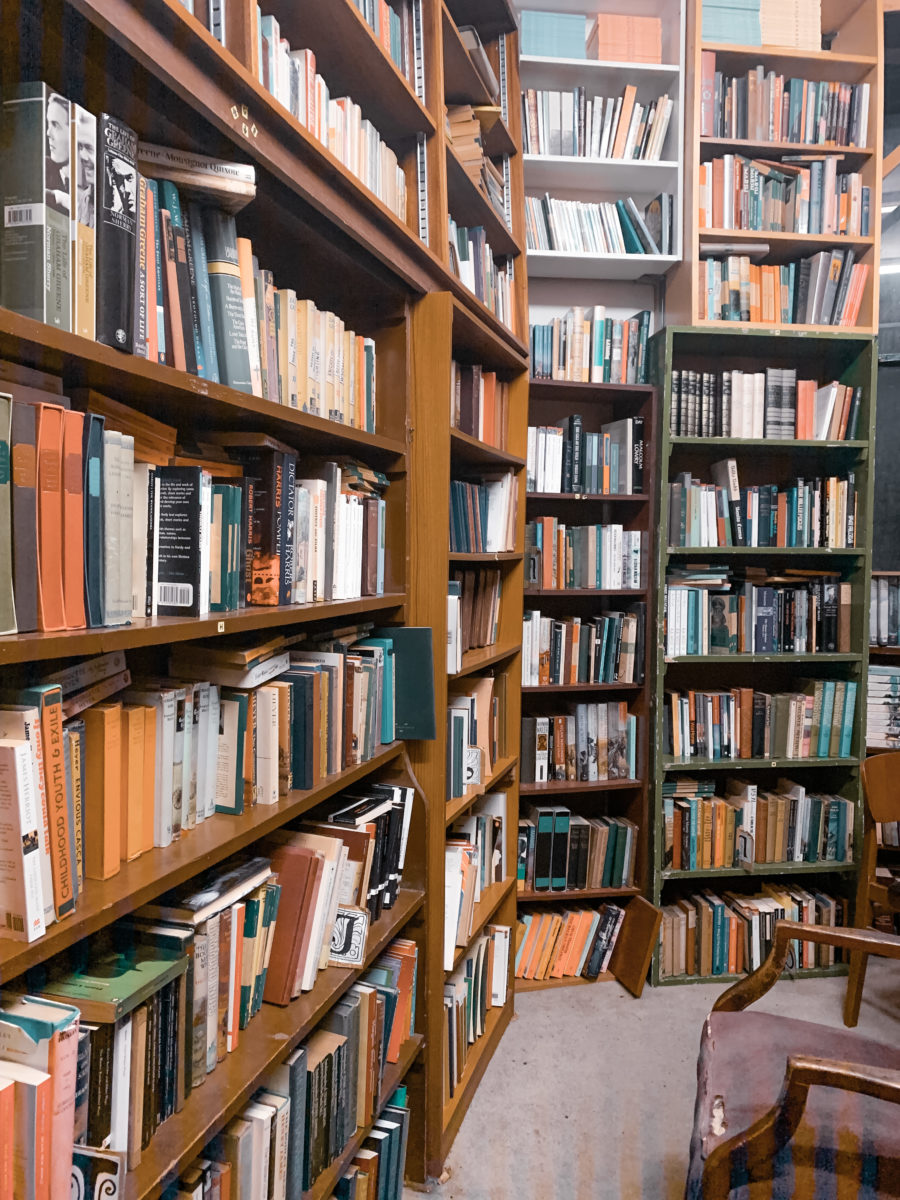 "Edinburgh is a hotbed of genius."
Tobias Smollett
TILL'S BOOKSHOP
1 Hope Park Crescent, Edinburgh EH8 9NA
https://www.tillsbookshop.co.uk/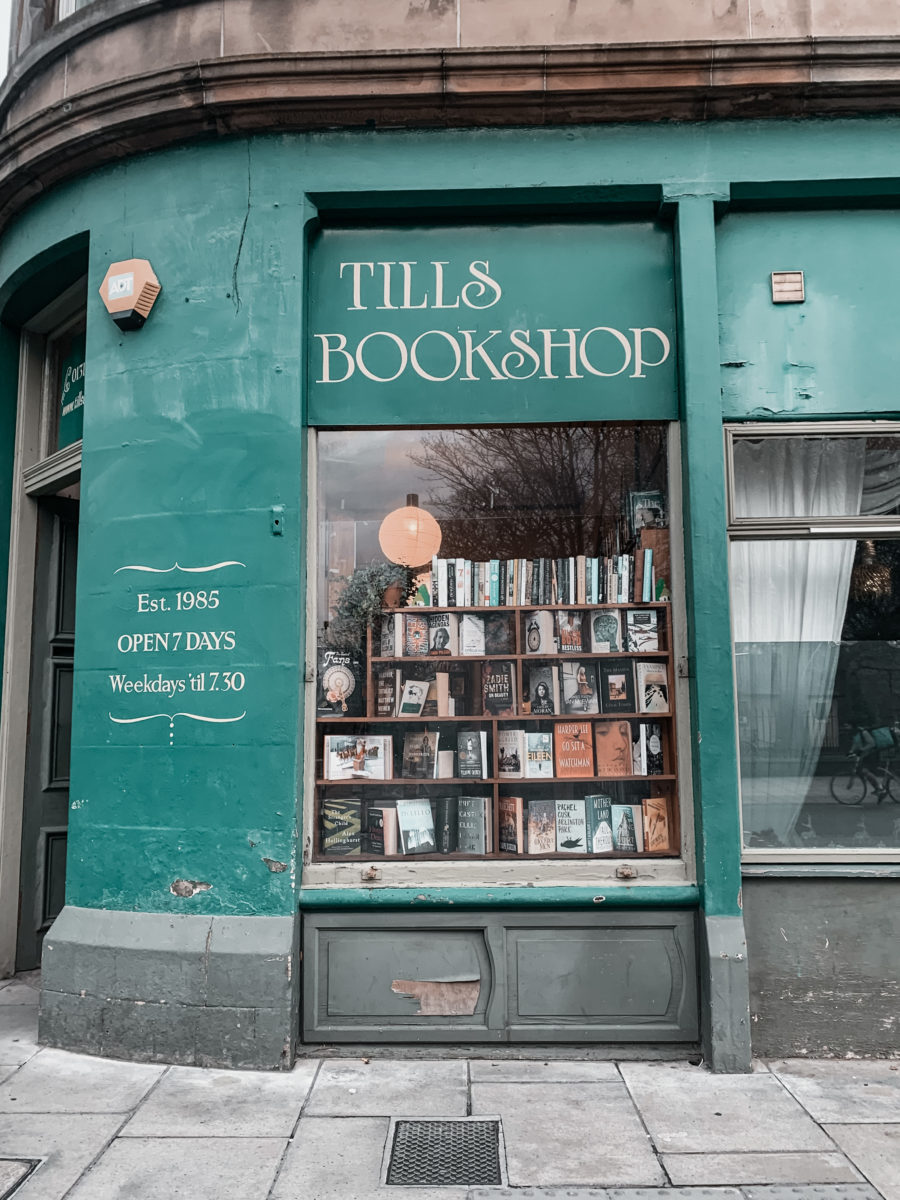 Till's is a beautiful bookshop near The Meadows which has been open since 1986. It's especially its exterior appearance that first catches the eye, that green that makes us want to come in. And then the words bookshop or books always make their effect: the one of discovery that pushes us to pass the doorstep.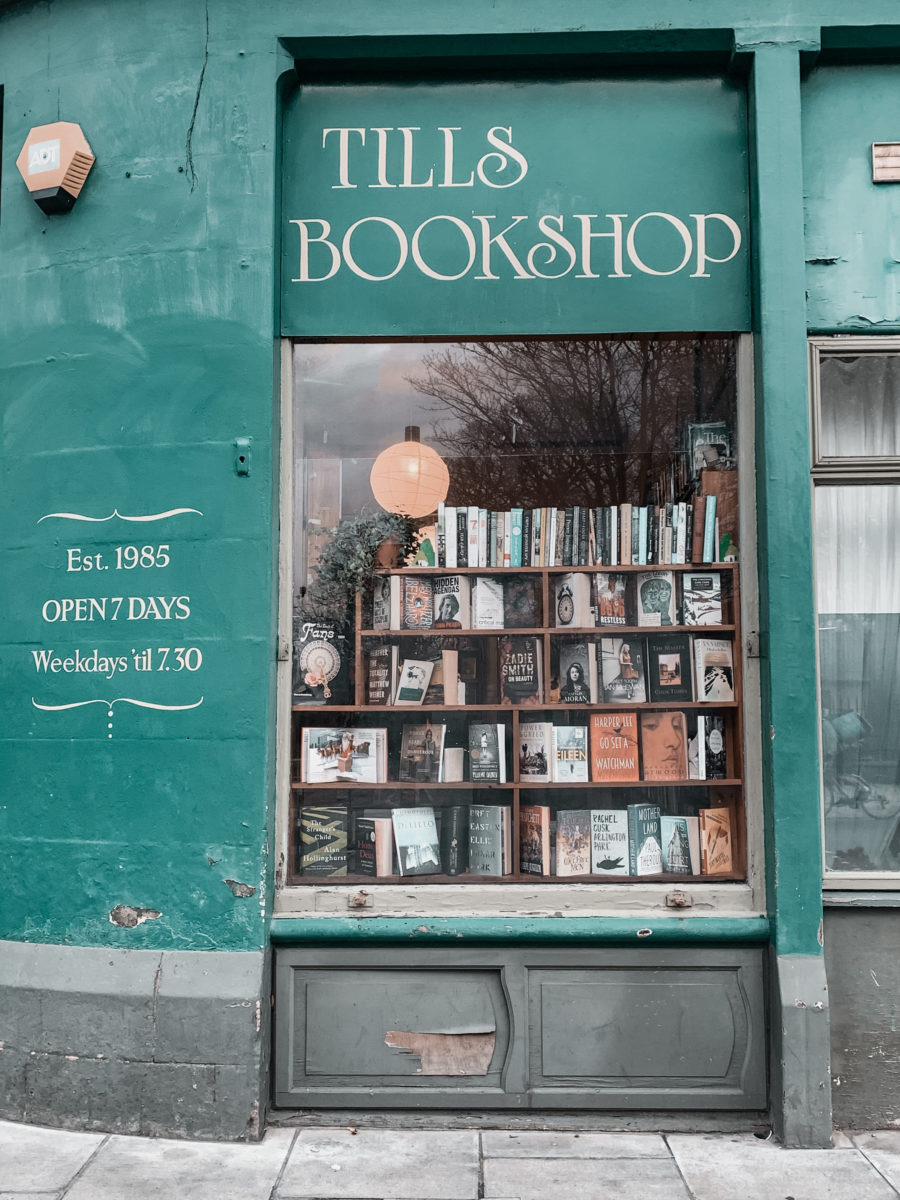 Till's Bookshop is a treasure trove of second-hand literary finds of all kinds. Every time I walked in, I discovered new shelves and new settings, especially around Christmas with the pretty little tree that gave a charm, a feeling of being at home by the fire reading a good book while it was snowing outside. Well, there was no snow in Edinburgh, but a whole range of novels and classics sold out very quickly.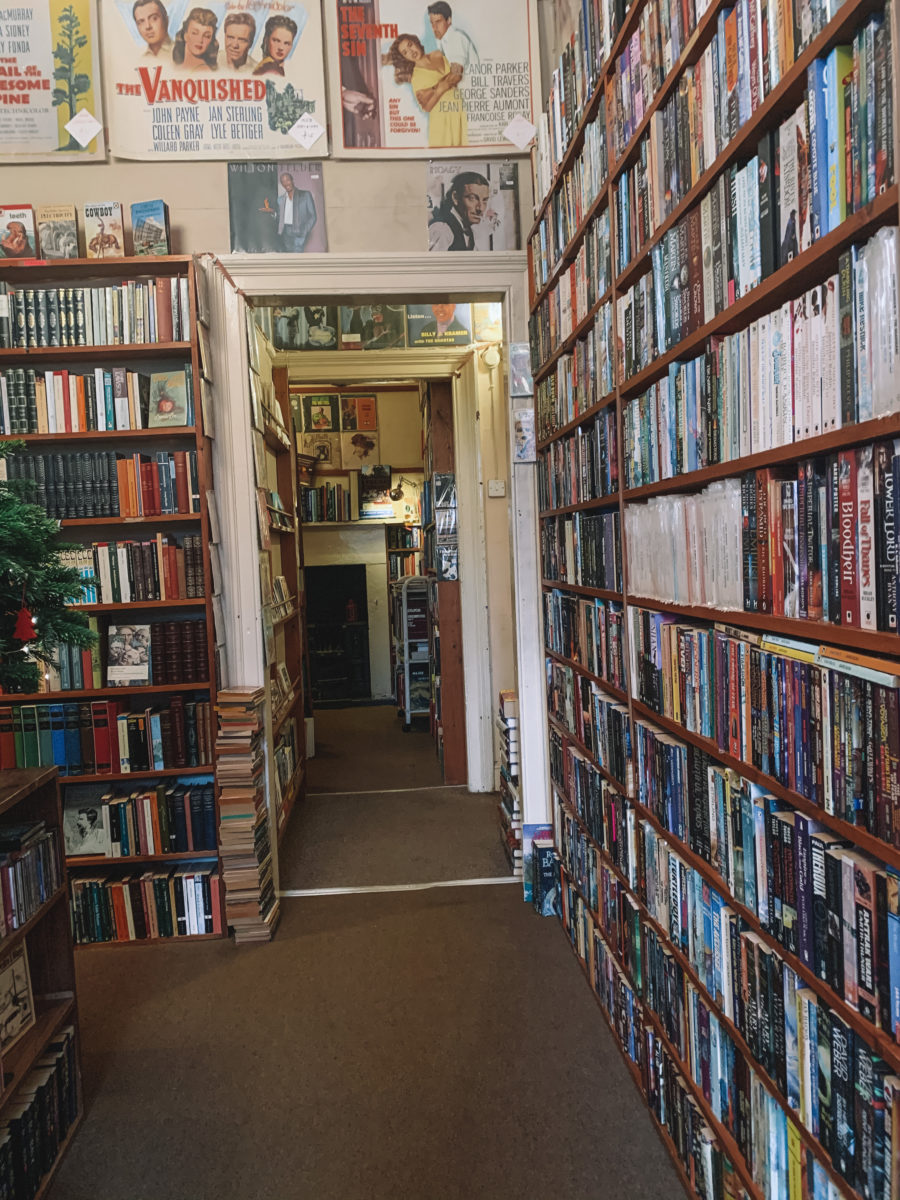 You will also have to venture into the back shop which is full of old and less cosmopolitan books. Located on the road to the University of Edinburgh, it's also a favourite spot for students who come here to sample their extra-curricular reading.
"[Edinburgh] is a city of shifting light, of changing skies, of sudden vistas. A city so beautiful it breaks the heart again and again."
Alexander McCall Smith
GOLDEN HARE BOOKS
68 St Stephen Street, Edinburgh, EH3 5AQ
As an independent bookstore, Golden Hare Books distinguishes itself by placing books presentation at the heart of its shop design. Hidden in Stockbridge, I had to get lost for a while before I found the alley where it was located. When you finally see the rabbit, the symbol of the bookshop, and the pretty gold engravings, you can't help but stand outside and admire the shop front, so pretty and so distinctive in the residential area of Stockbridge.
When I finally decided to go in, I ran into an employee who asked me what I was looking for and told me that she had never seen me there before. As with other bookshops, I simply explained that I was interested in finding out about bookshops in Edinburgh and that this one was one of the prettiest I had seen. We discussed for a few minutes that I didn't have the opportunity to take any pictures of the interior before leaving.
I learned that the staff carefully select the books and also offer personalised selections for the regulars. And then, as much as I hate being disturbed when I go shopping by salesmen, in a bookstore it doesn't bother me and often allows me to discover new gems. So at Golden Hare Books, the staff will give you special attention and this is what ultimately makes it its greatest charm.
"And yet the place establishes an interest in people's hearts; go where they will, they find no city of the same distinction."
Robert Louis Stevenson
MCNAUGHTAN'S BOOKSHOP & GALLERY
3a-4a Haddington Pl, Edinburgh EH7 4AE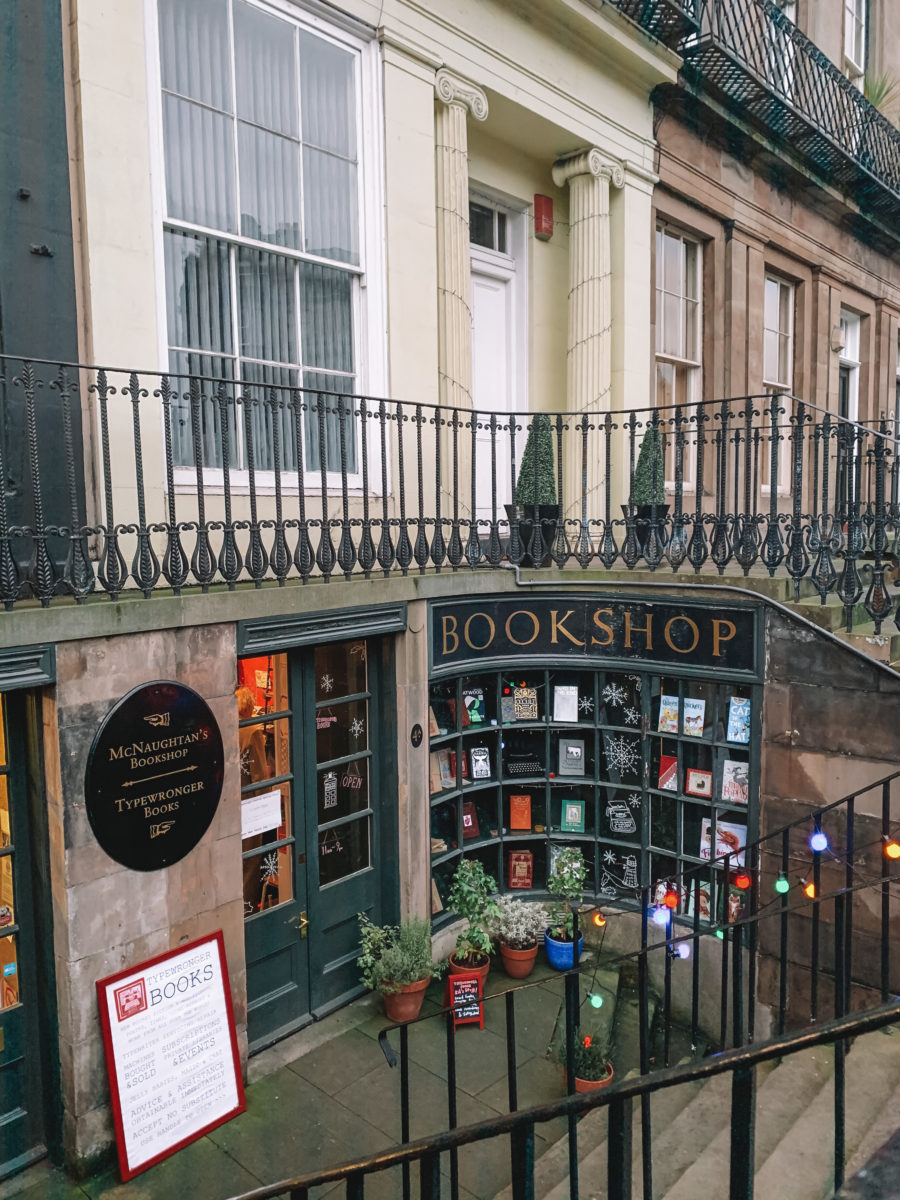 It is the most traditional bookstore, but also the most recognised, as it is home to rare books and antiques.
It seemed so formal, with its dark green entrance, that I first ventured to its neighbour Typewronger Books, then I passed through a small passage that brought me, in fact, to the entrance of the McNaughtan bookstore. This simple glimpse transported me as if I was in one of those magnificent libraries, with old books and incredible bindings. I still have a fascination for these temples of knowledge and being in a small bookstore but with this same impression left me a bit like a little girl marvelling at the discovery of unknown knowledge, but also of Edinburgh as the shop is full of objects related to the Scottish capital.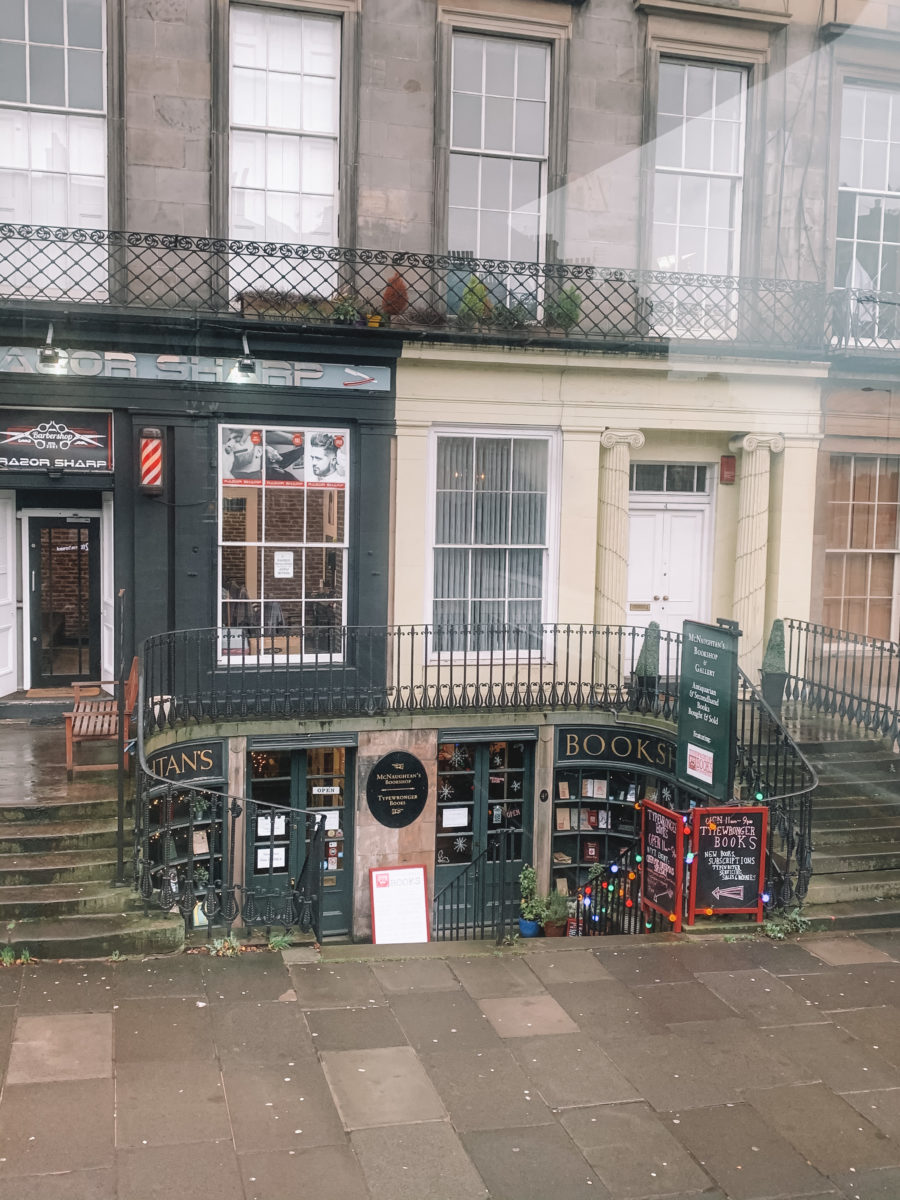 So I think I spent about an hour looking at everything, imagining such an interior in a hypothetical future home, and as I went back up Leith Walk, I realised that I had forgotten to take photos for this article.
You can check out Georgina's insta, which has some great content, especially in Edinburgh bookshops. Her Instagram account is unbelievable!
Finally, founded in 1957, McNaughtan's Bookshop & Gallery is Scotland's oldest second-hand bookshop. It is also the only open shop in Edinburgh to be a member of the Antiquarian Booksellers Association, the oldest professional organisation in the field of antiquarian literature.
"Edinburgh isn't so much a city, more a way of life… I doubt I'll ever tire of exploring Edinburgh, on foot or in print."
Ian Rankin
TYPEWRONGER BOOKS
4a Haddington Place, Edinburgh, EH7 4AE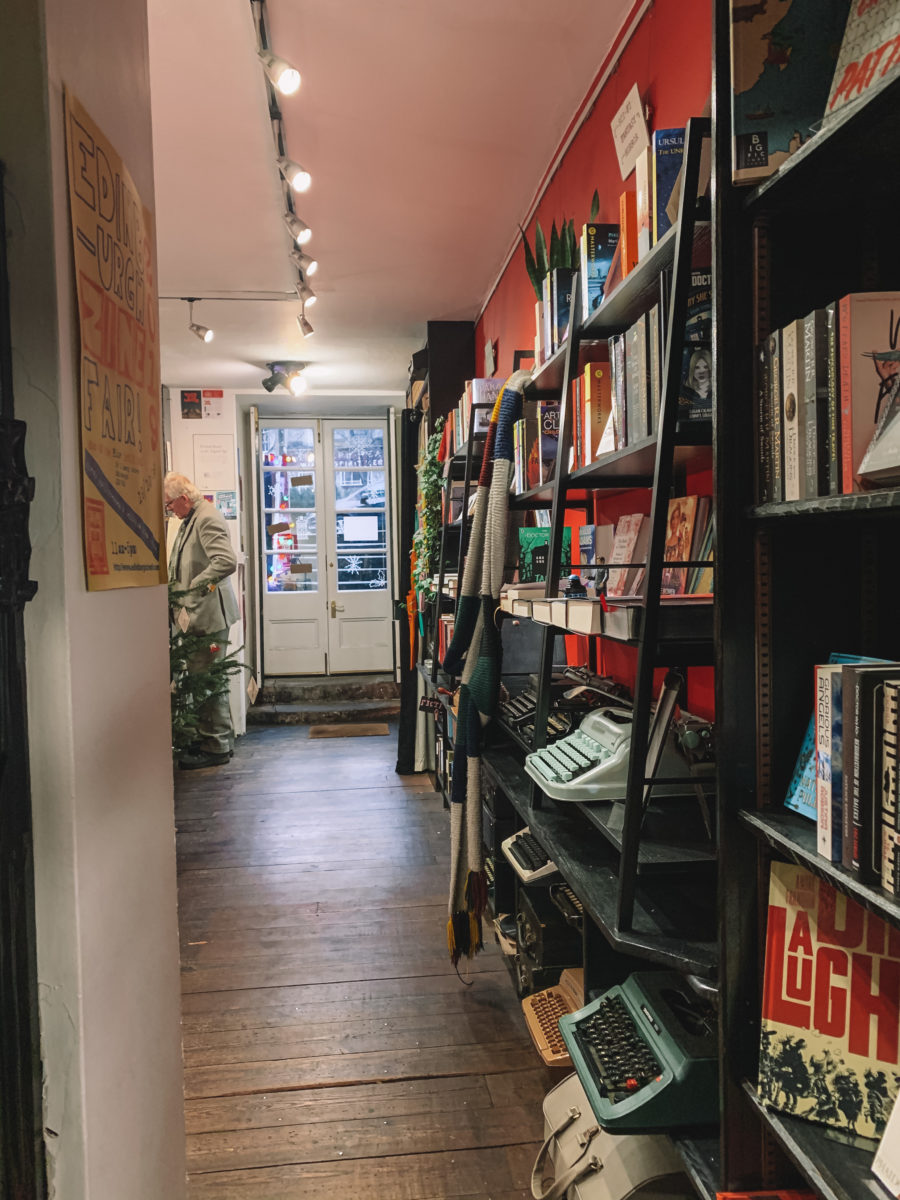 Located in the gallery section of McNaughtan's, Typewronger Books strives to optimize the book reading experience. Depending on the time of day, you may be greeted with a cup of coffee or a glass of wine to warm you up as you browse through the varied collection of books. Since French tourists were monopolising the saleswoman, I was not offered the coffee that would have warmed me up at the beginning of December. Far from holding it against me, I could discreetly observe the shelves of this bookstore, which is more contemporary than its neighbour McNaughtan's. It is true that the two universes side by side are a little out of tune, but they give a charming blend of the plurality of literature.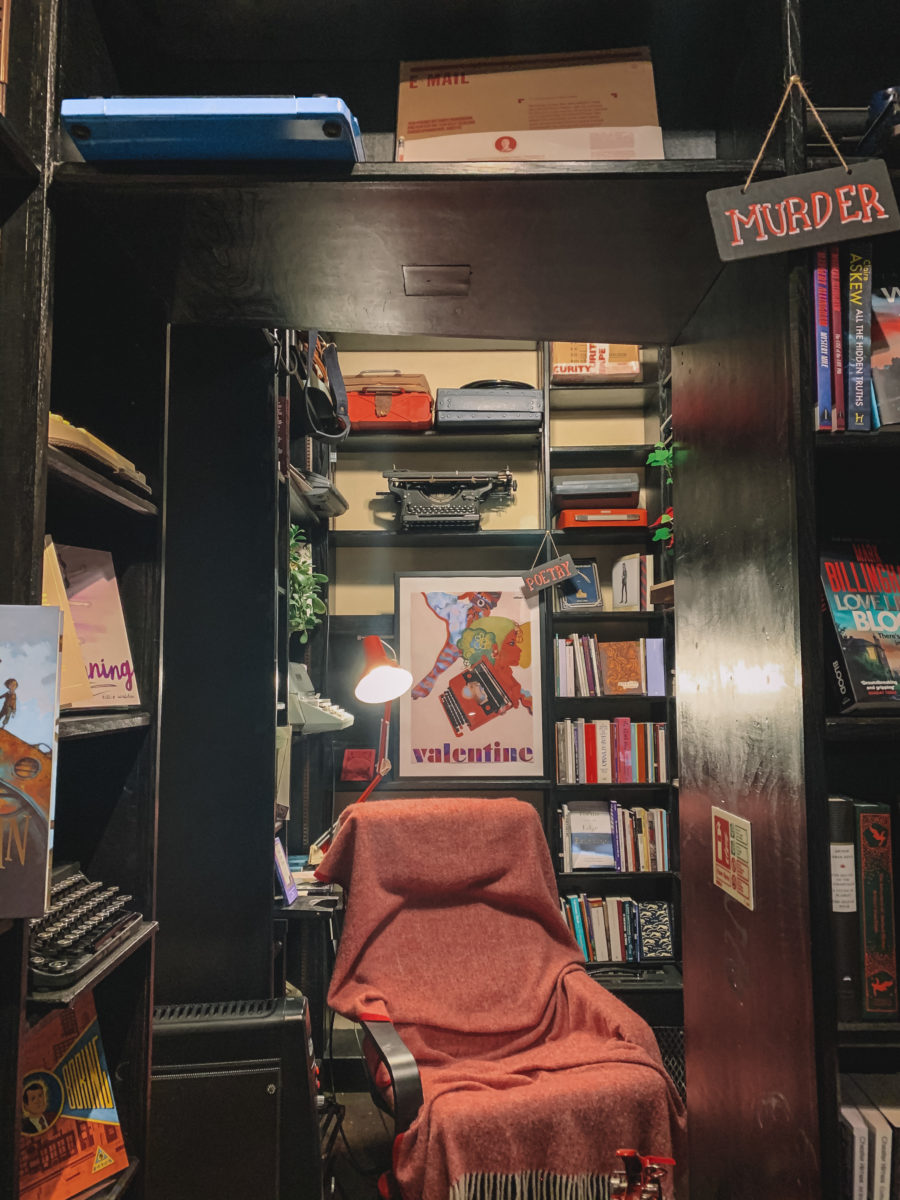 This Edinburgh bookshop offers new fiction and biography books, as well as lesser-known independent books from local publishers. What fascinated me, however, was the period typewriters scattered around the shop! As I watched these retro machines, I listened with one ear to the conversation between the tourists and the bookseller. I discovered that the owner, in addition to selling books, loves to repair typewriters, hence the typewriters in the shop and also the name Typewronger…
"Here I stand at what is called the Cross of Edinburgh, and can, in a few minutes, take fifty men of genius by the hand"
Mr. Amyat
THE EDINBURGH BOOKSHOP
219 Bruntsfield Place, Edinburgh, EH10 4DH
https://www.edinburghbookshop.com/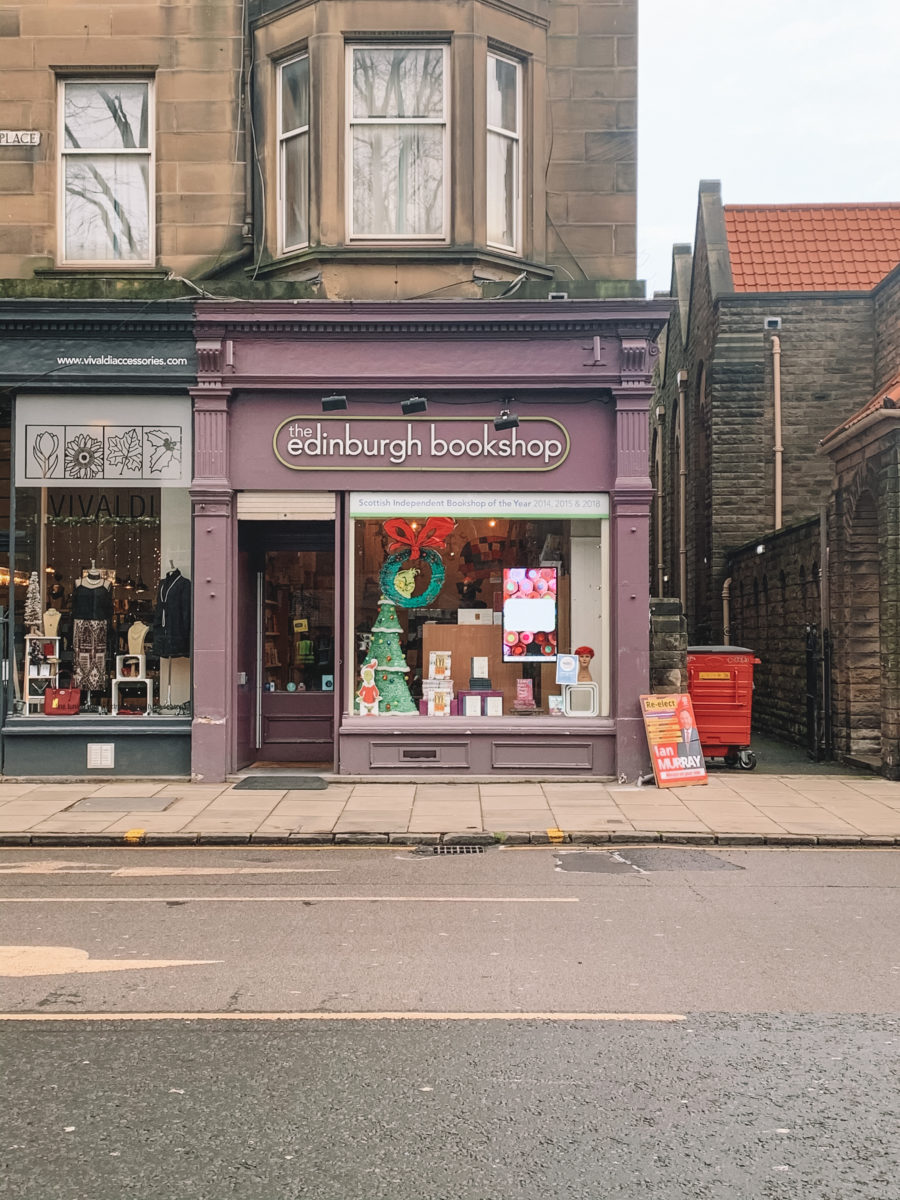 The Edinburgh Bookshop is one of the fashionable shops in Bruntsfield, the charming area that was 5 minutes away from my accommodation. It is a very pleasant place to walk around and discover nice cafes and shops. This place was nominated for Scottish Independent Bookshop 2018 at the British Bookseller Awards and was also shortlisted for Children's Bookshop 2018 and UK Independent Bookshop 2018.
I went there on a Saturday morning, as it was on my way to the library at Merchiston University Campus (part of Napier University where I studied, but I didn't go to this campus for classes). Compared to other independent bookstores visited, the shop was swarming with people, and it was almost impossible to try to find a book or explore in peace. However, this shows a real enthusiasm for this neighbourhood bookstore. I was still able to find a wide selection of local and international novels.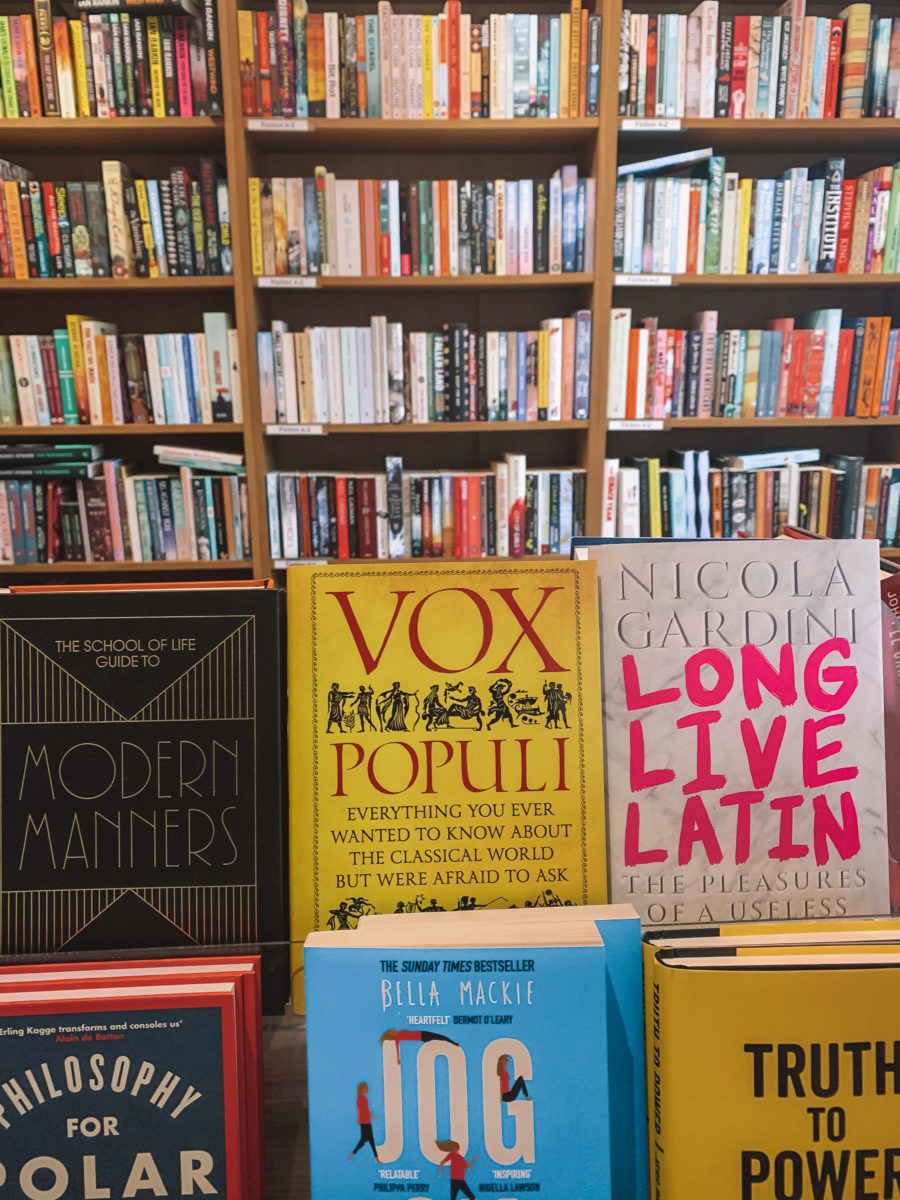 In itself, this bookstore offers the same selections as the city's franchises (Waterstone or Topping Company) but on a perhaps more familiar scale. The prices are the same… However, it offers a very wide selection of children's books, which is interesting for the slightly better-off Edinburgh families who live in the area.
"Edina ! Scotia's darling seat"
Robert Burns
LIGHTHOUSE
43-45 West Nicolson Street, Edinburgh, EH8 9DB
https://www.lighthousebookshop.com/
Nicknamed Edinburgh's Radical Bookshop, Lighthouse Bookshop is distinguished in many ways, most notably by its vision: Home of word power books.
After petting Artemis, the bookshop's mascot, for a few minutes, I was able to discover shelves of books that tell the stories of people 'outside the status quo'. The bookstore is a kind of politically engaged hub, overflowing with books on interesting subjects such as Scottish politics, the environment or women's issues, sometimes written by voices that are still little heard, especially those of LGBTQ people. As a result, the bookstore is also home to an independent Scottish publisher called Word Power Books.
If you are a bit curious and want to discover new, maybe a bit eccentric, but very interesting subjects, Lighthouse will be your bookshop. From feminist books to poetry, from cookery books to war stories, it is teeming with niche literature and will satisfy all curious minds. Moreover, being very committed, the bookshop organises numerous conferences or discussions around themes.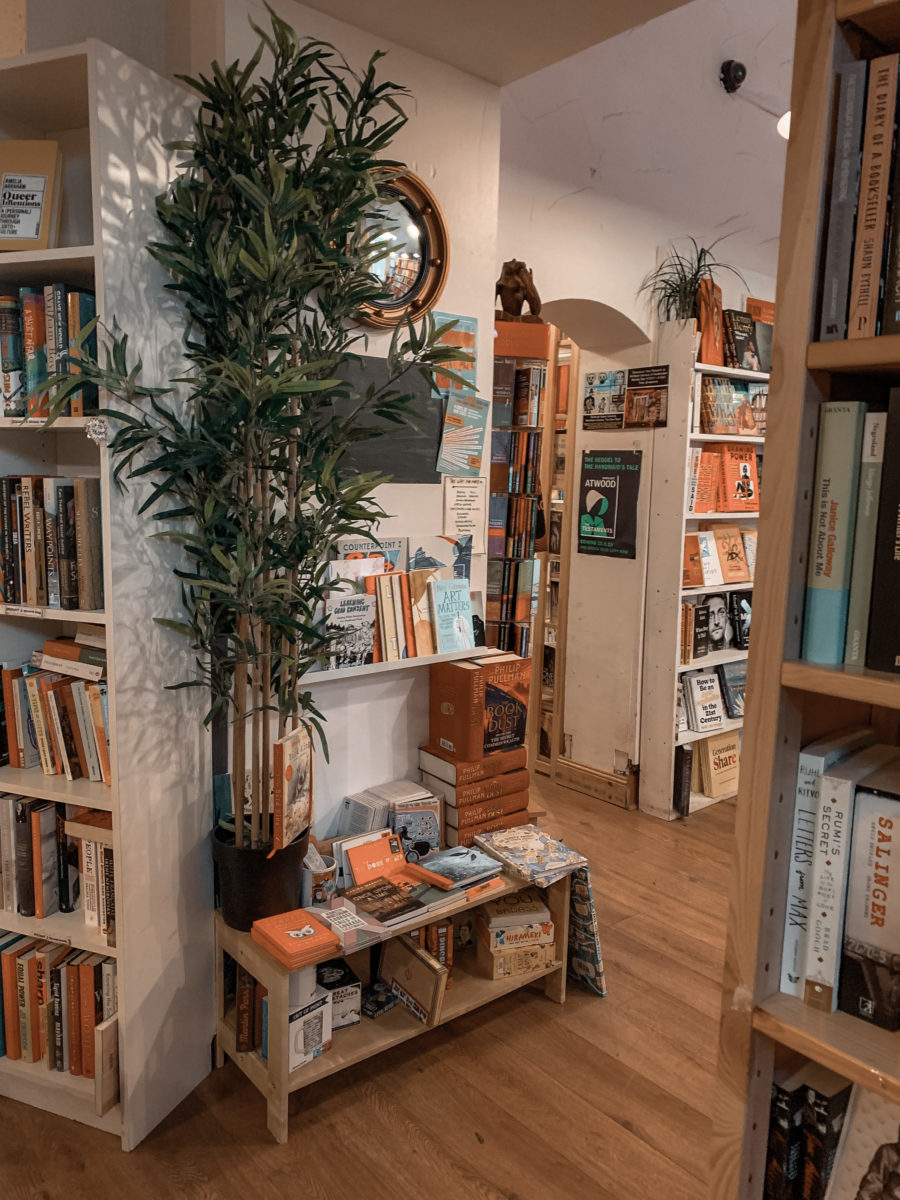 "It [Edinburgh] is a dream of great genius"
Benjamin Haydn
TOPPING & COMPANY
2 Blenheim Pl, Edinburgh EH7 5JH,
https://www.toppingbooks.co.uk/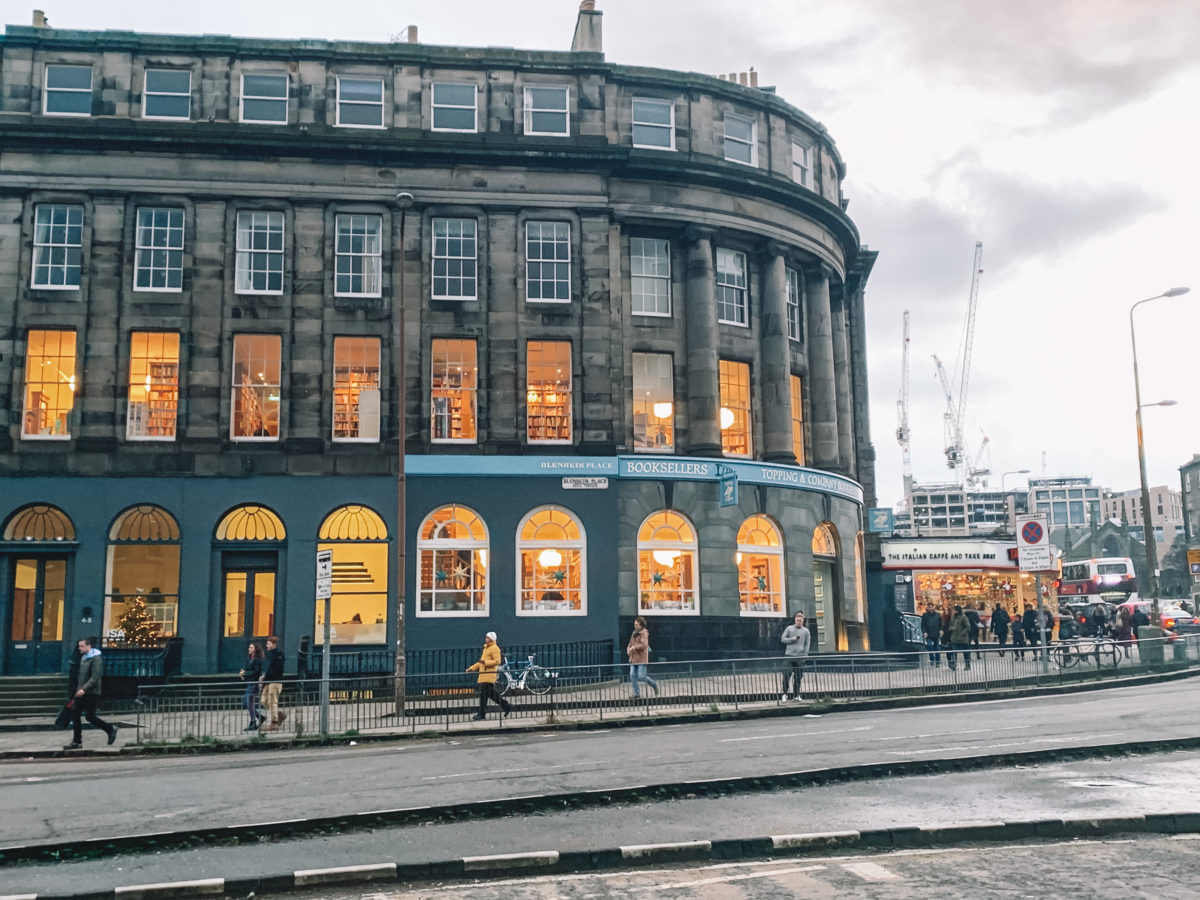 Topping & Company is one of the newest bookstores in the city. In fact, it opened at the same time as I arrived in this city to start my exchange semester. No coincidence… This small UK based chain started in Bath before expanding to St Andrews, Ely, and now to beautiful Edinburgh.
The shop consists of three floors with shelves that rise to the ceiling and offers a huge selection of books. This is really the highlight of this franchise: the large ladders to reach the books. It is this kind of detail that gives a shop its charm.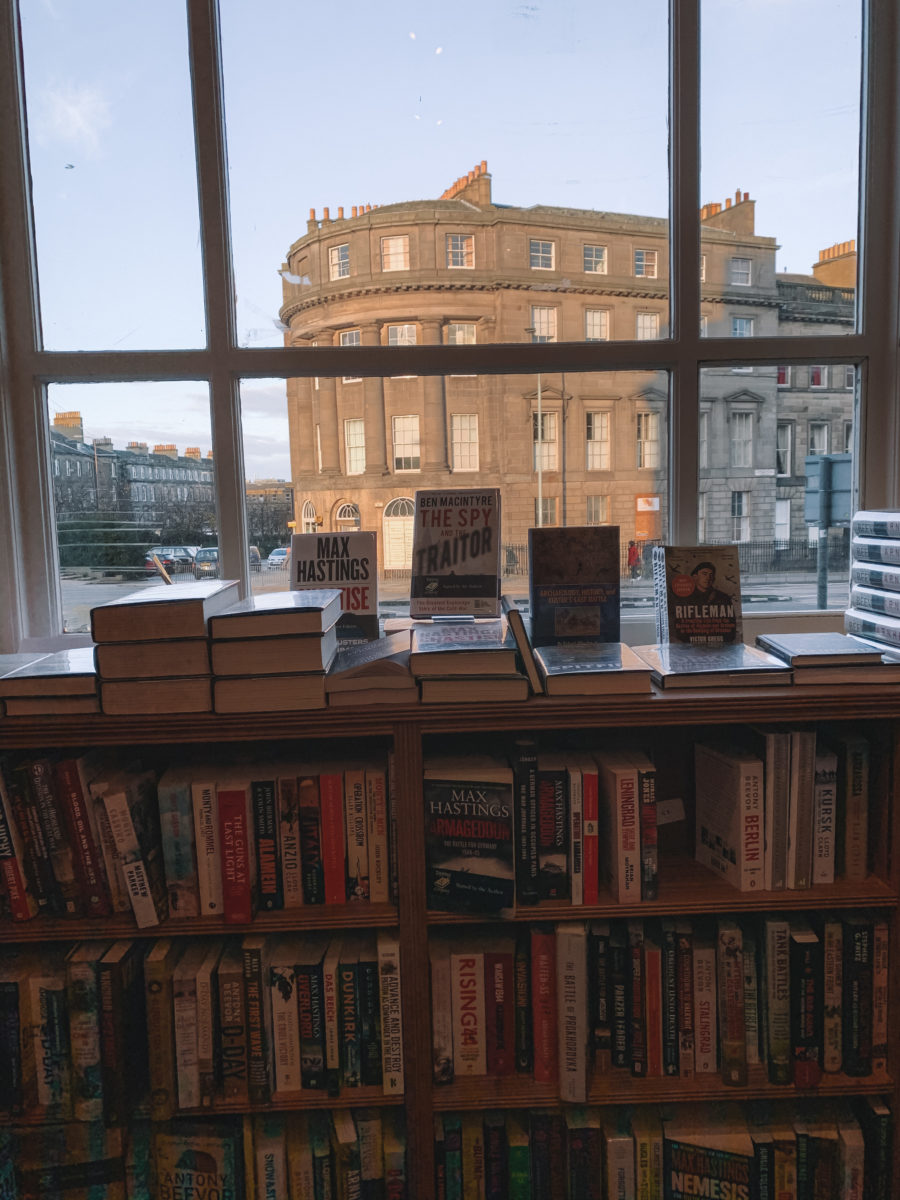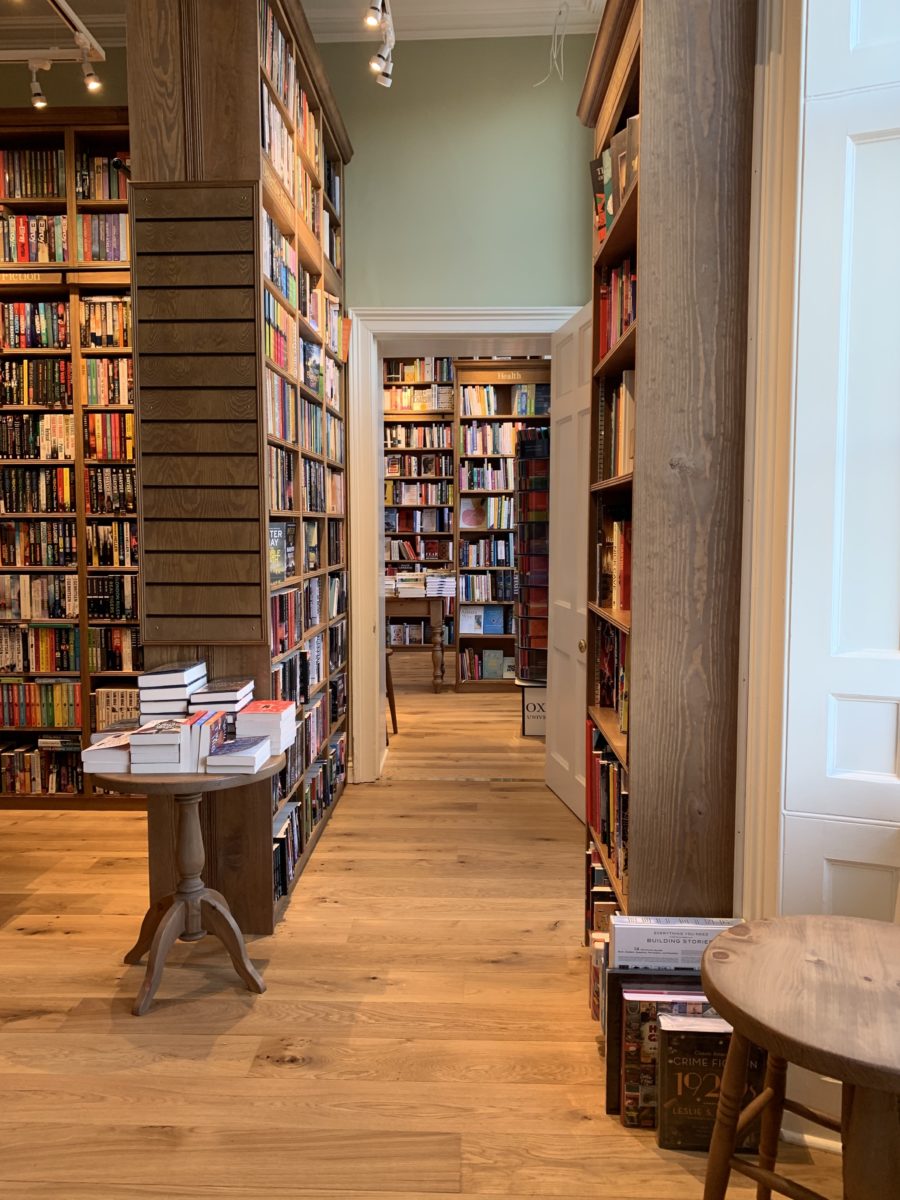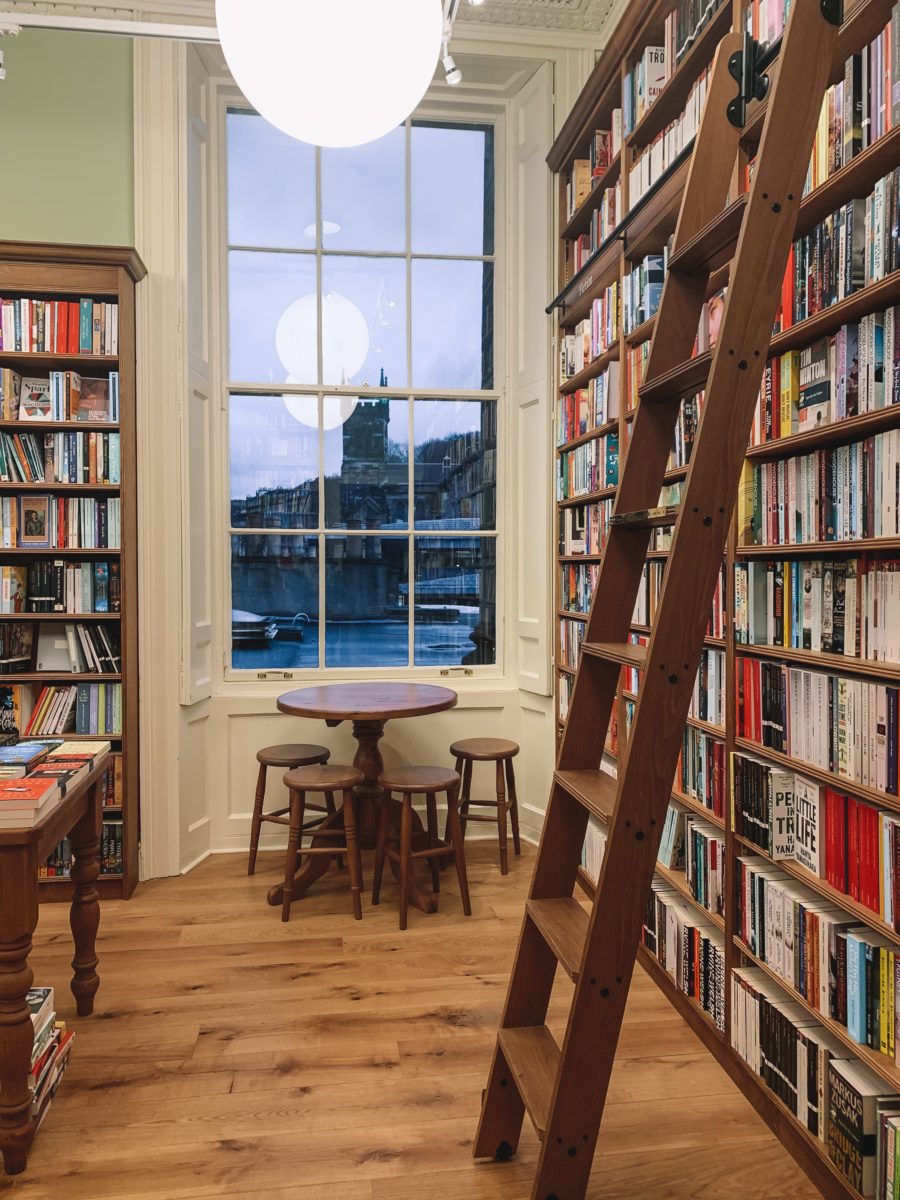 It's the perfect place to spend hours browsing the shelves for your next reading, and you can also enjoy a free cup of tea. This place is a dream for reading enthusiasts, and I had the opportunity to see the St Andrews branch on one of my getaways. The atmosphere there was also very charming, especially with the young librarian who offers coffee and help. To get a chance to visit, here is the address: 7 Greyfriars Garden, St Andrews, KY16 9HG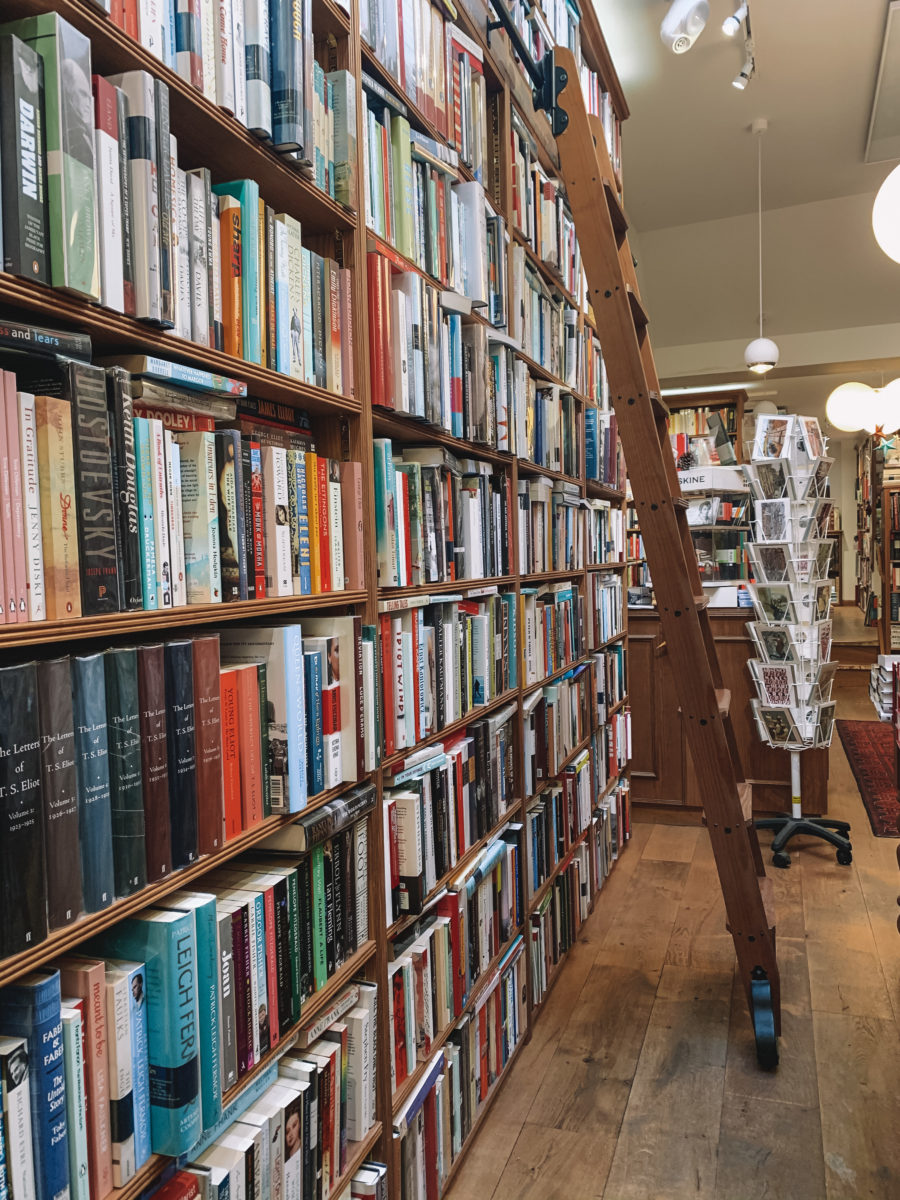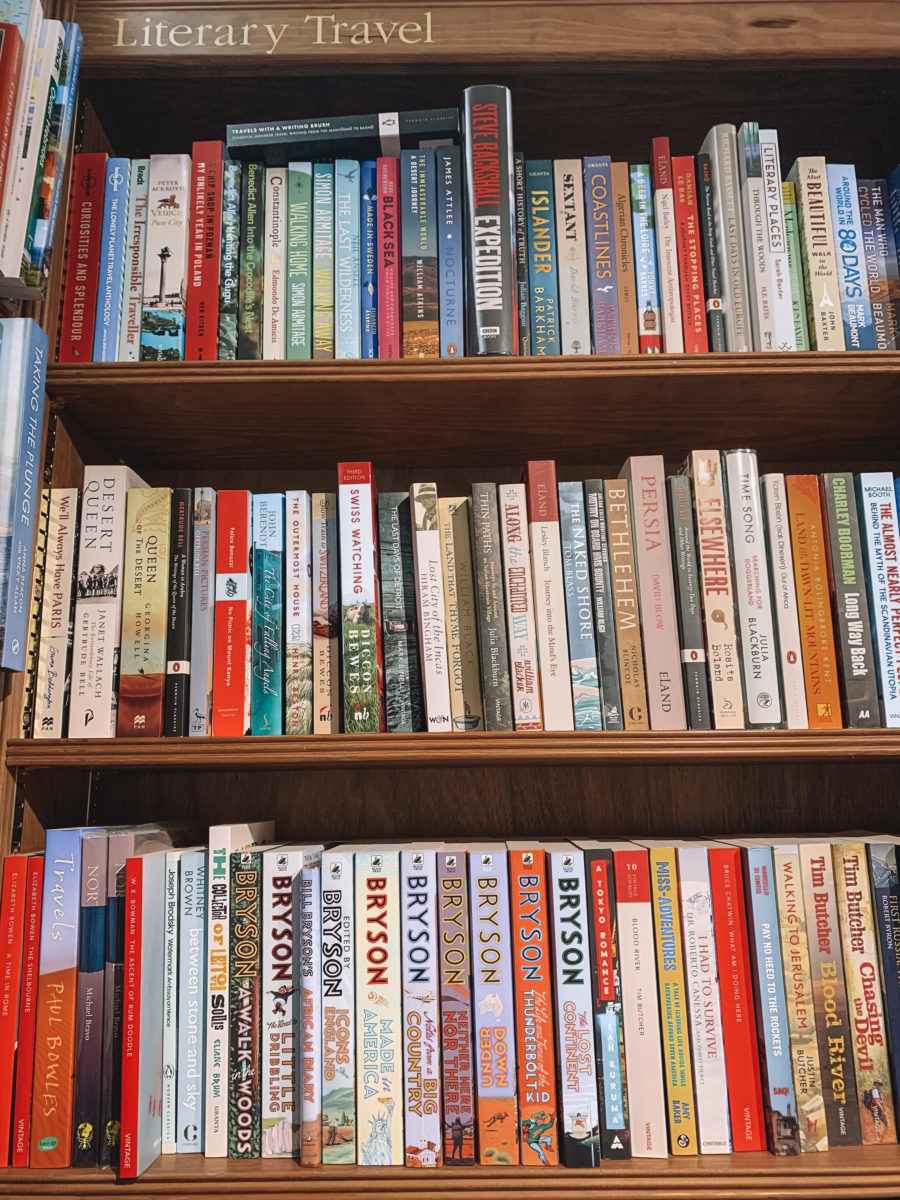 "Edinburgh is an experience. A city of enormous gifts. Whose streets sing of history. Whose cobbles tell tales."
Alan Bold
ELVIS SHAKESPEARE
347 Leith Walk, Edinburgh EH6 8SD
http://www.elvisshakespeare.com/home.php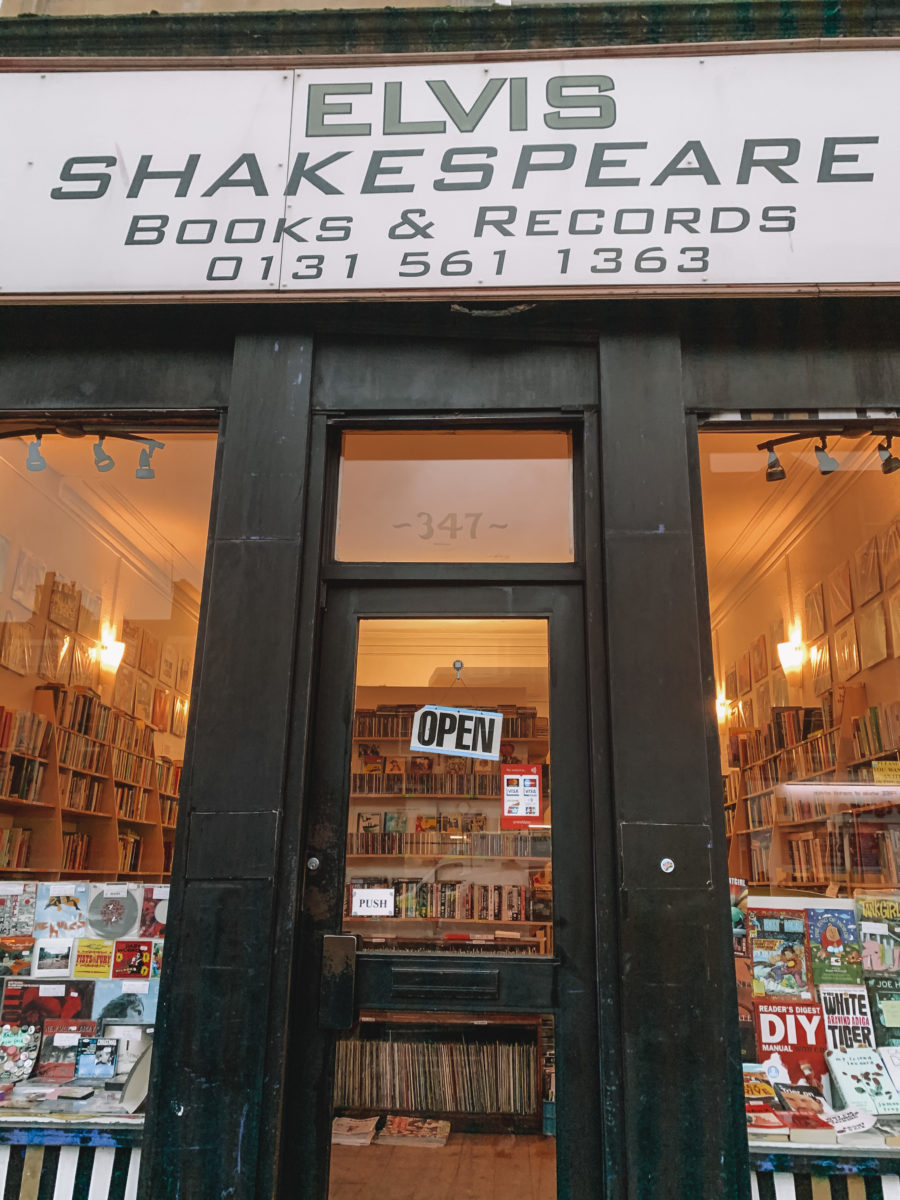 Create the perfect mashup with a great singer and a prolific author? That's the idea behind the Elvis Shakespeare shop, which sells books and music albums mainly but also DVDs and other fantasies.
This shop is located on a street that also deserves to be left out of the narrow streets of the centre: Leith Walk, as it is home to many ethnic and local retailers; restaurants, bars, TV repairers, books and records.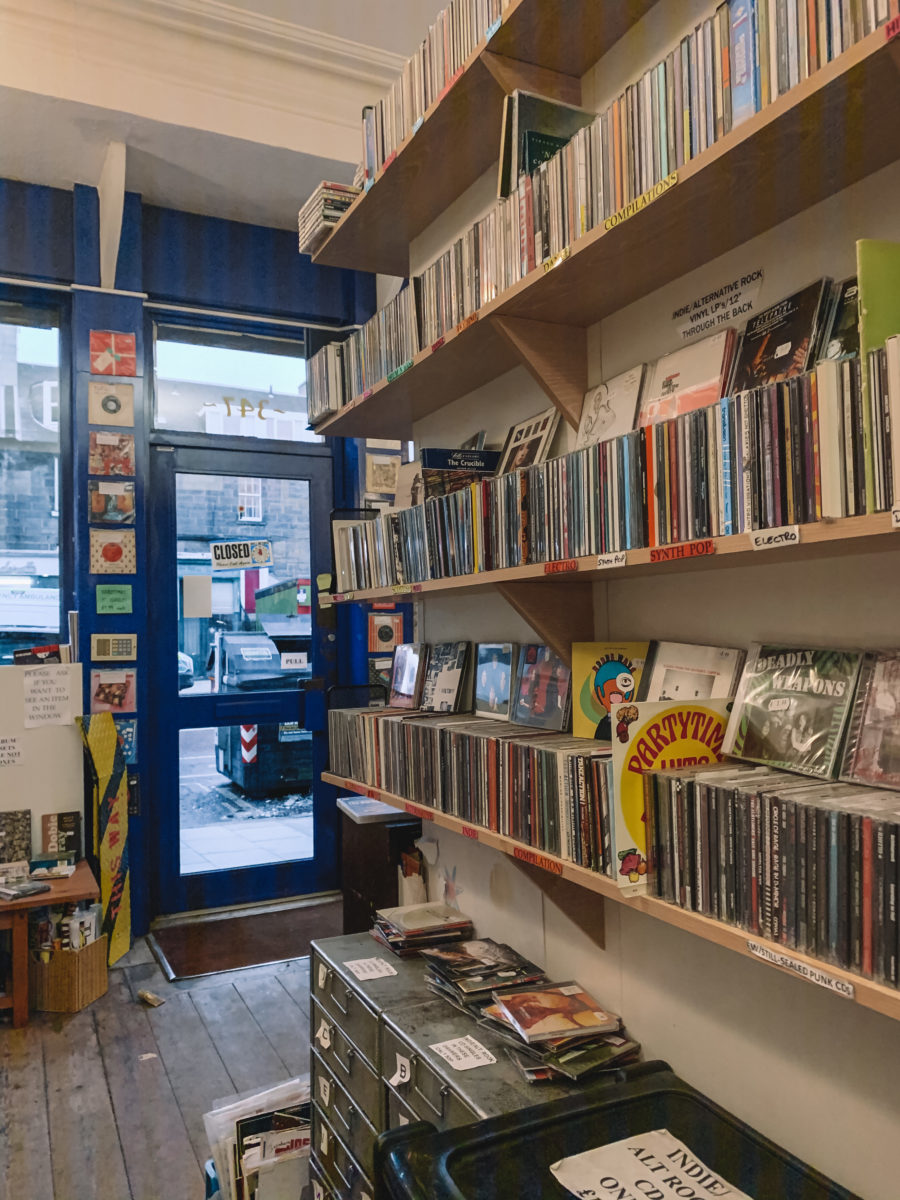 So yes, it doesn't look pretty when you arrive at the shop's door, but this is also the reality of Edinburgh, a charm that is perhaps more discreet, more northern city-oriented, industrial. But as you shouldn't judge a book by its cover, I strongly invite you to enter this Ali Baba's cave filled mainly with records and all genres: punk, alternative rock, dance or even indie.
"And when I come home (when I come home) yes I know I'm gonna be
I'm gonna be the man who comes back home with you
I'm gonna be the man who's coming home with you"
The Proclaimers – I'm Gonna Be (500 miles)
BLACKWELL'S BOOKSHOP
53-62 South Bridge, Edinburgh, EH1 1YS
https://blackwells.co.uk/bookshop/home
This chain of bookshops is a timeless part of the city and has a long tradition of selling books (first opened in 1879 in Oxford), yet I have only set foot there once. The style is uncluttered and the presentation of the books sympathetic, but I did not discover a real atmosphere conducive to making me discover new things.
"There's all this stuff that is happening in Edinburgh now, it's a sad attempt to create an Edinburgh society, similar to a London society, a highbrow literature celebrity society."
Irvine Welsh
WATERSTONES
128 Princes Street, Edinburgh, EH2 4AD
98/99 Ocean Terminal, Ocean Drive, Edinburgh, EH6 6JJ
It may be a British chain with branches all over the country, but there is something special about this chain that always makes me come back and buy. I first came across it during my language stay in Brighton and I still remember how much I loved spending hours there snooping around for a book and then reading it in the bookstore café.
It was the same in Edinburgh, especially because of the location of the West End one on Princes Street and the stunning view of my hilltop castle from the café windows. This spot is famous and it is very difficult to get a window seat, but it is worth the wait. Moreover, with its four floors of shelves full of books, it is easy to spend a whole day there, discovering all the sections, from philosophy, literature, detective novels to esotericism and poetry. Being a huge chain, you are sure to find what you are looking for.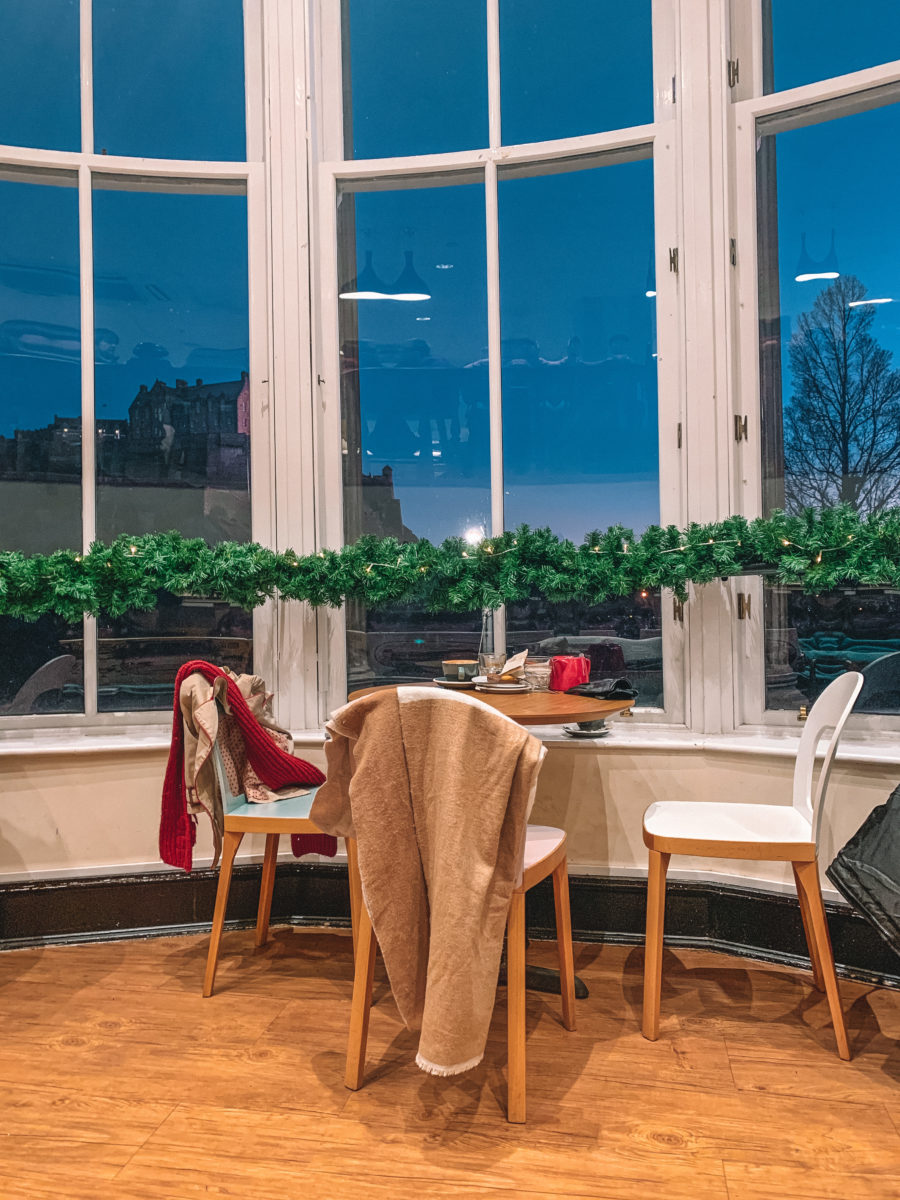 If you're visiting Edinburgh as a tourist, it's also a great place to visit to wander around the Scotland section and learn more about this beautiful country and its culture.
"Edinburgh is alive with words."
Sara Sheridan
This is a broad overview of the bookshops that give Edinburgh a very literary character. Scotland is not to be forgotten and there are many other pretty bookshops to visit. During my escapades, I could see some of them, often stumbling over them while walking around the cities.
LEAKEY'S BOOKSHOP in INVERNESS
Church St, Inverness, IV1 1EY
https://www.facebook.com/LeakeysBookshop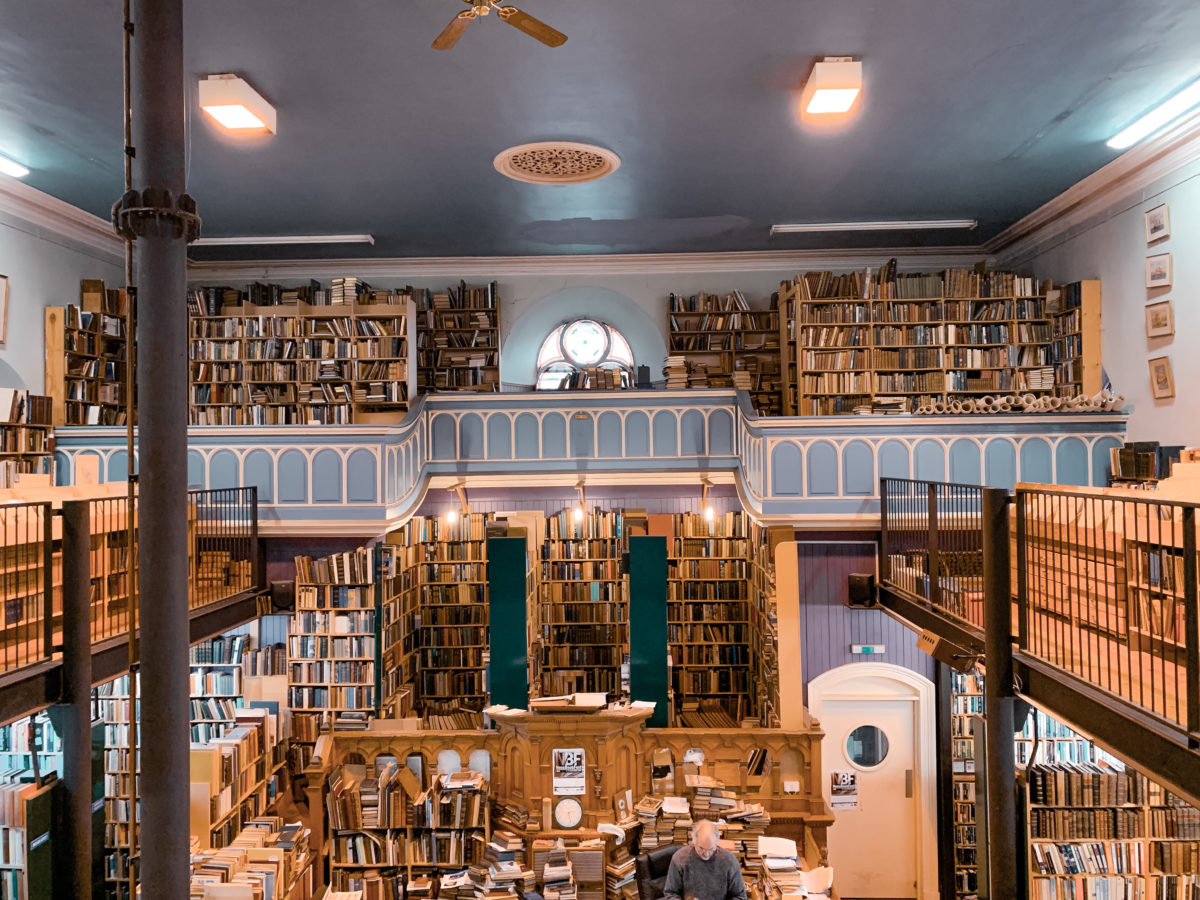 Inverness is the capital of the Highlands, the magnificent wilderness of Scotland and I never thought I would discover in this city, welcoming but a little cold, one of the prettiest bookshops I have ever had the chance to visit. Well, we weren't expecting to visit Inverness on our Highland weekend itinerary either, but a flat tyre after an hour's drive made us question everything.
So, having a little time in Inverness, I had discovered Leakey's Bookshop on Instagram and I took my mates to look for a church. A church, yes, because it was turned into a bookstore and is now hailed as the prettiest bookstore in the country.
It was in 1994 that the owners decided to convert an old Gaelic church into a bookstore that was a bit of a mess but where literary magic reigns. Few changes have been made to the building since its time as a place of worship and from the outside, it looks like an ordinary church with beautiful stained glass windows.
It is only on entering that one discovers a treasure trove of second-hand books, maps and engravings, which over two floors create a somewhat unreal atmosphere. I never thought I would discover a place like this, and after the small disappointment of a weekend full of adventure in the Highlands, I was almost happy that the tyre punctured and the only garage in the area to replace a tyre was in Inverness which left me discovering an absolutely fantastic place! Well, our adventures during this weekend were pretty crazy, maybe one day it will be the story of an article here.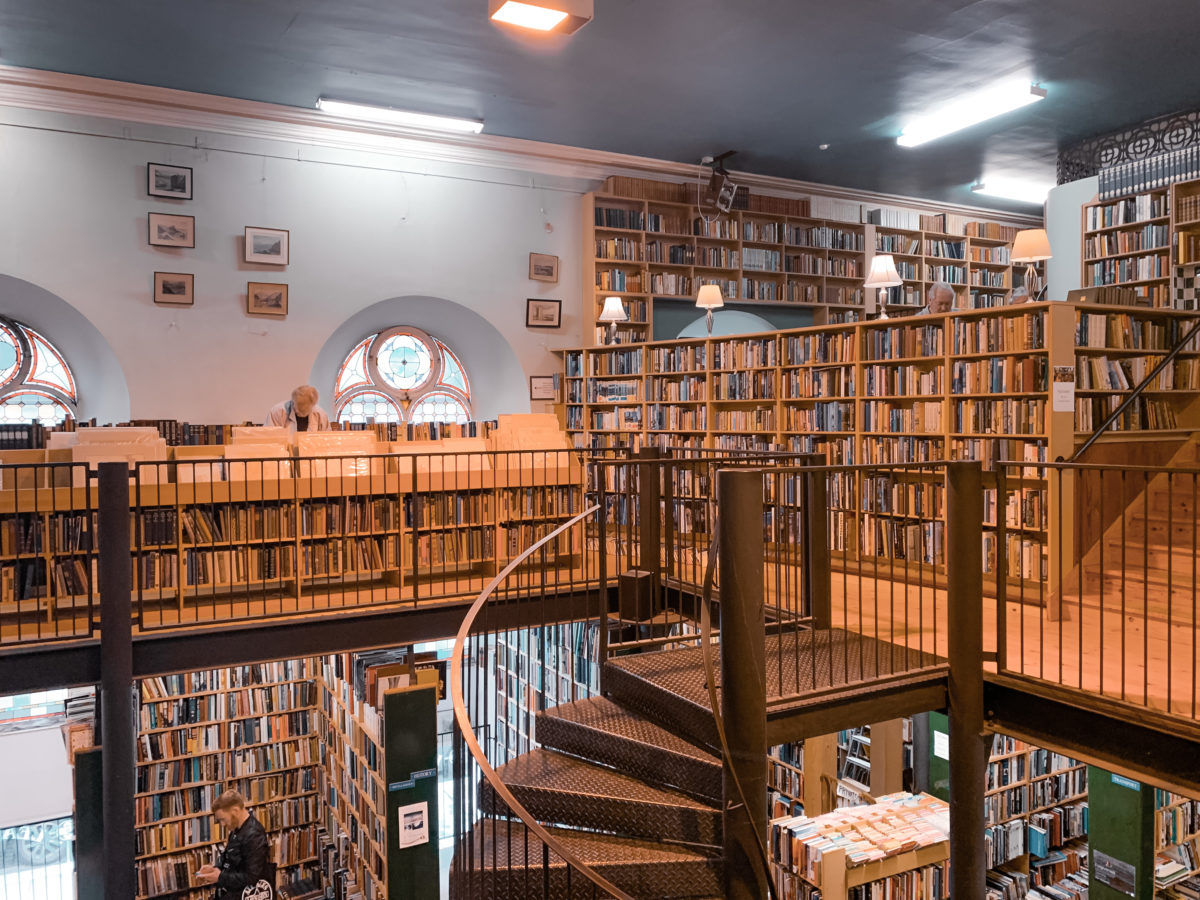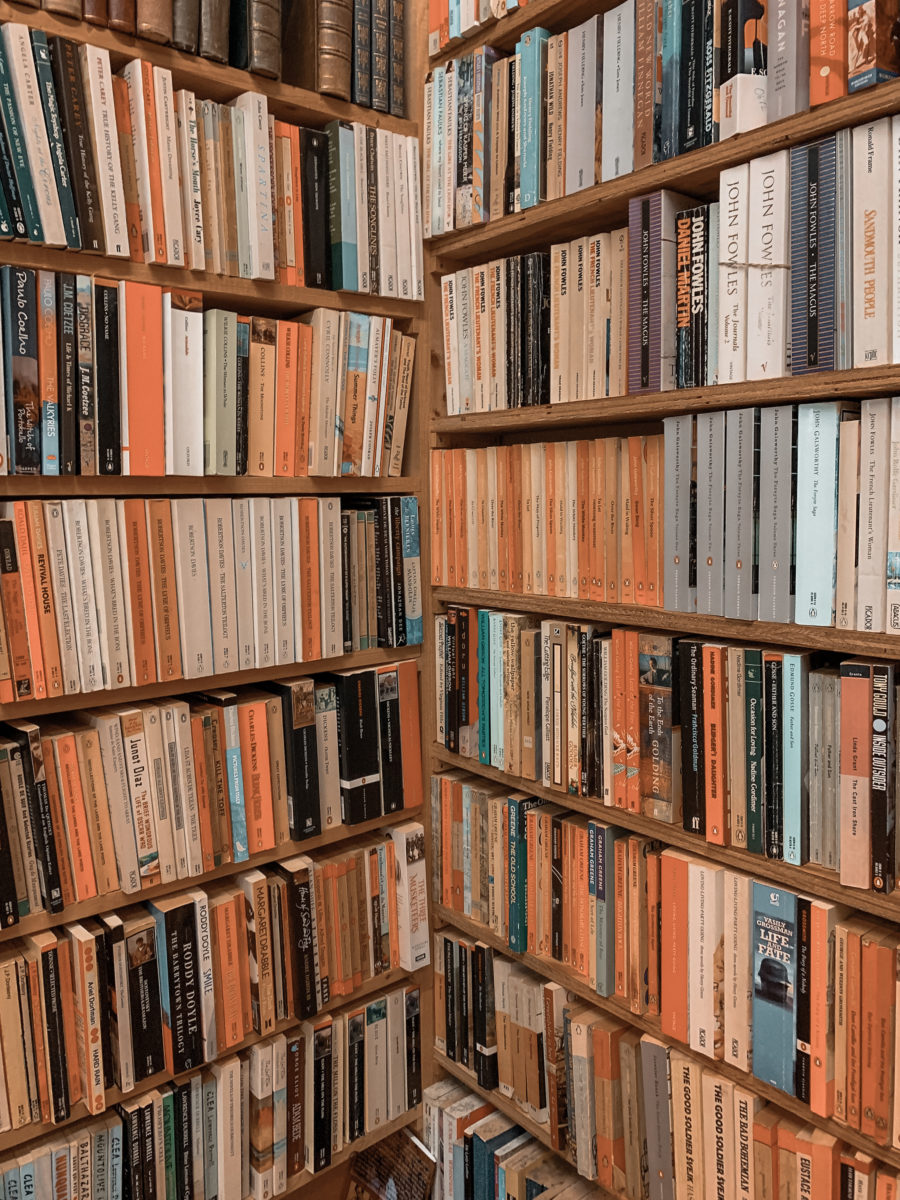 BOUQUINISTE BOOKS in ST ANDREWS
31 Market St, St Andrews KY16 9NS
http://www.bouquinistebookshop.com/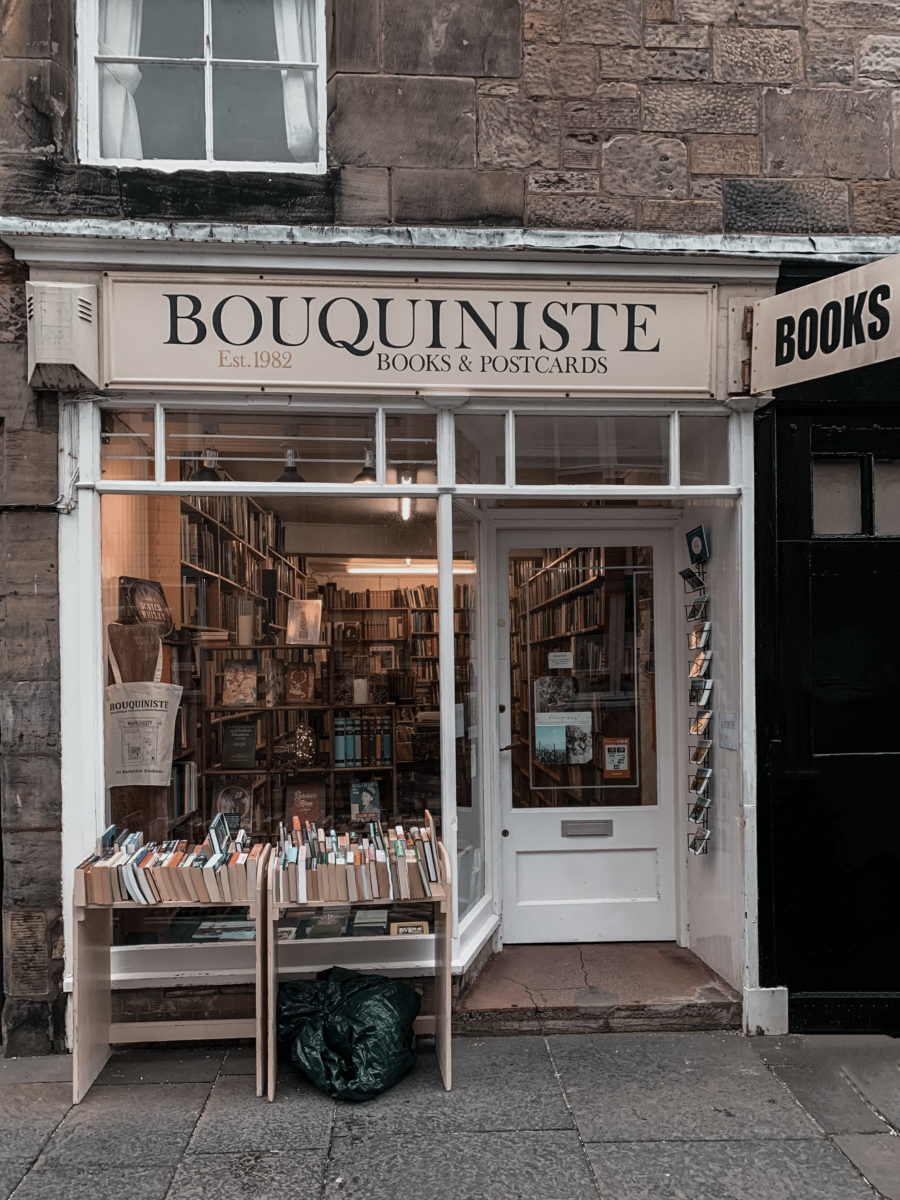 After visiting the Topping & Company branch in St. Andrew's, as we strolled quietly down the main street of the town, we came across a small alleyway leading to the town's most famous landmark, St. Andrew's Cathedral.
This alleyway alone exudes Scottish charm, especially also thanks to the bookshop, which is a good example of a local and welcoming shop.
CALEDONIA BOOKS in GLASGOW
483 Great Western Rd, Glasgow G12 8HL
https://www.caledoniabooks.co.uk/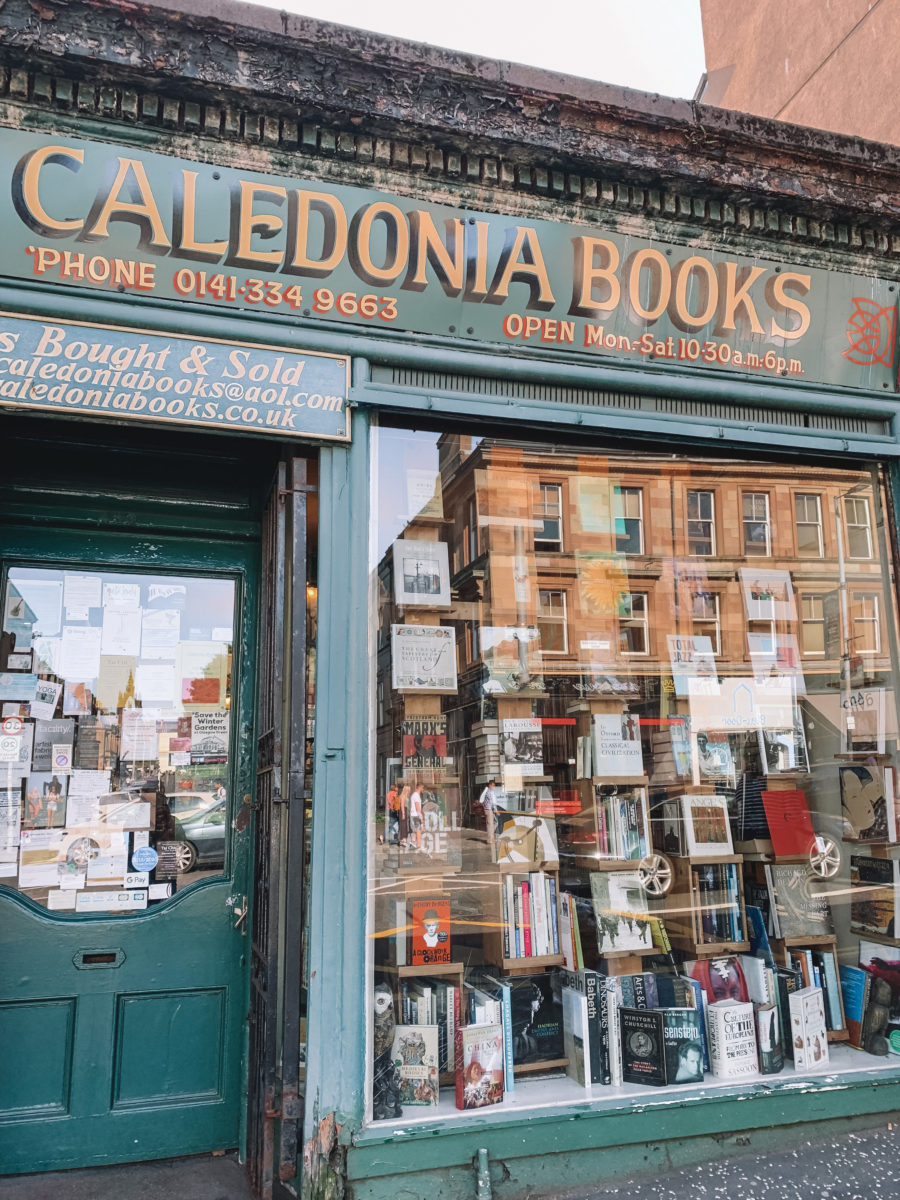 Situated on the Great Western Road in Glasgow, this family-run bookshop is a small paradise where strolling is the right term to discover new books. This place of character is exactly what a second-hand bookshop should be, with a smell of dust and a wide range of intriguing volumes on the slightly chaotic shelves, including an incredible basement travel section.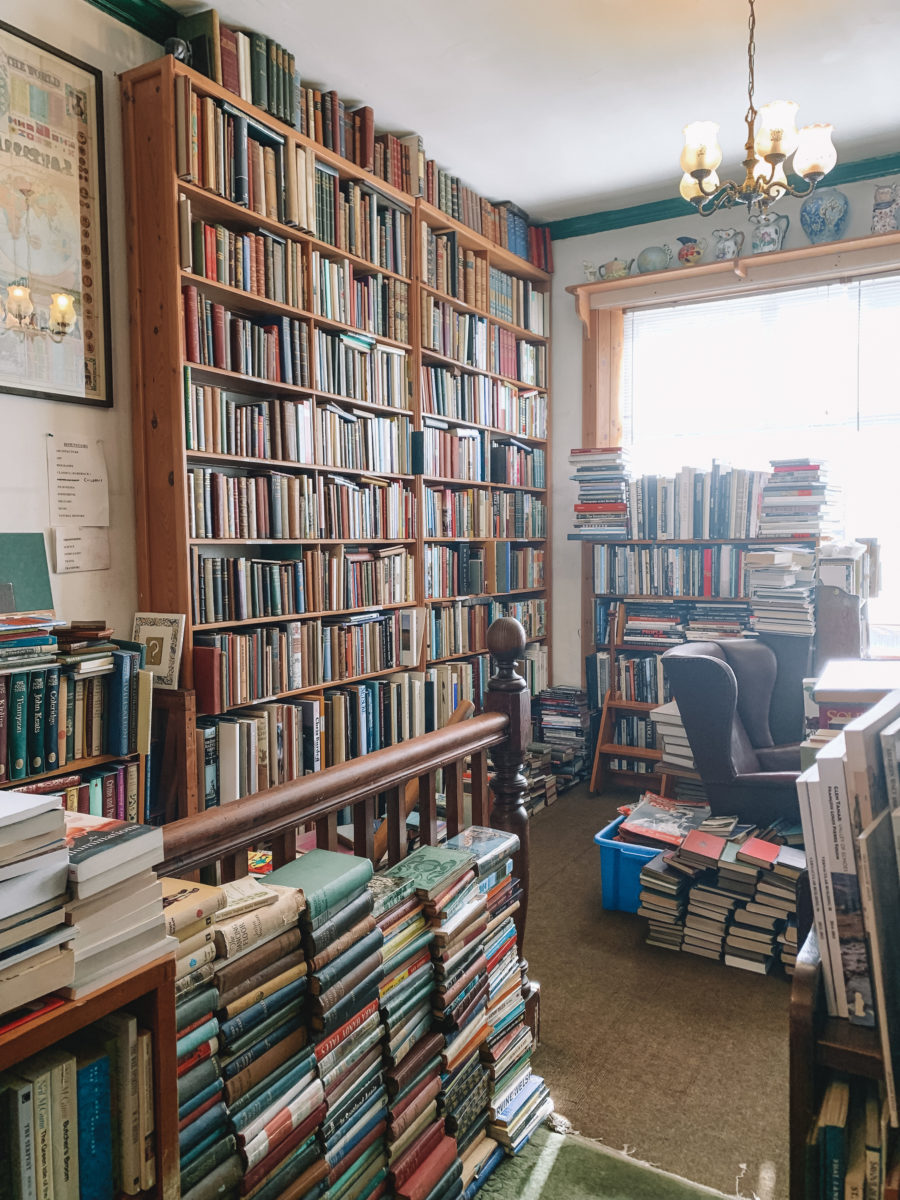 All subjects are covered, including essays, biographies, philosophy and comics from all over the world, with back issues and even some articles in foreign language editions such as French. There is something for everyone, and at a reasonable price.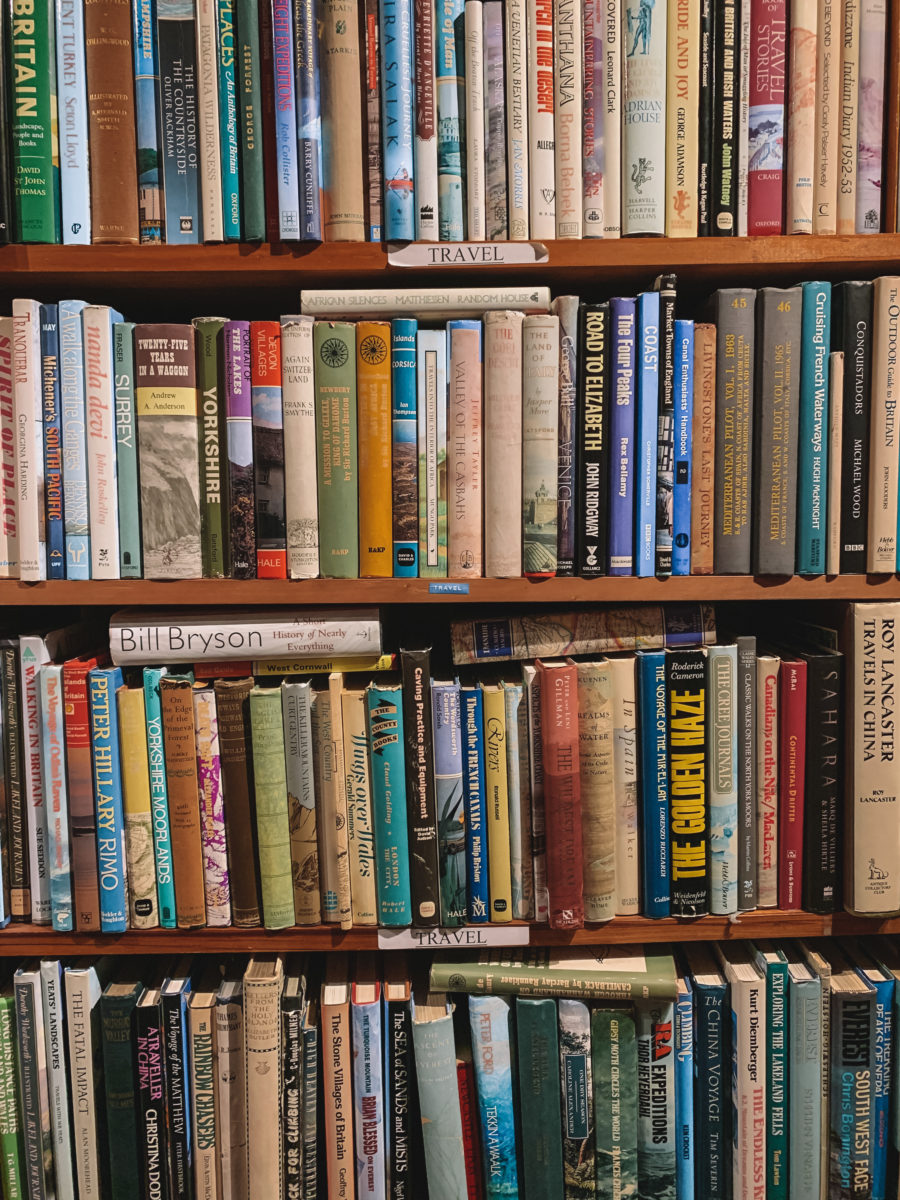 The books are stacked everywhere on two floors, but they are well organised and the place is clean and tidy. And then, I discovered the meaning of the word Caledonia, which in Latin is the ancient name given by the Romans to the land north of their province of Britannia, beyond the border of their empire: present-day Scotland.
WHERE TO READ A BOOK Cosily
Edinburgh is full of cafes where you can read a good book, as well as bars and gardens. The list below is not exhaustive, but these places have been personally tested and are suitable for a short reading session.
A bench on my favourite square next to the Museum's Writer (a very nice place to discover the city's writers, this museum is dedicated to Sir Walter Scott and Robert Louis Stevenson)
The Three Sisters bar but in the afternoon and on the terrace
At Grow Urban with a good tea, in the middle of plants
On a bench along the Water of Leith or in the Princes Street Gardens
All the cafés that will be the subject of an article soon.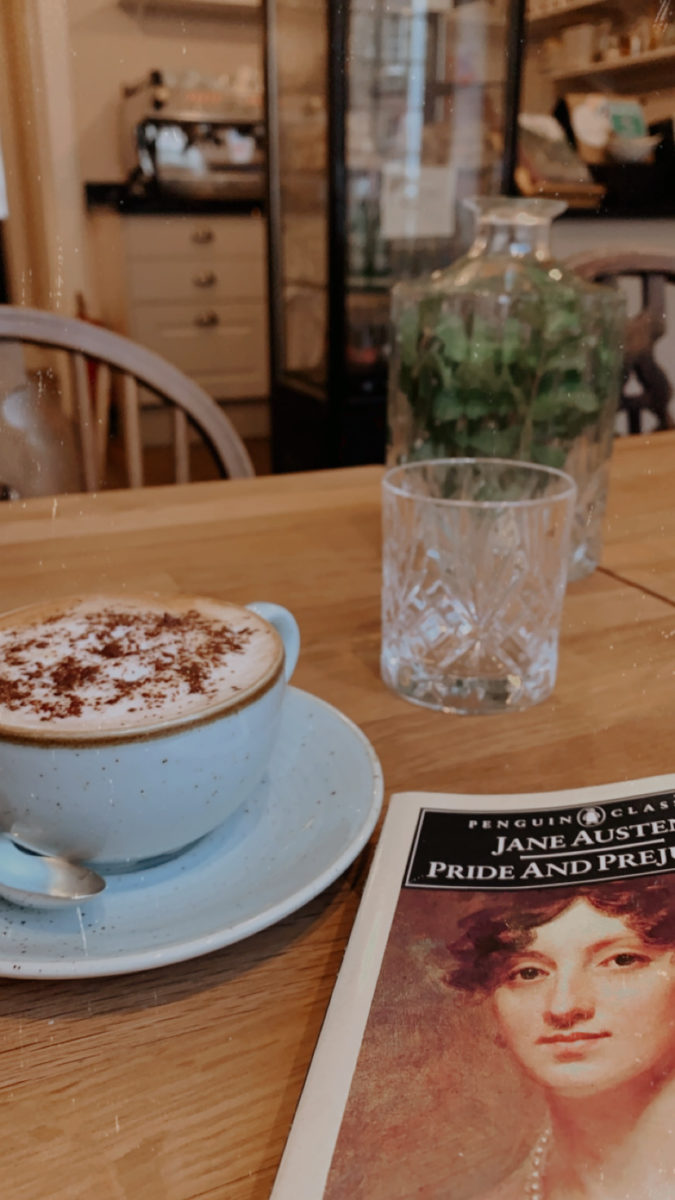 Finally, I have one last little surprise for this article. Edinburgh is full of secret and unusual places. Places you would never have guessed existed, like a small library room hidden among the floors of a shop on Princes Street. Indeed, it is not on the women's fashion floor that we would have thought to find an old library dedicated to a former Prime Minister William Gladstone, and yet! See you on the second floor of Debenhams.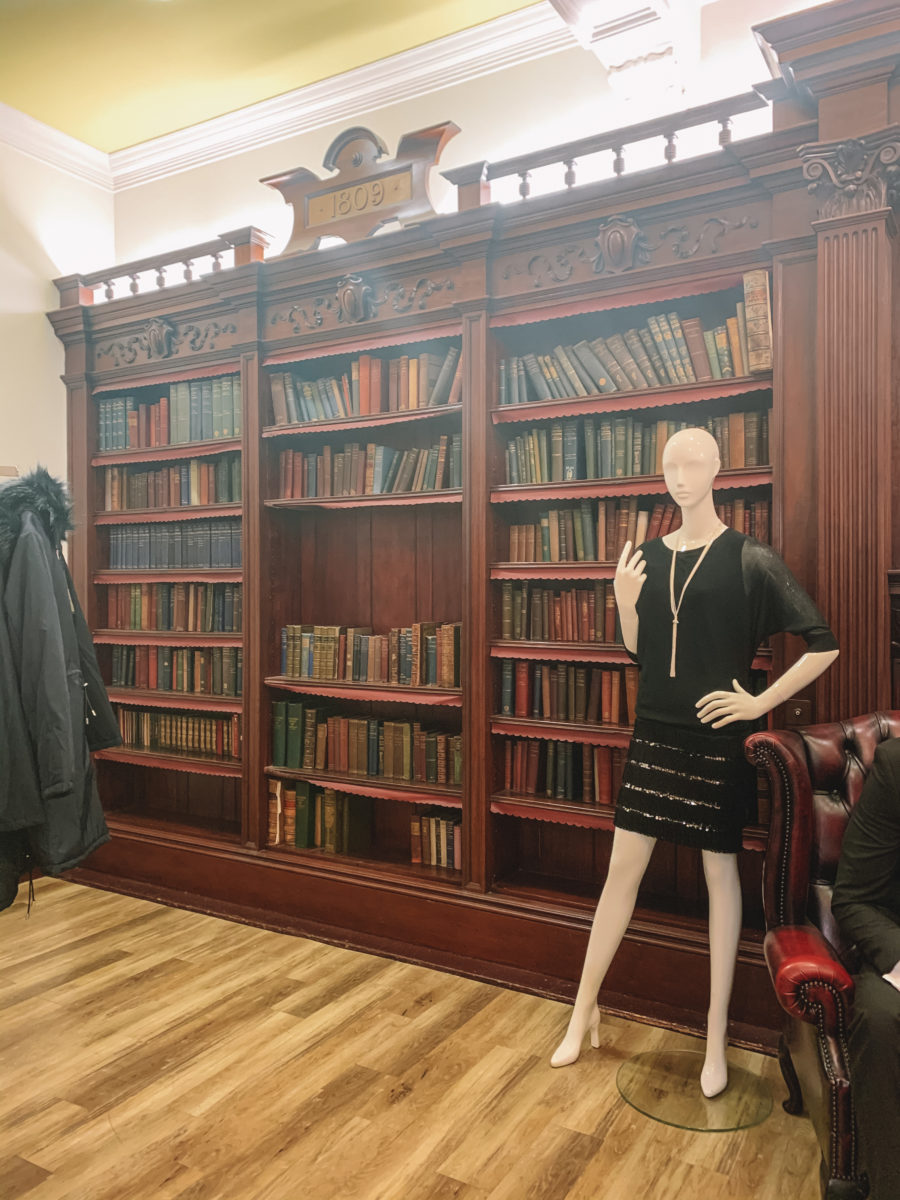 I leave you with this mantra: The only thing you need to know is the location of your local bookstore. And you, what are your favourite bookshops? Tell me in the comments.