"There's no leaving Edinburgh, No shifting it around: it stays with you, always."
Alan Bold
With my eyes fixed on the gloomy sky that covers Lake Léman with an opaque mist, I see no ray of sunshine emerging from my balcony. I am simply reading but my thoughts are elsewhere. My heart too. I am nostalgic, happy to be back in my beloved Switzerland, but I can't repress the tiny depression that hugged me when I returned at the beginning of the year 2020. It seems that students often feel this feeling when they return from a university exchange. I miss it, I miss my adventure, I miss my Scottish life, and above all I miss Edinburgh!
This state of mind doesn't go away but, life goes on, you get used to it again, you start classes again. Then, Covid-19 takes over… It's almost a year since I left for Edinburgh. But I look back and ask myself: How did this city manage to fascinate me so much, to give me an incredible feeling of freedom? Everyone is different and will experience the same thing in a totally distinct way, yet Edinburgh is worth visiting, worth living, and I will reveal its secrets in this article. This is the complete guide to discovering the Scottish capital.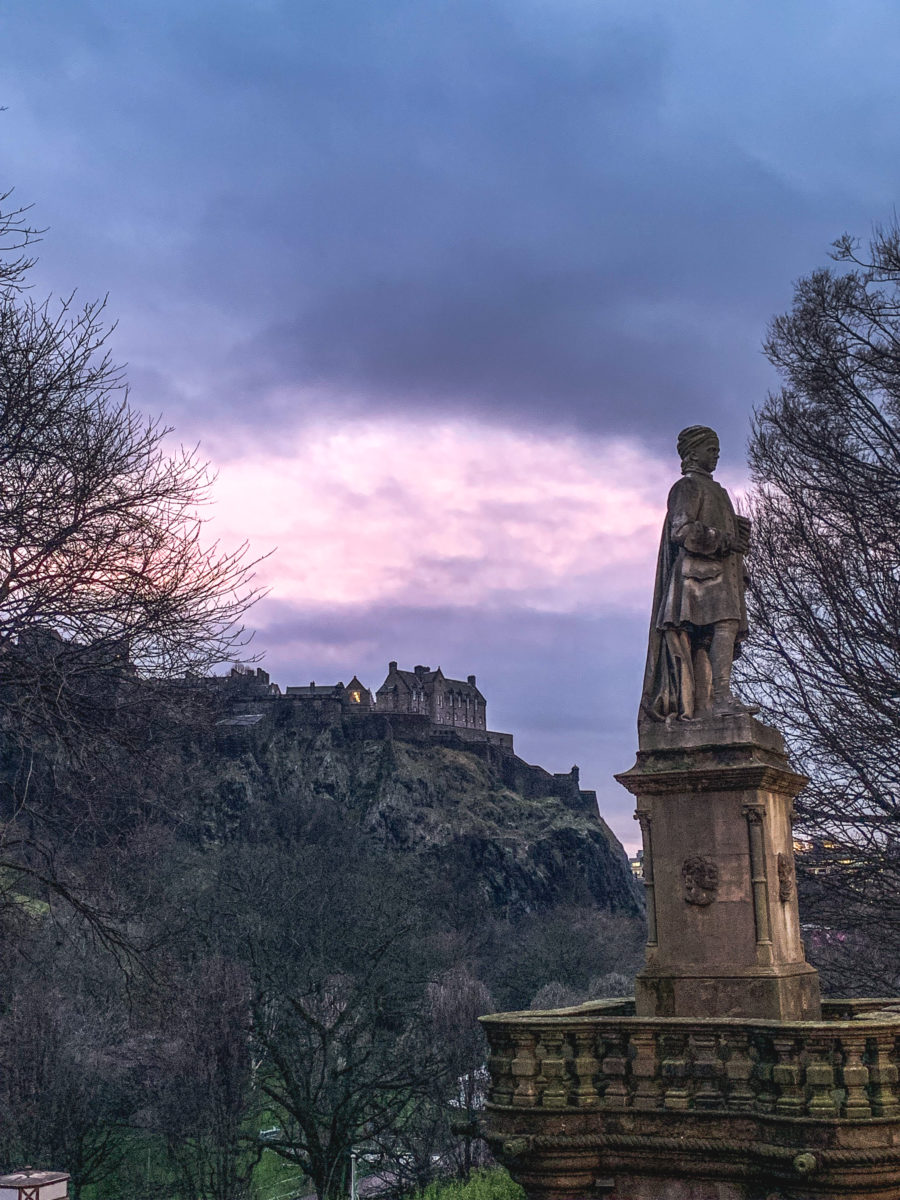 There are really two Edinburgh. There is the city that tourists visit, with its castle and its bagpipers dressed in kilts. There is a magical, almost fairy-tale side to the city that makes it so intriguing. But there is also a city, which lives and breathes under this appearance and which tourists rarely see. You really have to live in it for a while to become aware of it and leave the tourist aspect aside. Edinburgh is also a more rebellious, more difficult city. When you think that in the 80s, the Scottish capital had a big drug problem and the worst AIDS rate in Western Europe, or when you delve into its history in more detail, you realise the two sides of the city.
Contradictory facets, such as the good and bad weather it enjoys, a sort of city influenced by Dr Jekyll and Mr Hyde by Robert Louis Stevenson (Scottish author, more precisely from Edinburgh, coincidence?) with many faces, but which gives precisely to those who live there or come to visit it, a particular attachment, a fascination.
Thus, Edinburgh fascinated me from the very first moments, 5 years ago during my first visit. However, when I selected my choice to go in exchange, I only placed Edinburgh in 2nd position. I had discovered the year before Montreal, and I could see myself studying there for a semester. Just another one of those cities that managed to catch my attention, to define me not only as a tourist, a passing visitor but also as a resident for a certain period. I was selected to go to Edinburgh, however. A little disappointed at the beginning, I couldn't imagine better news today.
Edinburgh is often given grey skies, and that is the truth, but I couldn't be more objective in saying that it is under this feature that I find the city most fascinating, mysterious or even seductive. And yet, the slightest ray of sunshine is welcome to come and give a glittering effect to the emblematic bricks of the Old Town. I won't spend several paragraphs praising the Scottish weather, however, whether the weather is fine or rather rainy, the city will know how to make you discover these assets, whether they are sublimated by shimmering colours or rather in a greyish tone that will reveal all its charm.
To visit or live in Edinburgh is to be transported through a history that vibrates among the many bricks of its buildings with their different architectural styles, that lets itself be influenced by myths and legends, or a developing city that is moving forward and placing Scotland on a world economic map (with Glasgow) while not forgetting its past.
This article is fragmented firstly by my two favourites (in itself difficult to really sort out, but both really stand out), then by the different districts of the city and finally by my addresses tested and above all approved according to various themes (cafés, restaurants, pubs, etc.). There will be some reading, but after you've finished, I hope you'll have only one thing to look forward to: planning a trip to Edinburgh!
MY TWO FAVOURITES
EDINBURGH CASTLE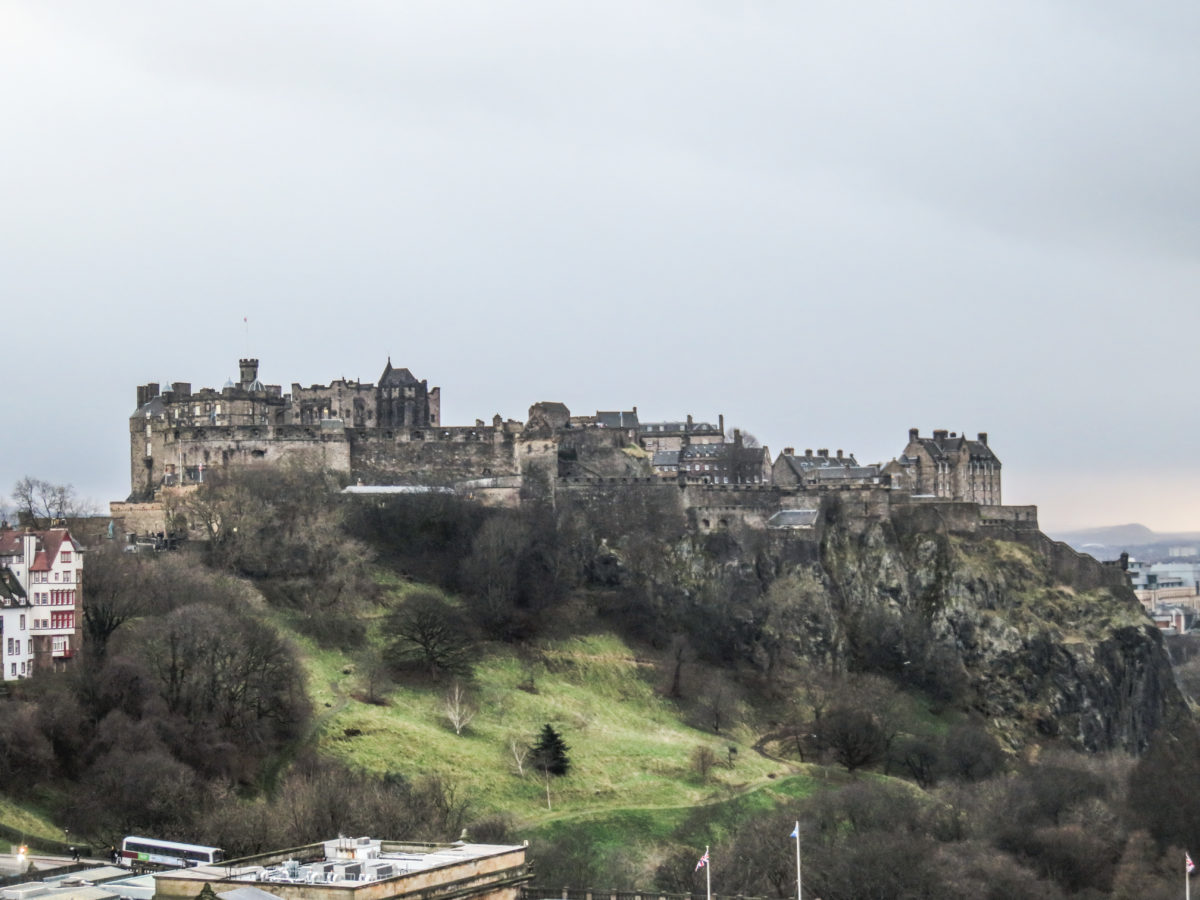 Everyone who visited me and the people I met there can testify to this: I took possession of Edinburgh Castle. Yes, it is MY Castle. All kidding aside, this building is one of those places whose mere mention or glimpse during my stay puts a smile on my face and invites me to travel.
Dominating the skyline of the town since the 12th century and playing a central role in Scottish history, the castle is the emblem of the city and thus the most visited tourist site in Scotland. I visited it on my first trip to Edinburgh, and although I don't really remember, I didn't want to pay again £19.50 (£17.50 if you book online) to enter it.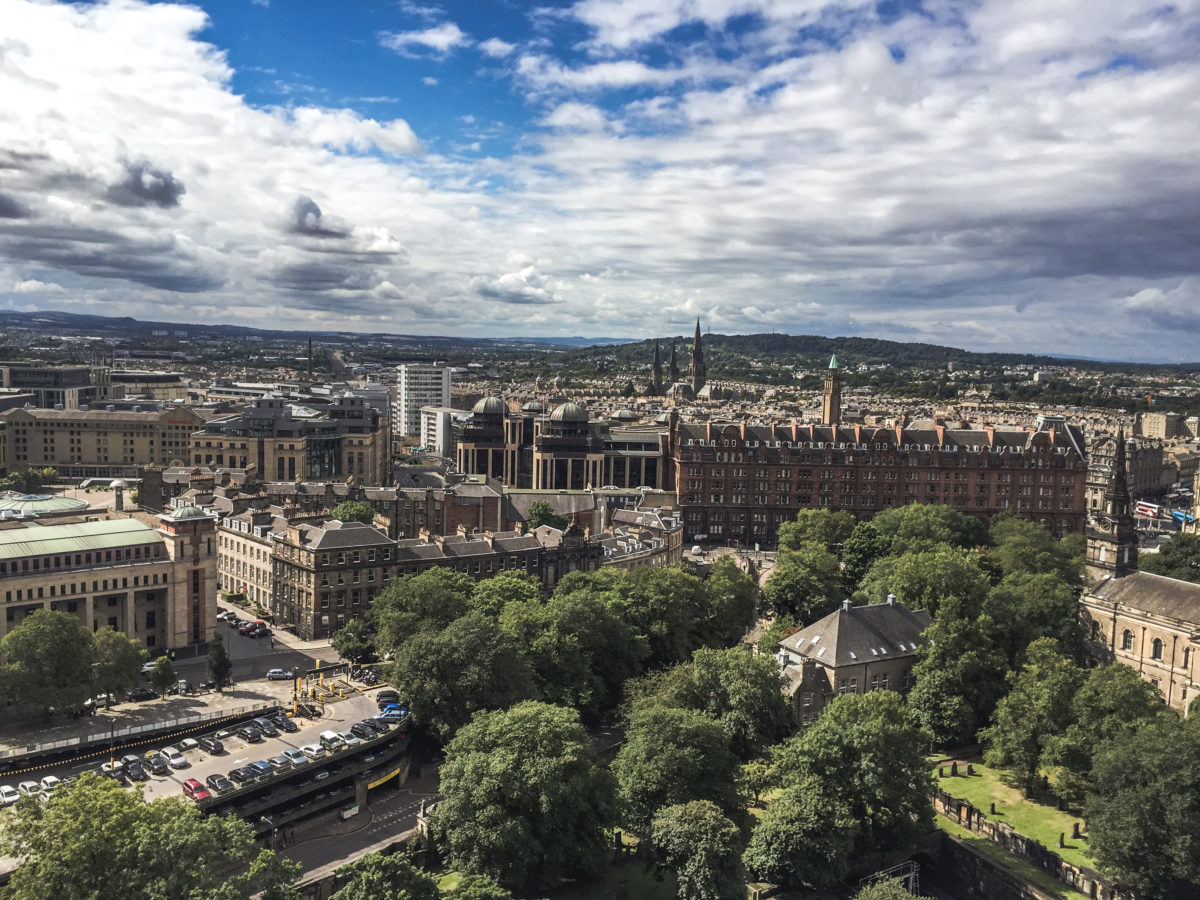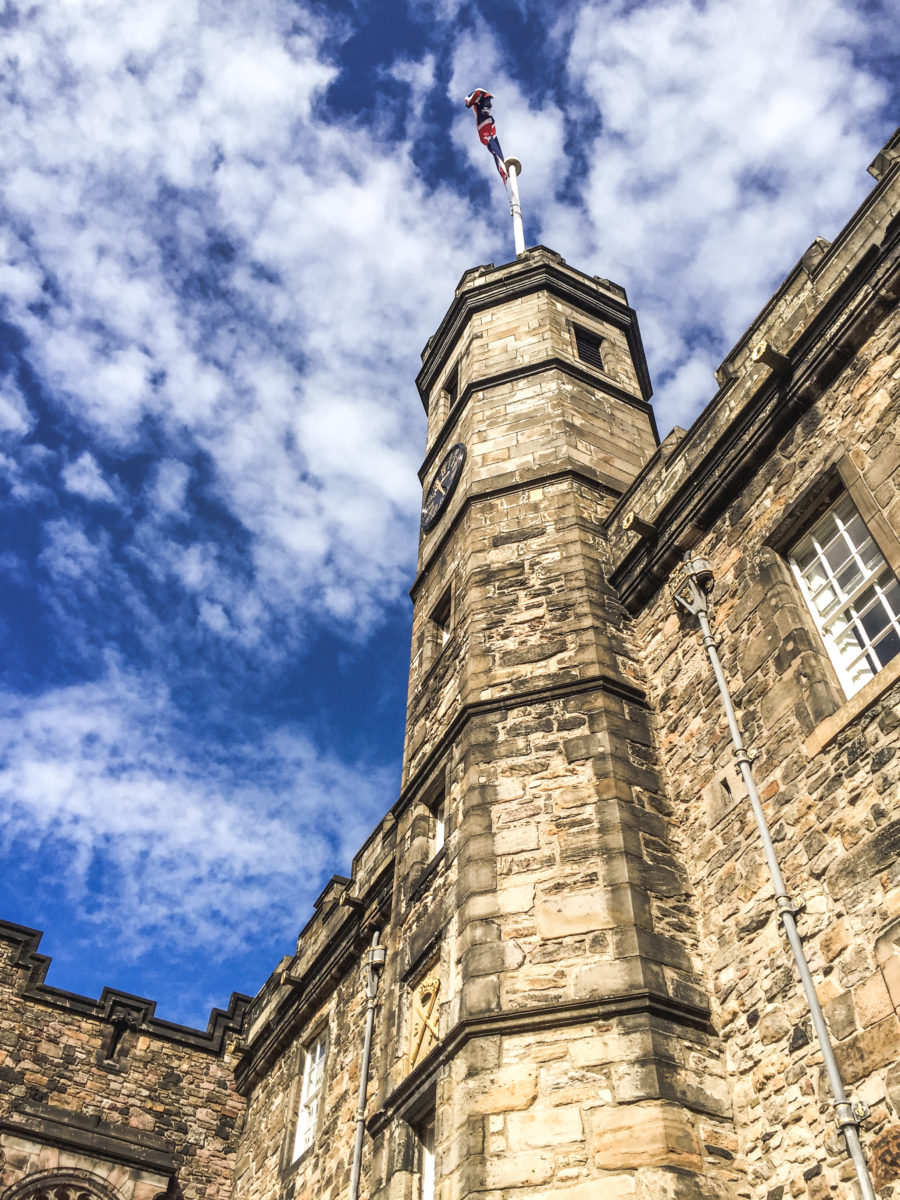 This time I went there to see the beautiful lights at the end of the year. It was a magnificent show that you shouldn't miss and which I will tell you about soon in an article about the end of year celebrations in Edinburgh.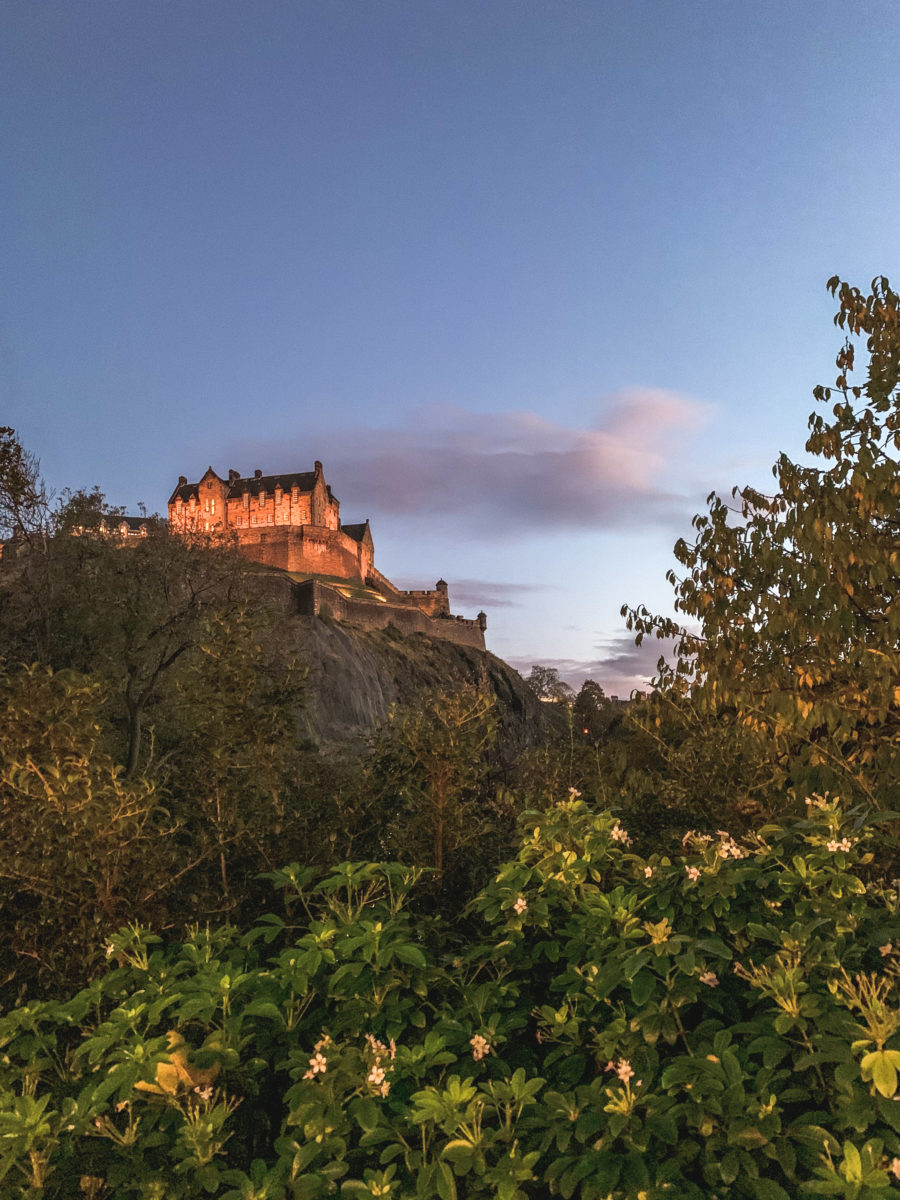 The esplanade leading up to the Castle is the venue for Edinburgh's famous Military Tattoo, yet another city event not to be missed, especially its fireworks display that closes the festivities. Having attended it in 2015, I promise that it is grandiose. Even if you don't visit the Castle, take the time to go to the esplanade, where you will get a new perspective on the city and Arthur's Seat.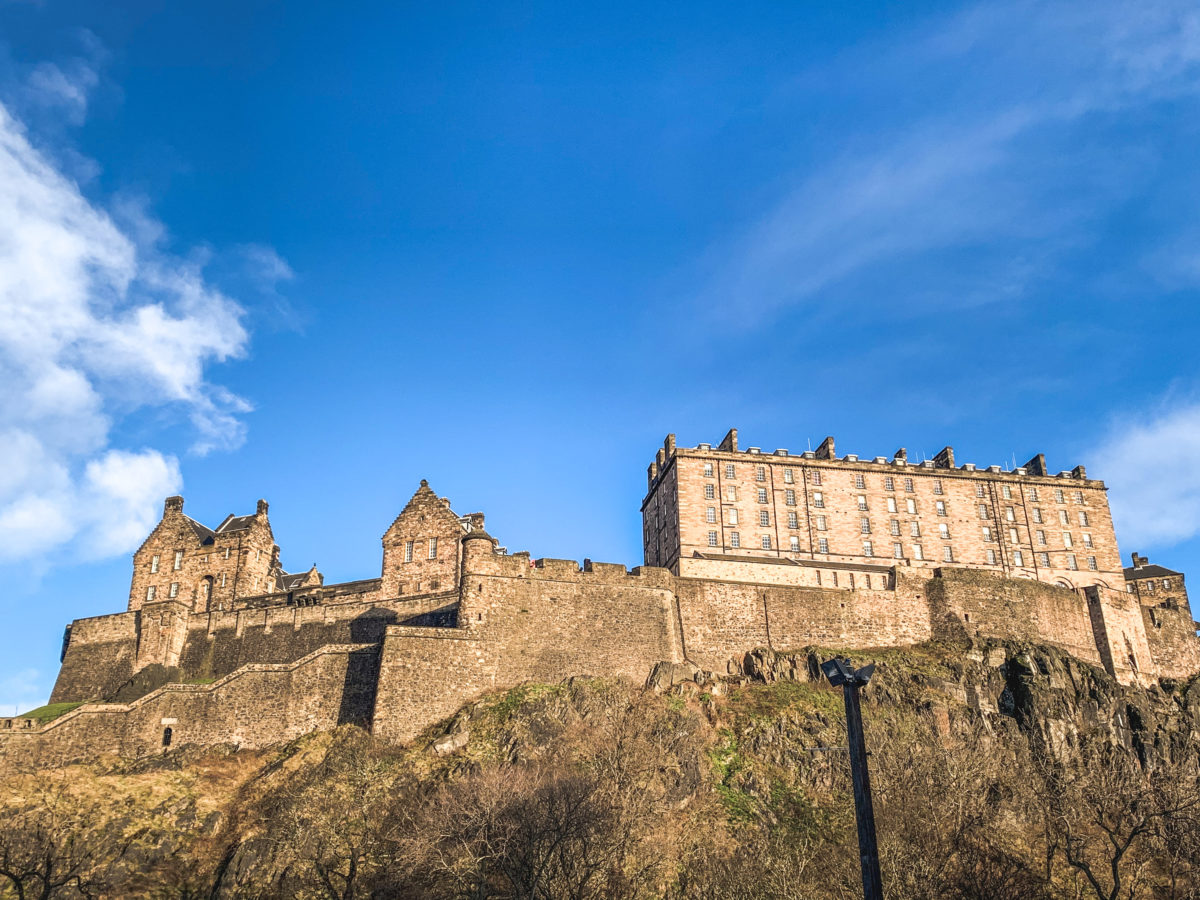 In turn fortress, royal palace, prison or Ale's Castle, the Castle was built between the 12th and 20th centuries. It was in 1603 that it lost its title of royal residence when James VI of Scotland, who had become King of England (I advise you to also learn about the English and Scottish monarchy, so fascinating!), left for London.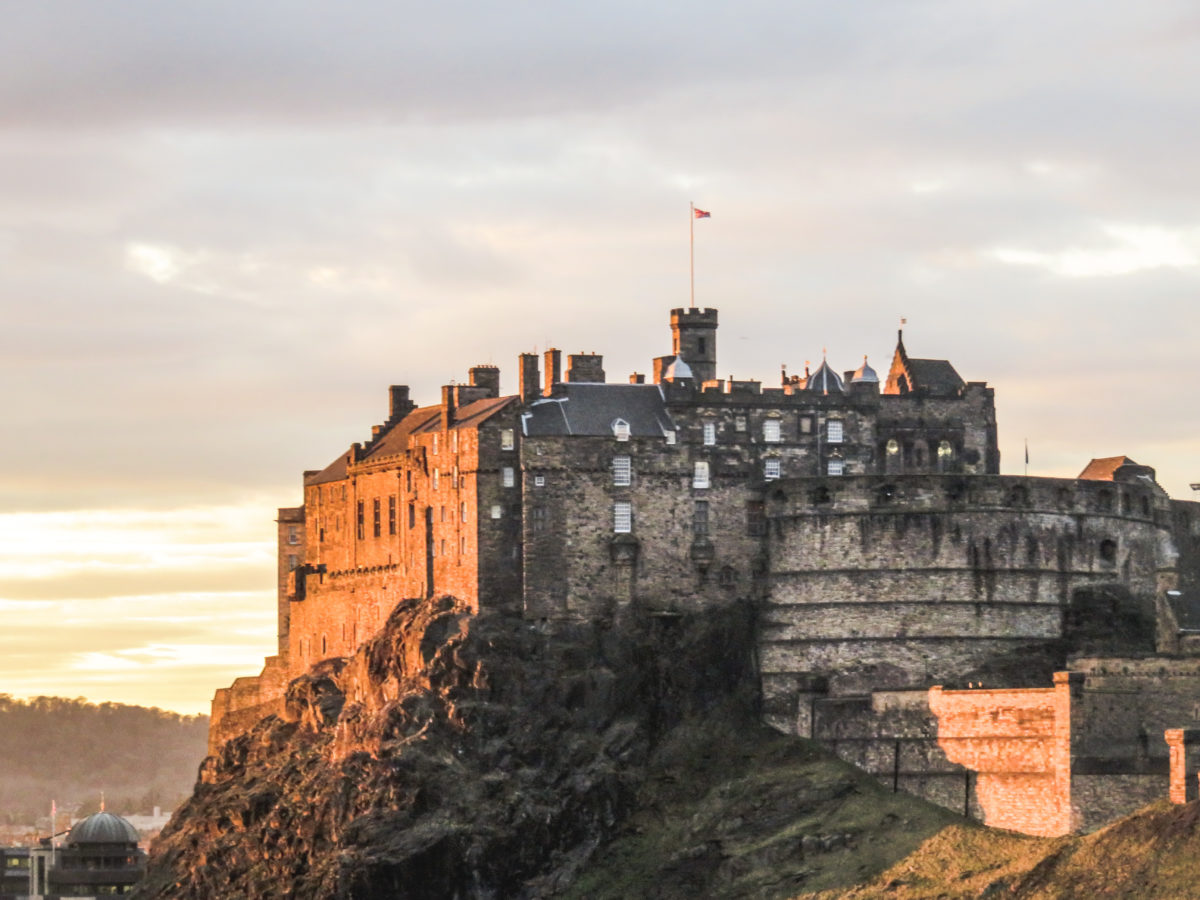 Wherever you are in Edinburgh, the Castle will allow you to situate yourself and from every angle, it will charm you. I'll spare you the 500 thousand photos I've taken, but below I have listed the best locations from which you can enjoy the view of the Castle.
Princes Street Garden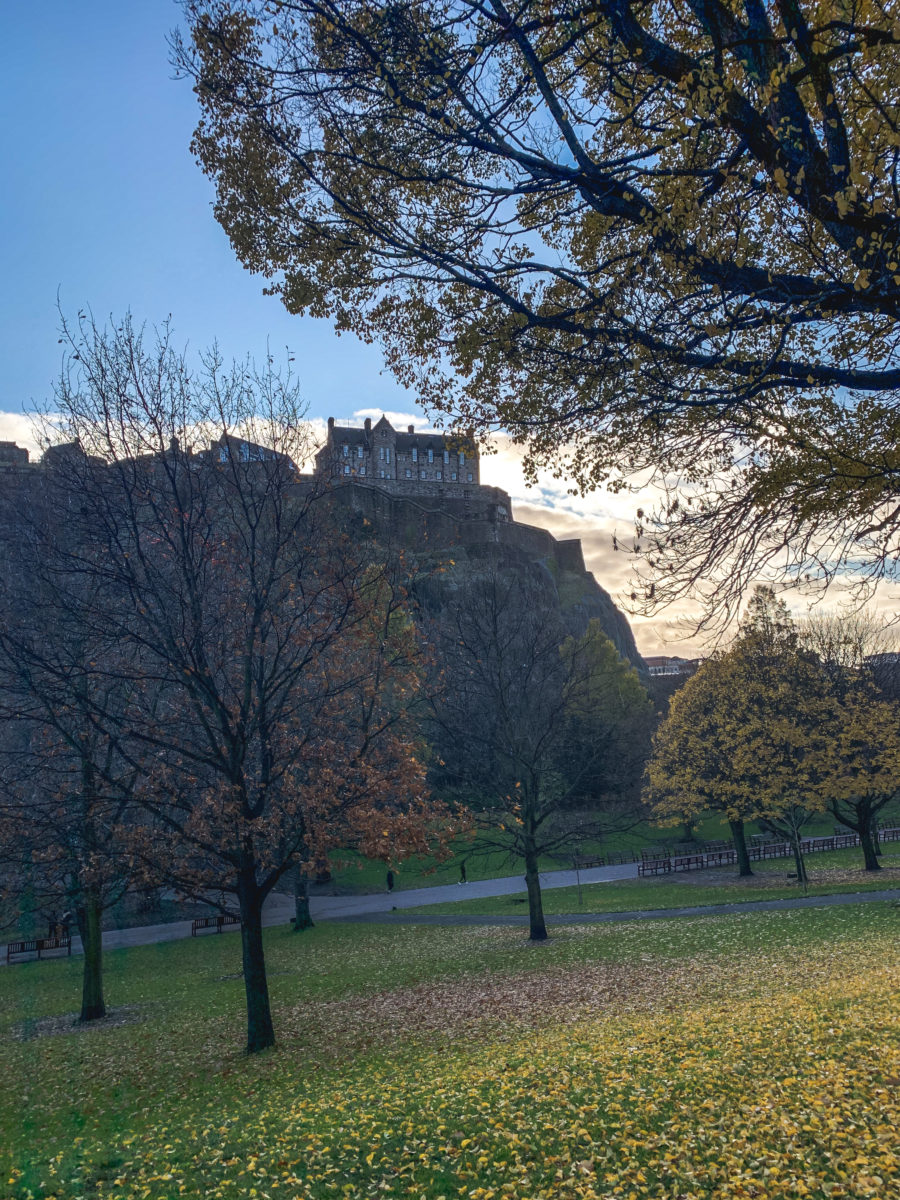 The Vennel
Arthur's Seat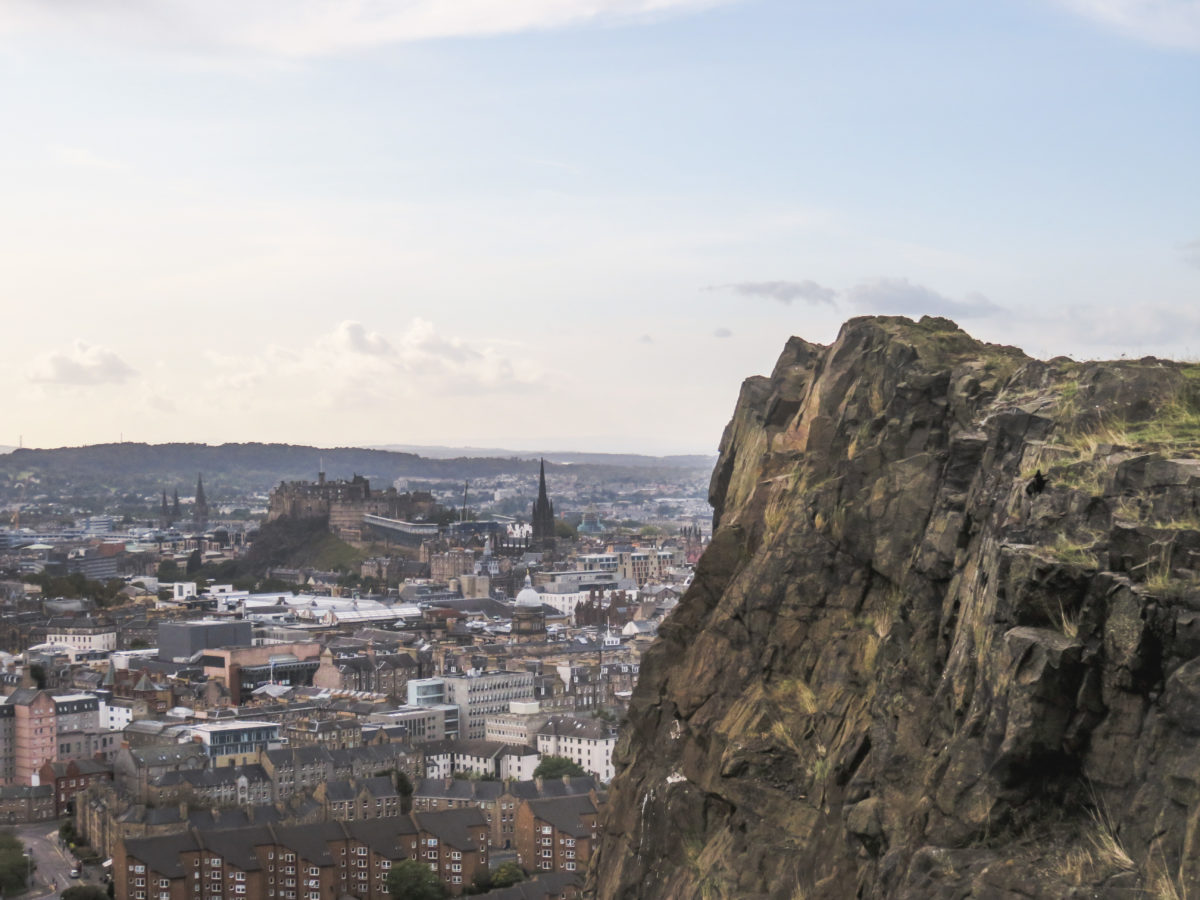 Terrace of the National Museum of Scotland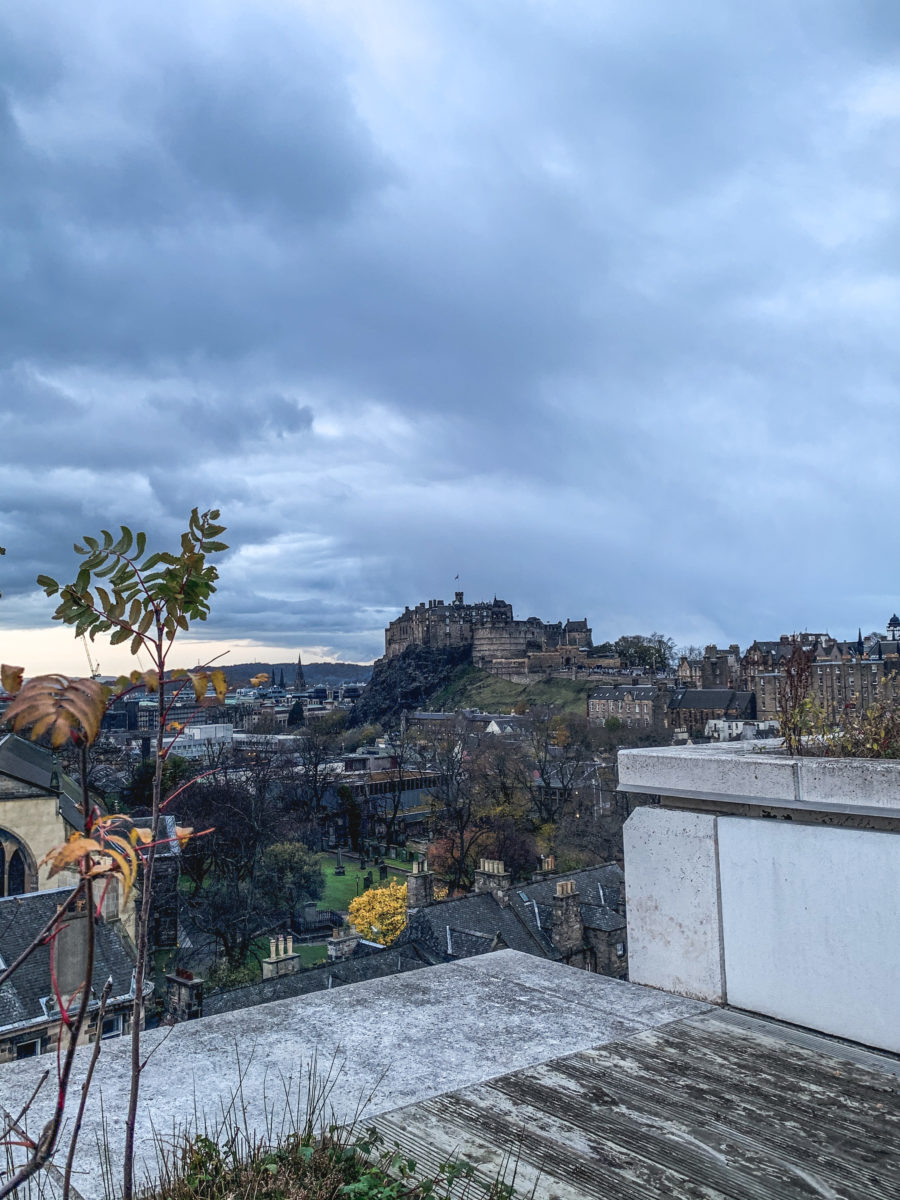 Scott Monument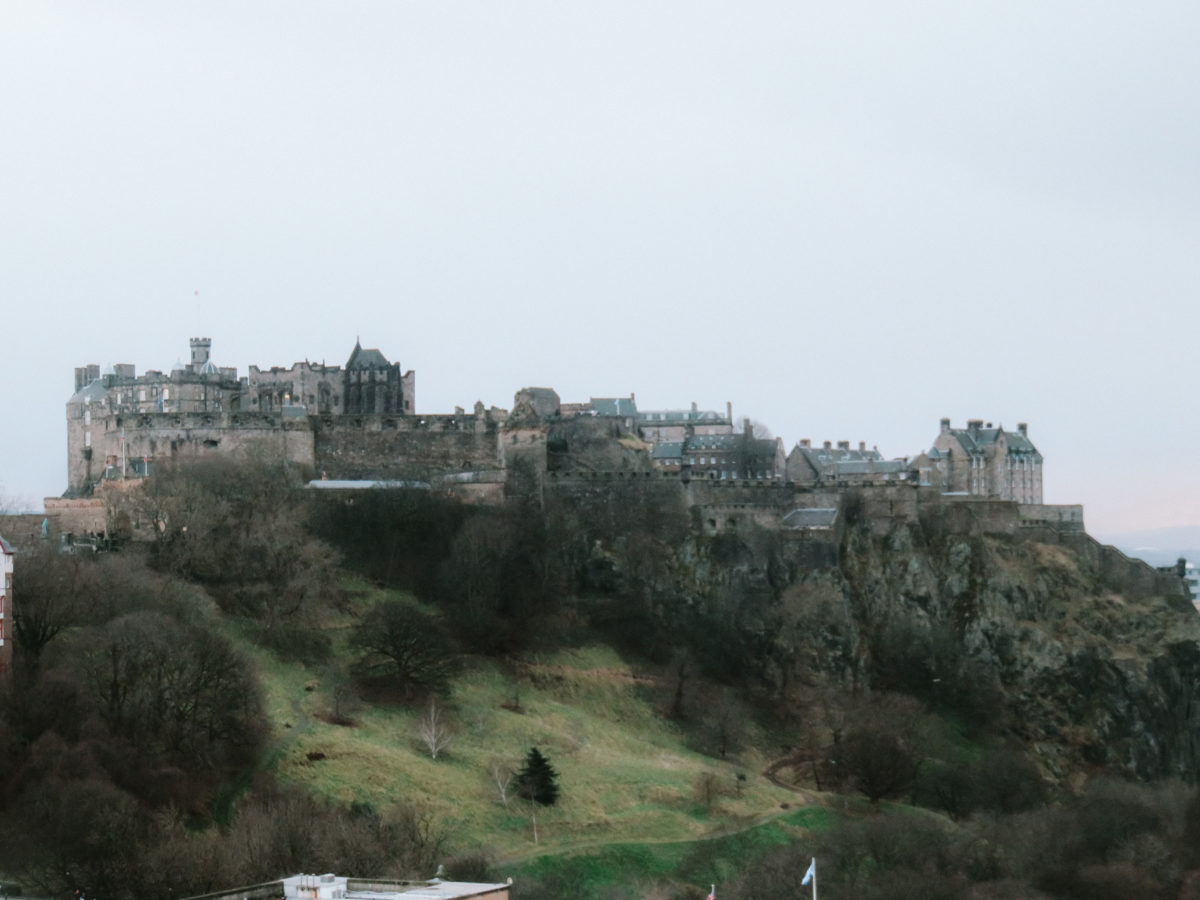 Camera Obscura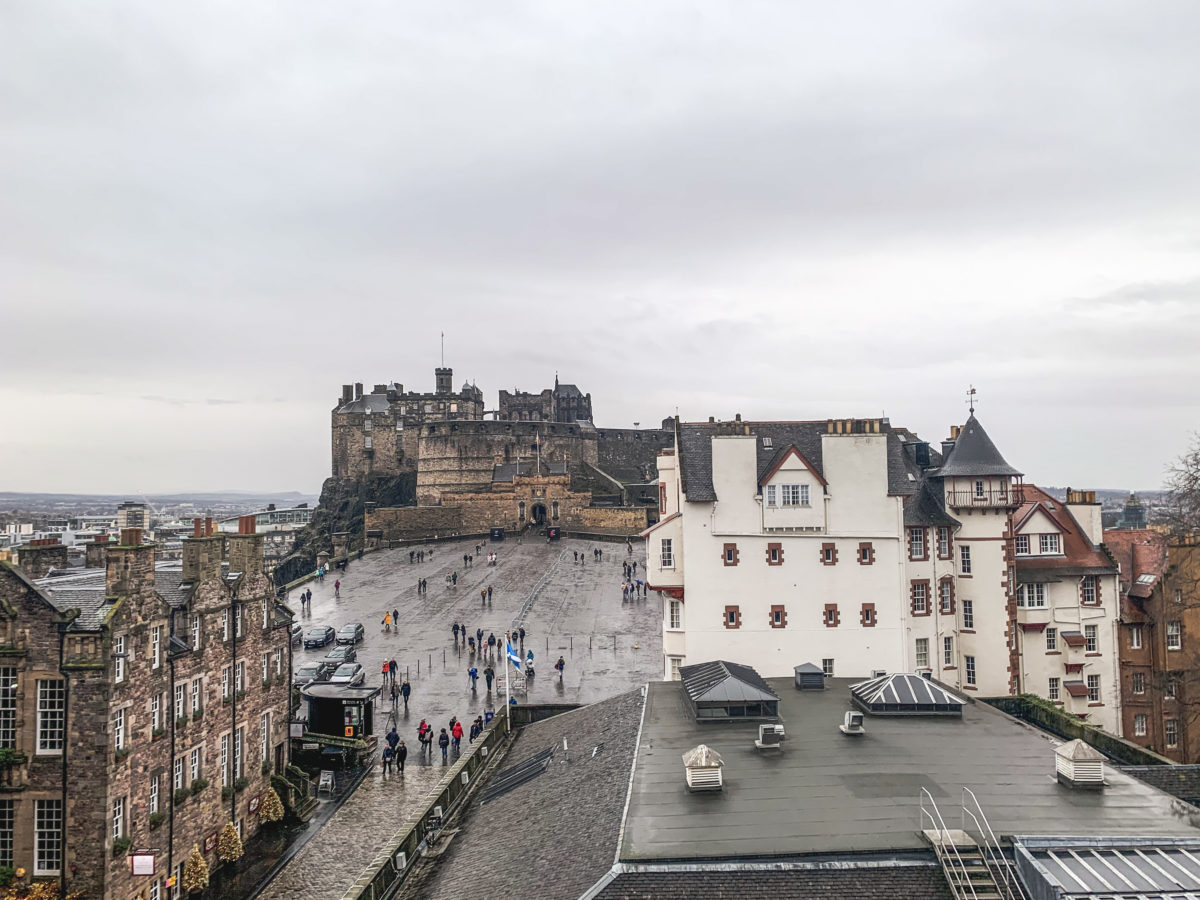 CALTON HILL
As a sunset hunter, I was remembering this place as the spot where I had seen a beautiful sunset on my first visit. One of those sunsets that may not be the most colourful, but with the atmosphere of the city and the skyline that reveals itself, it certainly allows you to spend a moment out of time.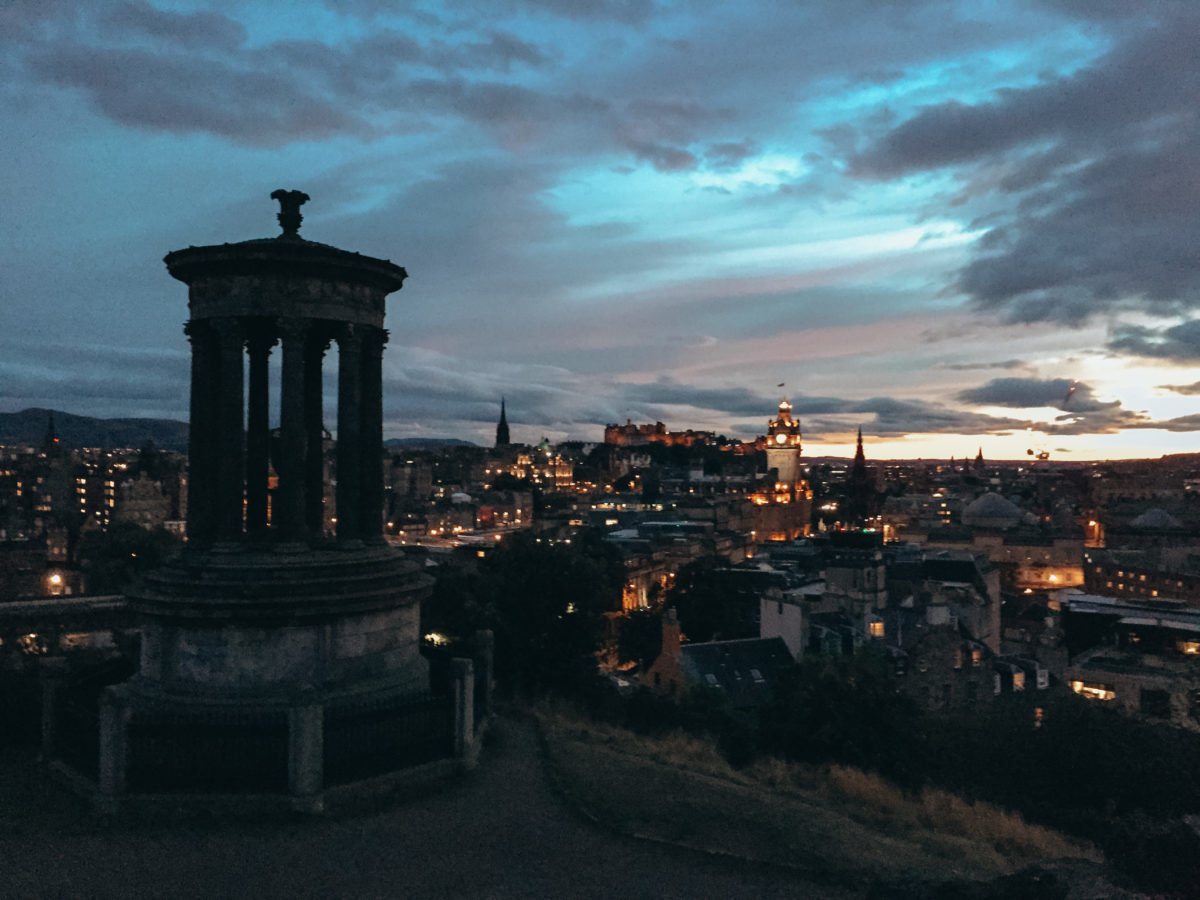 You'll find this place at the eastern end of Princes Street: Calton Hill, a UNESCO World Heritage Site. At the foot of the hill is the Palace of Holyrood and at the top of the hill, you will find many monuments that take you back in time to a rich and exciting history: the National Monument of Scotland (the sort of acropolis), the Nelson Monument, the Dugald Stewart Monument and the Astronomical Observatory.
This sanctuary is a popular touristic place where everyone comes to have their emblematic souvenir photo, and for me, it is a place of inspiration, rest and above all aperitifs. Isn't it the best place to enjoy a beer with friends while waiting for the sun to continue its journey to other continents? However, make sure to protect yourself from the extremely strong wind and remember that you are not supposed to drink alcohol in the "street".
Every sunset I saw was different. Yet certain aspects of Edinburgh are often repeated: the bricks radiate, a light mist comes over the city, all in a mysterious aura dear to Edinburgh. Moody, misty and mystical, three adjectives that fit the city perfectly.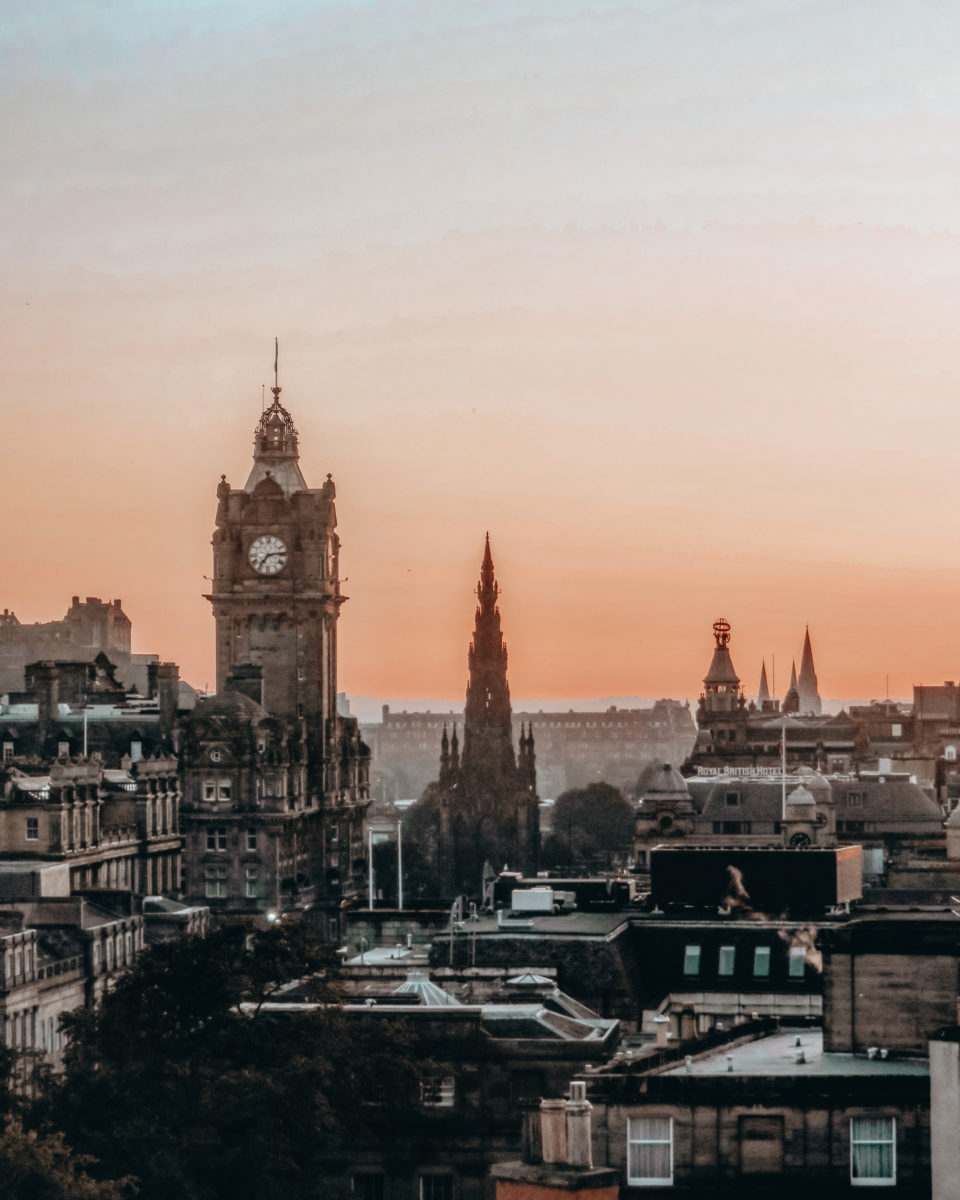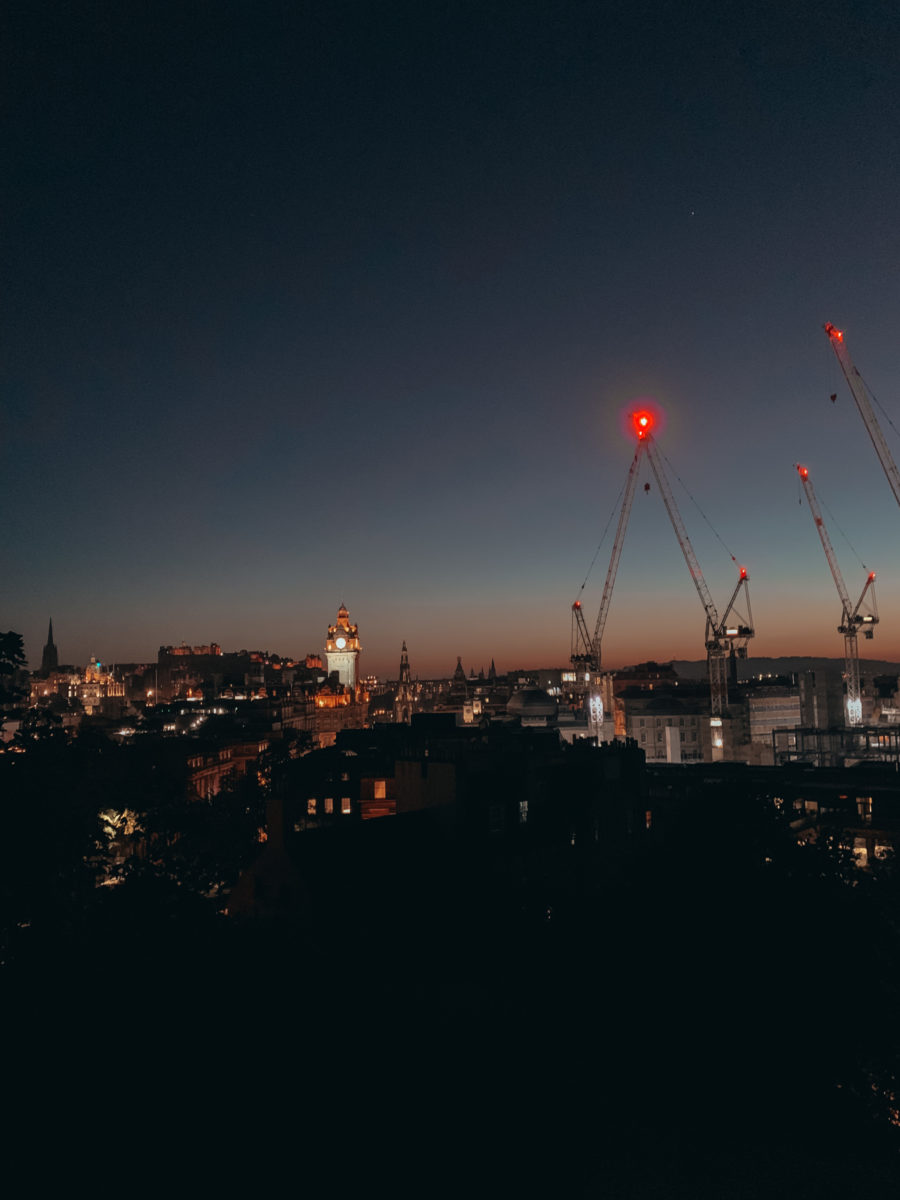 EDINBURGH BY DISTRICTS
OLD TOWN
To walk on the cobblestones of the Old Town is to walk on many years of history and symbols, which have now become real touristic attractions. A warm and medieval atmosphere is guaranteed, although the soft sound of the bagpipes can drive you crazy (you get used to it over time). This is the historic heart of Edinburgh where many tourist sites are to be found, such as the Royal Mile, Canongate, Grassmarket, Victoria Street and my castle as well. Although I will describe some of the places, the Old Town can be visited rather randomly, guided by mysterious staircases, signs announcing hidden shops or by talented street artists. The architecture is magnificent and reinforces this Old Town character.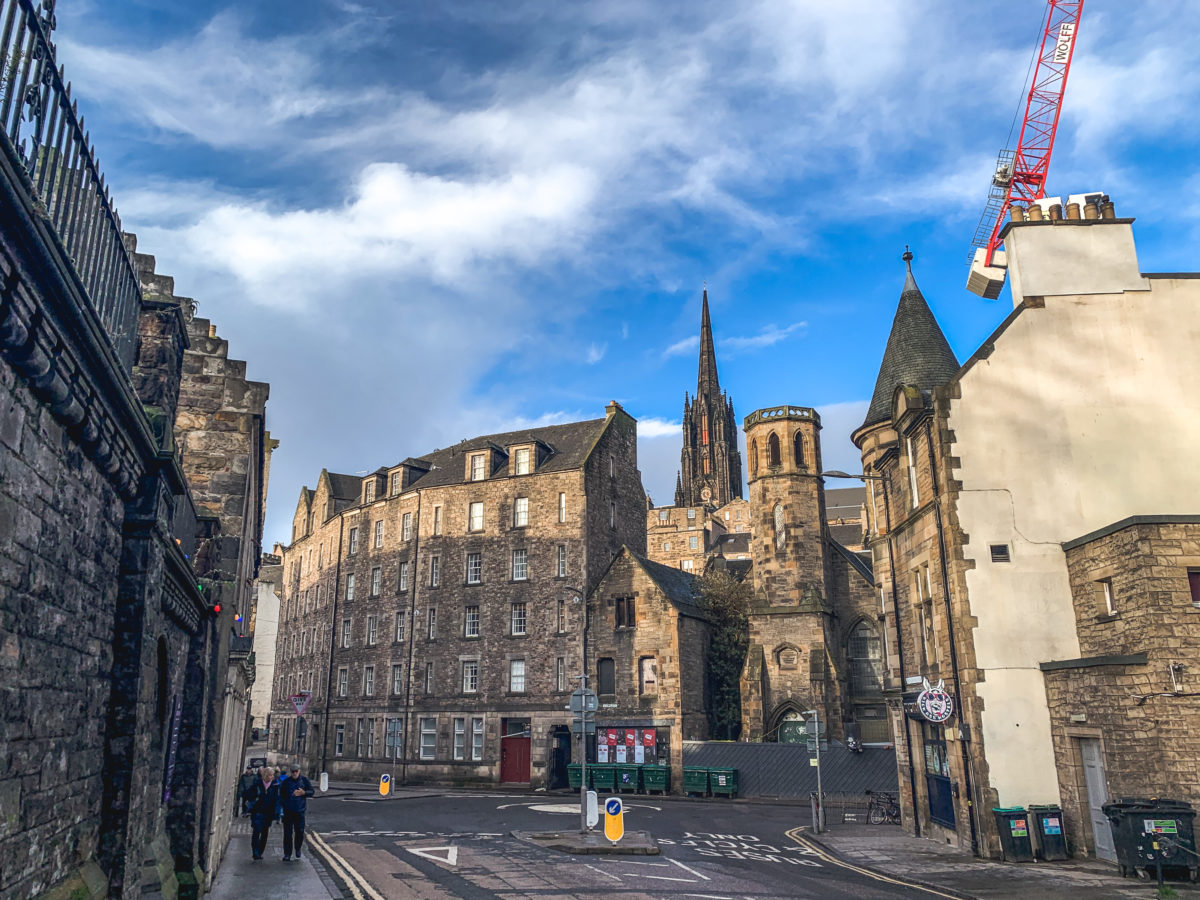 Take part in a free guided tour (hat at the end) where a friendly Scottish guide will take you on a journey through the history of the Old Town. I recommend the tour with City Explorers Tours in English, simply fascinating. With them, I also discovered the stories of New Town. I also took part in two other tours: the Harry Potter Tour ( article link) as well as the Ghost Tour, however with a company hired by the university during the fresher's week. The Royal Mile is full of agencies and people who approach you for tours, so if you want to learn more about Edinburgh's past and its mystery, let yourself be tempted.
To cut a long story short, until the city was enlarged in the 18th century (hence the 'New' Town), Old Town was an overcrowded, unclean and dirty place, wedged between the Nor' Loch (Loch North, loch = lake) and the city walls to the south. This lake, which has now been drained, formerly occupied the gardens of Princes Street. Imagine a place where many people lived in one room, where some lived below the city (the Ghost Tour talks about it) in some sort of basement or bridge vault and where rubbish and excrement was thrown out of the windows and dumped into the streets. Not quite idyllic, yet this was the daily life of Edinburghers (stories can also be found in various museums in the city, such as the Edinburgh Museum or the People's Story, both at the end of the Royal Mile).
So the only way for the city in the 16th and 17th centuries to expand was by height. This is what drew the city's famous skyline, with the first skyscrapers of the time.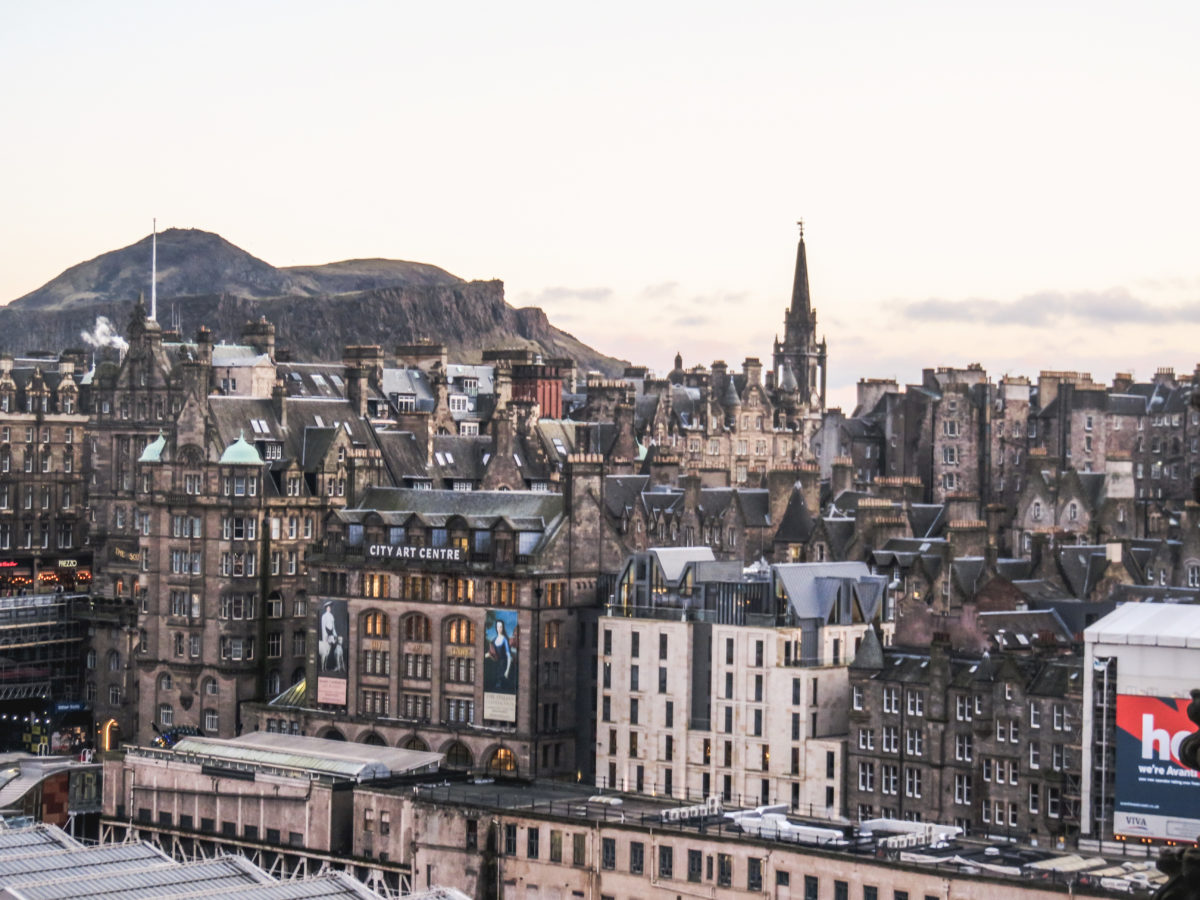 ROYAL MILE
The Royal Mile is the tourist nerve centre of the capital. The name was given to this main street in the 20th century although officially it consists of 5 streets (from the castle to Holyrood Palace): Castlehill, Lawnmarket, High Street, Canongate and finally Abbey Strand.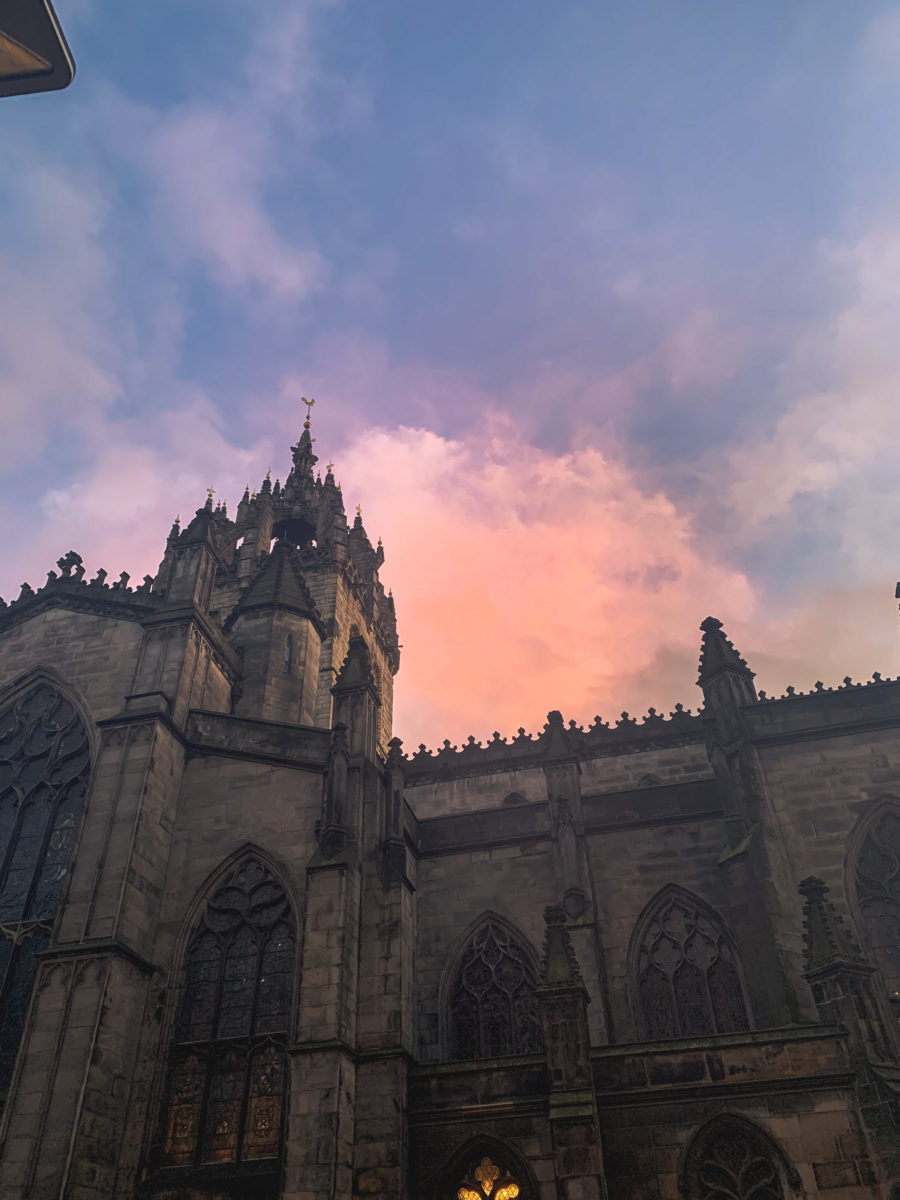 There are many activities along the street, but I naturally advise you to start at the Castle and then go down gently. I enjoyed discovering the Camera Obscura museum, one of the attractions to visit in Edinburgh. Although when I left I was feeling dizzy from all the illusions and optical effects, this place is dedicated to young and old alike. Moreover, it is certainly the observatory at the top as well as the view of the Old Town that brings the icing on the cake and is worth £13 if you are a student (£14.85 for an adult).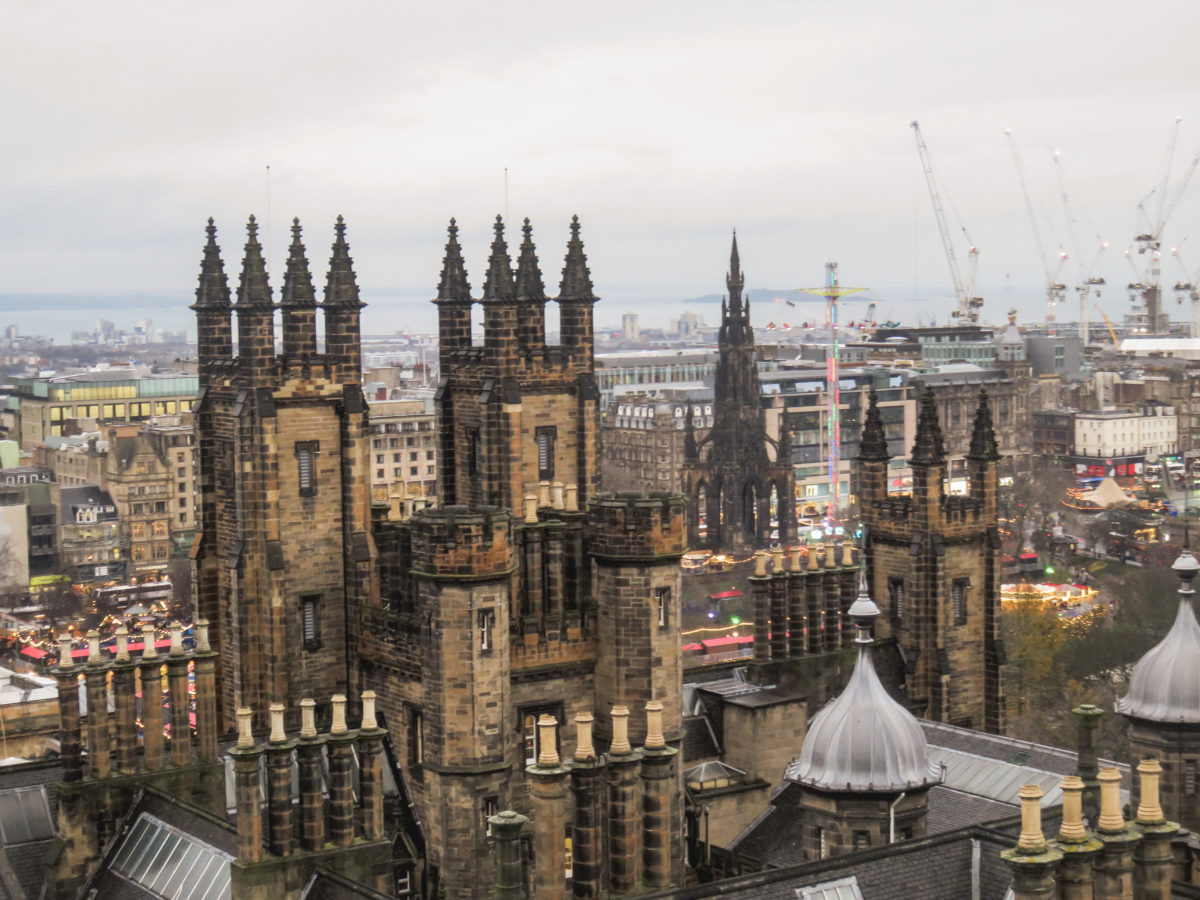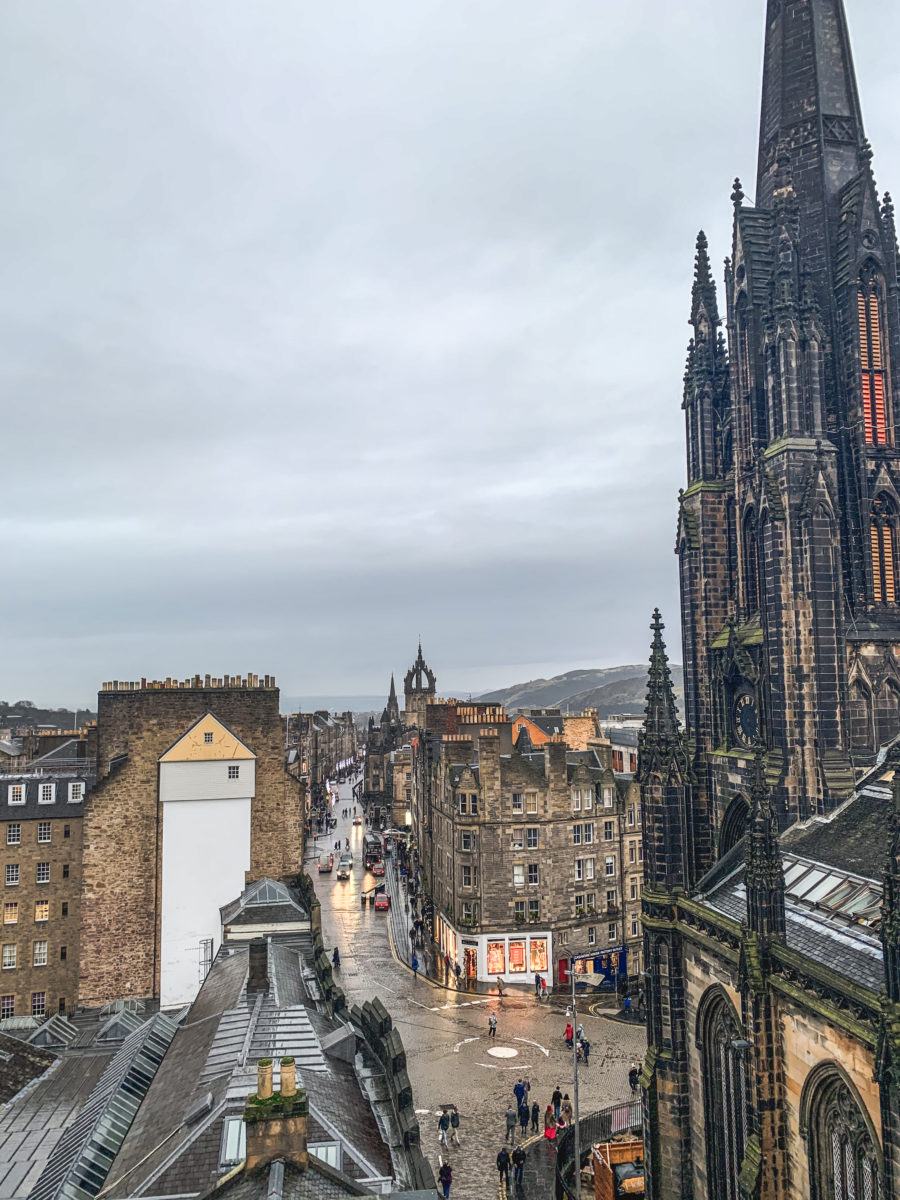 While strolling around the various souvenir and Scottish shops, you can't miss St Giles Cathedral and the heart of Midlothian just next to it. It is a mosaic on the ground where the name comes from because the former prison that was located there was in the heart of Midlothian County. Forming a heart, it inspired the title of Walter Scott's book, 'The Heart of Midlothian', published in 1818, as well as the name of the Edinburgh football team, the Heart of Midlothian Football Club. Nowadays it is a place of legend, where it is said that if you spit in its centre, luck in love will ensue. On the contrary, if someone steps on it, he/she will be cursed in love. I spat, obviously missing the centre, but the action was there…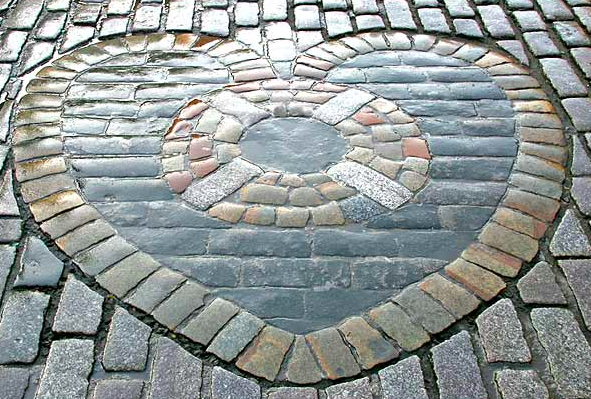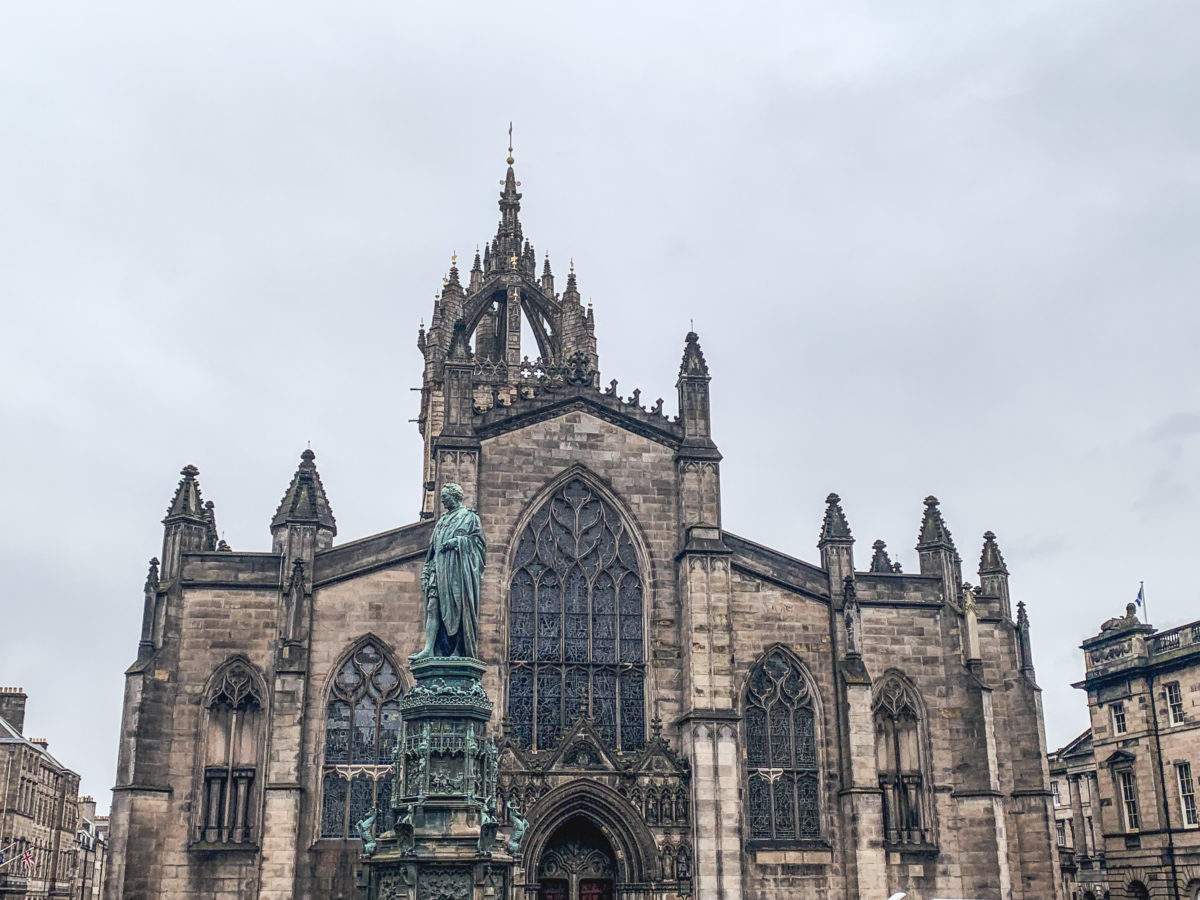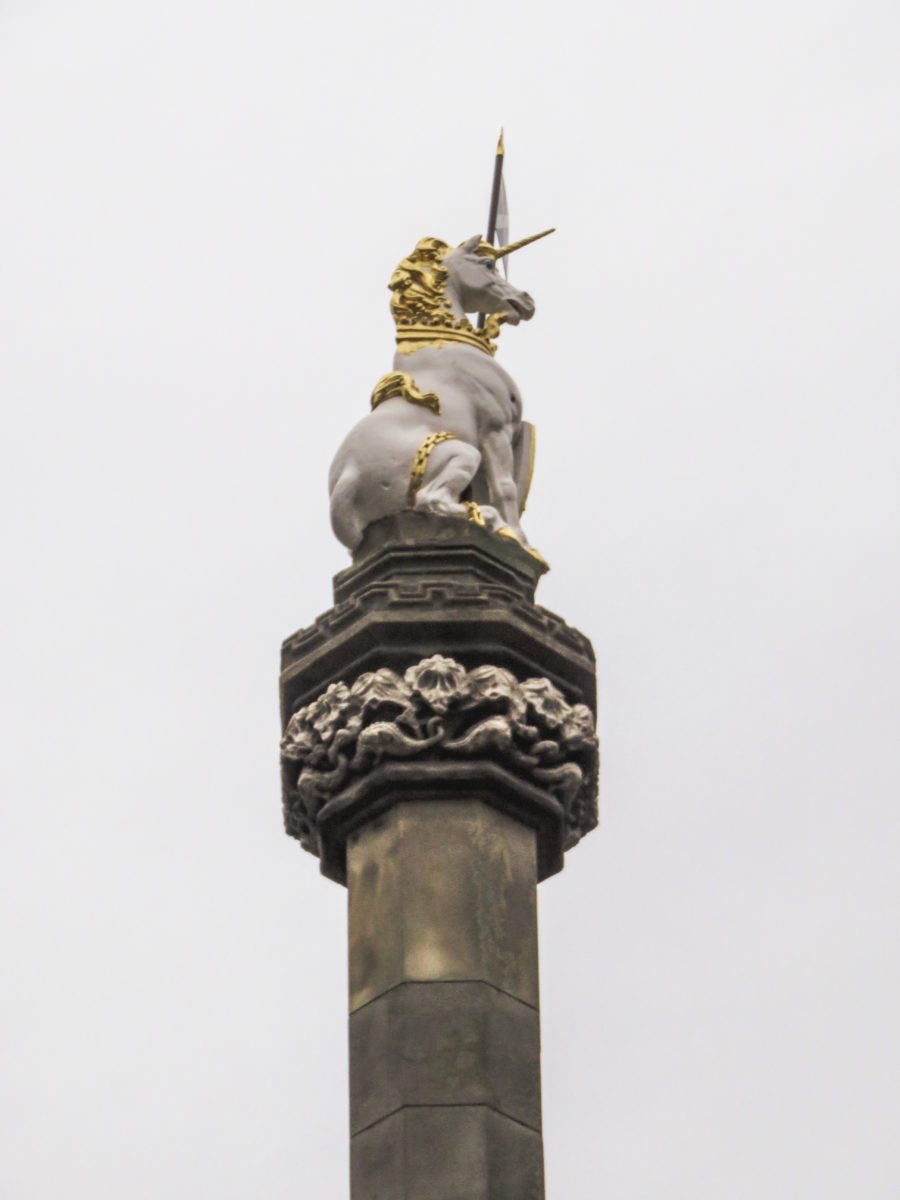 Then continue on the Royal Mile, let yourself be charmed by the different street artists, say hello to the unicorn (the animal emblem of Scotland) and finally, you will arrive at the Scottish Parliament (a modern structure which is a little out of tune with the medieval landscape) and Holyrood Palace which was the royal residence for the kings and queens of Scotland from the 15th century and where the Queen of England lives when she visits Scotland. This palace is best known for having welcomed Mary Stuart (an equally fascinating story about this Queen!). I have never visited the Palace, however, I have been twice to the Queen's Gallery located at the entrance of the Palace where many temporary exhibitions are installed
.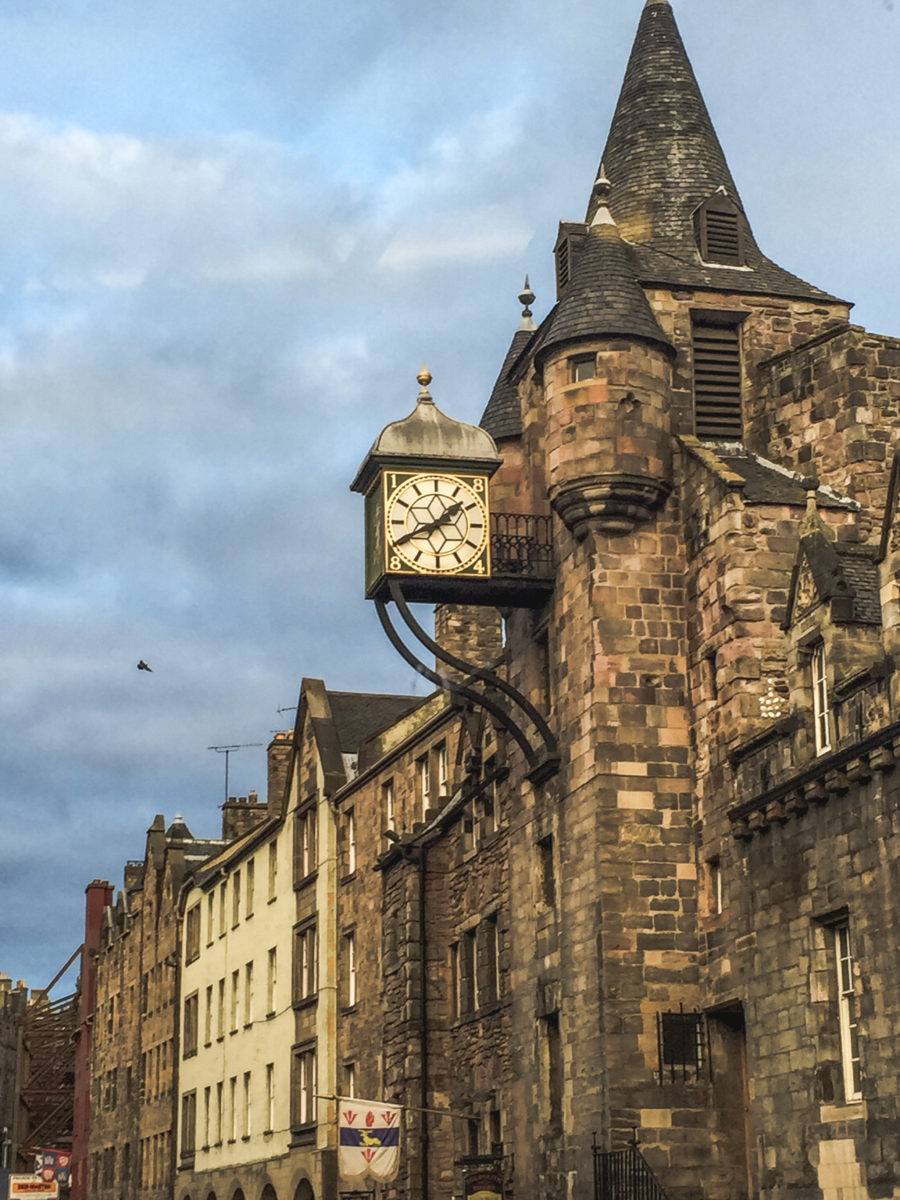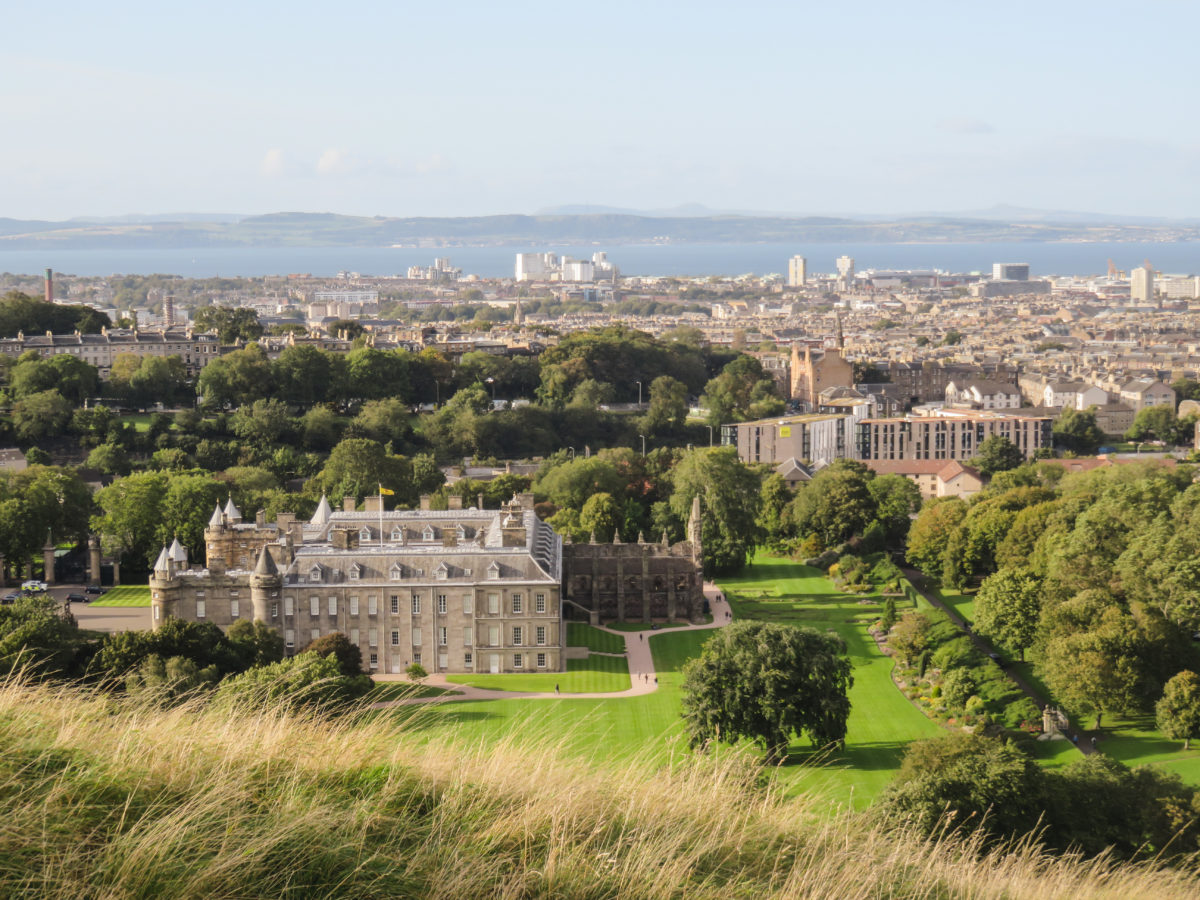 The main attraction of the Royal Mile is to take a look around an alleyway and see where it leads you. What you will discover is simply a reflection of Edinburgh's diversity. Whether it's a quiet little square with its lamp post (my favourite, I could spend hours sitting on a bench reading or chatting), endless stairs (even if sober, they're treacherous) or even falling on a Christmas tree, it's this effect of surprise that gives the Old Town its charm (one more). You will be able to try this little game more than 60 times where secret alleys will lead you to unusual places. Edinburgh is a magical mix of sparkling splendour and dusty, dark alleys. Could we ever get tired of exploring them?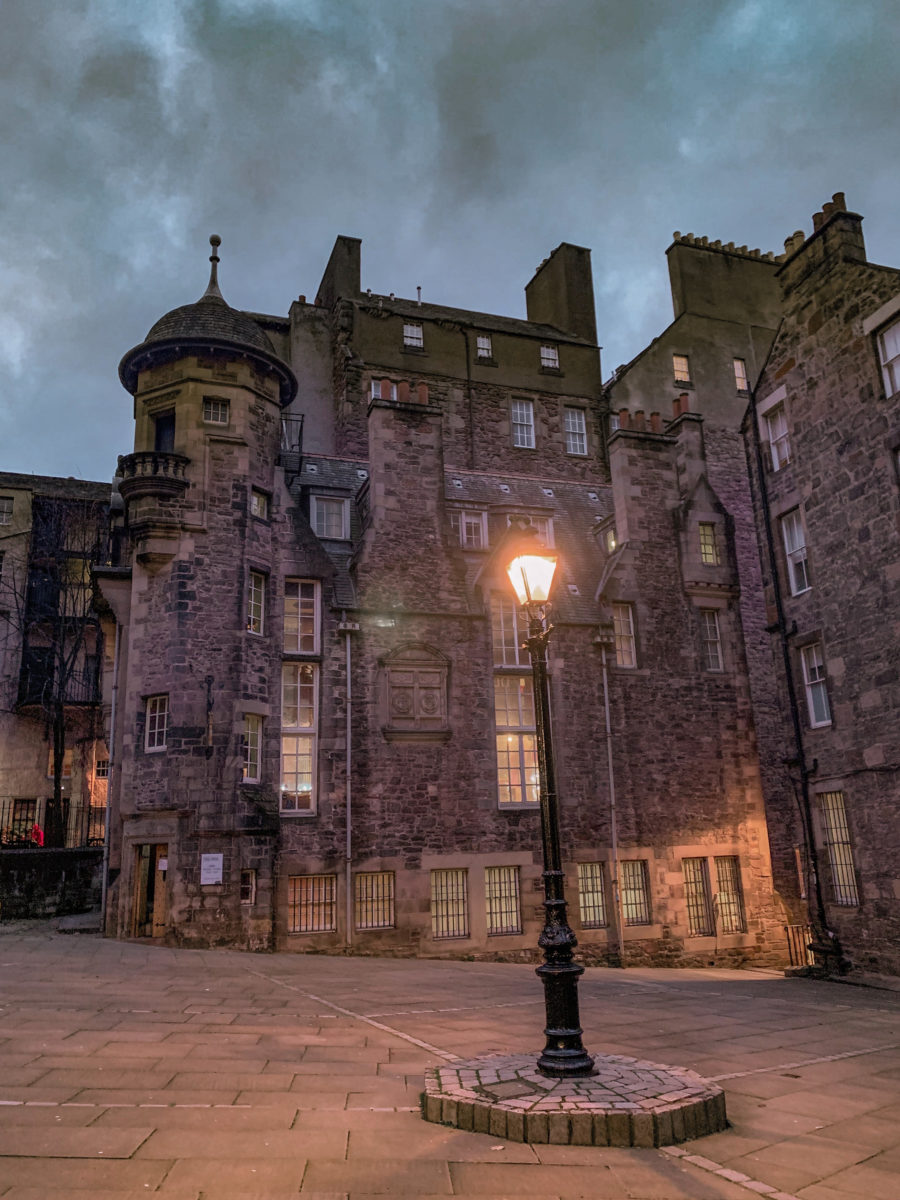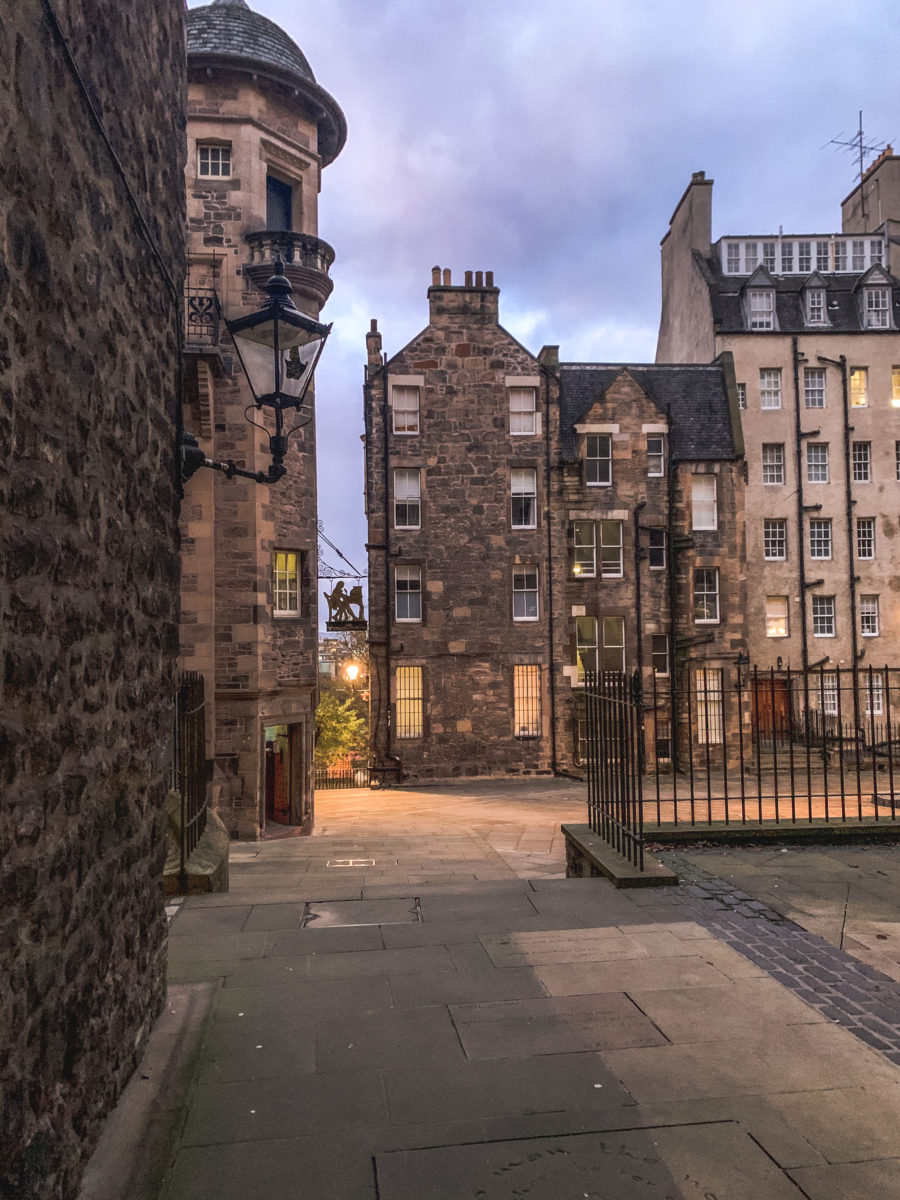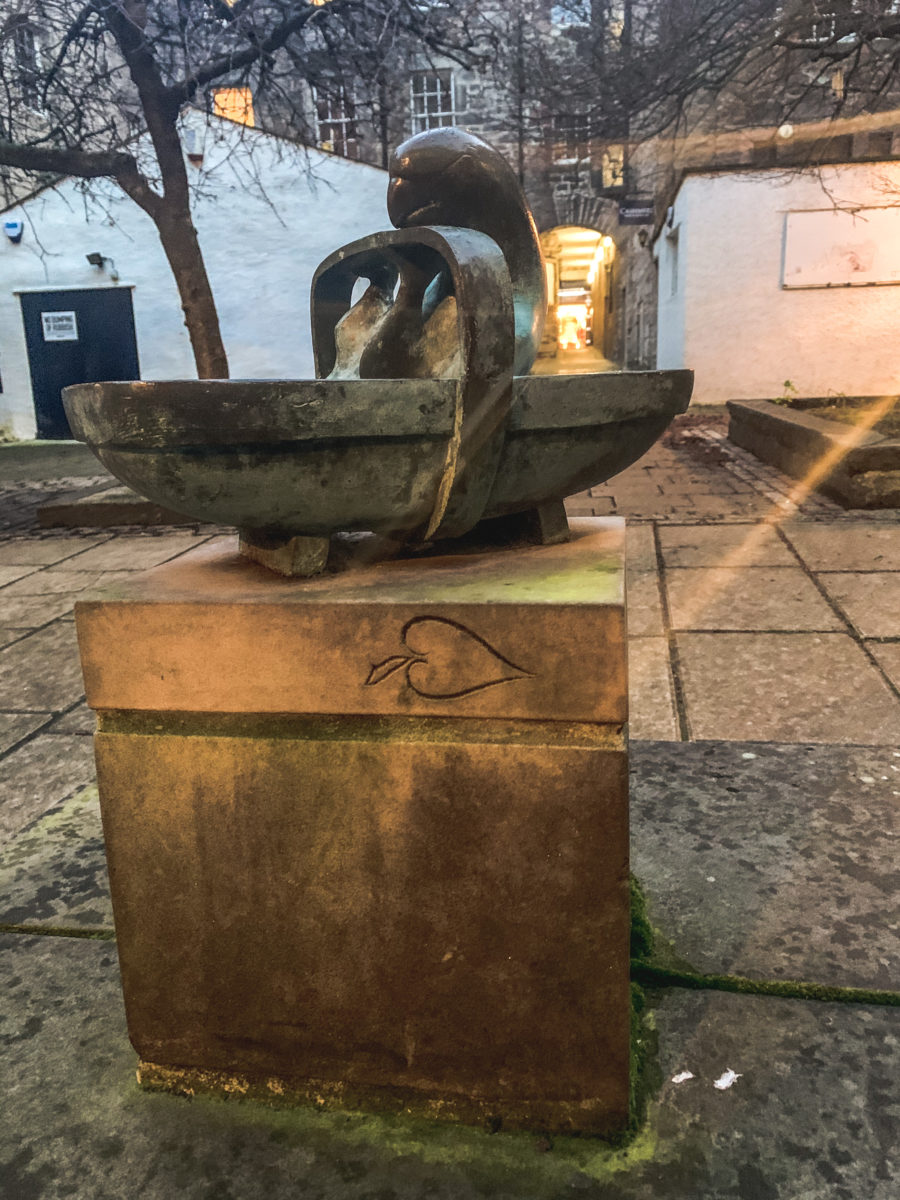 VICTORIA STREET
Probably the most famous street in Scotland! A curved ribbon of cascading cobblestones punctuated by brightly coloured buildings is the reason why Victoria Street is one of the prettiest streets in Edinburgh. This iconic road is a mosaic of history, with its ancient stone facades and old-world charm that is a constant reminder of the past. From its historical appeal to its independent shops, you won't want to miss it. Coming from the George IV Bridge, you will then reach Grassmarket.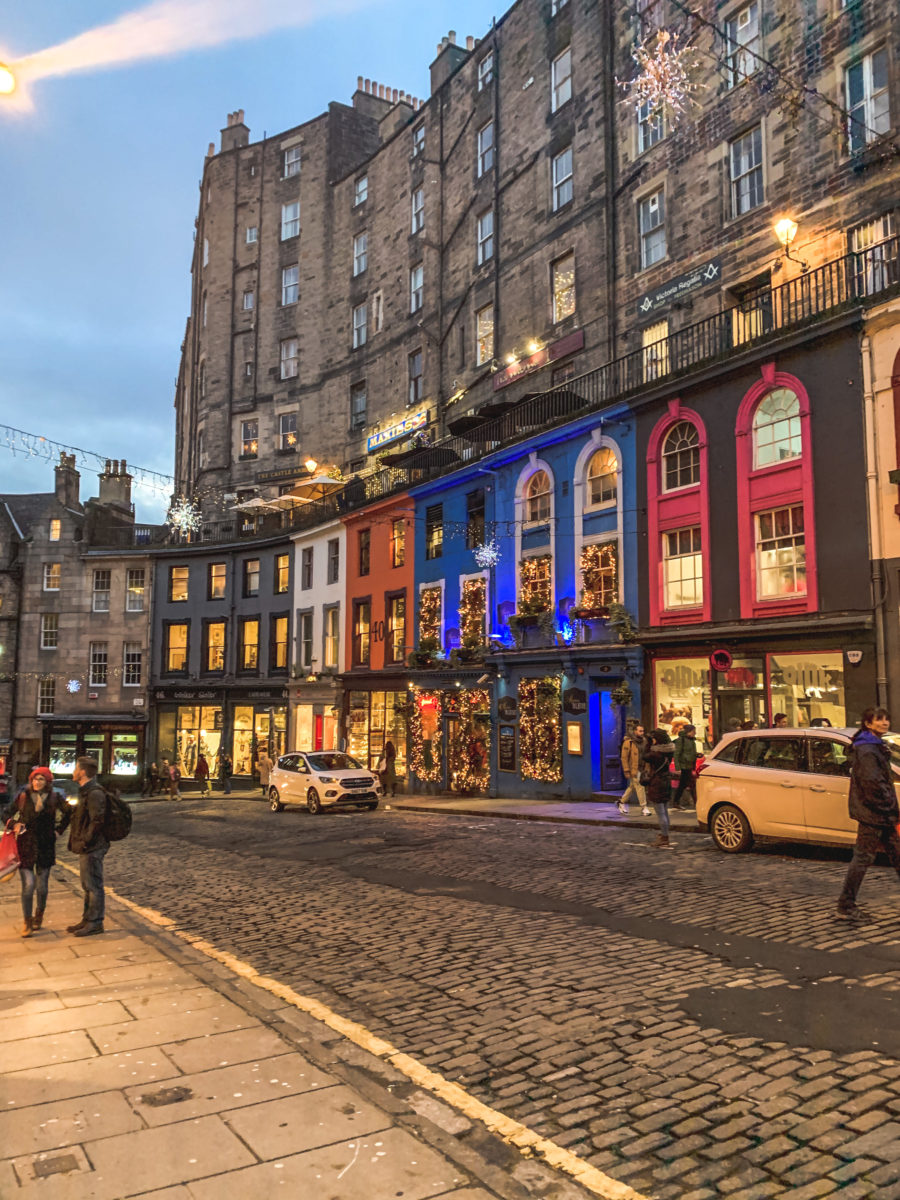 GRASSMARKET
As its name suggests, it is a market place that hosted the weekly market between 1477 and 1911. Then this area became a gathering place where horse and cattle merchants would gather.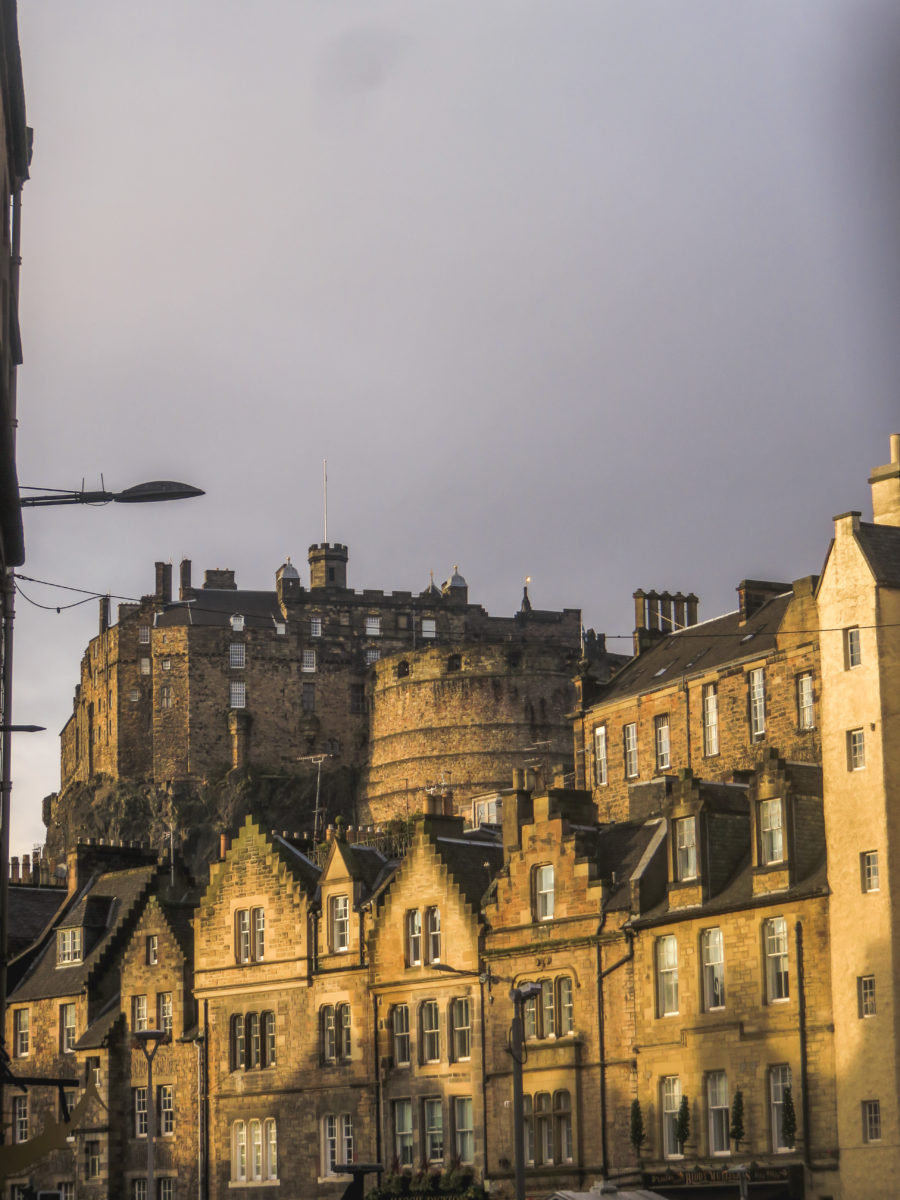 The main attraction of this square is rather its dark side since Grassmarket has been the scene of many public executions, where only the names of some of the pubs in the square with, let's say, morbid influences remain today. The wide-open square is lined with tall buildings and is dominated by the castle. It has many restaurants and pubs, making it a very lively place.
COWGATE
This long road leading east from Grassmarket was once the route along which cattle (hence the term cow) used to leave for Arthur's Seat. It is still a rather gloomy street and in some places it is particularly dark, bearing in mind also that it was a haven for traffickers and other criminals of all kinds for a long time.
However, it is the nightlife heart of the Old Town and where I spent most of my evenings. Cowgate is now a very lively street at night as it is home to many pubs, nightclubs and youth hostels (see the section on where to go out at the end of this article).
GREYFRIARS KIRKYARD
If you spend some time in Edinburgh or Scotland, you will find that graveyards don't have the same aura as those in our country, nor the same purpose. Indeed, as a place of remembrance in our country, they have become a popular attraction for tourists in Scotland. Naturally, I am talking about the cemeteries where the last people buried date back at least a century. This is why you must take a walk in a Scottish graveyard and feel the mystical vibrations that they abound, as well as all the legends and myths that a guide will be able to introduce you to.
On your way to Calton Hill, you will discover the Old Calton Burial Ground, which has the only obelisk in the town erected in memory of the reformers. It is also the place where the famous David Hume is buried (I'm sure you remember this philosopher and economist whose foot has to be touched in Royal Mile if you want good luck in your study, if not, read this article again).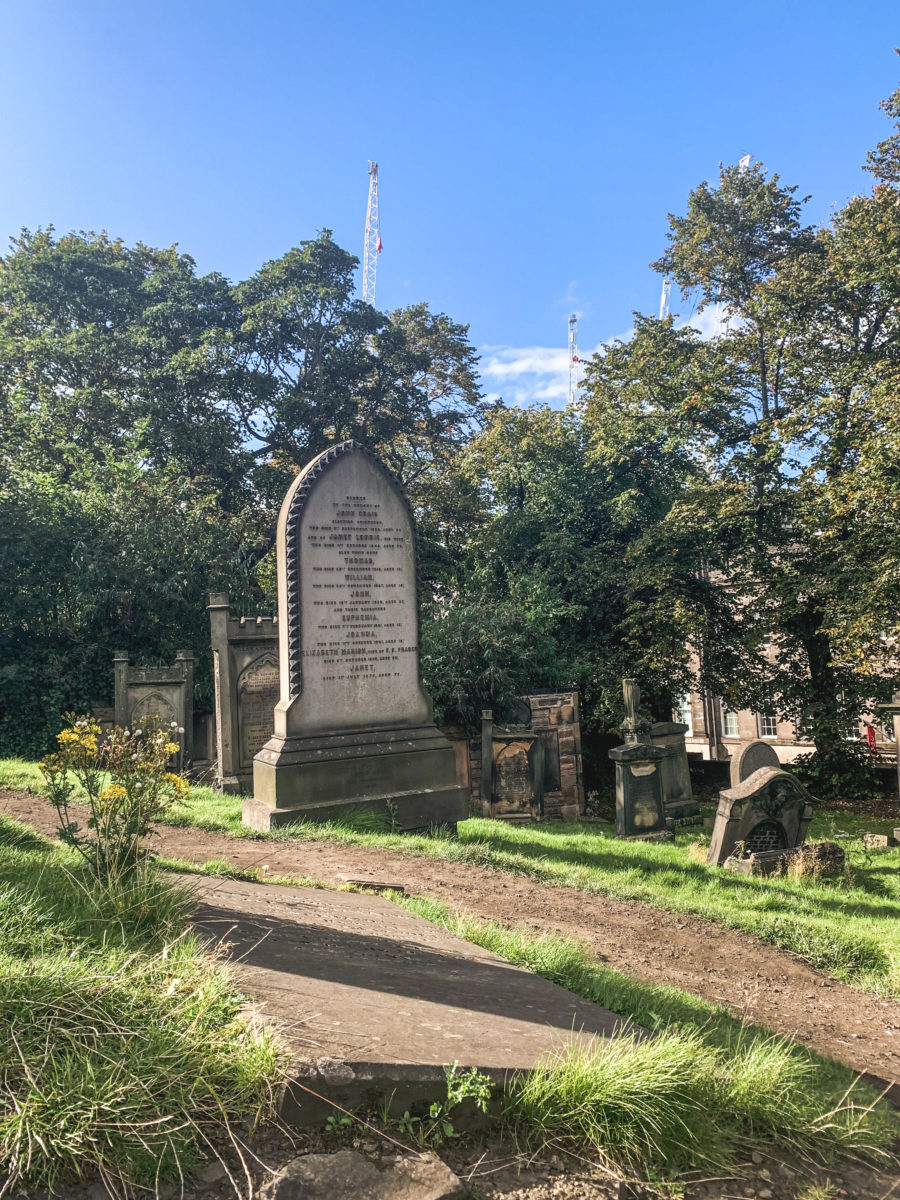 However, the best known and most visited in Edinburgh is Greyfriars.
Whether it is on a grey day or in the rain, I strongly advise you to visit it on one of these days. The charm will only be better and more authentic. This cemetery has become famous as it is said to be home to names that inspired J.K. Rowling to create Harry Potter characters. I tell you more about it in my article on the subject. So don't be surprised to discover a group of people following a person dressed as a wizard around a grave. This is also a very famous point for ghost tour stories.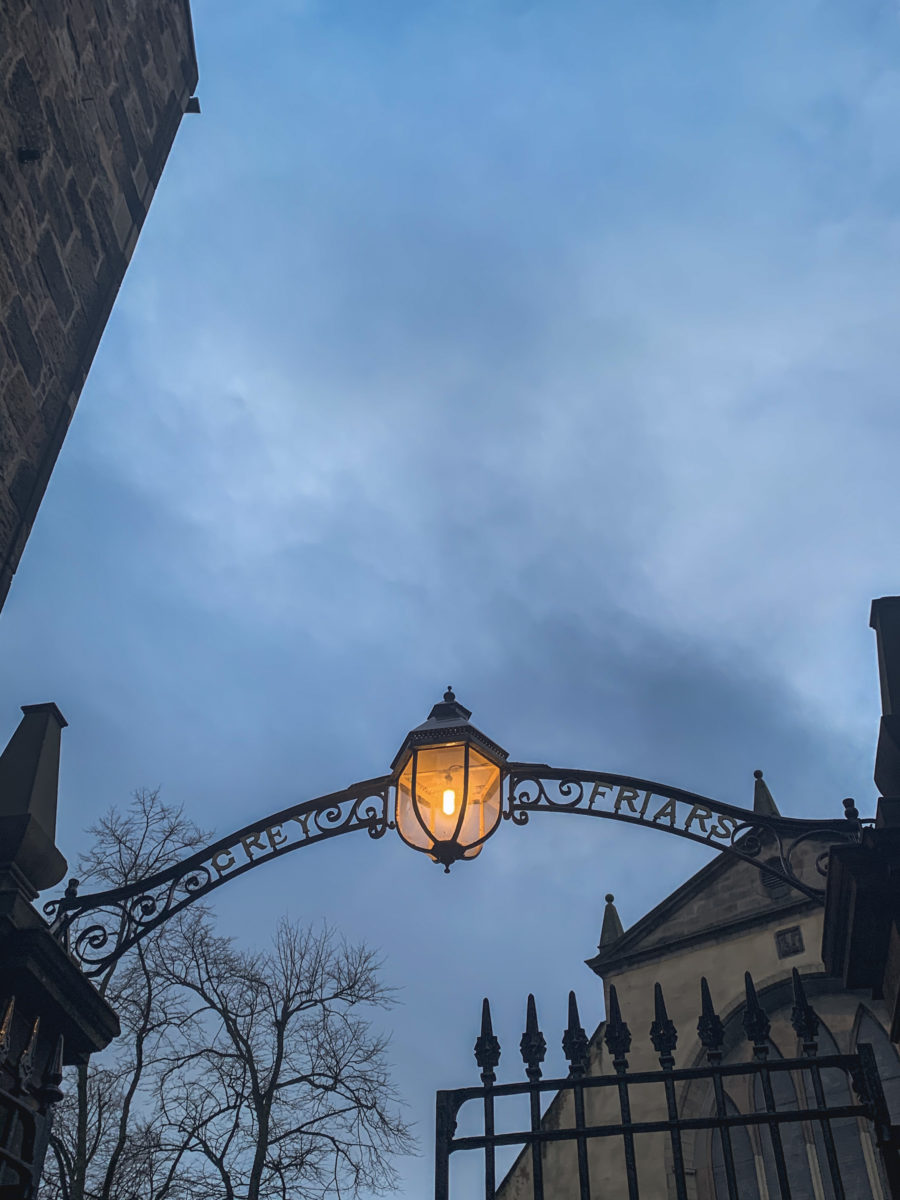 If this kirkyard is also so well known it is for the story that surrounds it with the little dog named Bobby. Legend has it that he would have guarded the grave of his master, the former guardian of the cemetery, for about ten years from 1858 until his death in 1872. In fact, a statue in his effigy is positioned just in front of the official entrance to the cemetery. Another custom: touching his nose would also bring good luck. Personally, I used to do it every time I passed by in memory of my adorable dog, who died a few days before I left for Edinburgh. Whatever the reason, this kind of custom and legend must endure.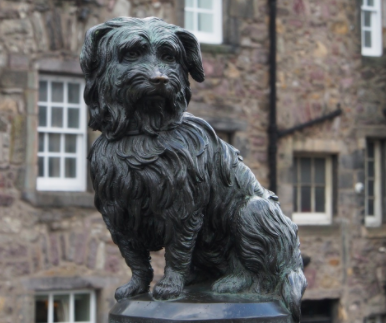 NATIONAL MUSEUM OF SCOTLAND
Just opposite the statue of Bobby, you can't miss an unusual building – the National Museum of Scotland. Free like many museums in Scotland, I can assure you that you will be able to spend a whole day there, that's what I did with my roommate since the inspiration didn't come for a report to be handed in for the university. Exactly, in this kind of museum, your inspiration will be stimulated!
As in any eclectic museum, I always have a preference for the Egyptian room, even if the basement (level -1) with an exhibition on beginnings and early people is my favourite place in terms of information.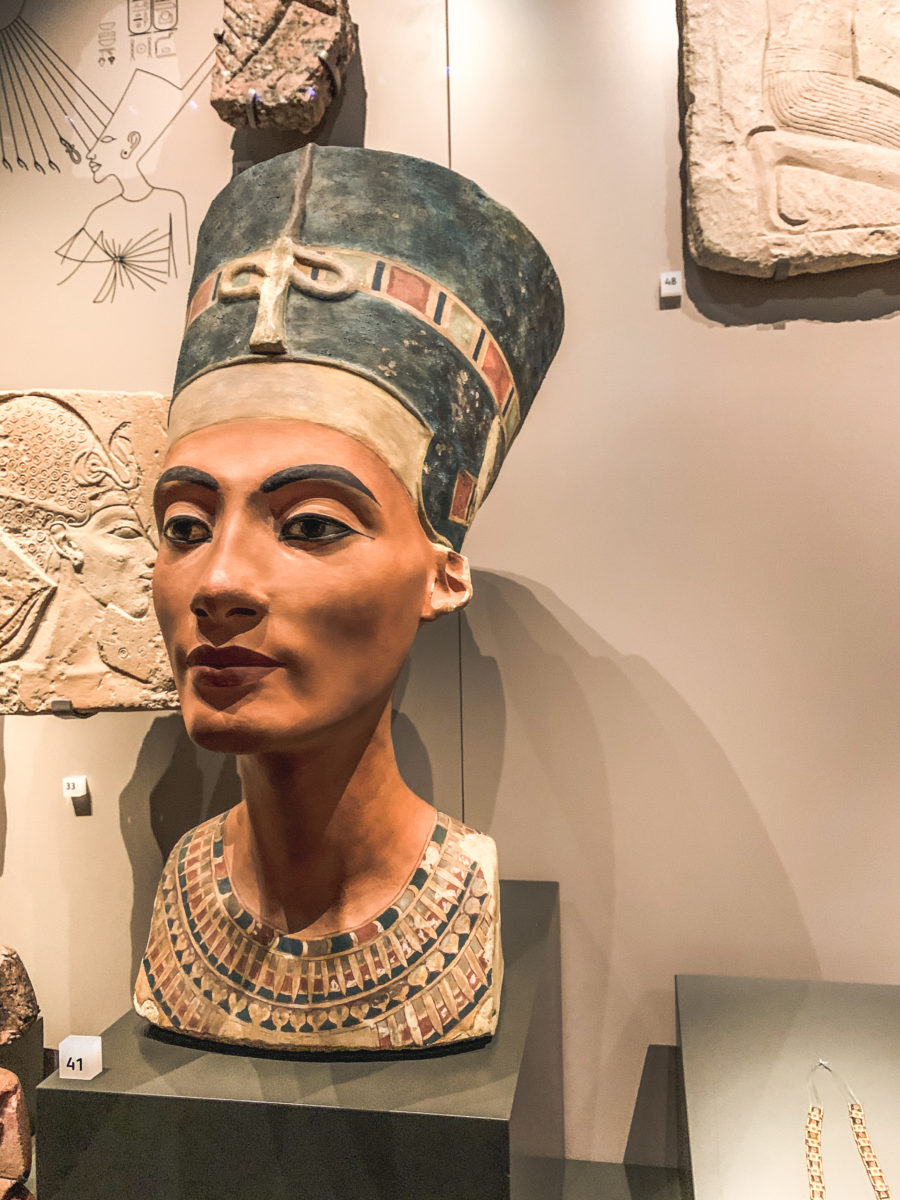 The essence of the museum's charm lies in the two buildings that make it up, but whose styles are diametrically opposed. There is a Victorian wing (dating from 1861) and a modern one (1998). And the large gallery that forms the Victorian wing will dazzle you, simply architecturally! With its slender pillars and high windows, the bright atrium of the Grand Gallery is one of the most beautiful spaces in Scotland. This is a spectacular starting point for your visit to the museum.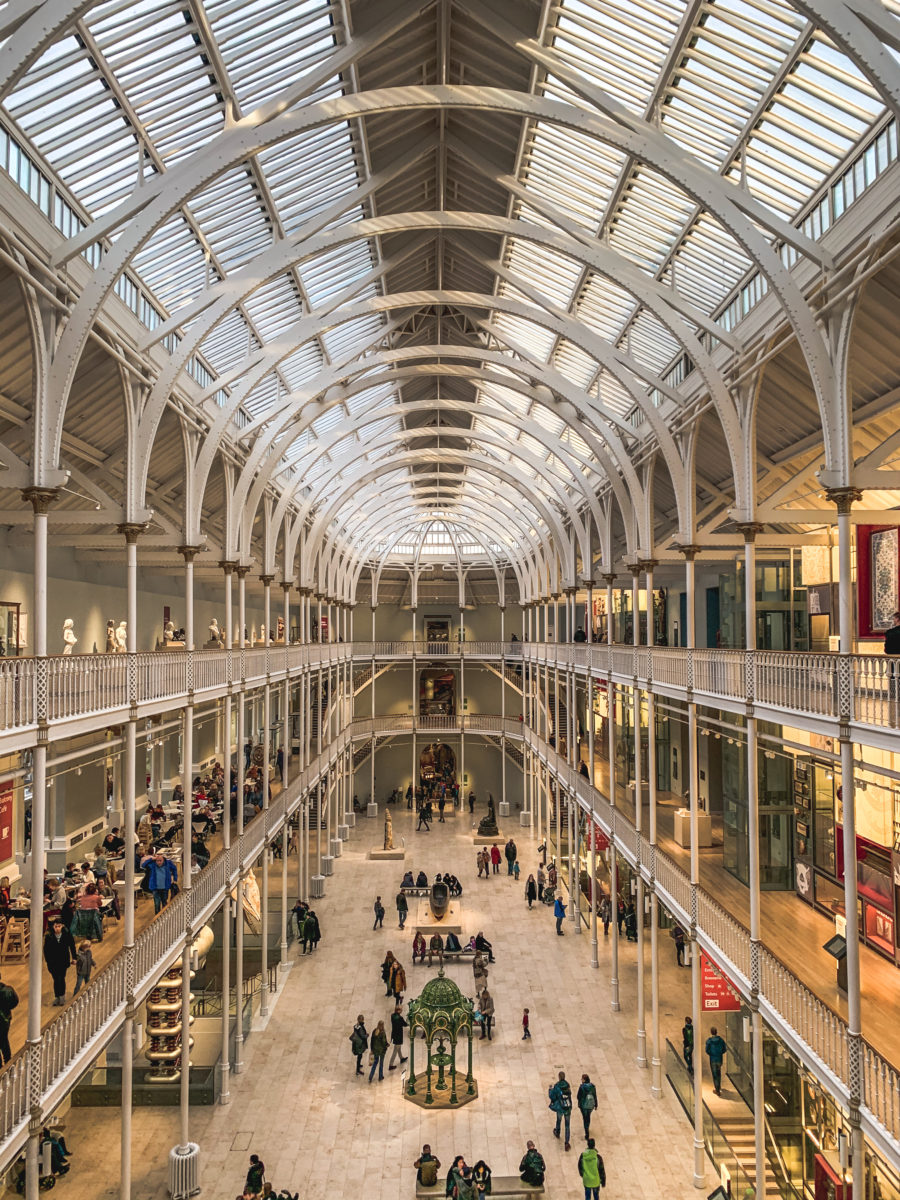 You can also discover the famous sheep Dolly, which was cloned from an adult cell in 1996.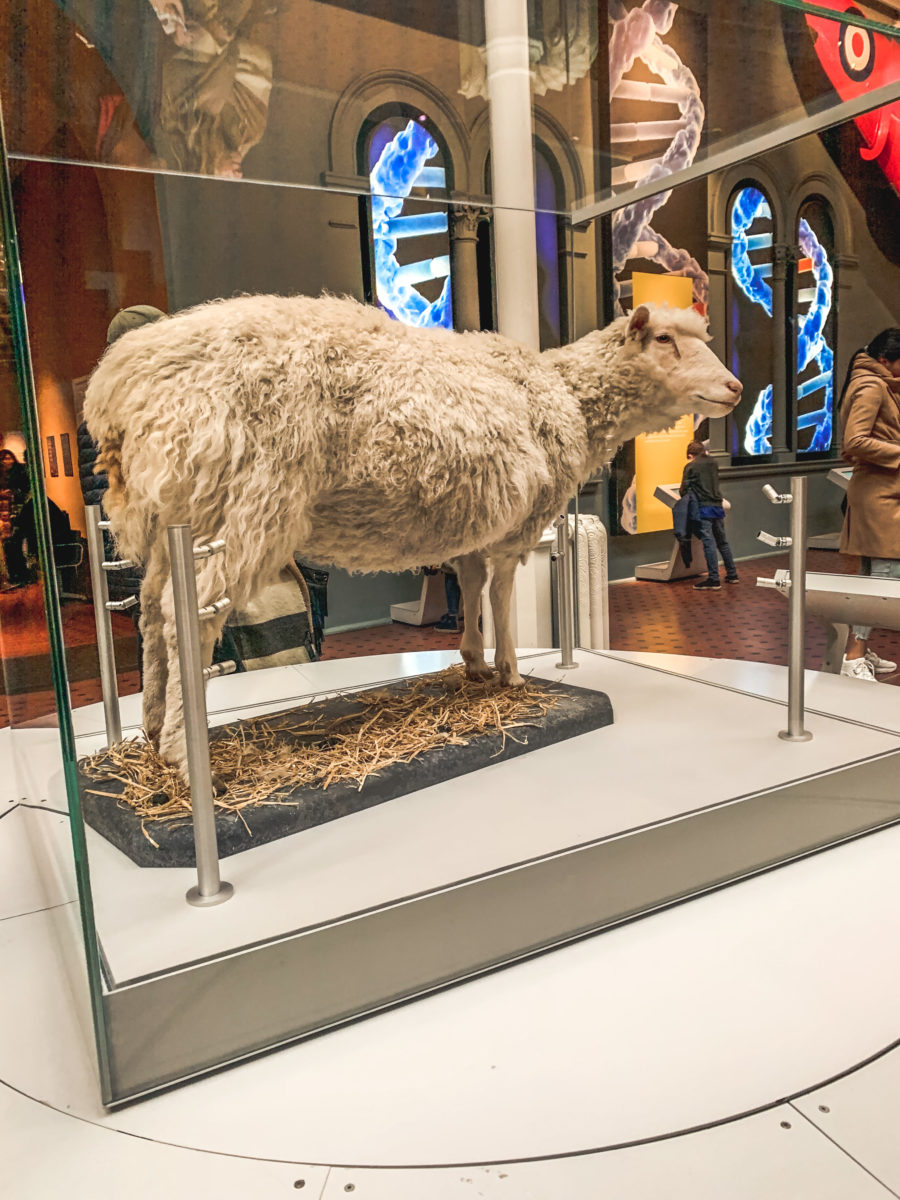 It is especially the terrace at the top of the building that you should not miss. Often little-known, this garden-terrace will allow you to observe a view of the Old Town and the Castle. To get there, you will need to take the lift in the modern part which indicates "Terrace Lift" and will take you to the 7th floor. However, it is very slow and there is only one lift for 7 floors, so I would advise you to go to the terrace by the stairs (although it is quite a maze this museum is!). To do so, go to the 5th floor where you will find a staircase indicating "Roof Terrace". A map is available in its entirety on the museum website as well as on paper at the museum.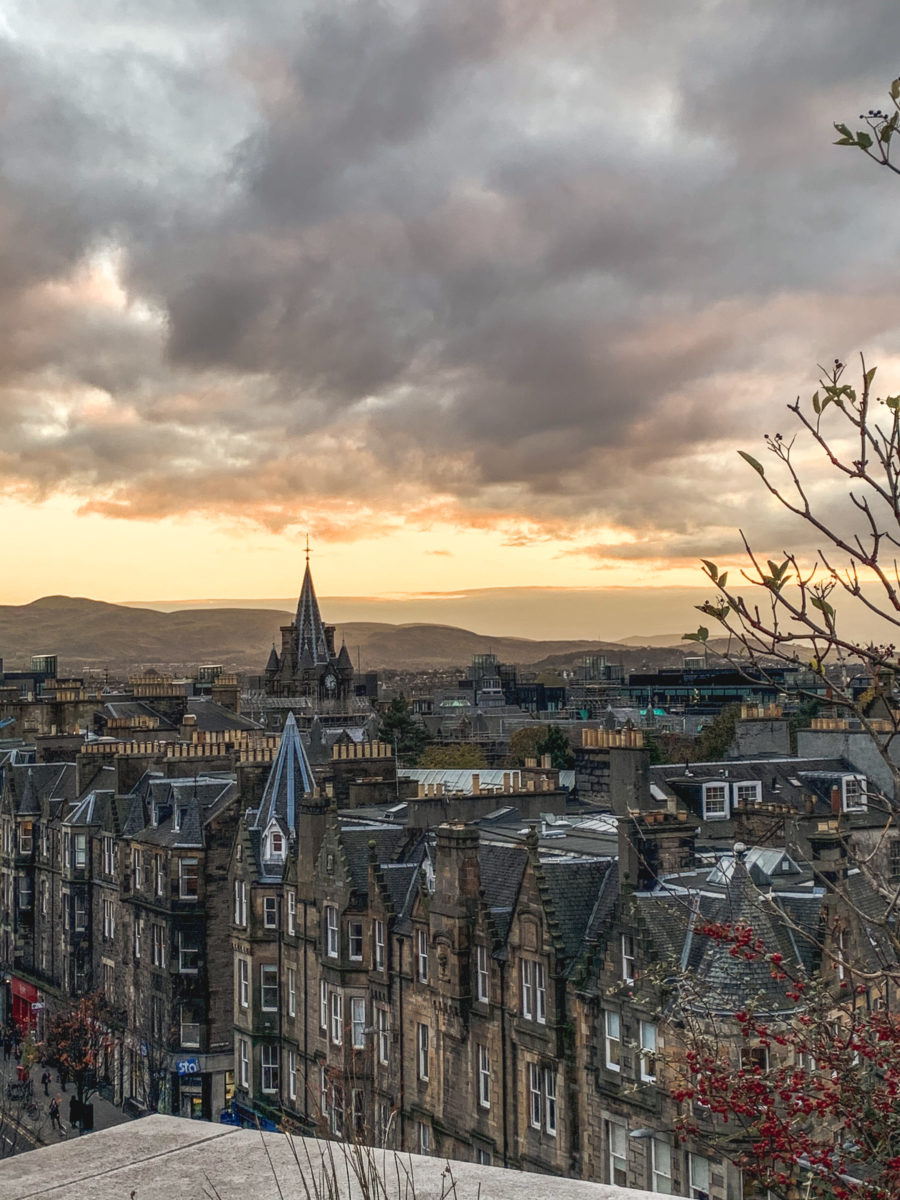 ARTHUR'S SEAT
The grassy, jagged prominence that rises up from Edinburgh's skyline to offer one of the best views of the city, is Arthur's Seat's definition. This place is the source of many legends and is a very significant location for the people of Edinburgh. This name could be linked to King Arthur, and some people hypothesise that Camelot was located on this hill (although this is rather unlikely given that Scotland lies north and not south of Hadrian's Wall), but other references place this name with the poem Y Gododdin.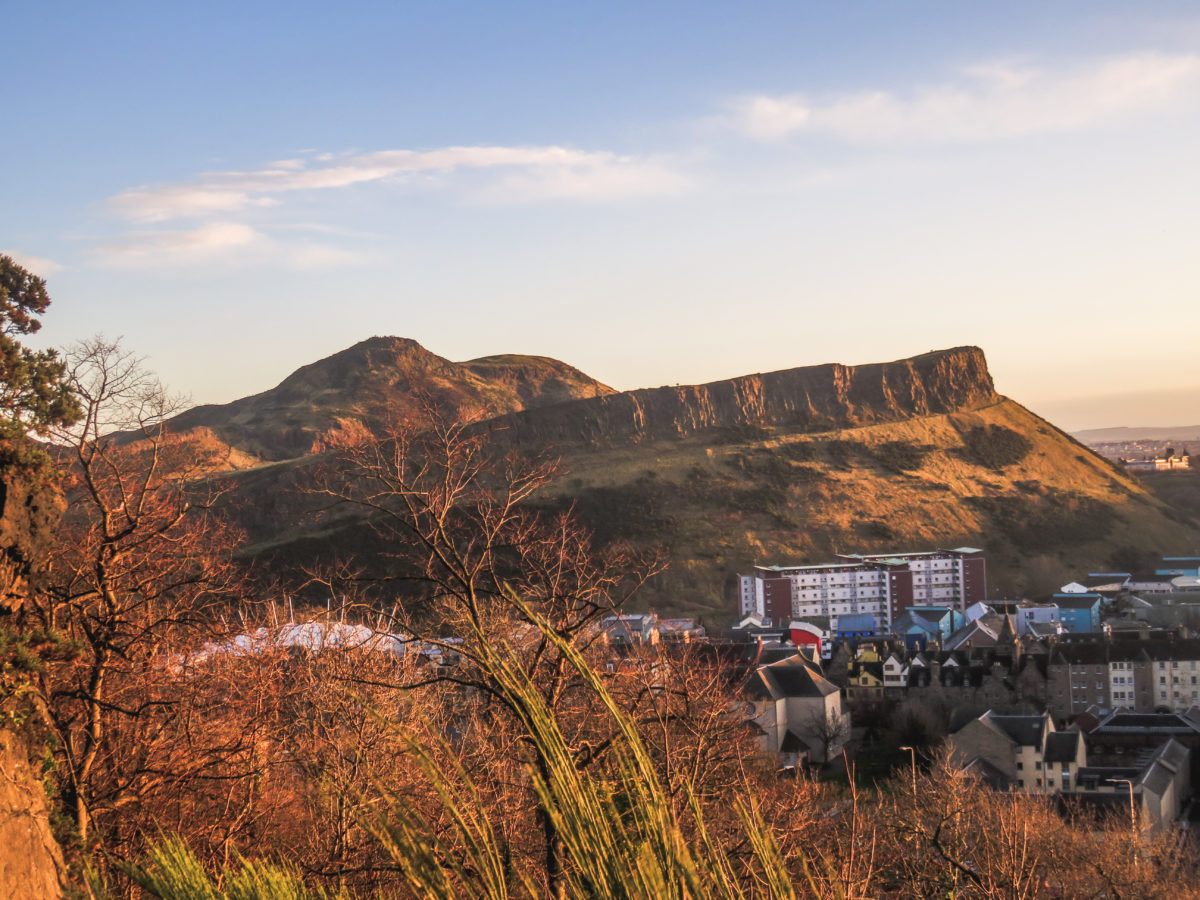 Having no more explanations than those gleaned quickly on the internet, I realized from the very first time I visited the Scottish capital, how much the inhabitants appreciate this place. Volcano now extinct, Arthur's Seat is the main hill alone forming most of Holyrood Park. In his "Picturesque Notes" on Edinburgh, Robert Louis Stevenson noted that Arthur's Seat was "a hill for magnitude, a mountain in virtue of its bold design".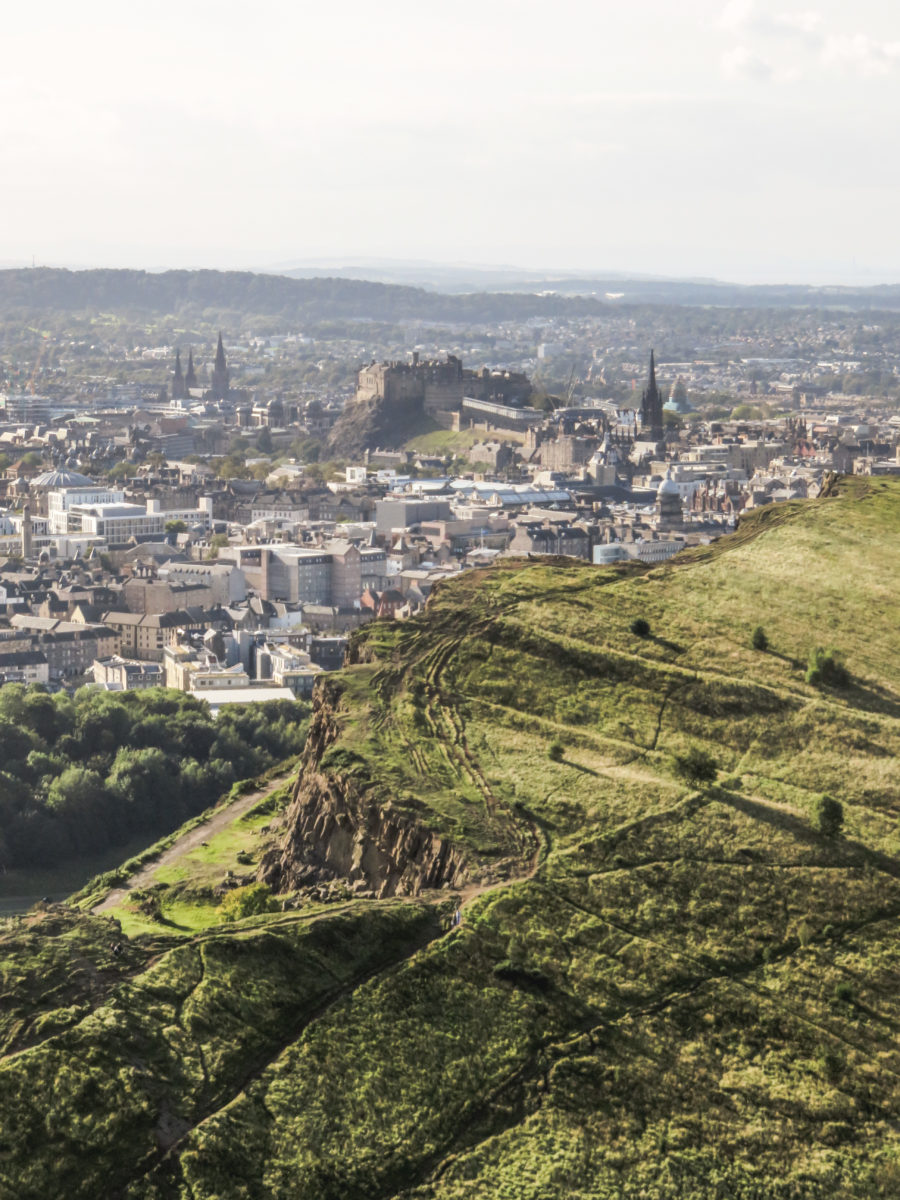 It is certainly true that the landscape when walking on Arthur's Seat tends to approach the mountain more easily than the hill, however, when a Scotsman spoke to me about Arthur's Seat as a mountain, I could only tell him that this, to my eyes as a Swiss, is absolutely not a mountain. But, well, the perception, one will say, is not in the height but in the feeling of what this natural monument provides. And as a conclusion, after a walk there, one comes out with good energy, even if the weather is not always good (which was the case during my first stay, as these two photos with my magnificent k-way of the 80s stolen from my mother attest).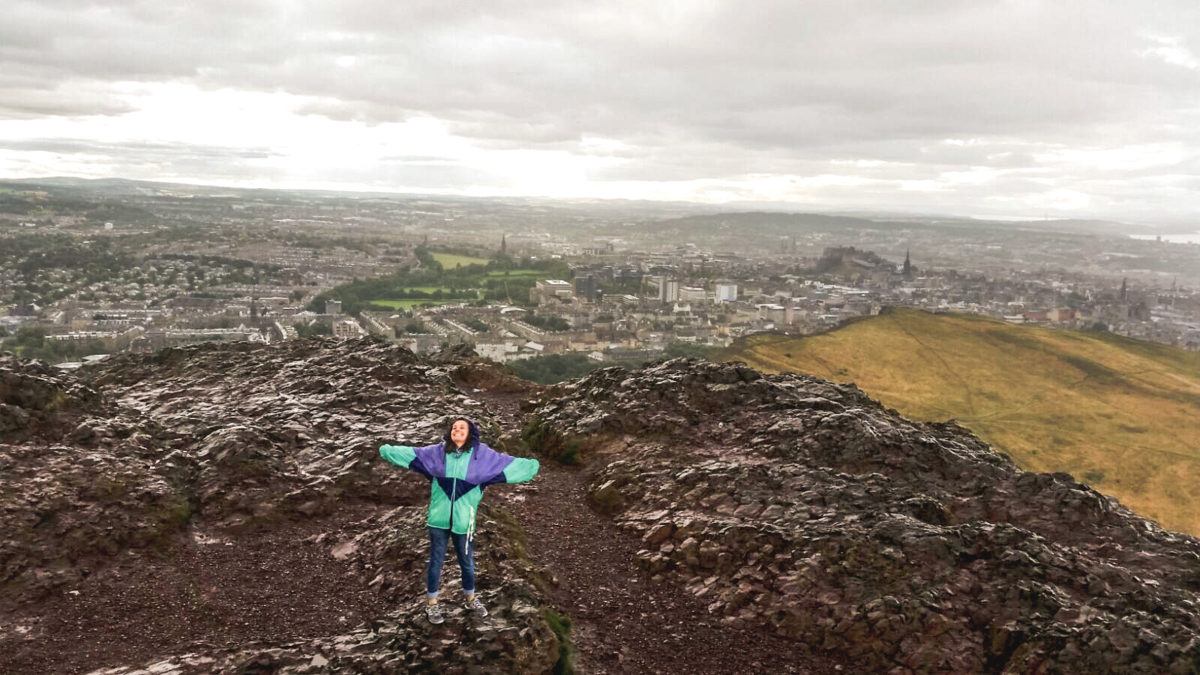 I get lost in my comments on Arthur's Seat… and so that you don't get lost either, this time to get to this hill, here is a map, drawn up by EarthTrekker.com, which will allow you to see Arthur's Seat from all sides.
Rising to 250 metres (and they want to call this a mountain??), the best way to reach the summit is to take the green route on the map. It is a relaxing walk for some people, for others, you can make it harder by taking the red route, which I assure you is much steeper, especially if you try to hurry up to see a sunset that will turn out to be dull. And don't forget to walk the blue trail at the top of the Salisbury Crags, one of the best views of the Old Town.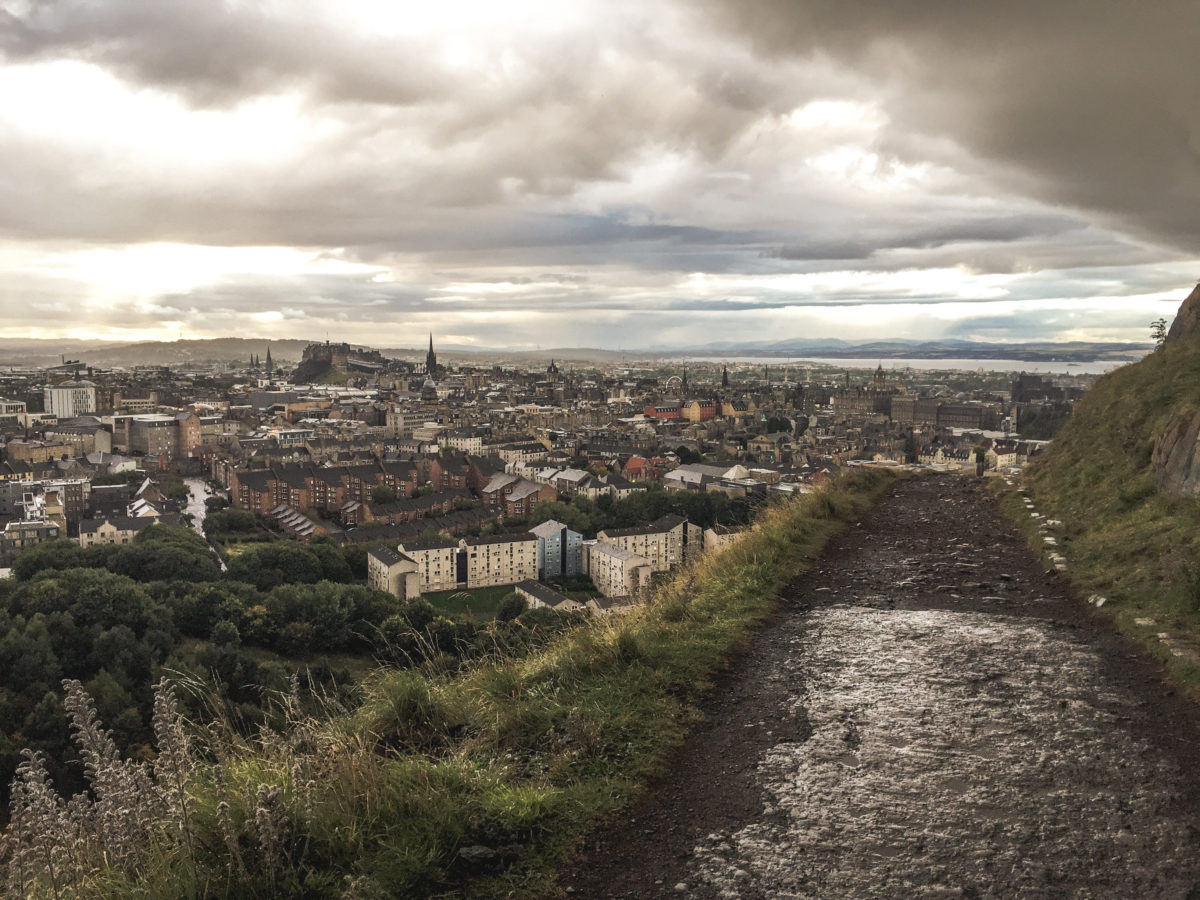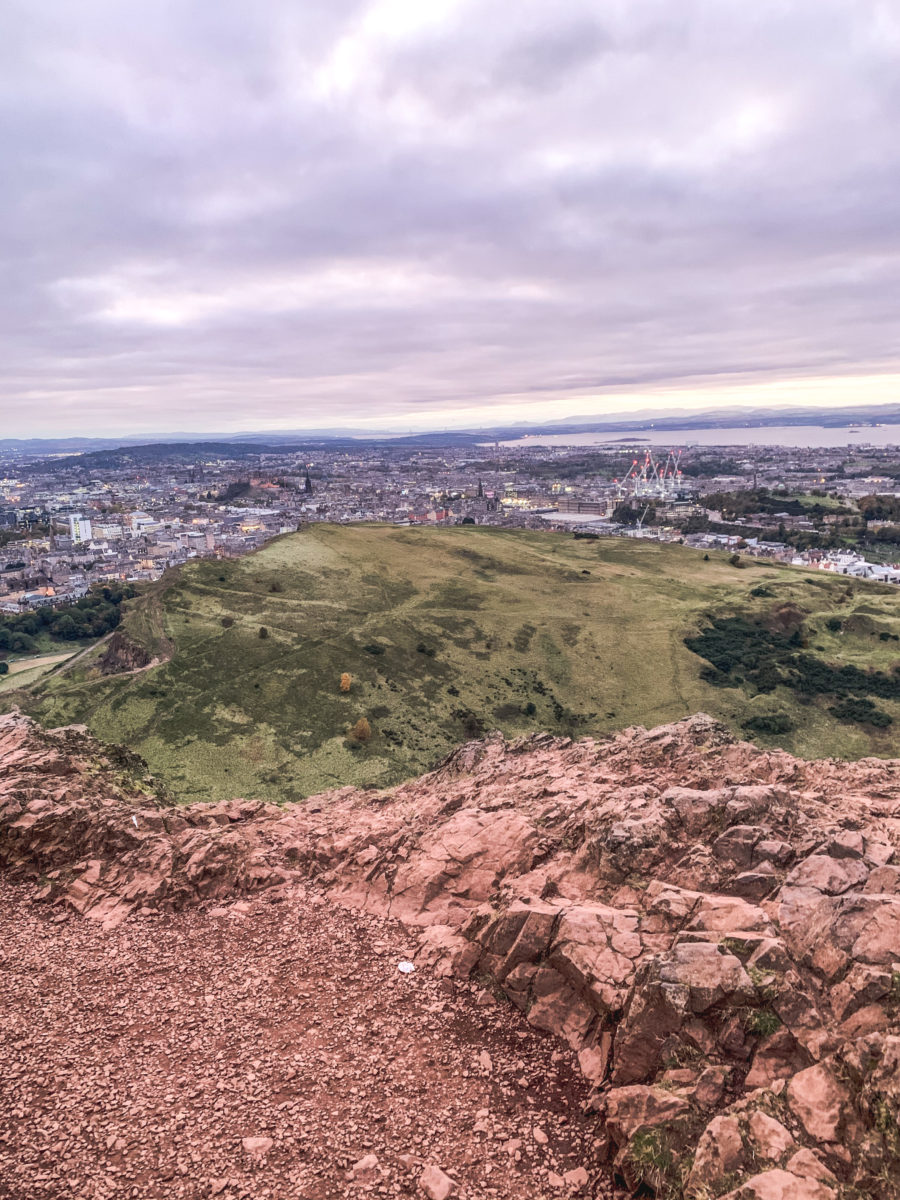 NEW TOWN
Between the gardens of Princes Street and Queen Street is New Town. After exploring Old Town, the architectural transition is rough between Old and New Town. This is once again the charm of Edinburgh – a great diversity! This area is not as striking as Old Town, but one simply enjoys a leisurely stroll along the tall Georgian houses. As a reminder, I explained in the Old Town section that New Town was designed towards the end of the 18th century for aristocrats who wanted to live in a less putrid environment than the Old Town was. In fact, you can visit Georgian House, a former manor house which bears witness to the lifestyle of Scottish nobles in the late 18th century and which is now run by the National Trust of Scotland.
From Charlotte Square to St Andrew Square, walk down Georges Street if you are looking for more fancy shops or select bars and clubs. In itself, I'm not really attracted to these, apart from the posh facades and elegant staircases that amaze me every time I pass by. Instead, take the charming street parallel to Princes Street. Firstly, you'll avoid the crowds that Princes Street is always welcoming and you can wander quietly through this pedestrian street in search of a good pub where you can taste Scottish beers or a more refined restaurant.
This street is familiar to me and even quite dear to me, as it was here that I used to roam around the pubs during my first days in Edinburgh on my exchange. Indeed, looking (desperately) for accommodation, it was in the alleyway of Rose Street that I discovered the flavours of Scottish beers while scouring the many rental sites. Eventually, I found a room in a student residence, but what an adventure. So, if you are looking for accommodation (for a university exchange in particular), don't hesitate to contact me. Unless you're on-site, know people, have a guarantor in the UK or are lucky, it's actually hard to find accommodation in Edinburgh. And the rents are exorbitant…(if you want to have a place that has heating, which is highly recommended in Edinburgh in winter).
PRINCES STREET
If there's one street you can't avoid, it's Princes Street. To me, the word 'busy' has its real significance when you walk down this street, and I'll let you imagine when the festive season is approaching. One term, one only: chaos! It's swarming all over the place, especially for shopping enthusiasts, which I'm not, but the well-known shops provide shelter when it rains. Strolling down this street is nevertheless very stimulating, especially when you look at the gardens, the Edinburgh skyline or my Castle…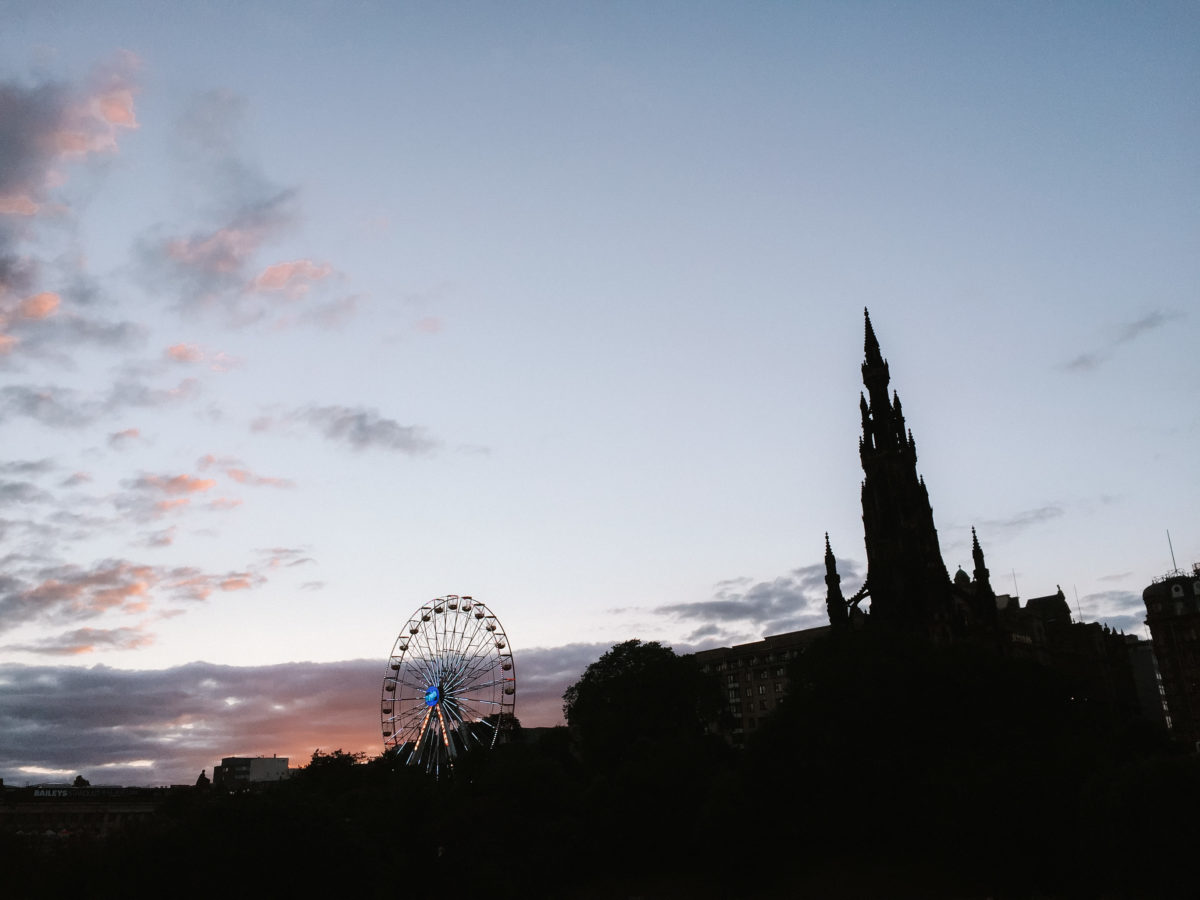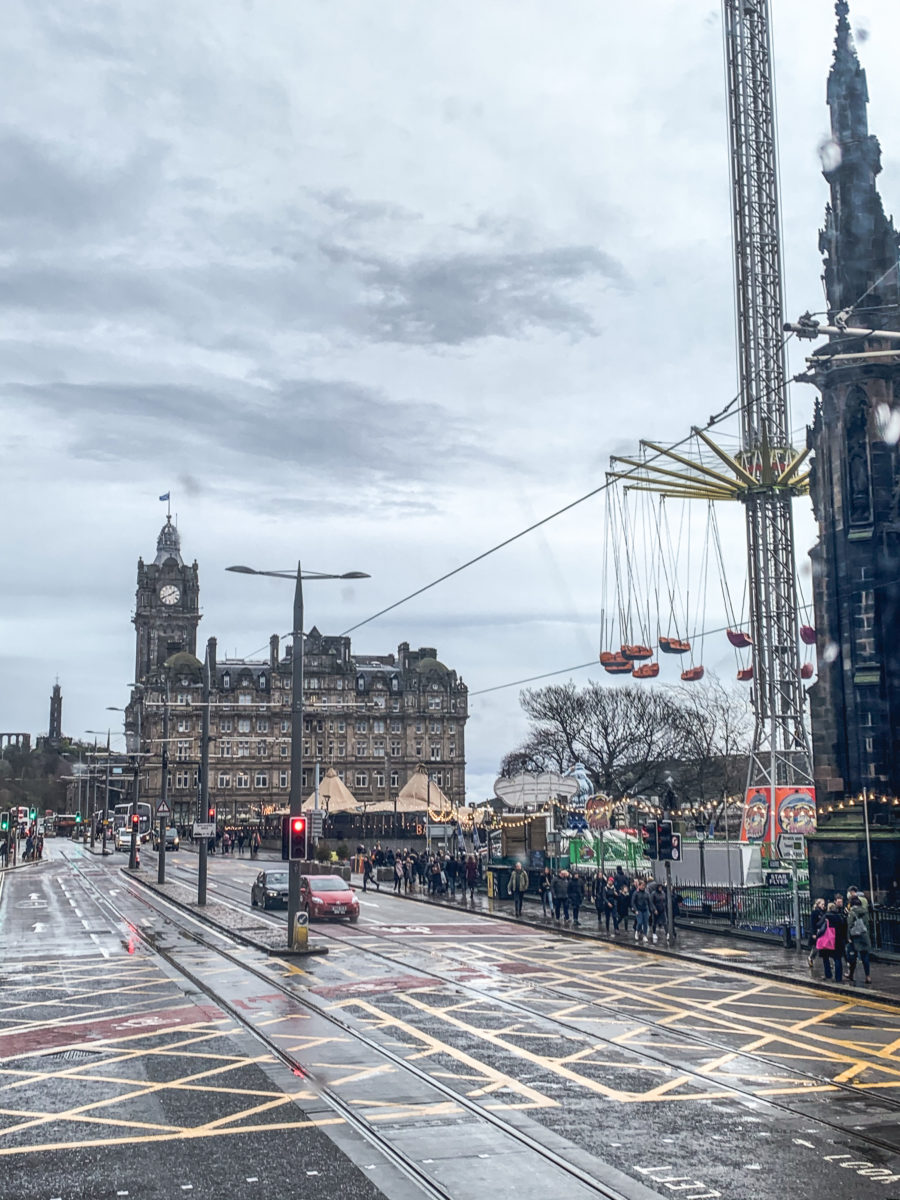 PRINCES STREET GARDEN
I was telling you about Rose Street to avoid the hectic atmosphere of Princes Street, but you can also walk through the gardens named after the famous street. Situated in a valley that was once occupied by the Nor' Loch, a marshy lake drained in the early 19th century, it is difficult to imagine this landscape with a lake nowadays.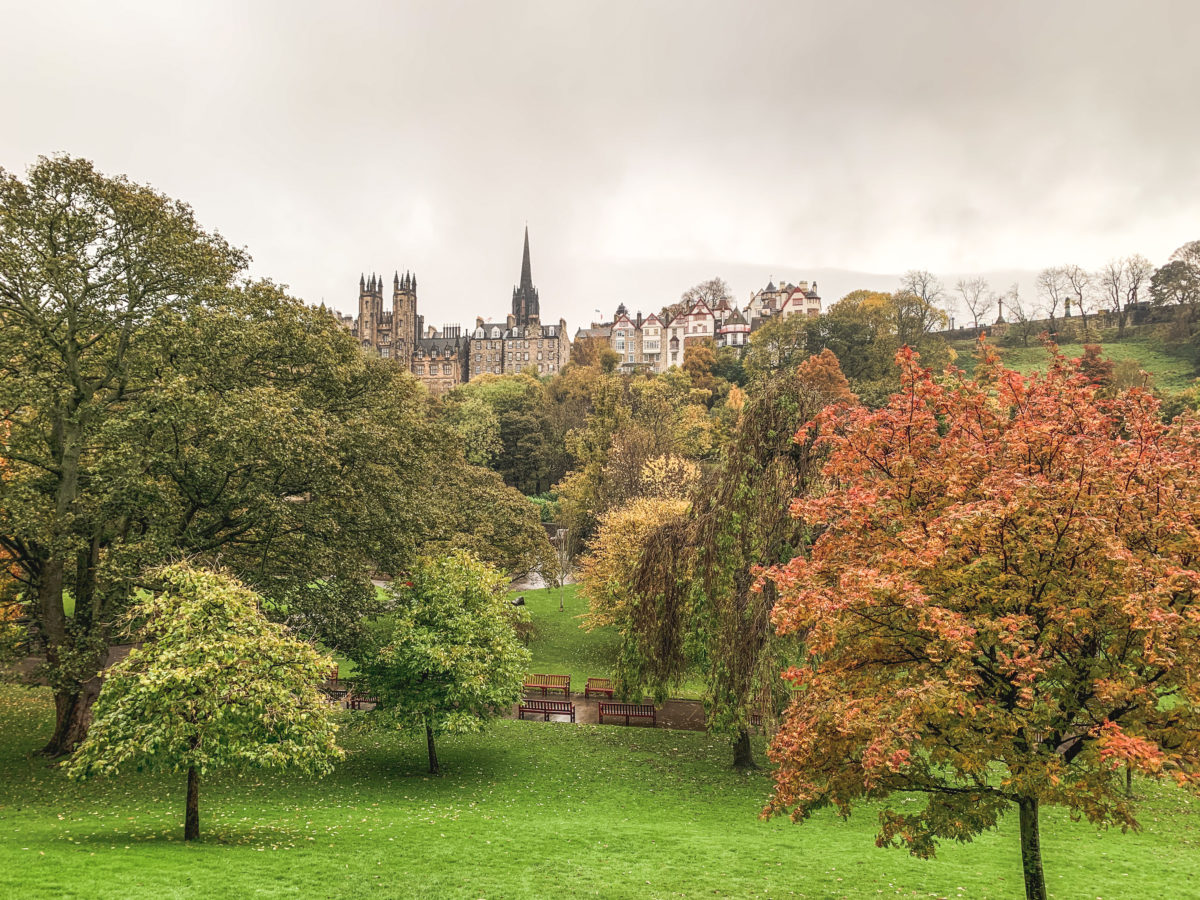 In all seasons, these gardens provide a large resting area and are used for the many festivals that the city has to offer.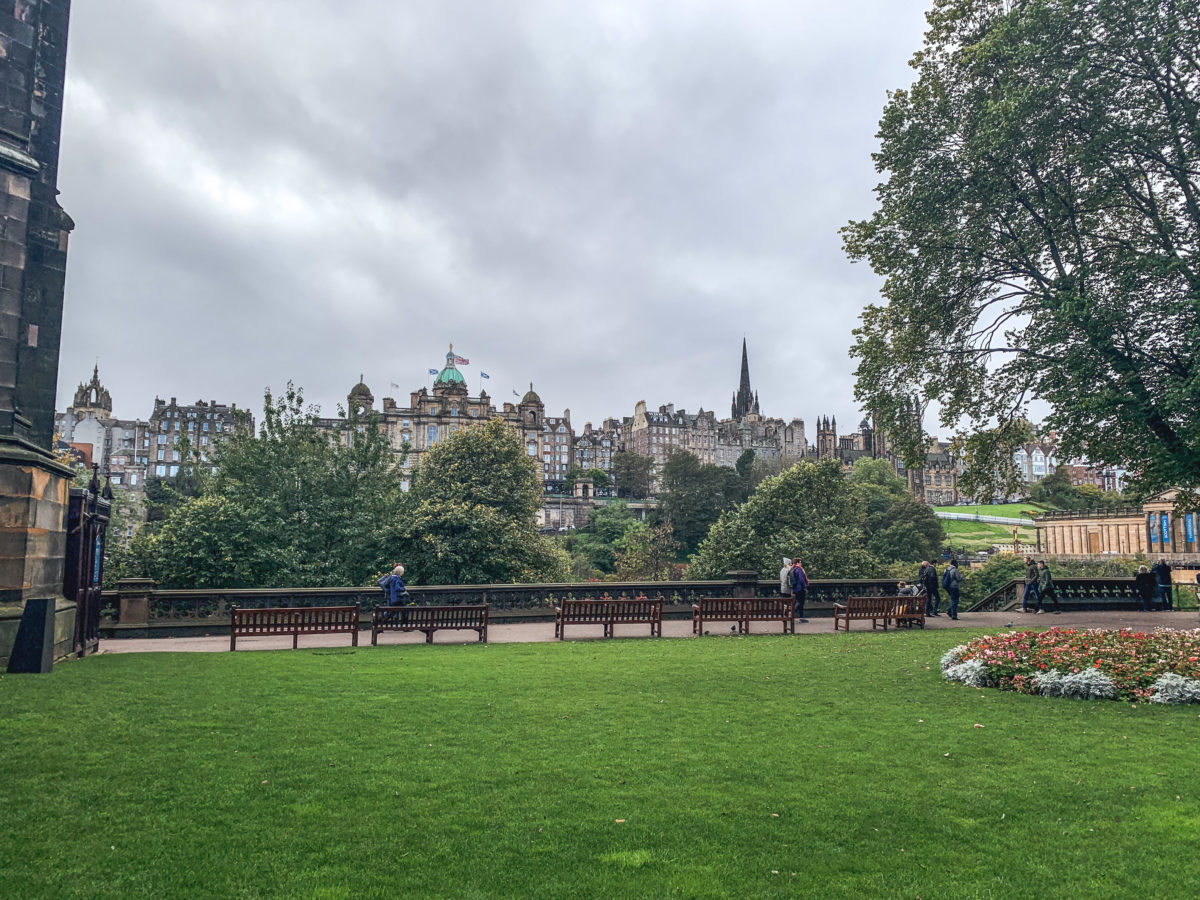 SCOTT MONUMENT
Tribute to Sir Walter Scott, one of the most illustrious figures in Scottish literature, this monument stands out in the landscape. I can't really give a considered opinion on it. Indeed. passing by it, sometimes I found it sinister and sometimes it appeared resplendent and right where it belongs. In any case, it is a striking piece of work.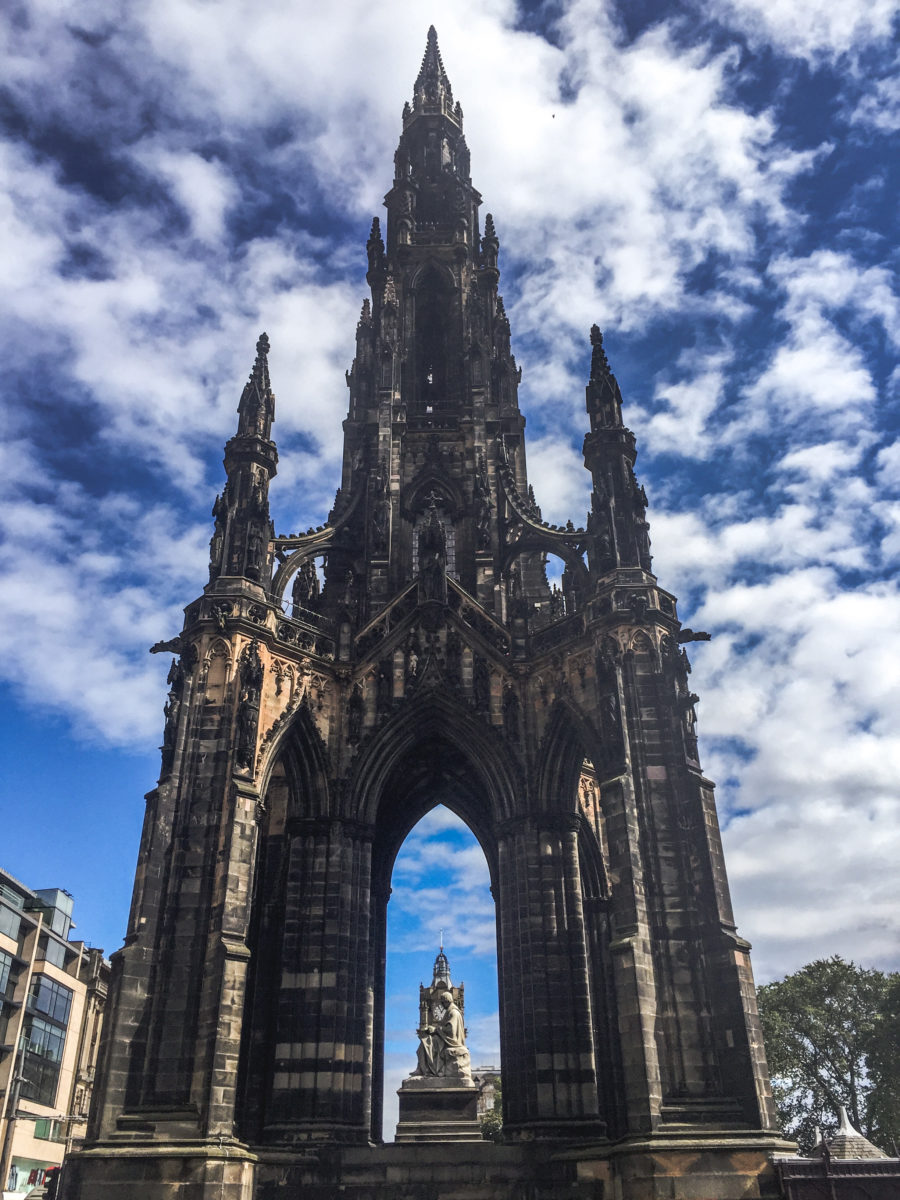 Completed in 1840, after the writer's death, it is a 61-metre high Victorian Gothic tower. In its centre stands a white marble statue of Sir Walter Scott. However, the real attraction of the monument is its summit, which promises an incredible view of New Town and the surrounding area. To reach it, you will have to pay £8 or £6 for a student and climb some 287 steps to enjoy four levels of splendid views and the explanations of a guide (limited number of people per schedule). You can combine the Scott Monument climb with the Nelson Monument at Calton Hill for a small fee, but I don't remember the exact amount.
THE BALMORAL
5-star Palace, hotel where J.K. Rowling finished the seventh book of Harry Potter (I'm telling you about it here), icon, etc. the terms to characterize this hotel are numerous but goddamn it is a beautiful building! I would even go so far as to say that it is one of the most beautiful in the city, or at least, it is the one that struck me the most.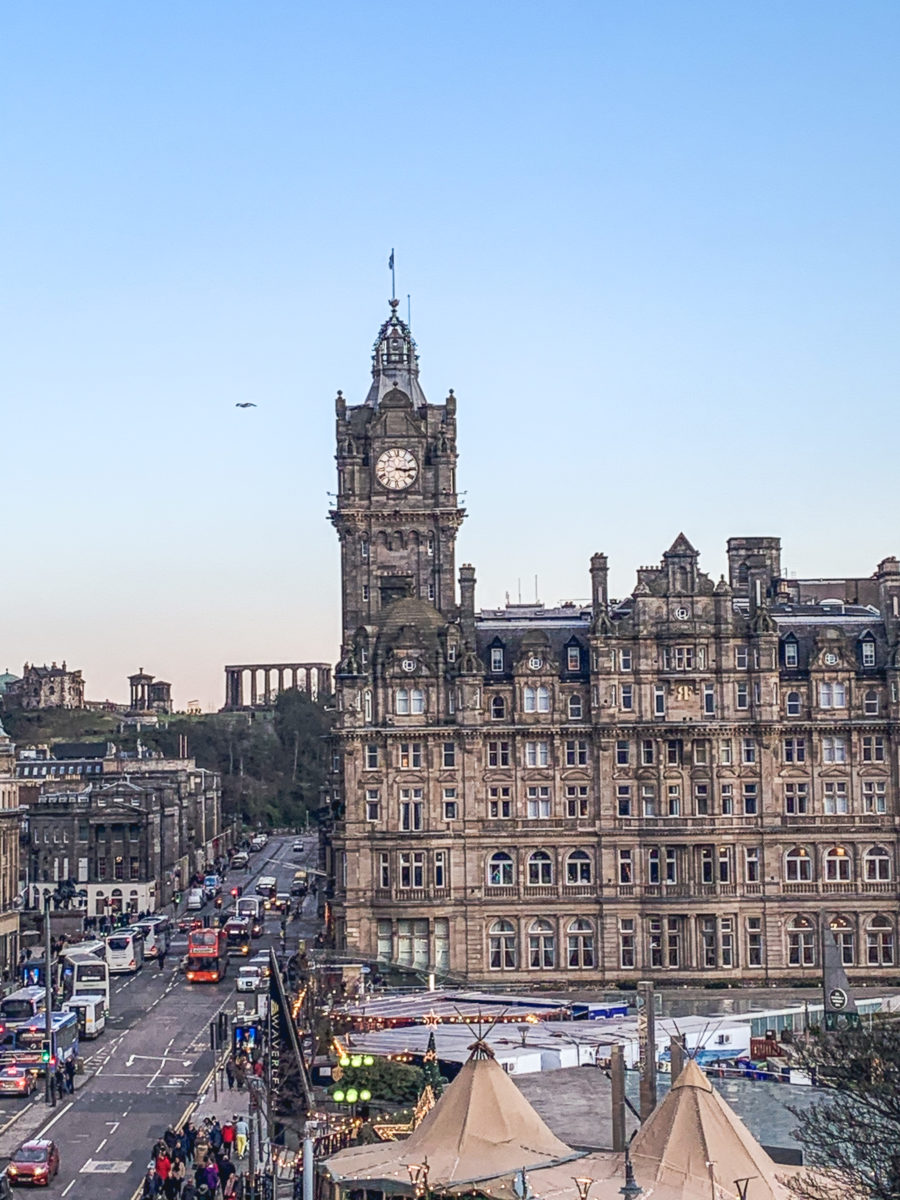 I've never even been inside, but the exterior architecture is absolutely fabulous and so imposing. Perhaps this is mainly due to the clock tower which, at 58 metres high, is an important landmark. As a little anecdote, the hotel clock was set three minutes ahead of time so that the locals would not miss their train. An ingenious solution, which has been in use since 1902. The only day of the year when the clock strikes on time is on December 31st for the New Year celebrations (Hogmanay).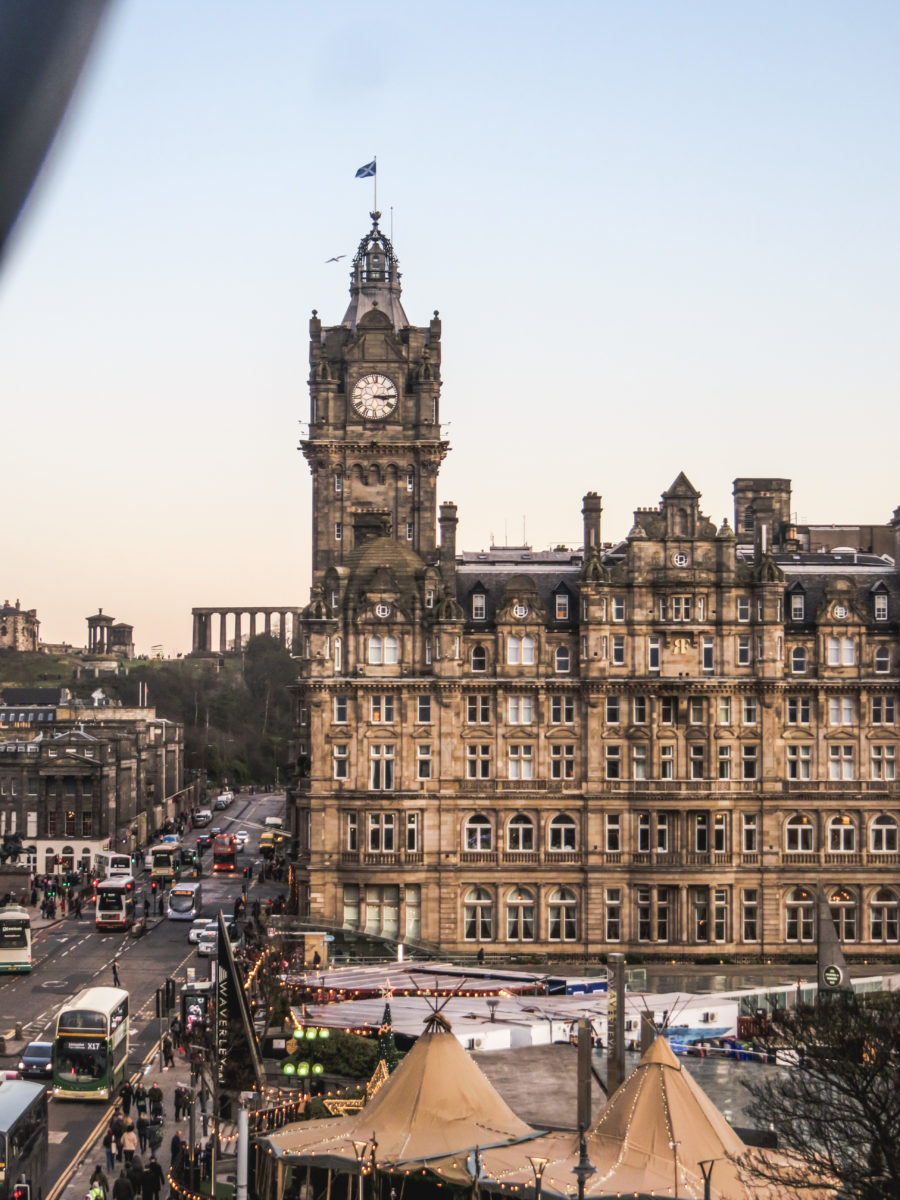 SCOTTISH NATIONAL GALLERY
This is Scotland's national art museum where you can spend hours wandering around in search of works by Vermeer, Monet or Cézanne but also discover collections covering the history of Scottish painting. This is a popular attraction in the city, especially when the weather is bad and you are looking for shelter from the rain, as this museum is free of charge. But not only that… if you're interested in art, the Scottish National Museum will not disappoint you.
It is situated on The Mound hill, between two areas of Princes Street Gardens, giving it a recognisable place in the city skyline. Look out for temporary exhibitions and the extensive collection of contemporary Scottish artists.
Picture was taken here
SCOTTISH NATIONAL PORTRAIT GALLERY
Situated on the other side of New Town from the Scottish National Gallery, the Portrait (more familiarly called) is in my opinion more interesting than the Gallery. This is because the Portrait Gallery is located in one of the most incredible buildings in Edinburgh. It is therefore worth going inside to admire the architecture (built on the model of the Doge's Palace in Venice). The Great Hall will welcome you in a sumptuous setting, and try to recognise the various painted figures.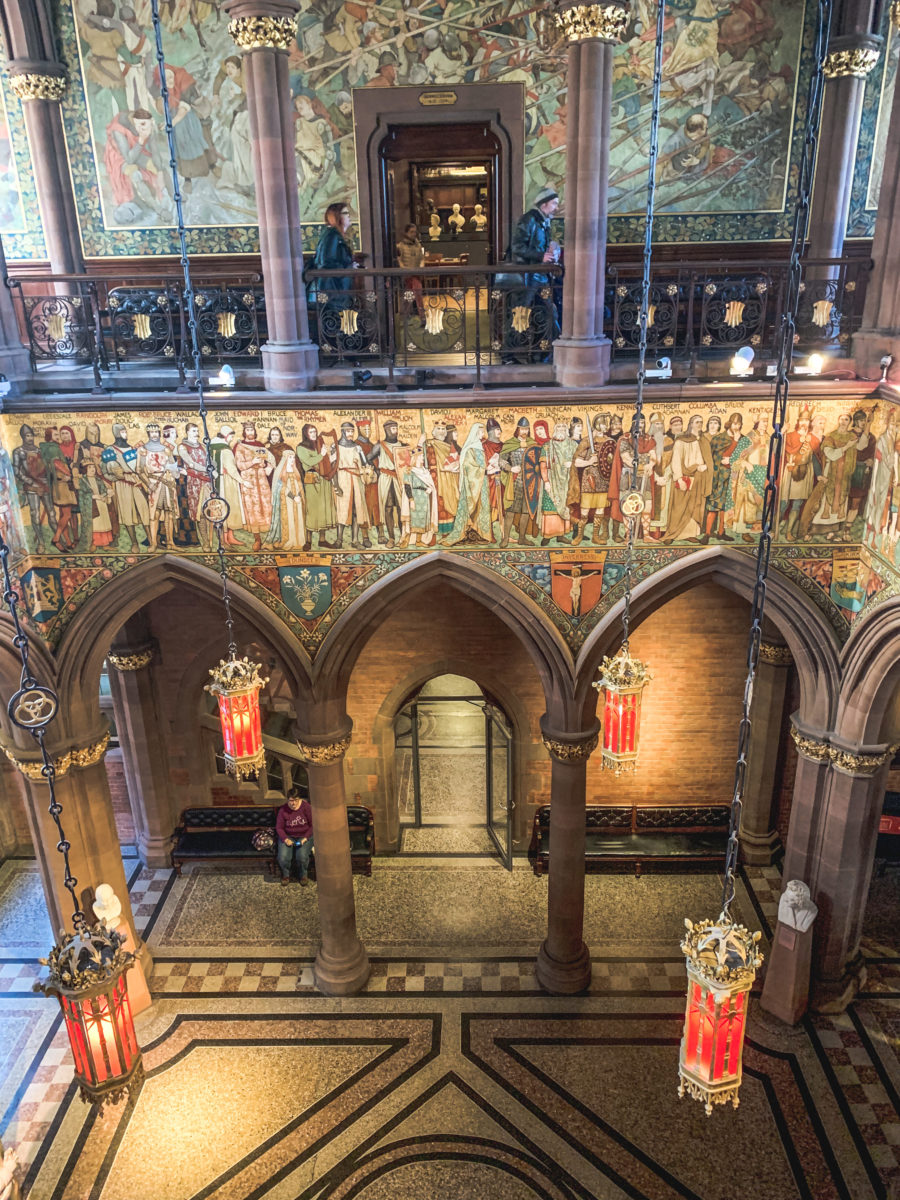 The collection explores different aspects of Scotland and Scottish history, portrayed through a multitude of portraits, including some familiar historical faces such as Mary, Queen of Scots and Robert Burns, but also more recent figures of eminent Scots such as Sean Connery, Annie Lennox and James McAvoy. Certainly a perfect activity for a rainy day.
FOUNTAINBRIDGE
Fountainbridge is the area where I lived during my 4 months in Edinburgh. It is next to Fountain Park that since 2012 residences run by Napier University (the university where I did my exchange) have been offering accommodation to their students. What was only flat 30 and room 30.4 at the beginning, quickly became a crazy adventure surrounded by great flatmates.
Despite all this, the vast area of Fountainbridge, Tollcross (to the east), Dalry (to the north) and Merchiston (to the south) remains a little unknown to me as being a 20-minute walk from the centre, I would rather venture into the old town. However, don't hesitate to explore these areas, which are certainly a little chicer, especially Merchiston.
I can also advise you to take a leisurely stroll along the Union Canal, which is absolutely charming. Sunday morning stroll or on the way to study at the Merchiston campus library, with my roommate, we passed by many lovely places that change from the urban whirlwind of the centre. And if you are motivated for a more recreational outing, bowling at Fountain Park will do the trick (it also includes arcade games, billiards, etc.).
STOCKBRIDGE ET DEAN VILLAGE
Everything in Edinburgh may seem to be from another time, however, a stroll through the Stockbridge and Dean Village areas will give the visitor a real journey back to a less cosmopolitan but more authentic time.
STOCKBRIDGE
There is a strong individual identity in the Stockbridge area as if Stockbridge were a city in the heart of Edinburgh and not just a district. An identity that is felt through a wonderfully bohemian vibe and which gives it an aura that is even different from the rest of the Scottish capital. Although the gentrification of the area in recent years has changed the look of Stockbridge a bit, there is still a village atmosphere where craft, charity and antique shops blend beautifully with fine groceries, tea rooms and cosy cafes.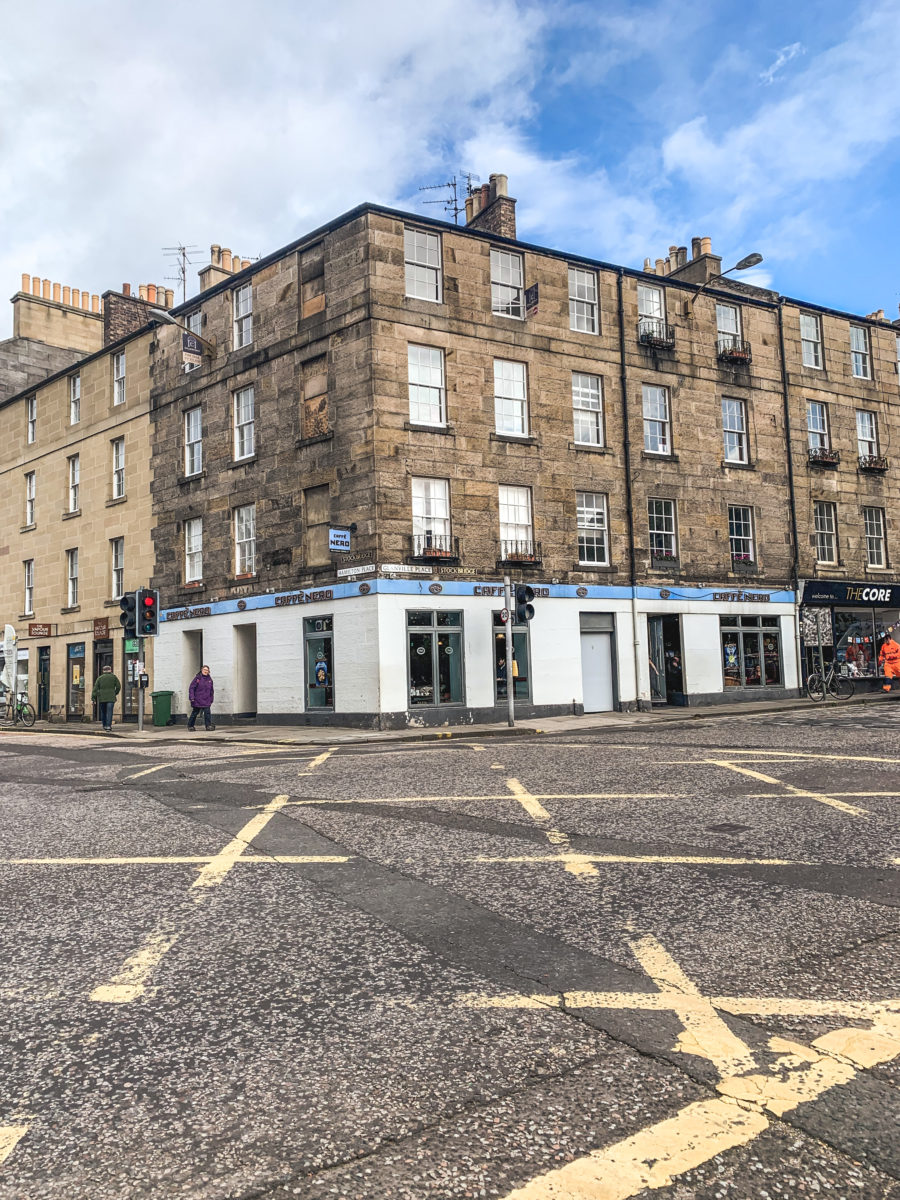 A village feeling that intensifies with the walk along the Water of Leith leading to Dean Village as well as the Botanical Garden and Inverleith Park.
ROYAL BOTANICAL GARDEN
The Royal Botanic Garden in Edinburgh was created in 1670 by two doctors who cultivated medicinal plants and was known at the time as the Physic Garden. It was originally located in St Anne's Court near Holyrood Palace and was later moved to Inverleith to keep it away from the pollution of the city in 1820. As a centre for experimentation and nature conservation, it is one of Edinburgh's favourite places to walk and has become one of mine as well, along with Dean Village and the Water of Leith.
The Botanic Garden is divided into 4 parts, the main one being the Edinburgh part. The other three botanical centres are in Scotland, at Dawyck, Benmore and Logan. On more than 28 hectares of land, several areas are divided into different types of vegetation: Chinese Garden, the Palm Grove and the Queen Mother's Memorial Garden.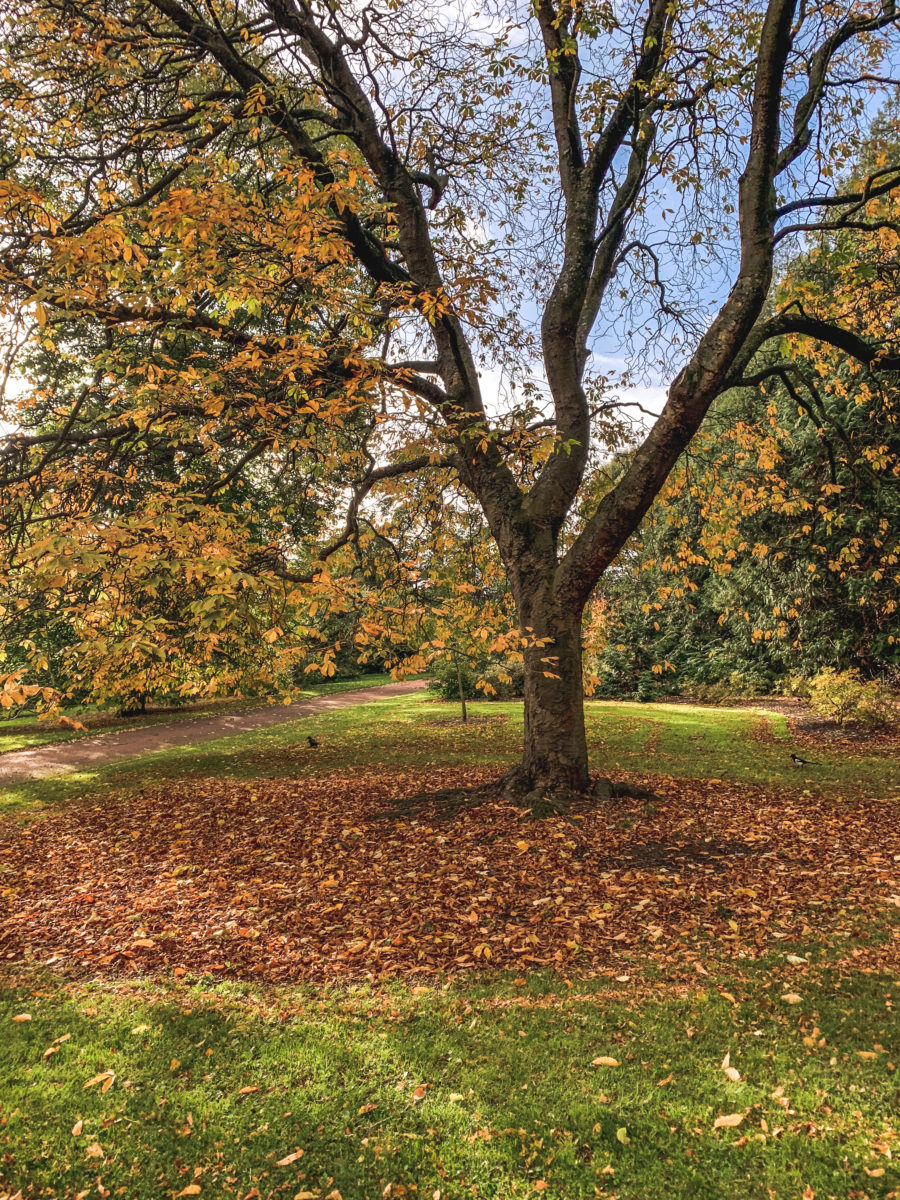 It is said that it is the ideal place for a first date, well certainly, I could feel this romantic concept during my walks, alone or in delightful company. But I would go there mostly because of the beautiful autumn colours and the many squirrels that populate the Royal Botanical Garden. If you pass by there, don't hesitate to say hello to Juan, Pedro or Javier (who knows why when I name animals, Spanish masculine names come to mind when thinking about those funny creatures).
At the western entrance to the park, there is a building that houses a café as well as extensive plant collections and temporary exhibitions. You can also enjoy the shop which offers plants as well as ethical and local products.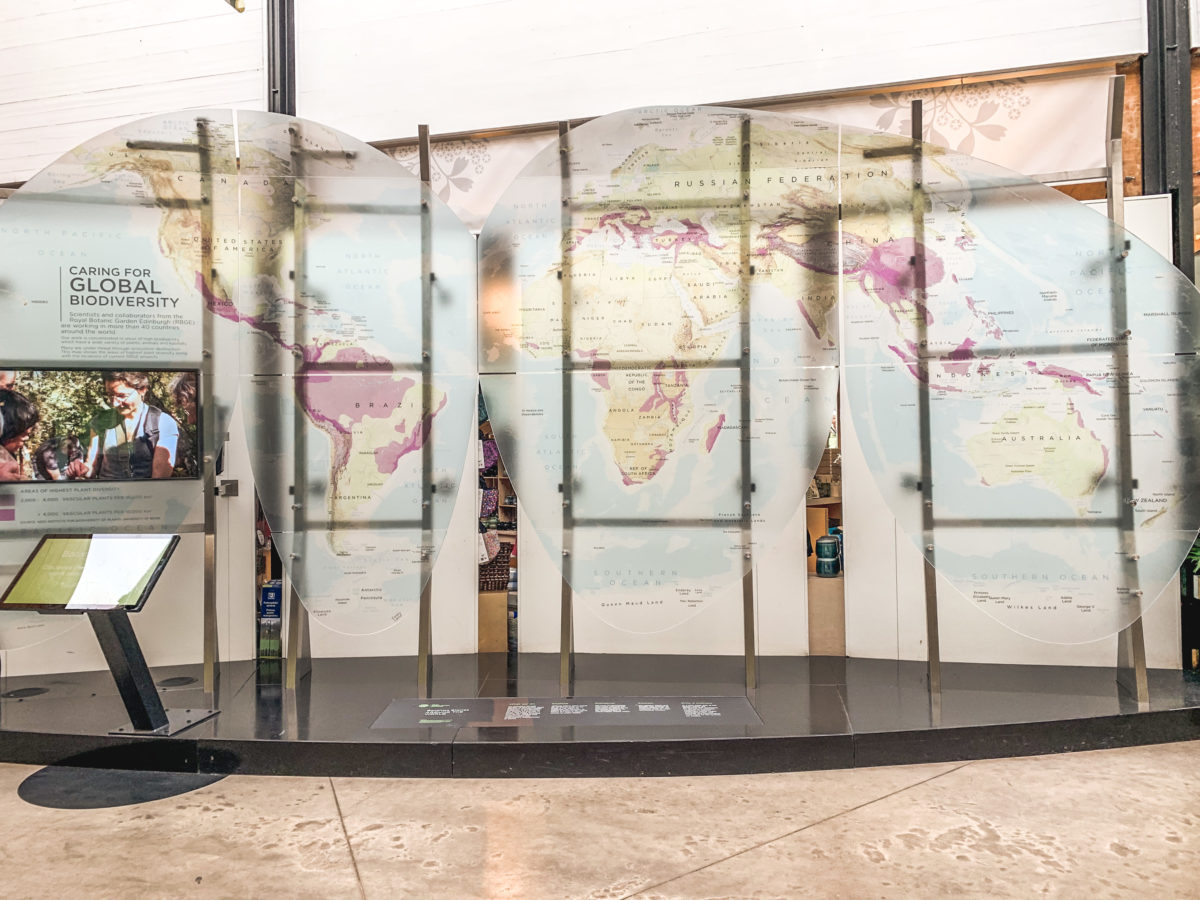 My favourite corner remains the traditional glasshouses as well as the alpine area just before the entrance to the glasshouses. Although access to the park is free, you will have to pay a few pounds to access the 10 glasshouses on display. Unfortunately, I can't remember the entrance fee, but you can probably find the information on-site or on their website.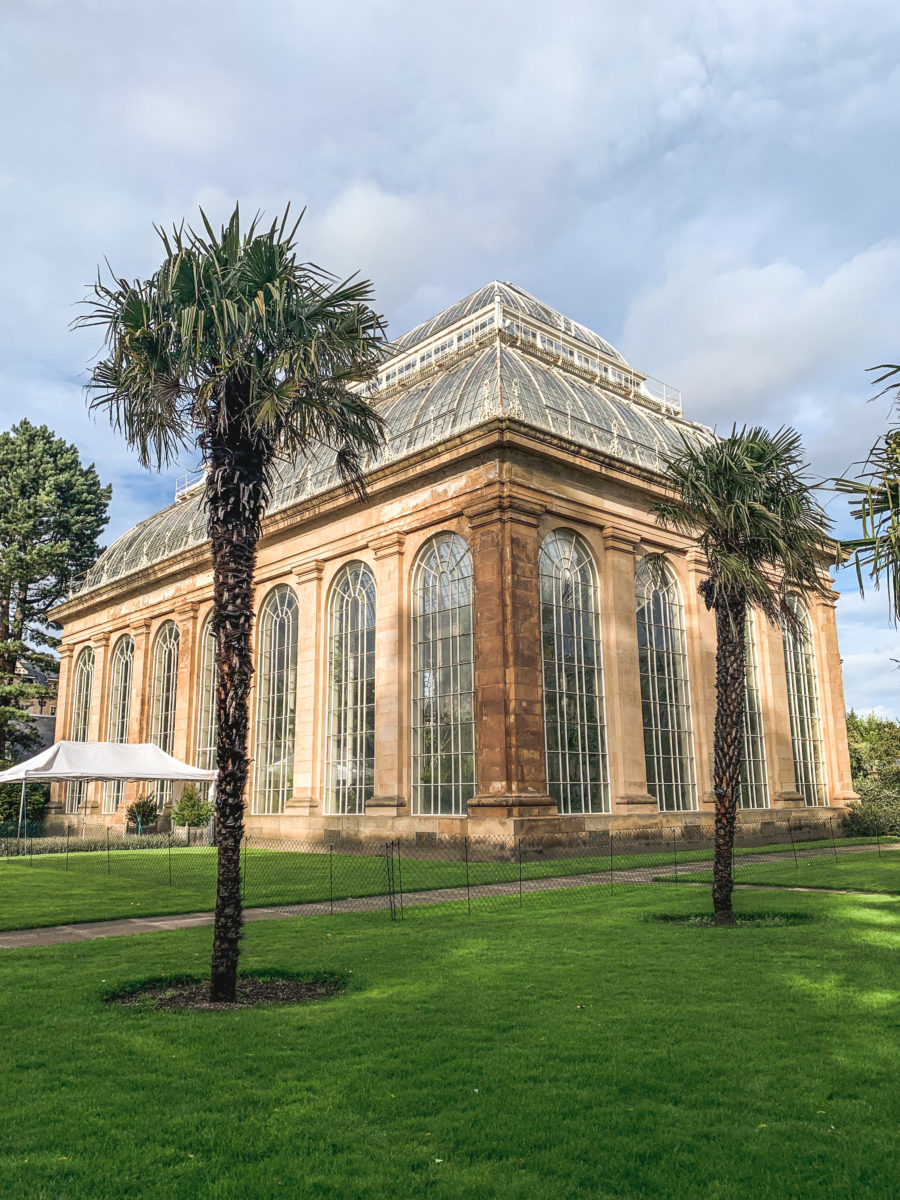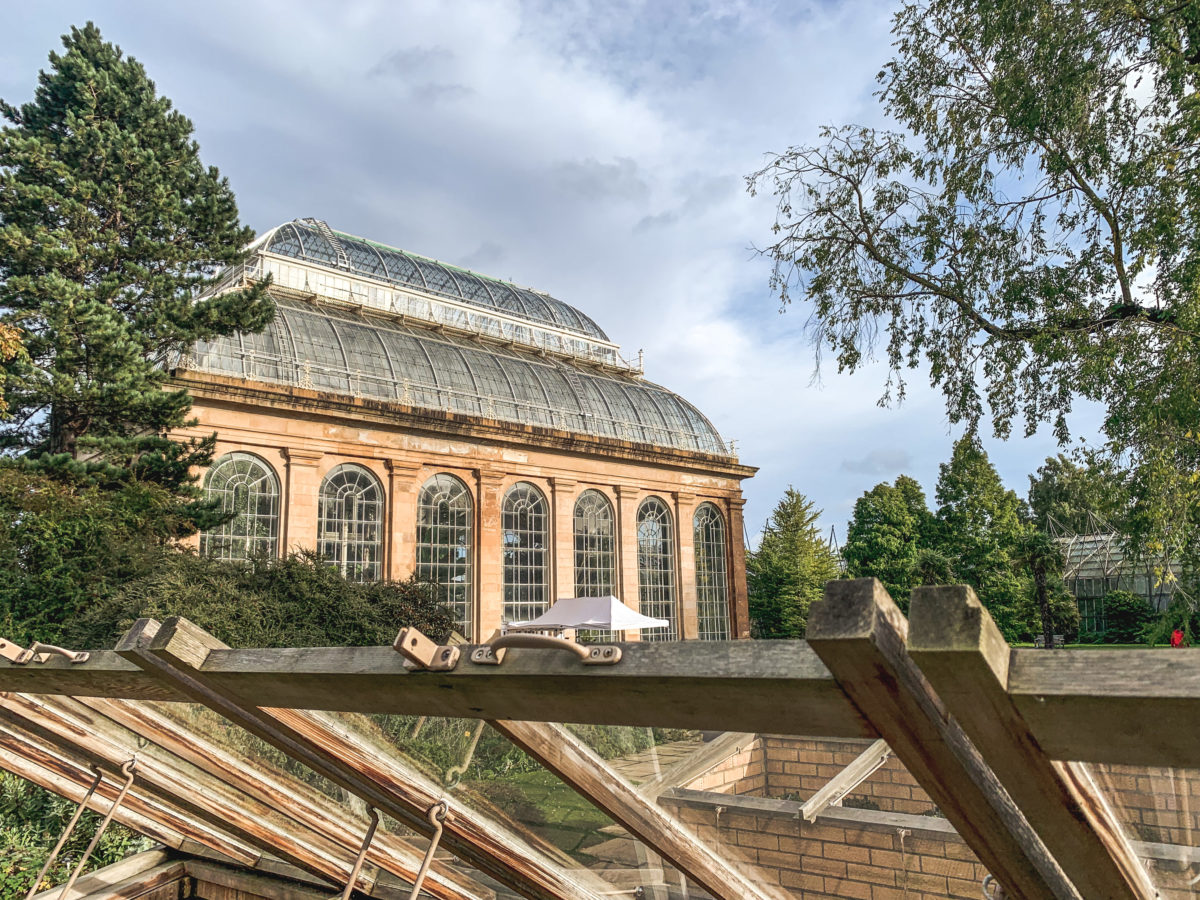 During a long visit to the 10 glasshouses, you will discover more than 80% of the world's flora as you wander through 10 different climates, from arid deserts to humid tropics. In addition to the aspect of discovering the flora, the architecture of the glasshouses is also to be taken into consideration, especially with the first two which are absolutely superb. Indeed, the Tropical Palm House, built-in 1834, represents a pre-Victorian elegance. The Temperate Palm House was opened in 1858 and, at 23 metres high, is one of the tallest palm groves in the world.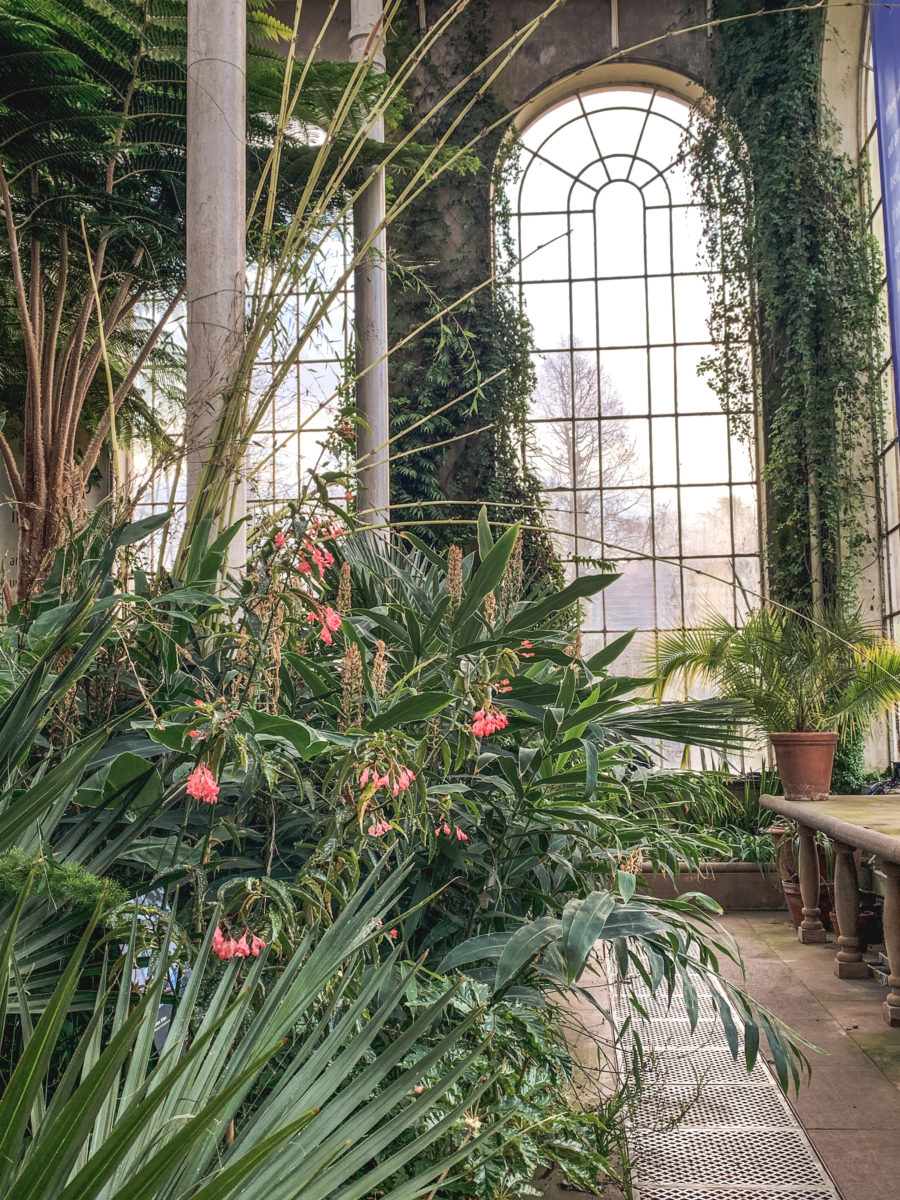 These glasshouses have a magnificent faded grandeur as if nature had been allowed to take over and the building had slowly and voluntarily surrendered. If there is a place to soothe the soul, it is in these glasshouses.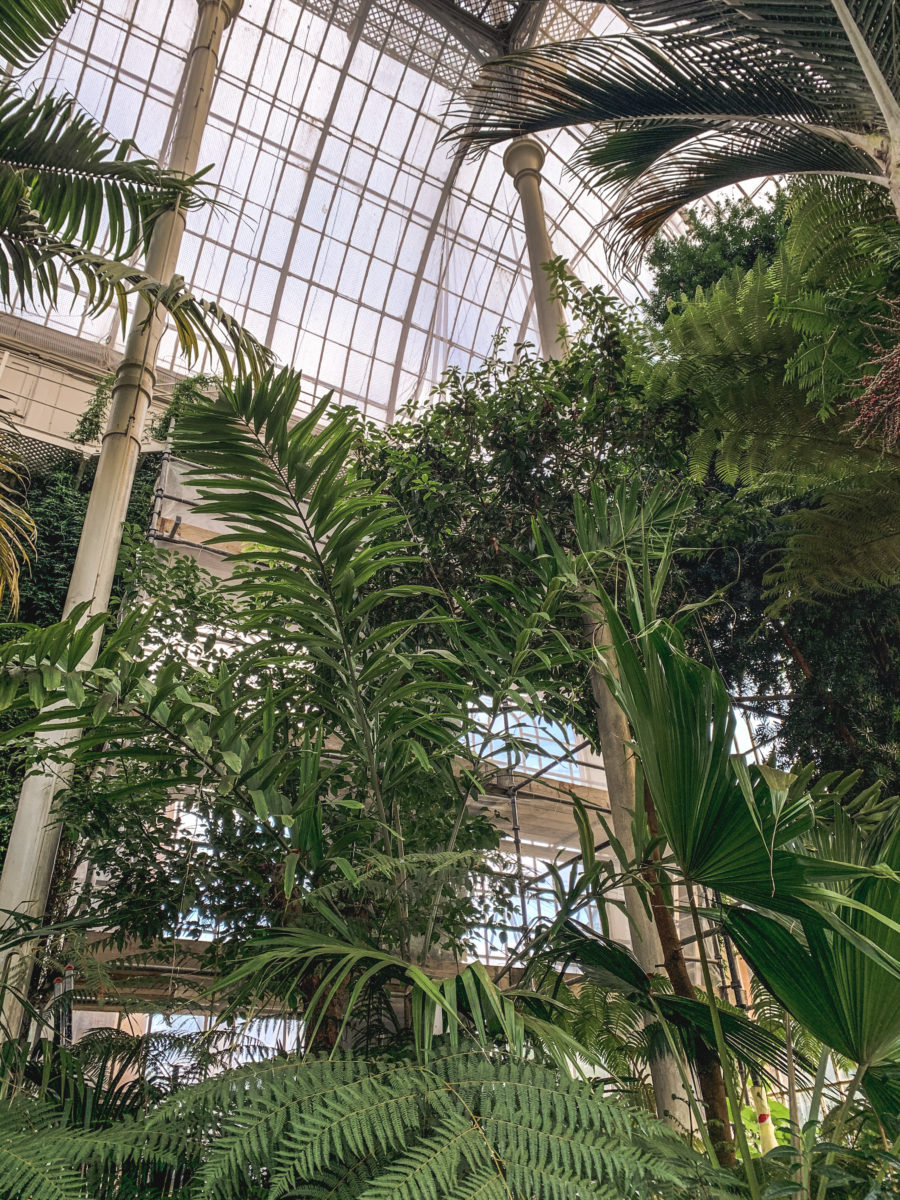 Finally, the park abounds with events throughout the year, including a sound and light show in November. Take a tour of the website to see what happens during your visit.
STOCKBRIDGE MARKET
On Sundays, head to Jubilee Gardens to explore the Stockbridge Market, where the smells are mouth-watering. You won't be able to get bored, as you browse the market for objects and accessories and savour local and international dishes.
Don't miss the front door of the old market, which is all that remains of the original building. This ornate market entrance is an arched doorway with Greek Doric columns at the foot of a short symmetrical approach along St Stephen's Square. It is opposite the Golden Hare Bookshop, which is full of nuggets. I told you about it in this article.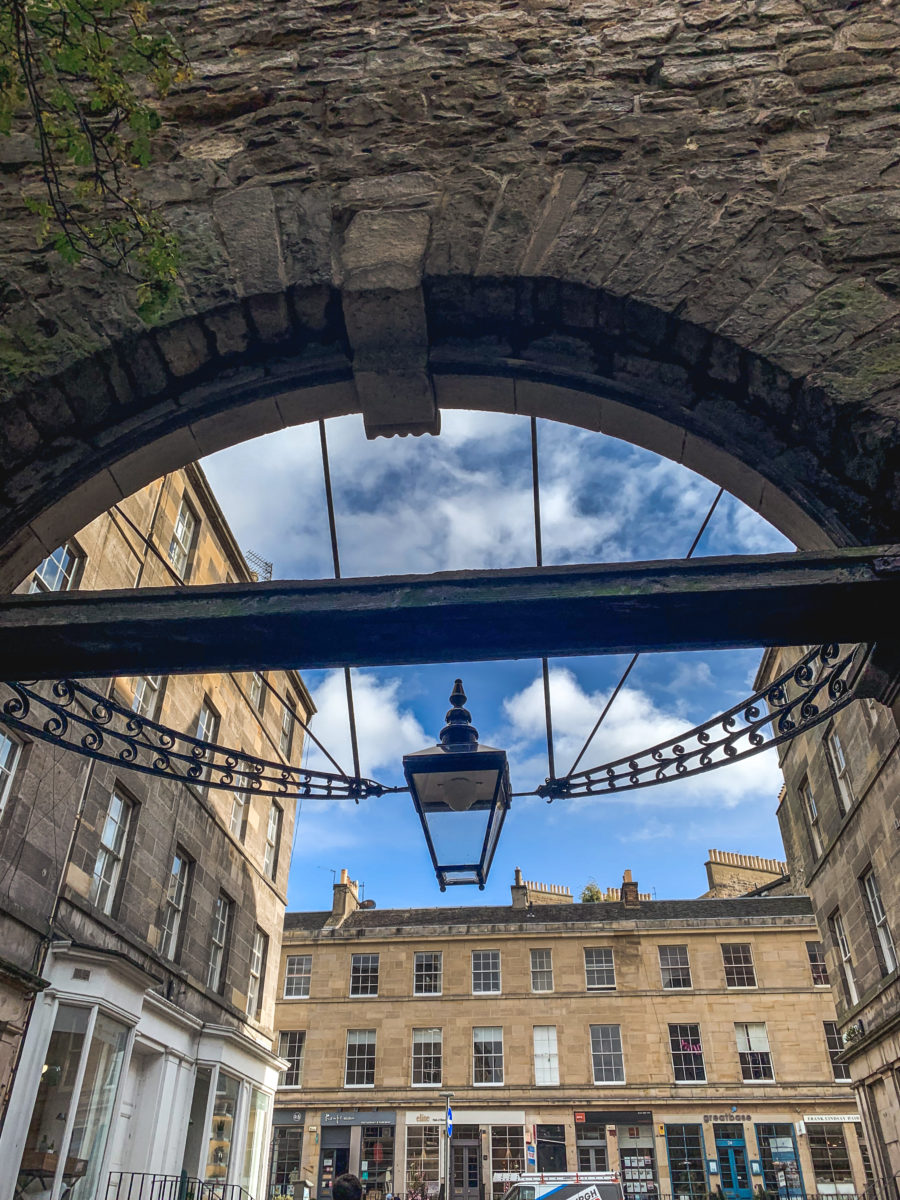 CIRCUS LANE
It's no wonder that all Edinburgh photographers love this place. In fact, I saw this street so much in my Instagram feed that I had to go and have a look at it on one of my walks around the area. We forget that it's just an alley, but such an attractive one.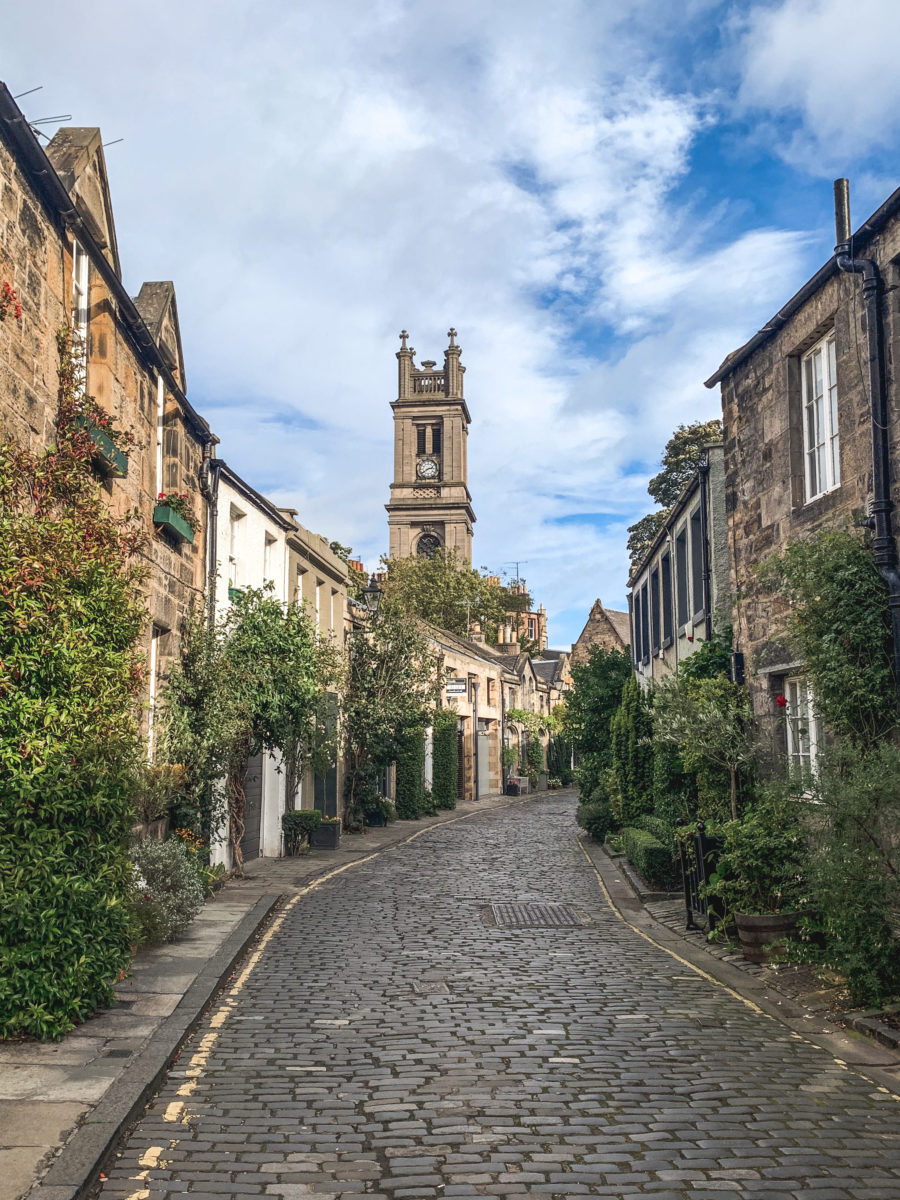 Each house has flowerpots or trees outside, making it a picturesque and quiet place away from the busyness of New Town. The Church of St. Stephen adds that old-world charm that every photographer tries to capture.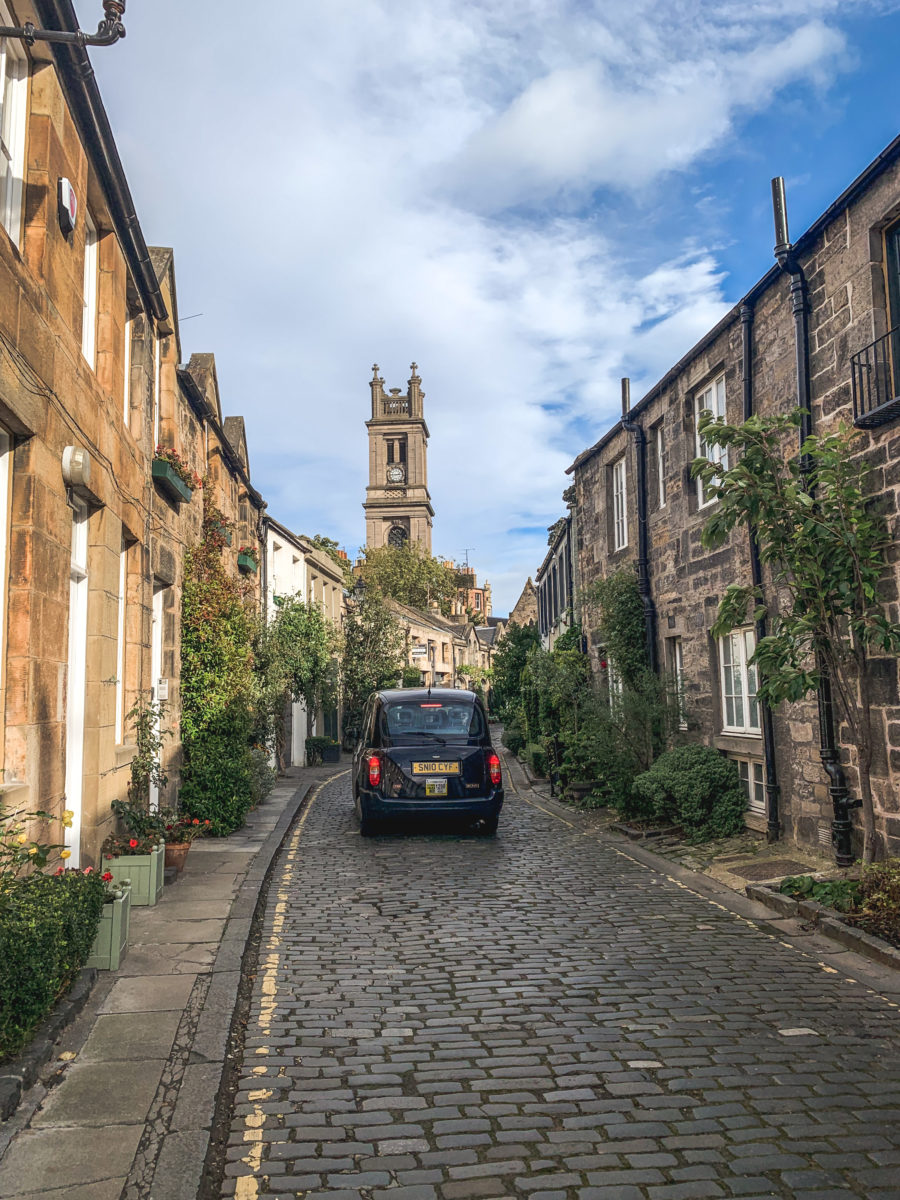 Like everywhere else, be discreet as do not forget that you are strolling in a residential alley.
THE WATER OF LEITH
The Water of Leith is a river that has its source in the Pentland Hills. It then flows for about 40 kilometres through Edinburgh, the heart of Stockbridge, and finally into the port of Leith.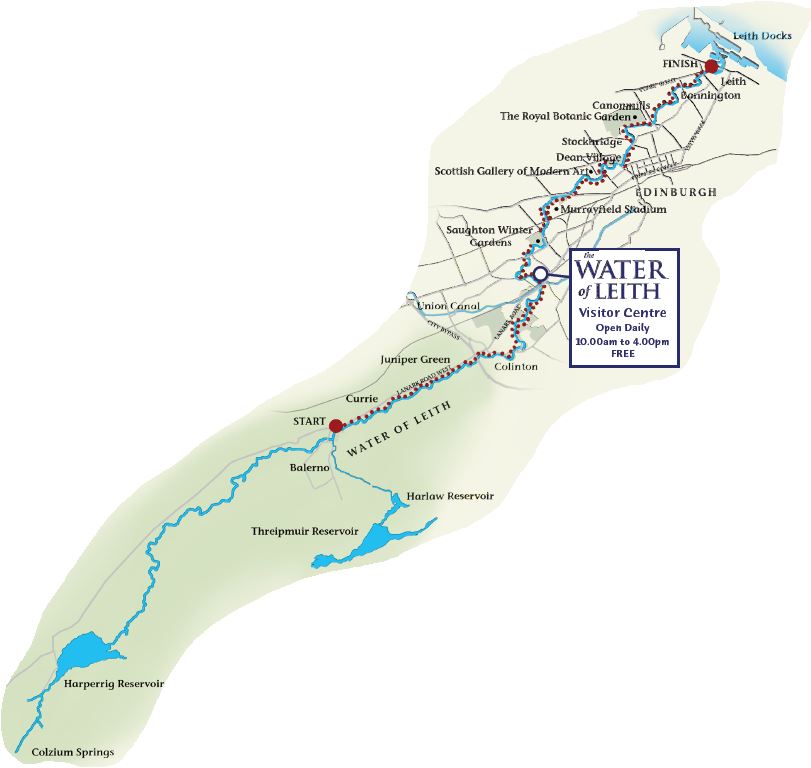 This map was taken ici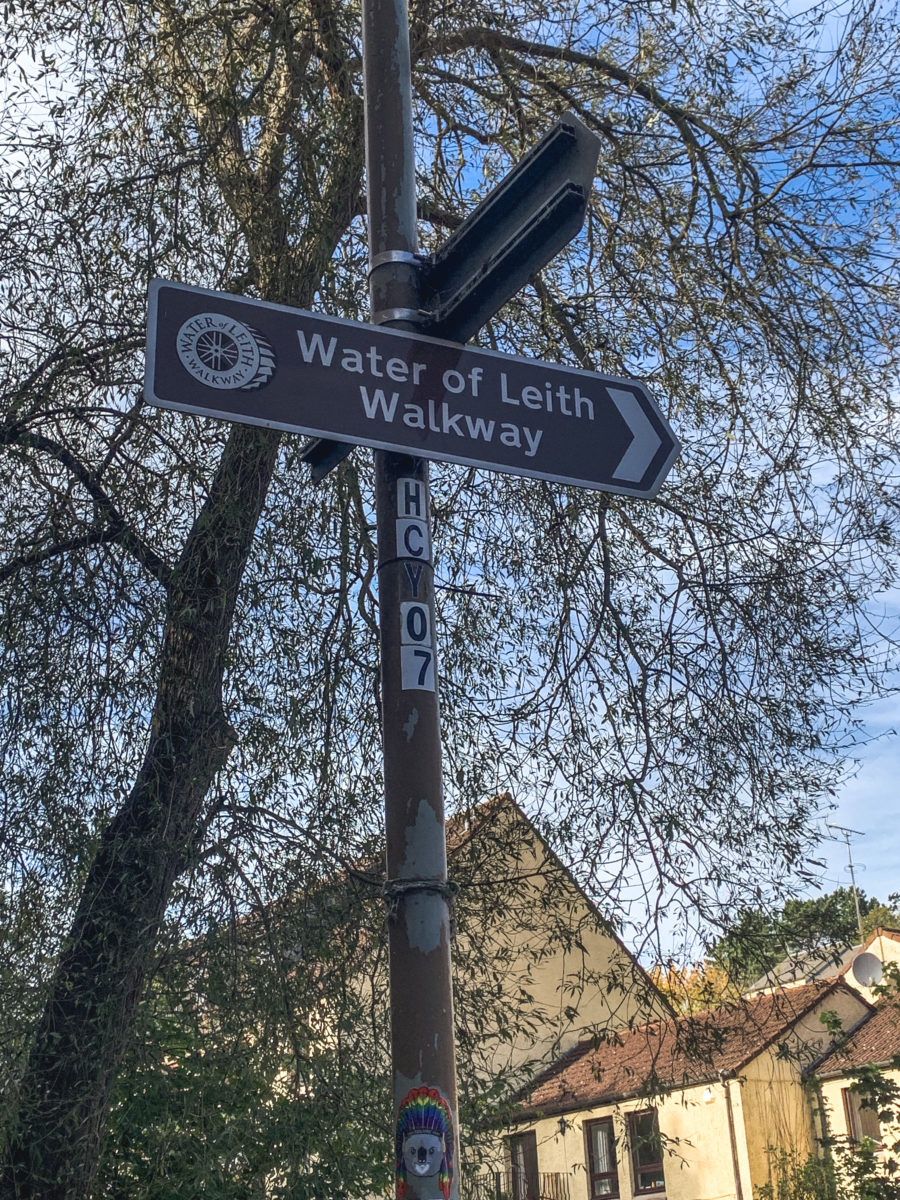 Halfway along its route, a path has been created along the river, the Water of Leith Walkway. I haven't walked the whole of it, but the part from Dean Village to the Botanical Gardens is certainly pleasant.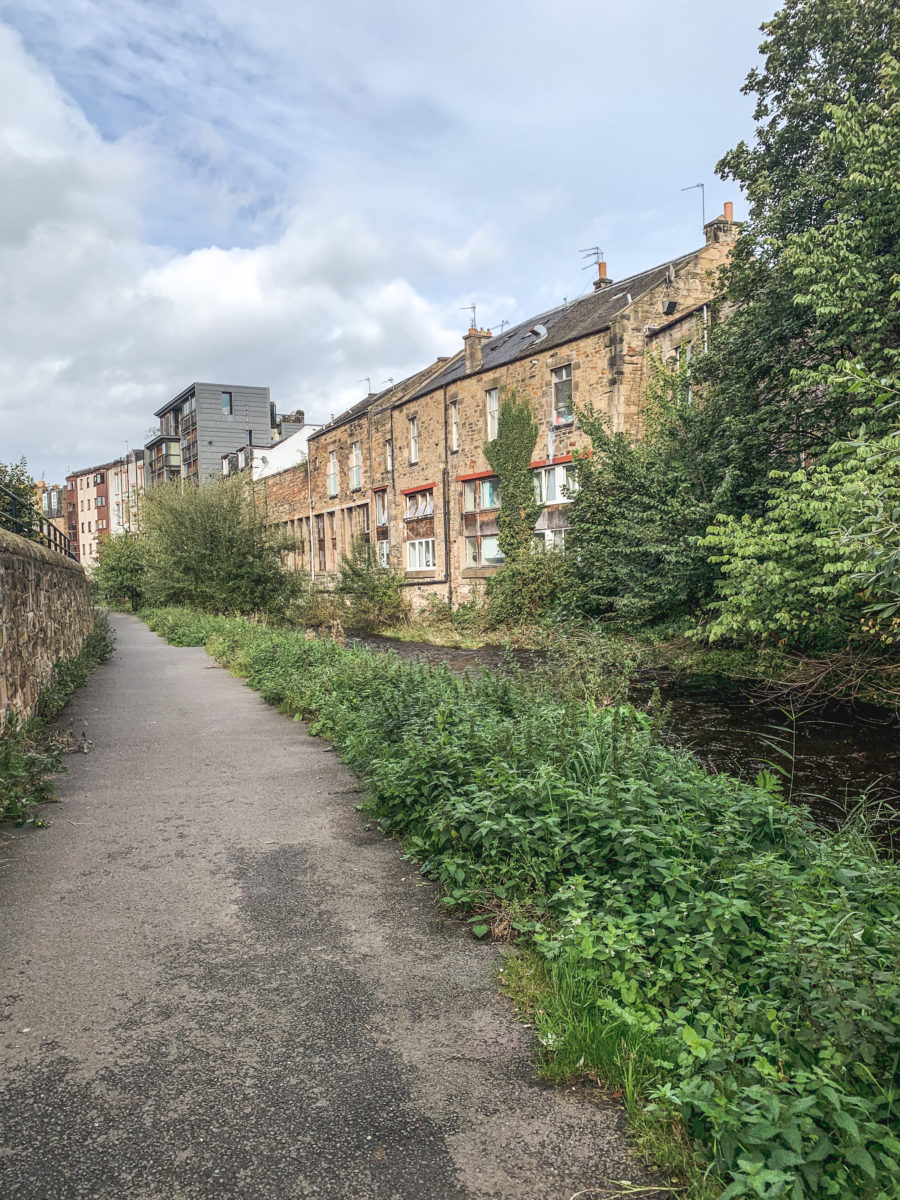 It is in this section, in fact, that I found my haven of peace: St. Bernard's Well.
It was on one of the benches of St. Bernard's Well that I was going to resource myself. Whether it was a conversation with a charming stranger, who also came to relax or simply to listen to the sound of the river in this place, the charm works. It allows everyone to unwind in the frenetic city of Edinburgh. During my 4 months in the Scottish capital, it was a bit my idyllic place, which allowed me, when the temperatures were still warm, to escape the university life, the roommates' life, etc.
St Bernard's Well was commissioned in 1788 after rumours spread that the natural spring that joined the Water of Leith at this point had medicinal properties. The ornate structure, designed by the Scottish painter Alexander Nasmyth in 1789, shows a building in Greco-Roman style, with Doric columns, a dome and a statue of Hygie, the Greek goddess of health.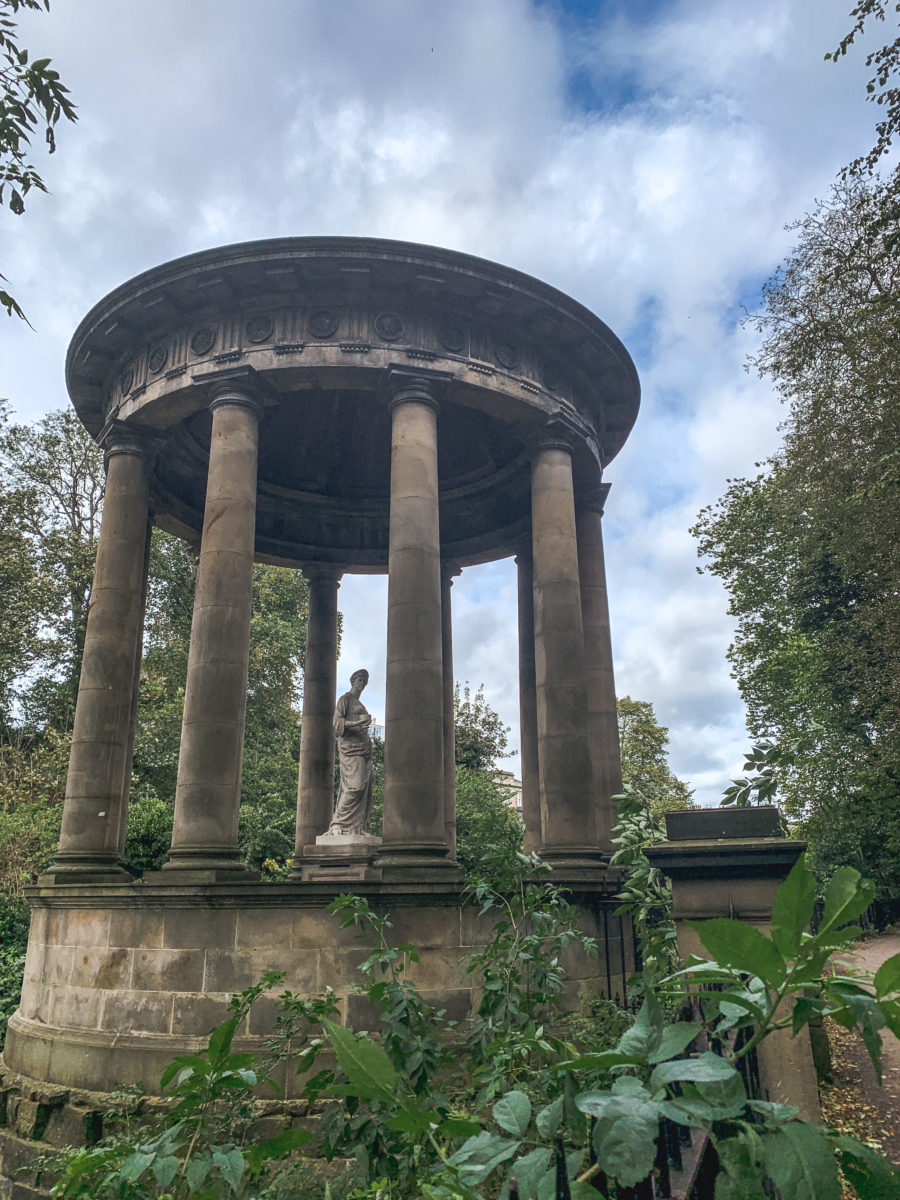 DEAN VILLAGE
Just 5 minutes from Princes Street, following Queensferry Road and then taking the cobbled Bells Brae road, we arrive in another world: Dean Village.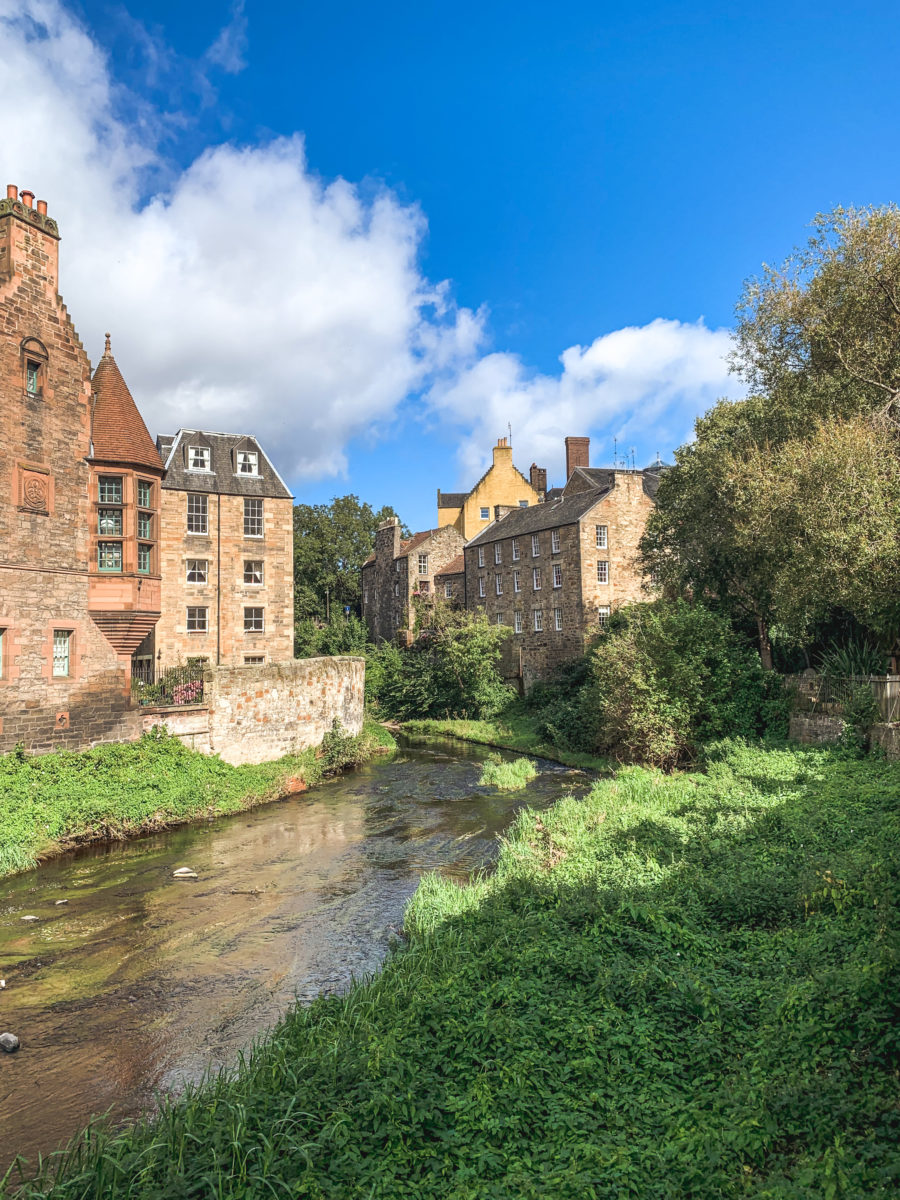 It was once an old millers' village and, there is still an aura of calm that gives the impression of a small oasis in the city centre. Picturesque would be the right term when strolling through it we discover charming houses and the River Water of Leith. A timeless walk not to be missed during your time in Edinburgh.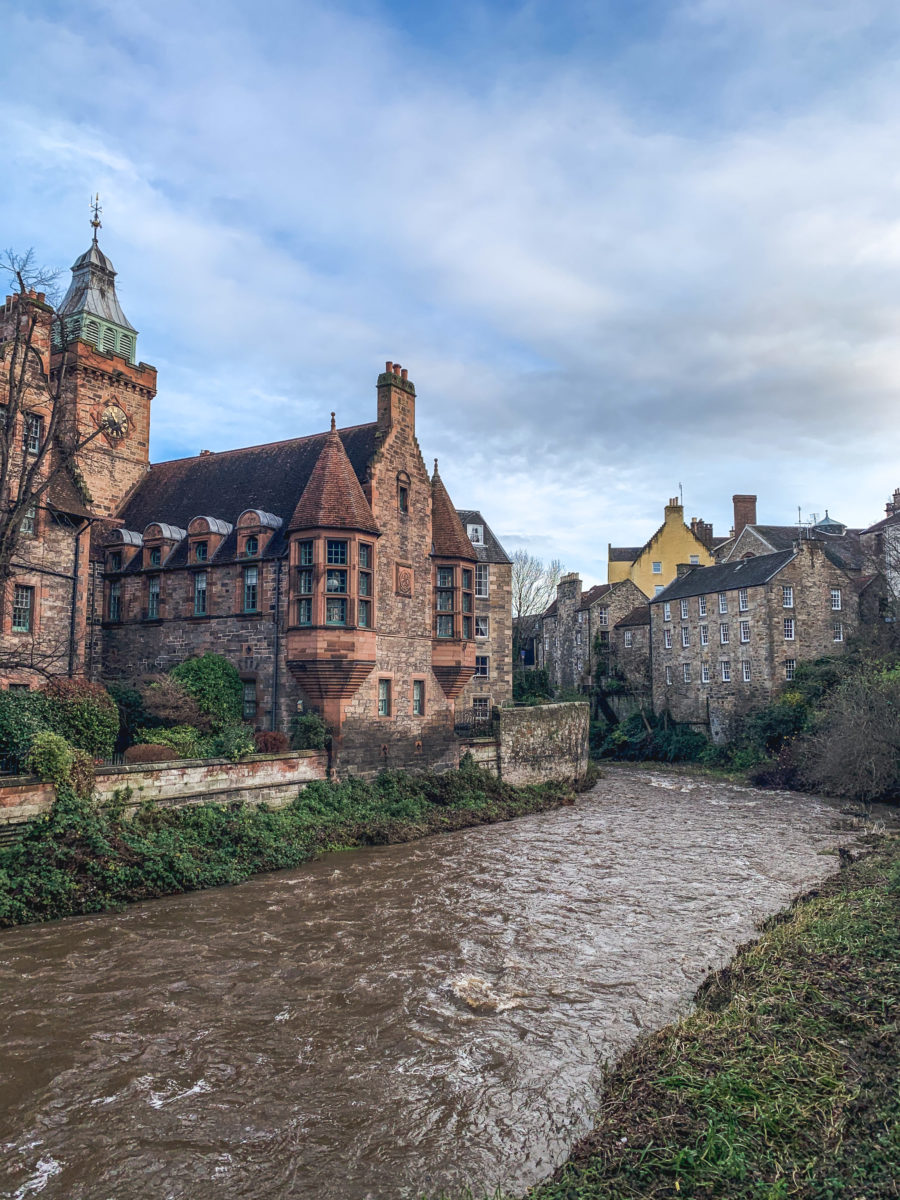 The most emblematic building is located in the heart of the village and is called Well Court. It was built in the 1880s to accommodate the local workers who worked in the watermills. The inner courtyard is architecturally magnificent and, the entire building was recently restored with the support of Edinburgh World Heritage. Once again, this village, though looking petrified from a distant past, is inhabited so respect and calm are required when wandering around Dean Village.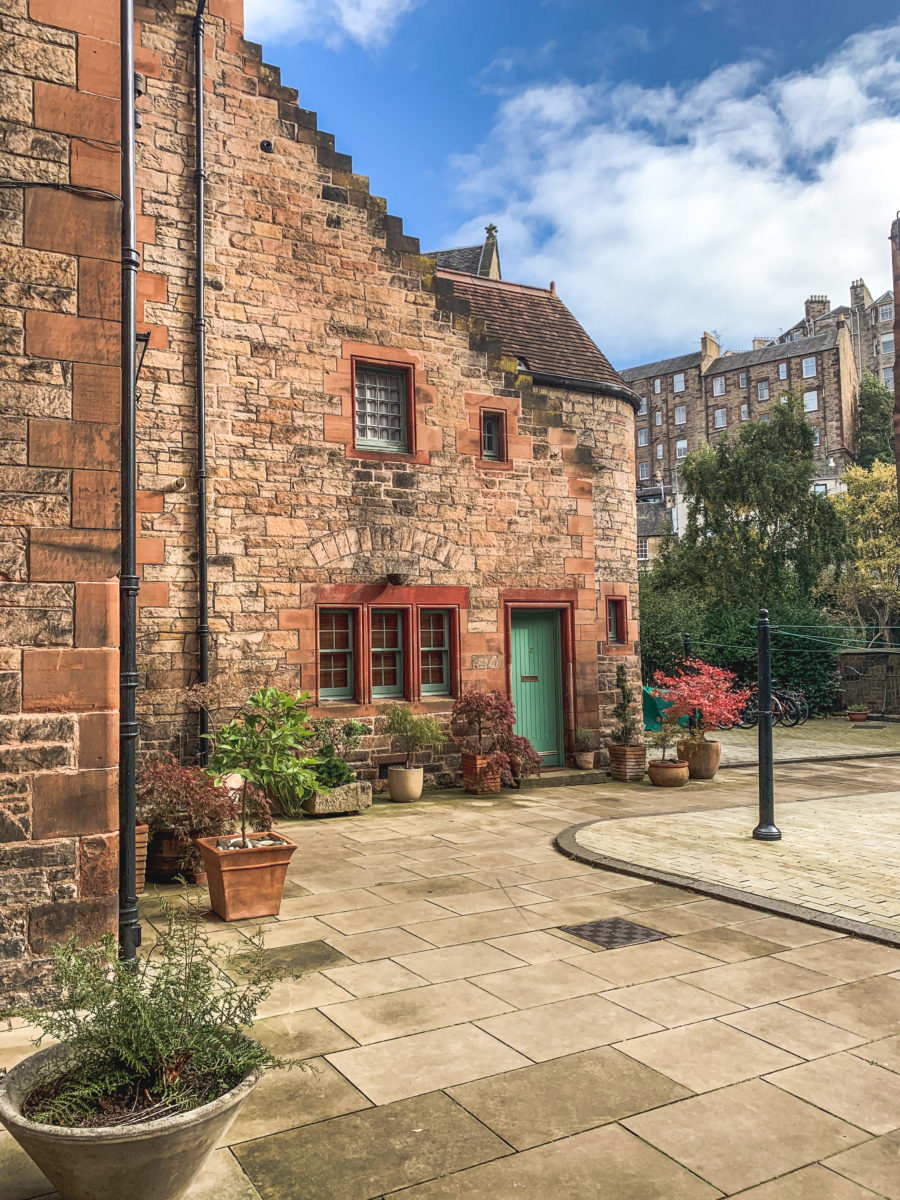 If you are looking for more information about this exciting place, you may be lucky enough to come across an old man on Dean's Bridge who, wearing a sort of information sign around his neck, animates himself with knowledge and anecdotes whenever a visitor seeks to find out more.
WEST END
The West End is a lively area with a network of beautiful Georgian streets, which shows the westward extension (hence West) that it represents in New Town. To find your way around, follow the tram line from Princes Street towards the airport and you will definitely pass through the West End. I used to walk home from the city centre on this route regularly.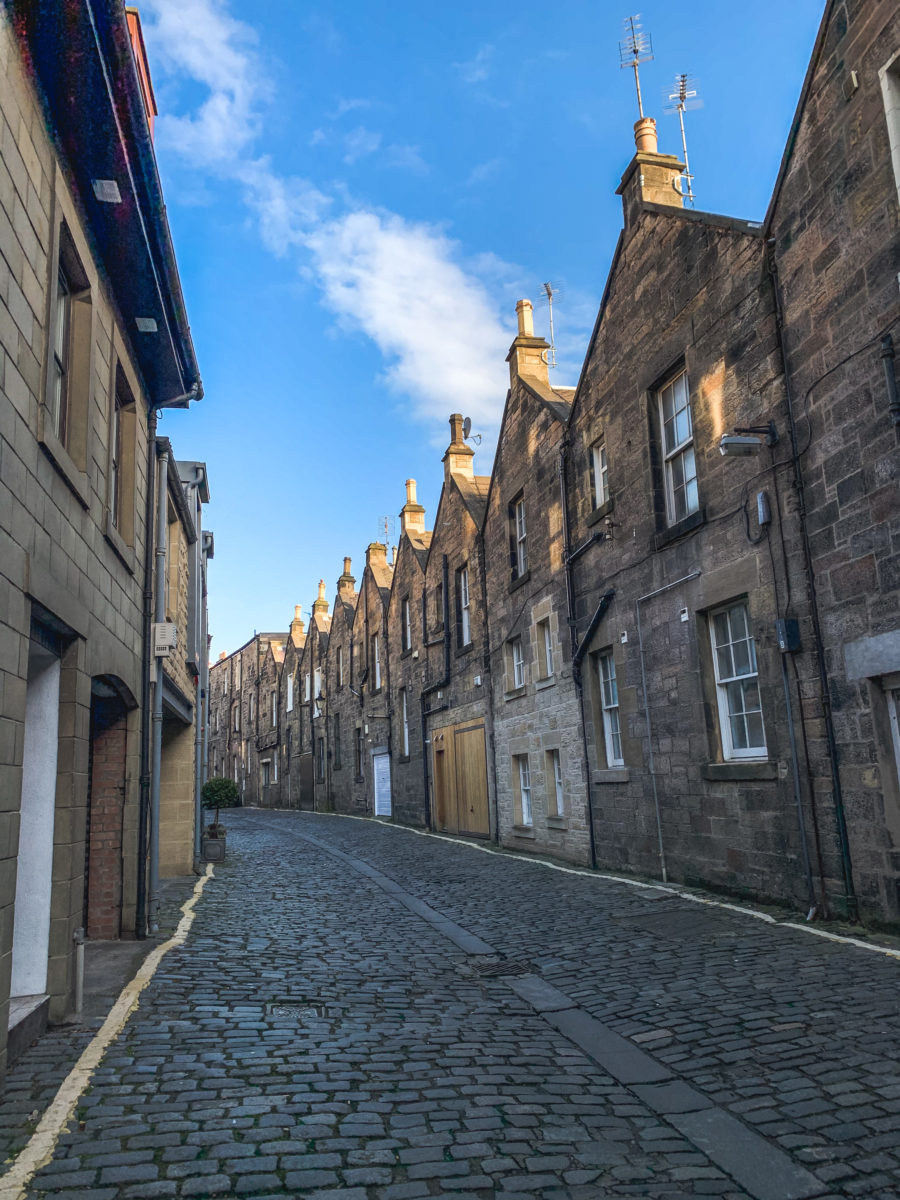 You will arrive at the historic Haymarket Station, which has recently been extensively refurbished and offers convenient access to the West End's 'commuters'. The station is served by the busy Glasgow and Fife trains, as well as long-distance services to Inverness and Aberdeen.
BT MURRAYFIELD STADIUM
If you arrive by the airport tram, you will see the impressive BT Murrayfield Stadium overlooking the skyline. Home to the Scottish Rugby Federation, this stadium can host over 67,000 people.
I admit I don't know much about the sport but having a passionate rugby roommate in Edinburgh, it enabled me to learn more. Rugby is a sport of excellence for the Scots and I suppose going to Murrayfield to watch a game and soaking up the incredible atmosphere is, without doubt, one of the most exciting experiences you can have in Edinburgh. Well, my interest lies in football therefore, I went to watch 22 lads run in the Edinburgh derby (see story below in the where to go out section).
My flatmate and I had the opportunity to visit this rugby haven thanks to our Sport Business Events course with the university. We took part in a guided tour of the stadium to see behind the scenes of a venue like Murrayfield. So, although it is essentially a rugby stadium, Murrayfield can host American football matches, football matches and numerous music concerts.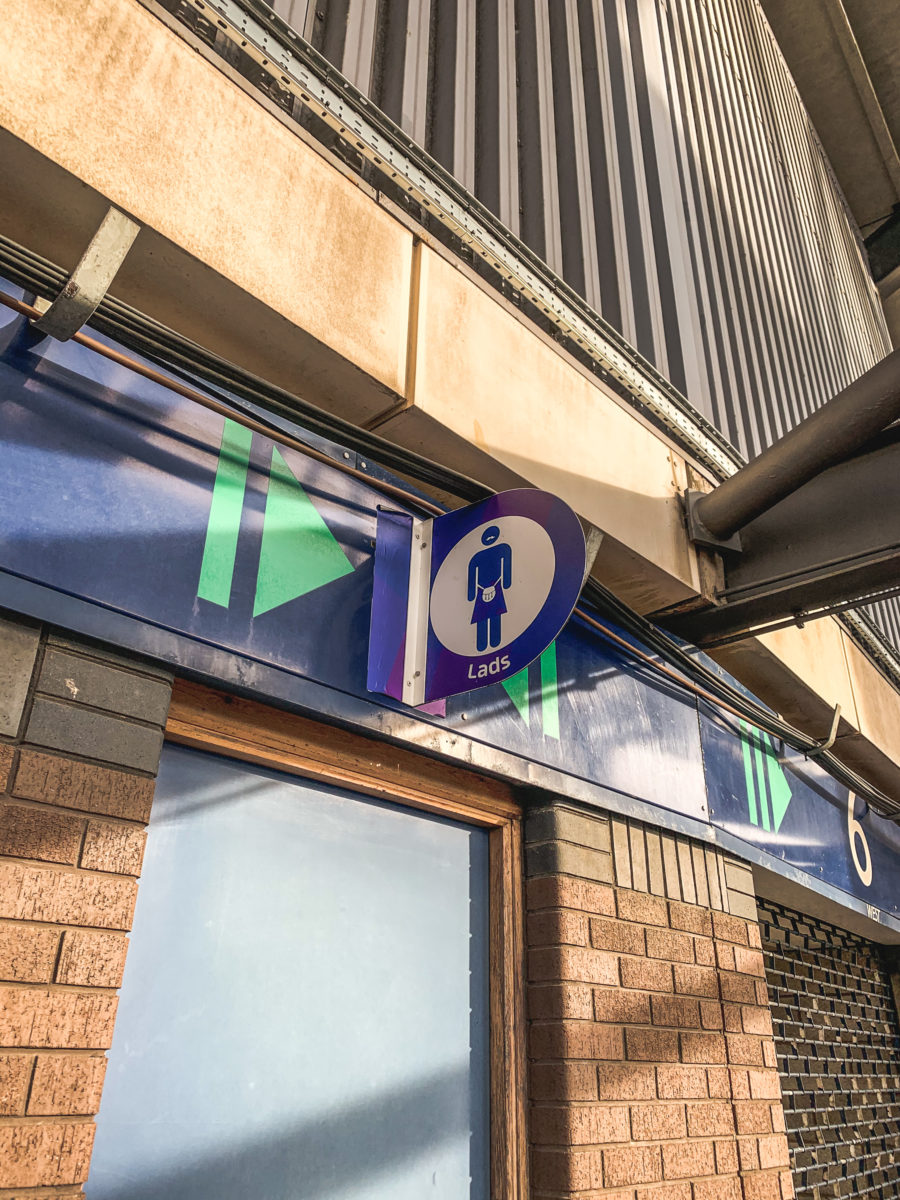 If you are interested in visiting Scotland's largest sports facility, this is the place to go for information on guided tours.
MARCHMONT
Marchmont's affluent residential area is ideally situated for anyone visiting Edinburgh. It was there that my Scottish adventure really began with an Airbnb I took with my Swiss compatriot to have an ideally situated base in the city to find accommodation. In the end, I only spent one night there having found my flat, but my friend spent 3 nights before finding her apartment.
The charm of this area lies in the fact that almost all the houses have four or five floors and date from the Victorian and Edwardian era. This creates an impressive walk through the streets, giving the area that familiar feeling of Edinburgh lost in a long-gone time.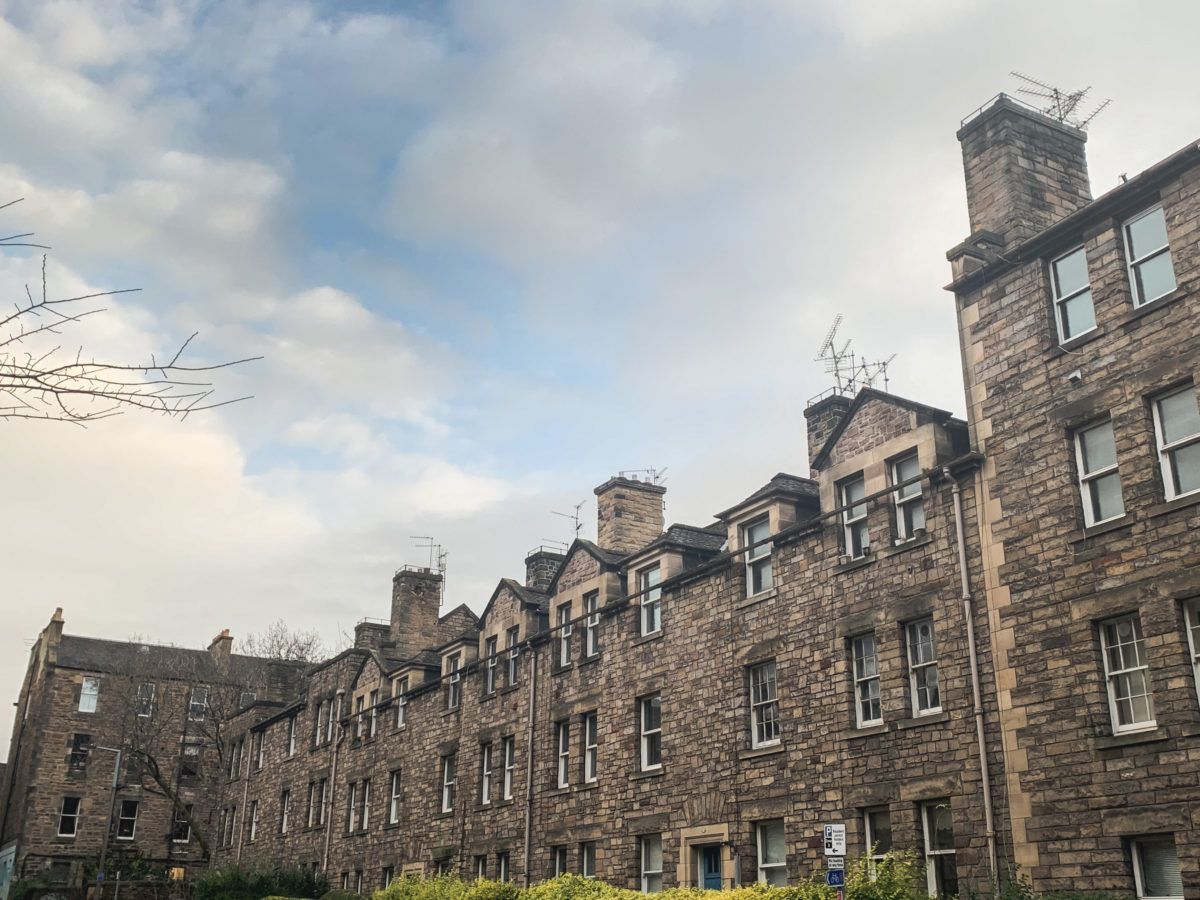 THE MEADOWS
The main attraction of the neighbourhood is The Meadows. As the green lung of the city, I still rave about how Edinburgh is a city where nature is omnipresent (Arthur's Seat, Dean Village, The Water of Leith, etc.).
A place where many people spend their time, this park is suitable for anyone who would like to relax, practise a sport or simply go for a walk. Many cultural and sporting activities, such as yoga classes, are available, as almost everything takes place in this park!
MY ADDRESSES
This section includes my best addresses in Edinburgh. You'll find a google map listing them by category. I've also added to the google map the addresses of the bookshops from my article as well as those related to Harry Potter from another article.
MUSEUMS
I have already told you before in this article about several museums: Camera Obscura, the National Museum of Scotland, Georgian House, the National Art Museum of Scotland and the Portrait Gallery.
Edinburgh is also full of other attractive museums that could captivate you. In four months, unfortunately, I have not had time to do them all, but one stands out from the list I will present to you later: the Surgeon' Hall Museums.
It is said that sensitive souls refrain from going there since this museum traces the development of surgery from 1505 to the present day. Absolutely fascinating, but indeed according to the people who have visited it, it is better to go there on an empty stomach and only if you are prepared to see things that are not so fresh…
The Writer's Museum is also a museum to add to your list. It pays tribute to Scotland's three most famous writers: Robert Burns, Sir Walter Scott and Robert Louis Stevenson. And the building that houses it is absolutely magnificent.
Finally, why not take a trip to the Museum of Edinburgh, the Scottish Storytelling Centre or the People's Story Museum?
CAFÉS
I have spent so much of my time in the cafes of Edinburgh that a complete article is necessary for this section. It will also include some of the best places to go for brunching. It will be online soon.
RESTAURANTS
Although being in Scotland, I didn't necessarily discover the local food in Edinburgh, such as haggis which gave me absolutely no interest in tasting it, a pity you will say but I think it was better for my delicate stomach. I lingered on tasting these unusual flavours rather in the Highlands or in Glasgow. But if you want to eat typical Scottish food, I imagine that any pub in the city will serve you haggis or other local culinary specialities.
I heard good reviews of Arcade Haggis & Whisky House which is located in Cockburns Street and if you are looking for Shortbreads, supermarkets and souvenir shops sell a lot of them. But it is at Bibi's Bakery in New Town that they are the best.
As a result, although Scottish gastronomy has a wide variety of typical recipes, Edinburgh is full of restaurants with foreign influences. Here is a small selection of the best addresses tested :
Pizza posto
I discovered a place where I ate the best pizza of my life! Yes, if you leave out the pizza in Italy where clearly there is no comparison with the rest of the world, it was in this restaurant that I discovered, thanks to my roommate, also a pizza lover, a variety of fine and affordable pizzas. I believed in another chain of tasteless and flavourless pizzas, but I was wrong. I'll just go back to Edinburgh to try one again, even after a few times with severe stomach cramps (fucking irritable bowel syndrome that won't stop me from eating what I want)!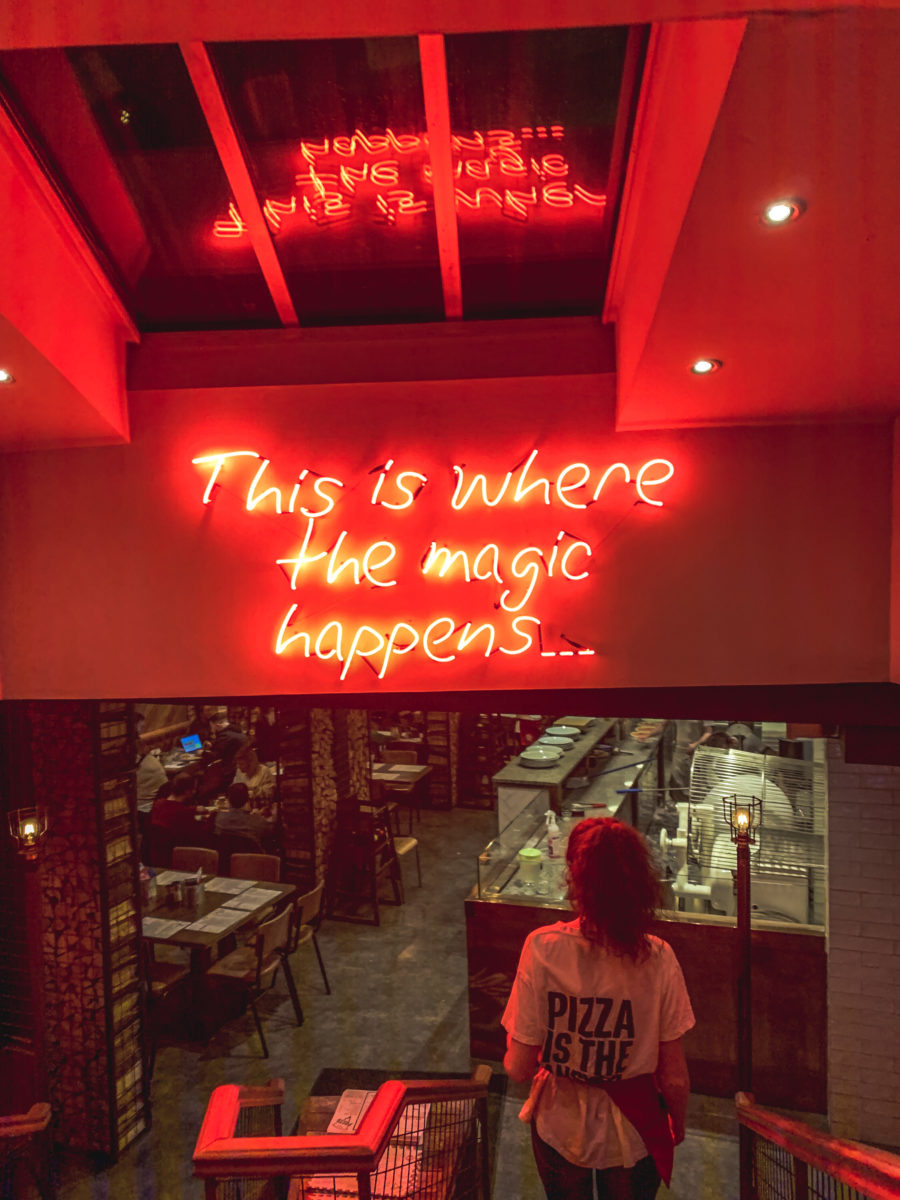 16 Nicolson Street, Edinburgh, EH8 9DH
Franco manca
Ideally located in New Town, this Italian restaurant chain offers pizzas at unbeatable prices. And it's even excellent (not as much as Pizza Posto, but still. And their desserts are very good too! We ask for more.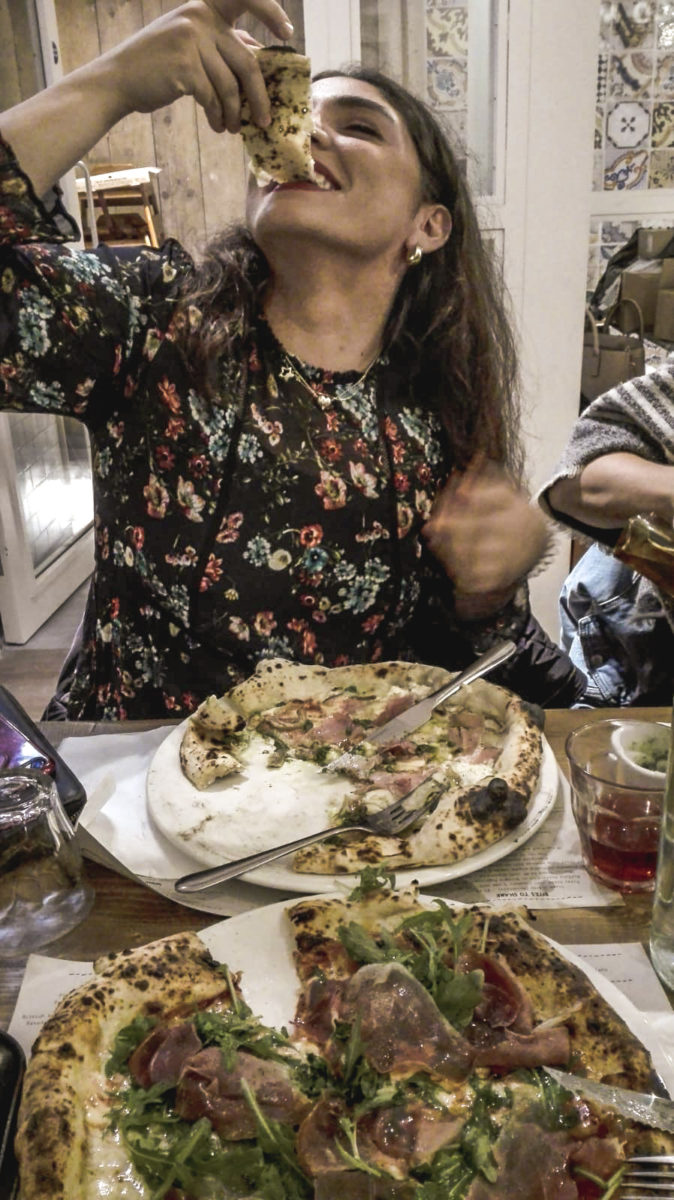 The roomie loved it!
Unit E2, The Mint Building, 19-23 S St Andrew St, Edinburgh EH2 2AU
Pizzeria 1926
Imagine a neighbourhood pizzeria where Mediterranean flavours perfume everyone who passes by. Then, you enter and discover a place completely out of nowhere, unless you support a particular Italian football team: S.S.C. Napoli!
A great joy for a supporter like me, except that it's not the right team. Mine is located in the north of Italy and wears the colours black and red. So I was quite happy to take a pizza to go but, if you are looking for the traditional Neapolitan recipe for pizza, Pizzeria 1926 is for you !! Remember to book at least one day in advance, it was always full on the day I phoned.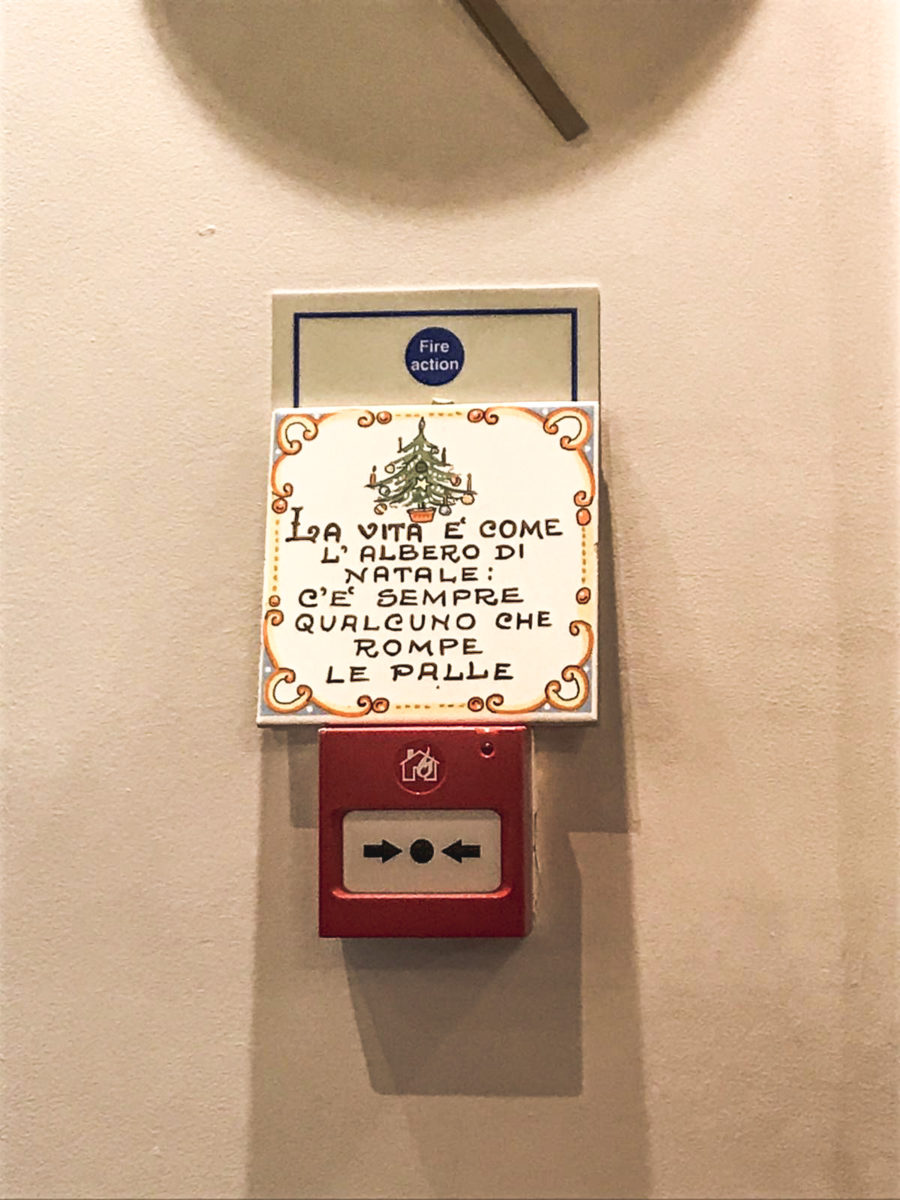 85 Dalry Rd, Edinburgh EH11 2AA
Prezzo
In a casual atmosphere, this restaurant offers a wide range of Italian dishes that will charm you. The tiramisu is absolutely delicious and their selection of wine is also incredible, although it is not only from Italy. Not to mention their Apérol Spritz perfectly made according to the original recipe.
7 North Bridge, Edinburgh EH1 1SB
On the contrary, I would advise you not to eat in Bella Italia, which you can find all over town, or in Vittoria on the George VI bridge.
Miros Cantina Mexicana
A small Mexican restaurant located in Rose Street, simple but full-flavoured with typical Mexican recipes.
184 Rose St, Edinburgh EH2 4BA
Las Iguanas Edinburgh
A restaurant chain offering dishes from all over South America, it"s a dream come true. As soon as you enter Las Iguanas, you will be transported to another world where Latin America is in the spotlight.
141-143 George St, Edinburgh EH2 4JY
Fazenda
I was telling you here about the happiness of eating in a churrascaria in Brazil. Back in Switzerland, similar establishments exist but the prices are very unaffordable. It is a little more accessible in Edinburgh, in Fazenda. Tip: the best? the Picanha.
102 George St, Edinburgh EH2 3DF
Saiko Kitchen
Saiko Kitchen is a pan-Asian cuisine restaurant located in Marchmont. Panasiatic is an adjective that describes something that concerns all of Asia. Therefore, at Saiko Kitchen, you can taste a selection of the best dishes from Asian countries. A treat!
15 Roseneath St, Edinburgh EH9 1JH
L'escargot bleu
We also wanted to eat a good beef tartare but it was difficult to find a suitable place to. It eventually was at the escargot bleu that we had a great time since this French restaurant, which is very highly rated, doesn't offer brasserie prices but the prices of a posh restaurant. Great address but slightly expensive. However, the tartar was delicious and prepared in the traditional French way that one quickly forgets the final price on the bill. It was also a pleasure to speak French after a few months of intensive English speaking.
56 Broughton St, Edinburgh EH1 3SA
Petit Paris
So I recommend this restaurant for one thing: being able to eat fondue in Edinburgh! After scouring all the restaurants in the city looking for fondue, my compatriot and I came across this French restaurant on Grassmarket which offers fondue nights (fondue is not on the menu) during the autumn and winter months.
Even though they claim the fondue as being of French origin (NO, but let's stay focused, the desire for good cheese was taking over a non-quote: fondue is a recipe from Switzerland), it was the occasion to celebrate my friend's birthday with honour. The fondue wasn't too bad (nothing beats the Fribourg fondue in my eyes, the famous half and half) and it was interesting to let people from Italy in particular to taste this dish.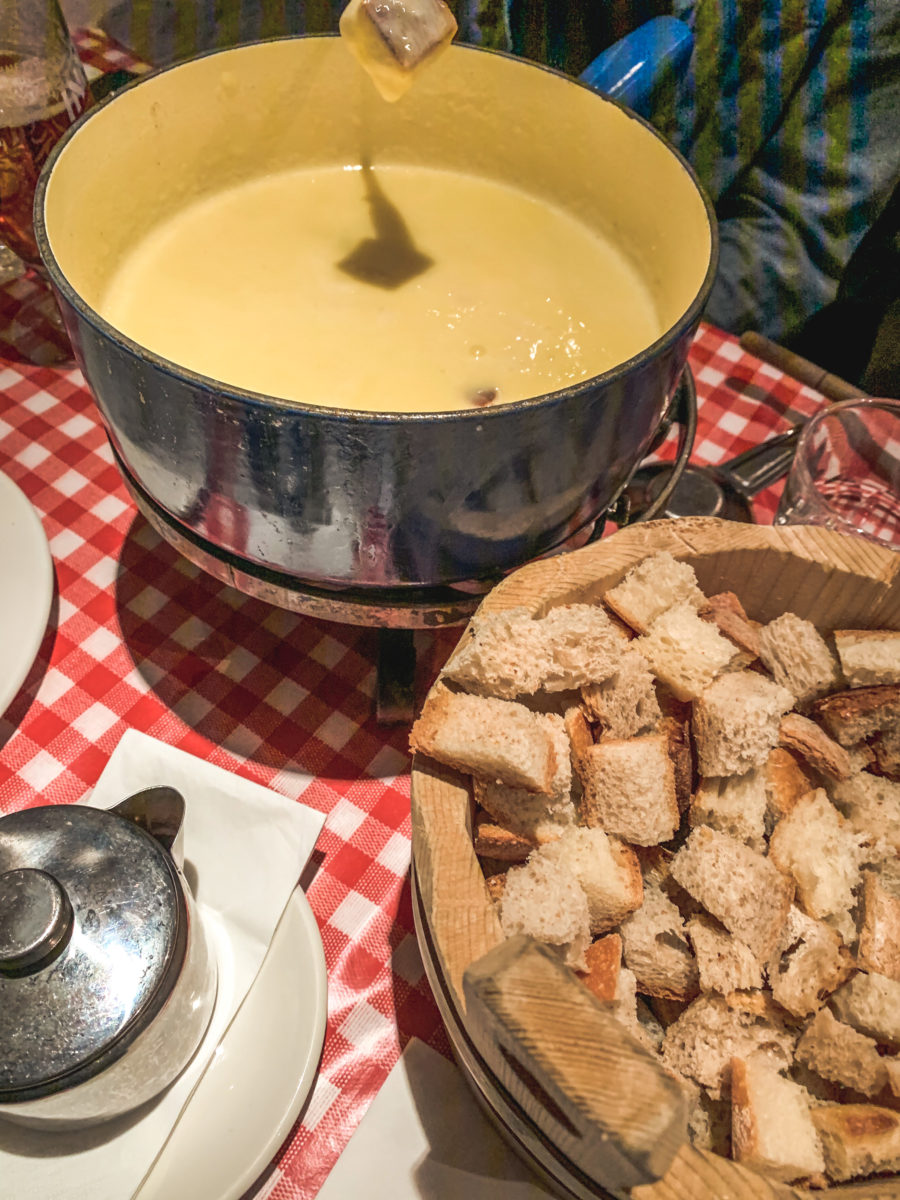 38-40 Grassmarket, Edinburgh EH1 2JU
COSMO World Buffet
Finally, if you can't decide between the thousands of local cuisines from around the world, this restaurant is the place for you. With a delicious buffet, you can taste Asian, Italian and Scottish dishes. It's a real treat for your stomach.
Omni Greenside Place, Omni Centre, Edinburgh EH1 3AA
WHERE TO GO OUT
One thing I like ( once again ) about Edinburgh is that it's a completely different city at night. The alleyways get darker, the street lamps light up this setting that can seem gloomy. A different atmosphere has taken over from the one of the day when you simply walk around the city and explore the complexities of Edinburgh and its architecture. As soon as night falls, the city comes alive with colour and vibrant activity. The depths of the night leave Edinburgh with a new grandeur that is just waiting to be explored.
PUBS
It may not be necessary to list all the pubs, as in any place you walk through the front door you will be able to enjoy what a pub has to offer: beers, food, concerts, sports broadcasts on TV, dance parties, etc. Something that I love about this anglo-saxon pub concept and what my little Switzerland is missing. Edinburgh boasts over 700 pubs as shown in the photo below. The comment about Glasgow is just a bonus.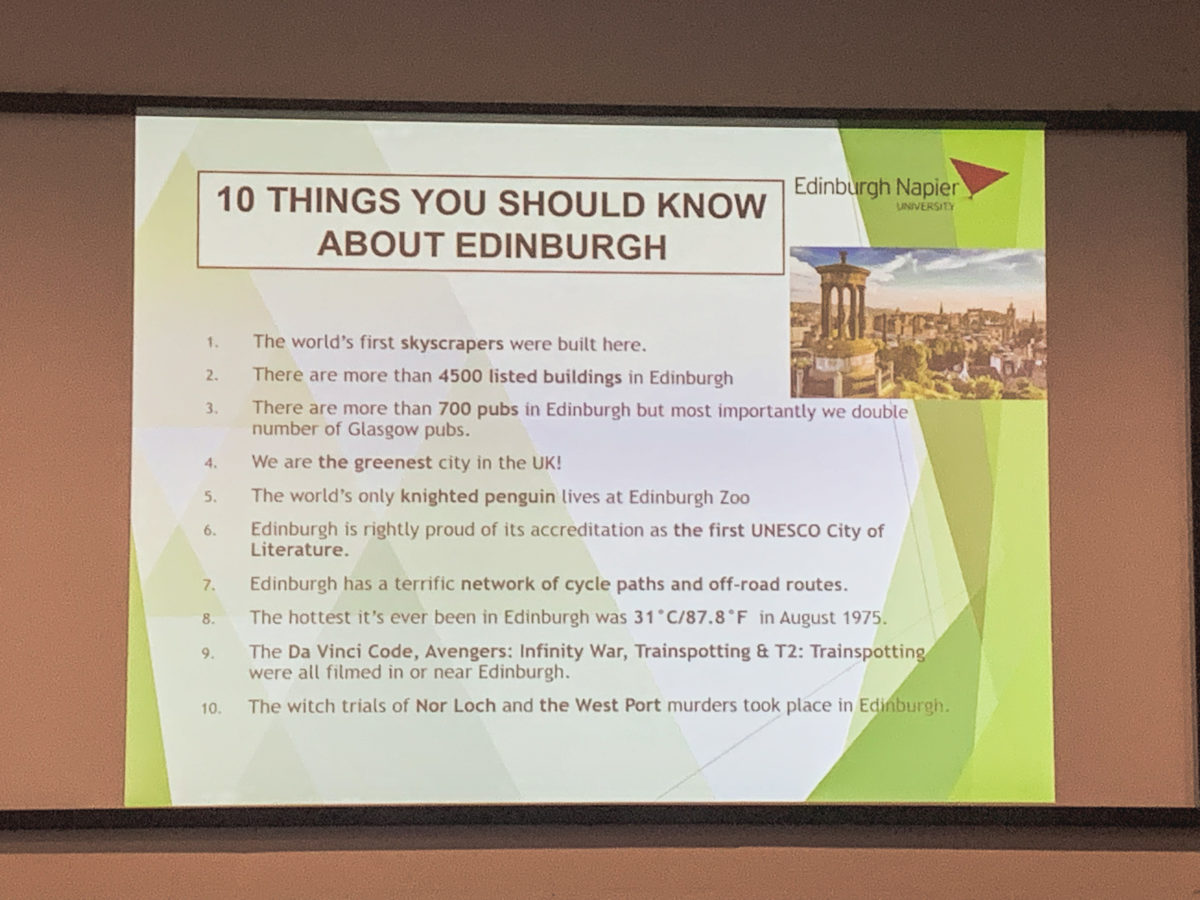 PUB CRAWL
A simple and effective way to discover the best (or most famous) pubs is to take part in a pub crawl. The idea behind this concept is to tour the bars in the same city (or street, neighbourhood, etc.) and drink a glass of alcohol in each of them. I took part in the one organised by my university, but many tourist organisations also offer them on their tour catalogues.
I can't remember all the bars I visited (I'll say 6-7). The ones I'll list later are part of this pub crawl. My friends and I used to make our own pub crawls even if my favourite place to go out in Edinburgh is The Three Sisters in Cowgate.
This pub was my hang-out, if you couldn't find me at my flatshare, the uni or visiting Edinburgh and Scotland, I had to be at The Three Sisters. Pub atmosphere with a bit of a nightclub one, events every night (Thursday is karaoke, not to be missed) and above all a large terrace with a giant screen where you can follow the sport and which turns into a dance floor at night; What more could you ask for entertainment? What's more, if you are a student in Edinburgh (so you have a student card at one of the city's universities), drinks are cheaper.
All this to say that you feel very safe at night in Edinburgh, which is sometimes not the case in my own country. You can never say never, but even walking back to my flatshare (about 20 minutes outside the centre), alone or accompanied, nothing has ever happened to me. Even if the craziest stories, I heard them on my residence with private parties.
The Three Sisters
139 Cowgate, Edinburgh EH1 1JS
the courtyard acting as a terrace
Pilgrim Bar
Student bars, if there are fans of Brooklyn 99 (my favourite show) you can take part in a quiz at one of the weekly quiz nights. This is the kind of entertainment that many bars offer and always provides a great night out.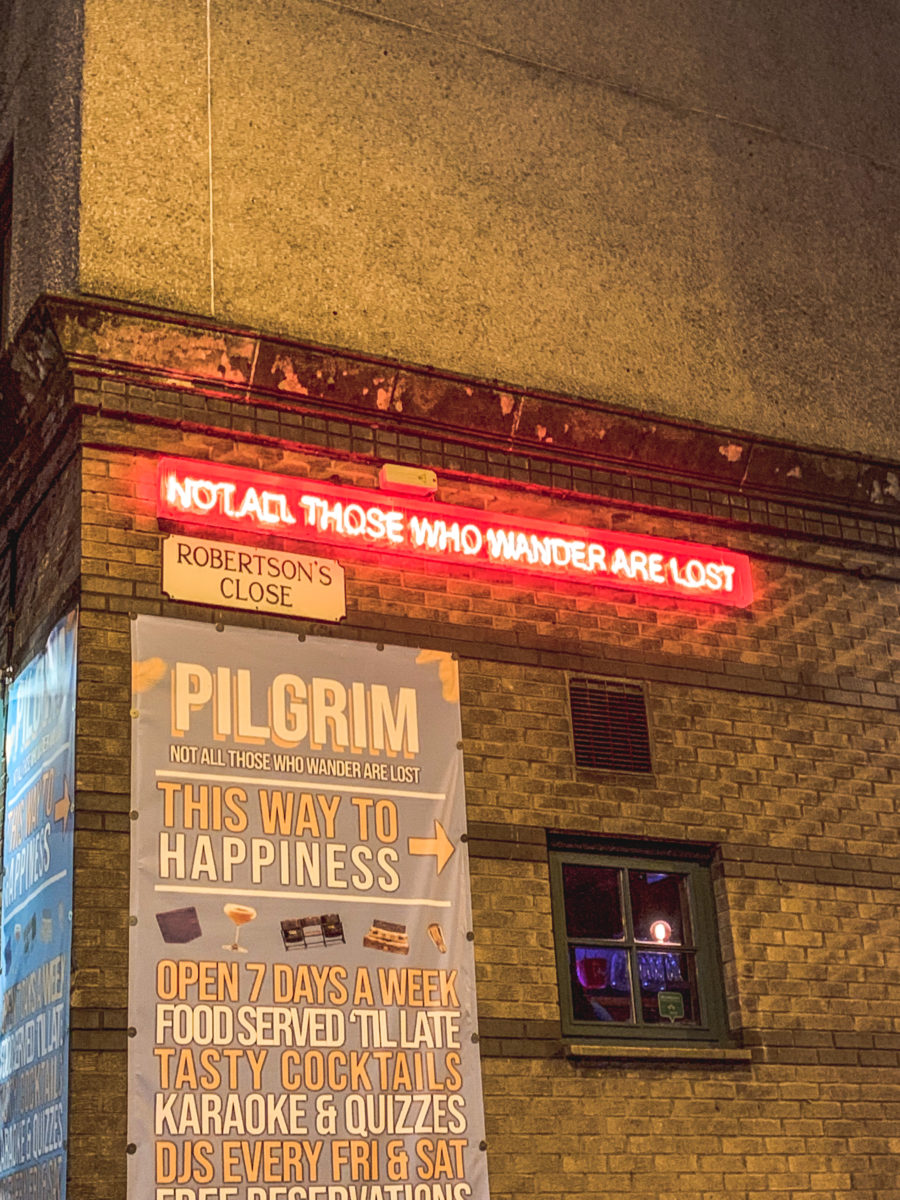 3 Robertson's Cl, Edinburgh EH1 1LY
Bannerman's Bar
Their live music is an established taste (heavy metal) but there is always a buzz of people having a few drinks and having fun.
212 Cowgate, Edinburgh EH1 1NQ
Stramash Live Music Bar
For good live music and a somewhat Irish atmosphere as well.207 Cowgate, Edinburgh EH1 1JQ, Royaume-Uni
BrewDog Edinburgh Cowgate
I discovered BrewDog in Budapest without knowing that it came from Scotland. BrewDog is a brewery based in Ellon in the Aberdeenshire region of Scotland, but nowadays BrewDog is exported all over the world. Their beers are very good, though a little expensive. I would definitely recommend Zombie Cake: a type of Porter beer, with caramel and chocolate flavours, added. Enough to make me forget about the Guinness.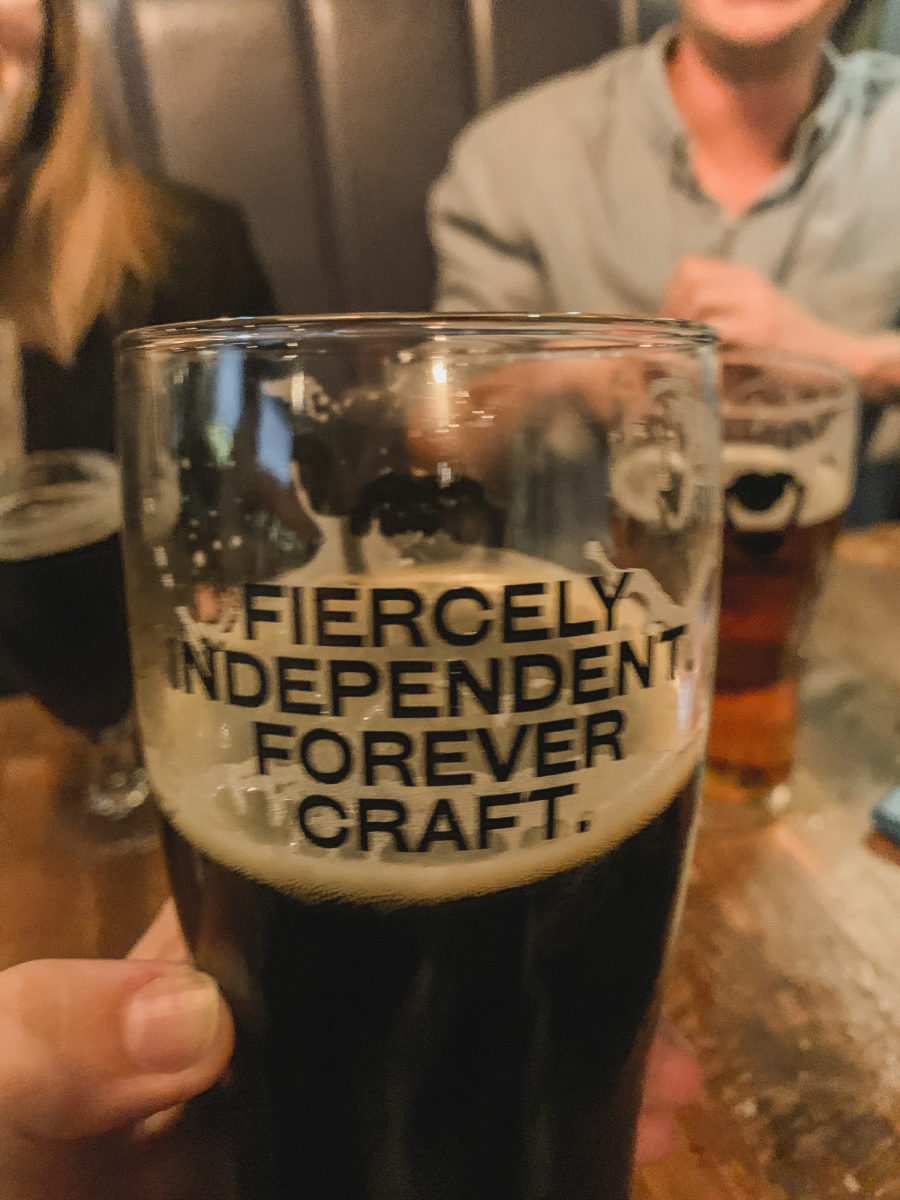 143 Cowgate, Edinburgh EH1 1JS, Royaume-Uni
Frankenstein
Housed in a 19th-century church, Mary Shelley's story becomes real in this themed pub. The decoration which honours the horror as well as the spectacle of monsters, flashing lights and black and white excerpts from the original film give this pub a unique look that is not to be missed.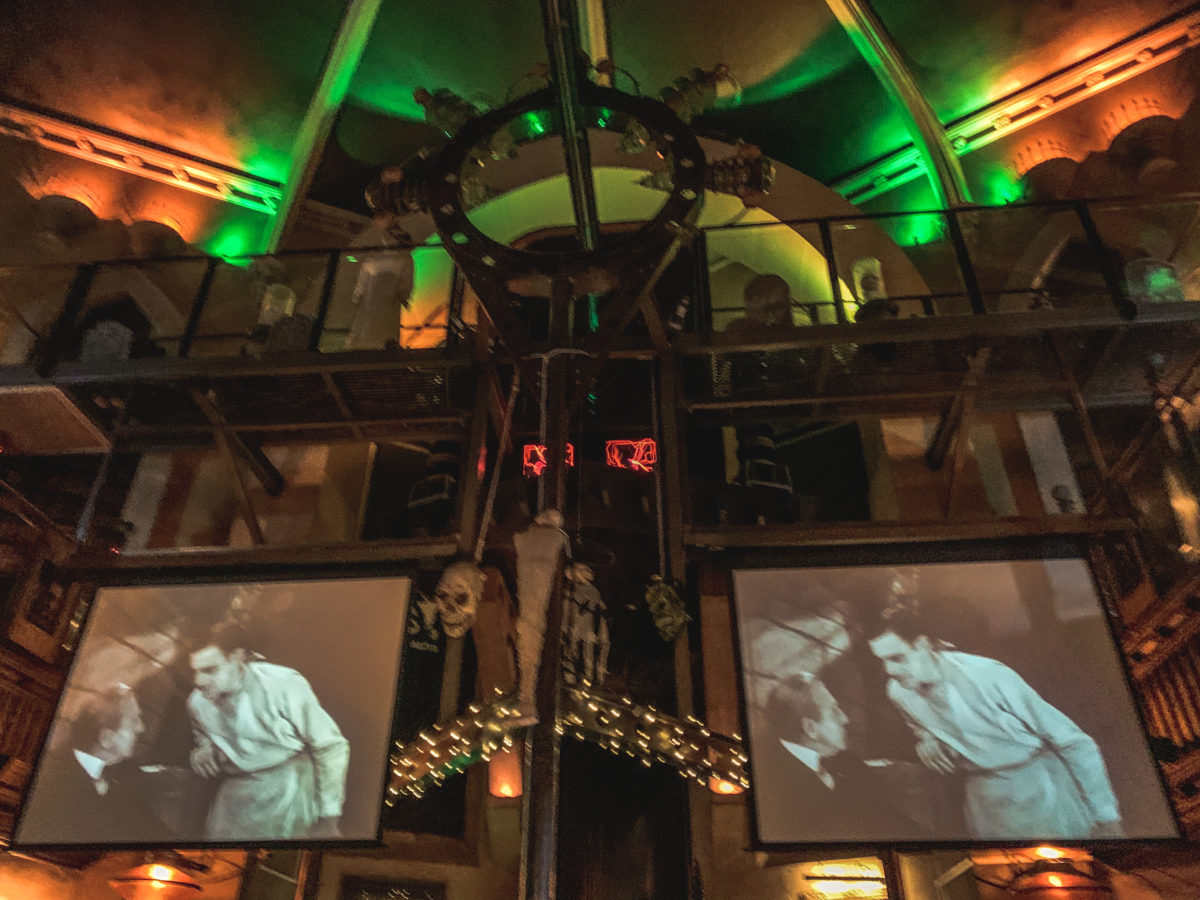 26 George IV Bridge, Edinburgh EH1 1EN
The Black Bull
My favourite place to watch a football or rugby match. Special mention to the crazy nachos.
12 Grassmarket, Edinburgh EH1 2JU
The Wee Pub
Wee in Scots means small, and it really is the smallest pub in Scotland! The Wee Pub is so small that it can only accommodate about twenty people and still.94-96 Grassmarket, Edinburgh EH1 2JR
The World's End
This pub is also very small and is known for something unusual. The World's End Murders is the familiar name given to the murder of two young girls in October 1977. The case is named after the two victims were last seen alive outside The World's End pub.
Despite this sad story, please pay attention to the pub's often changing facades. However, the colour blue is timeless and absolutely beautiful.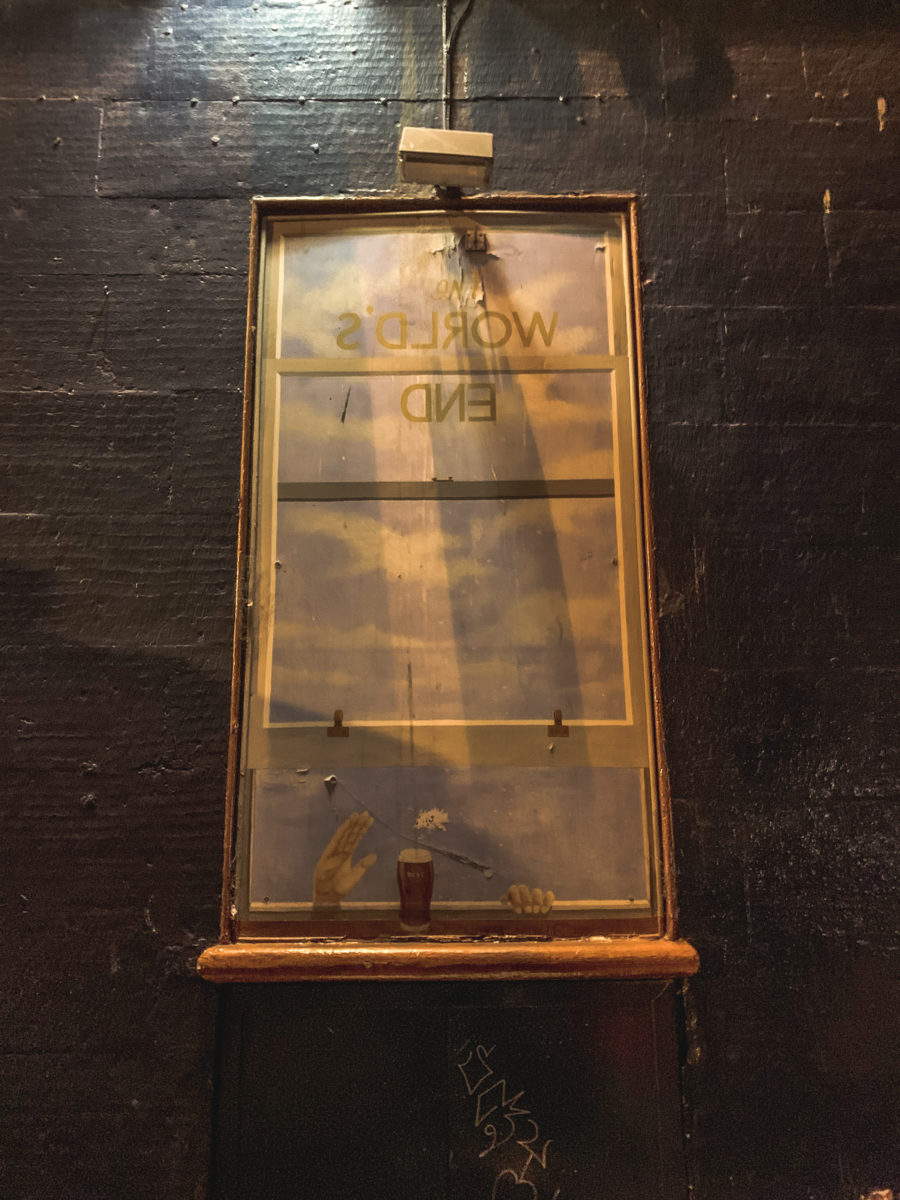 2-8 High St, Edinburgh EH1 1TB
McSorley's
This is a pub on two floors with a stage in the middle where many aspiring artists play and where I could watch all the football matches with their many TV screens. Their slogan really represents the atmosphere of this pub: Irish heart, Scottish soul.
14 Forrest Rd, Edinburgh EH1 2QN
Dropkick Murphys
Irish pub in the middle of the Old Town, it is a bit hidden (the entrance is under the bridge). It is, however, a wonderful place to enjoy a Guinness, but not only, as they have a long draught beer menu.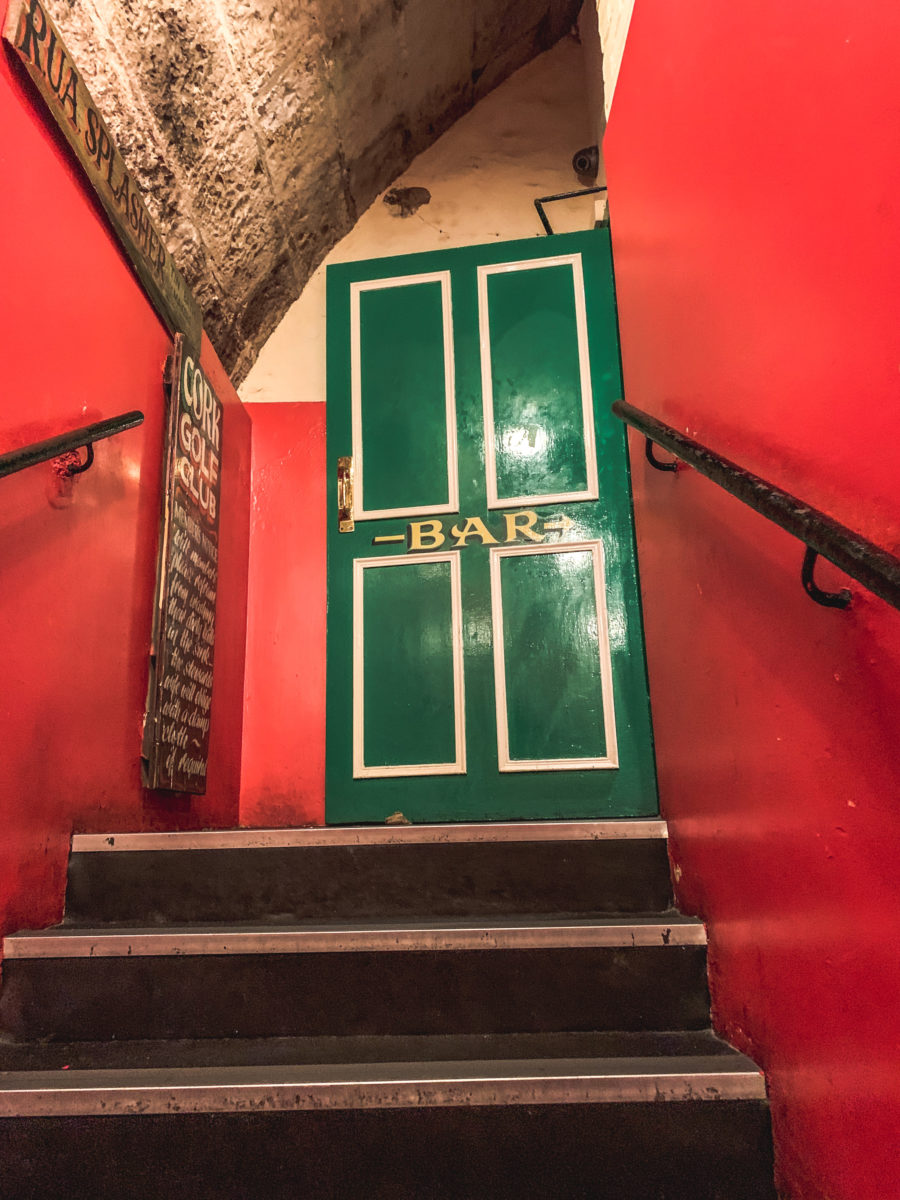 7 Merchant St, Edinburgh EH1 2QD
The Theatre Royal Bar
After a show at the Playhouse next door, this bar is perfect for a first or last drink. It exudes an old-fashioned charm with its wooden bar in the middle of the pub.
25-27 Greenside Pl, Edinburgh EH1 3AA
A selection of bars on Rose Street:
I have been to most of them, and they are very authentic compared to the more posh ones on the parallel street of George Street.
Scotts of Rose Street
202 Rose St, Edinburgh EH2 4AZ
The Black Rose Tavern
49 Rose St, Edinburgh EH2 2NH
Robertsons 37
37 Rose St, Edinburgh EH2 2NH
PLAYHOUSE
If you are looking for a good evening out, a great idea is to go to the Playhouse to see a musical. This former cinema has a capacity of 3,059 seats, making it the largest non-sporting theatre in the UK in terms of seating capacity.
The prices are attractive and seats on the balconies, though at the very top, are only £13! As a result, I was lucky enough to see Mamma Mia! again, this time in English, and We Will Rock You, based on songs by Queen. Well, enough to sing all evening (and the rest of the week bothering everyone with Abba or Queen)…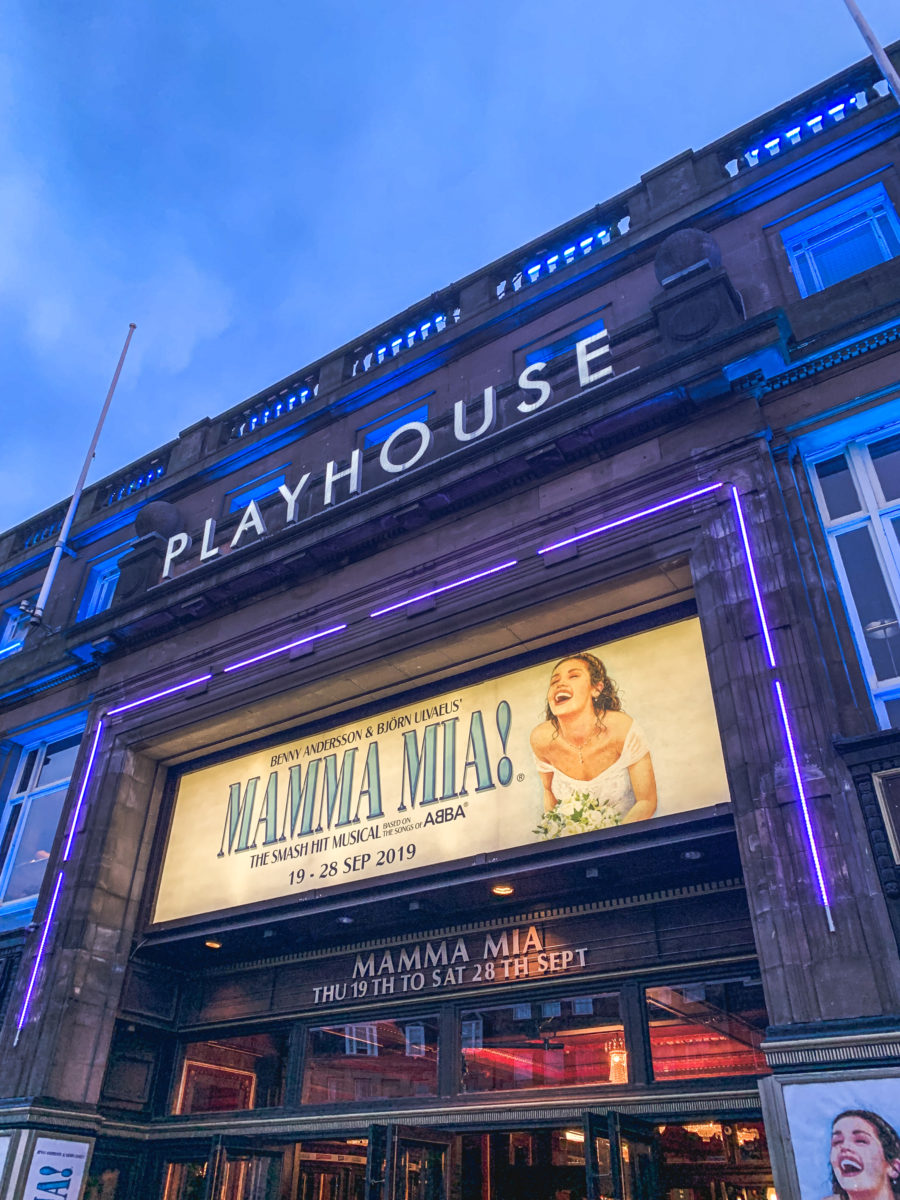 Check out the musicals that are playing at the time of your stay as you may need to get tickets in advance! Even in September, I couldn't get tickets for The Lion King which was playing just before Christmas.
18-22 Greenside Pl, Edinburgh EH1 3AA
CINEMA
Edinburgh has many cinema complexes, but I would advise you to go to the one next to the Playhouse, the OMNI centre. Seats are cheaper than in other cinemas (£5 per seat), so I went to watch a lot of films released at the end of 2019.
You will be greeted by giraffes!
Omni Leisure Building Greenside Place, 61/11 Leith St, Edinburgh EH1 3AU
NIghtclubs
I am clearly not a nightclub enthusiast, I prefer the more intimate atmosphere of pubs or bars. And then, as you read in the pub section, some of them also turn into nightclubs at night, like The Three Sisters.
As a student, we had received many free tickets at the beginning of the semester which I didn't use in the end, mainly because every time I wanted to get in somewhere, a huge queue of people was waiting on the street and discouraged me from waiting.
What's also interesting for the granny in me is that pubs, bars and nightclubs close relatively early. Often pubs and bars close around 1 am, and clubs around 3 am.
I've heard good things from The Hive, ATIK, Why Not and Tigerlily but I haven't been there personally. On the contrary, I tested 3 places during my stay, here they are :
Cabaret voltaire
A nightclub, bar and concert hall, Cabaret Voltaire, "Cab Vol", is a somewhat eccentric nightlife venue in the Scottish capital as it is housed in an underground vault. The Cabaret is one of the liveliest clubs in Edinburgh. You will be seduced by some of the best DJs in the city. However, I would advise you to go there just for the interior, which combines modern furniture with the vaulted ceilings of the Old Town. What's more, the price of admission and drinks is low!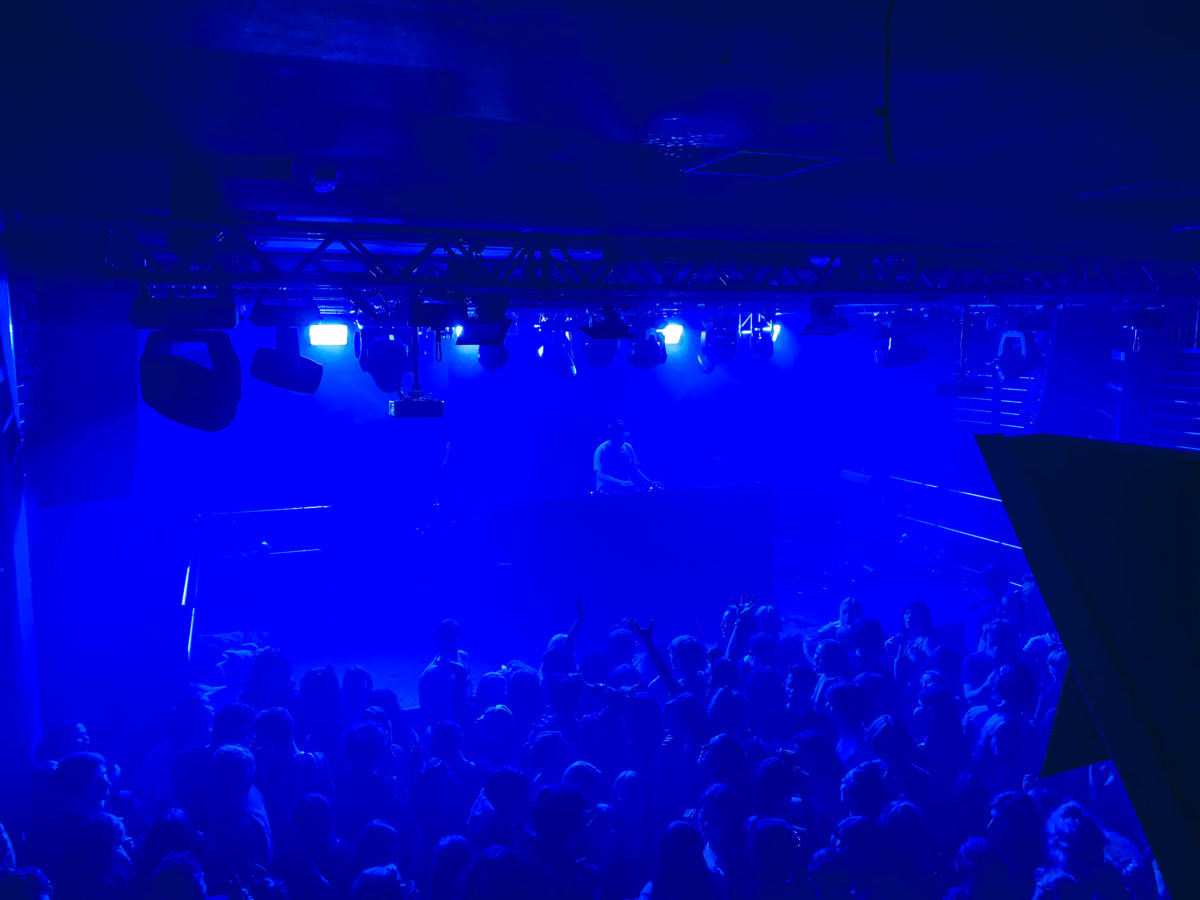 36-38 Blair St, Edinburgh EH1 1QR
Liquid Room
A large dance floor with a stage that allows you to mix concerts and DJs, the Liquid Room is my favourite place to go out in Edinburgh. This, especially thanks to its "Abba VS Queen" "Back to the 80's" parties, where global hits from big bands and singers allow you to wiggle your hips while singing at the top of your lungs. This is my favourite atmosphere!
Situated in the basement of a church on Victoria Street, it is a club that is quite dark, but which proves to be warm with its balcony (indoor) that allows you to breathe after dancing for a while. A little extra also for the girls' somewhat unusual toilets.
9C Victoria St, Edinburgh EH1 2HE
Boteco Do Brasil
Brazilian atmosphere assured in this establishment! At the same time, its name indicates that everything revolves around Brazil. At 11 pm, the restaurant opens the doors of its basement where it is really the perfect place to sway on salsa or samba music (among others). Sometimes even Scottish men in kilt lend themselves to the game, I assure you it's worth the visit.
The bar/restaurant also offers samba lessons, good food to enjoy on its daytime terrace and a festive spirit typical of the Brazilian people. It's carnival time in Edinburgh.
47 Lothian St, Edinburgh EH1 1HB
SPORT
You can enjoy many sports in Edinburgh. There is also plenty of fitness facilities and the most popular channel is Puregym (tested and approved) which offers cheap memberships.
Like any big city, there are plenty of dance schools, sports clubs and sports facilities. I, therefore, advise you to find out more on the internet.
EDINBURGH DERBY
I'll end this complete guide to Edinburgh by telling you about an event not to be missed if you're a natural football fan: the Edinburgh Derby. In fact, it was the tenth thing not to be missed during an exchange in the Scottish capital according to my university.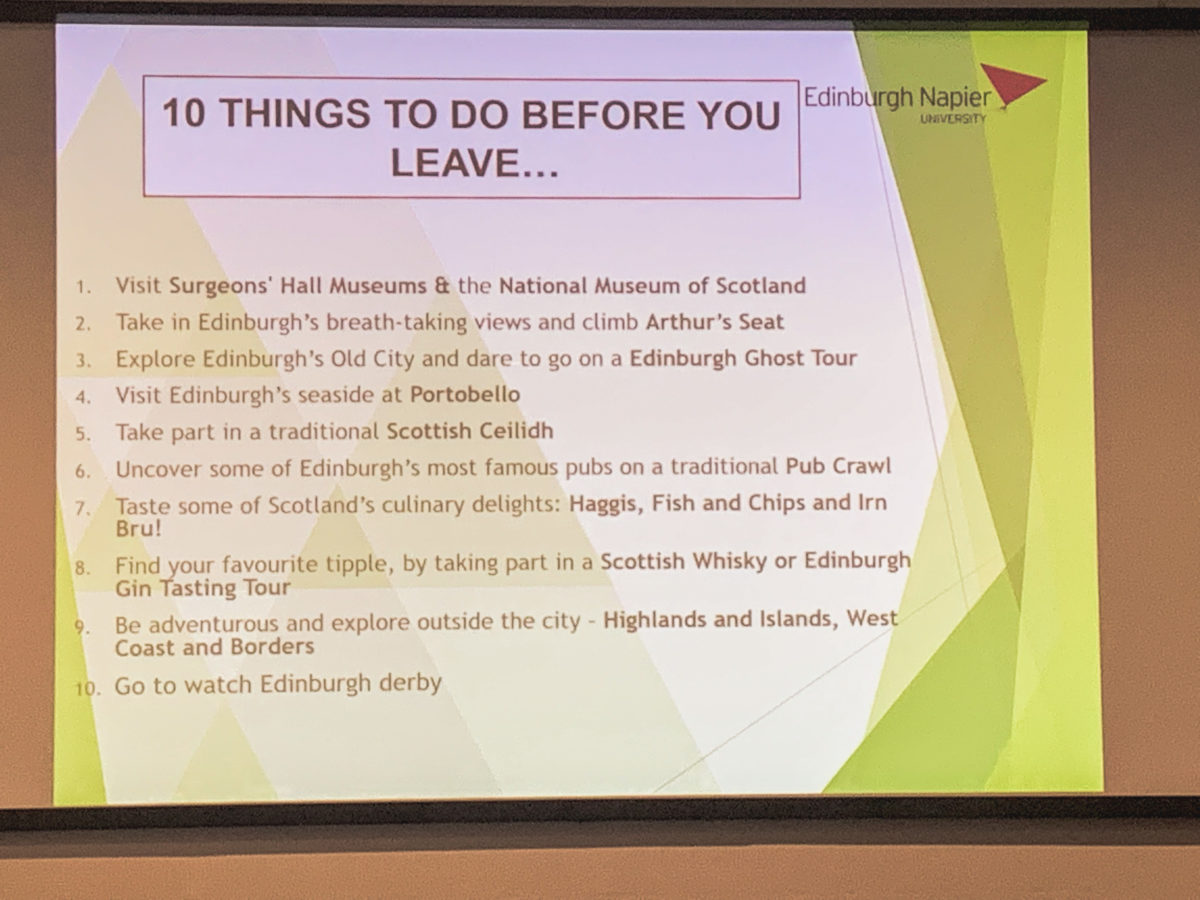 The Edinburgh Derby is an informal title given to any football match played between Scottish clubs Heart of Midlothian (Hearts) and Hibernian (Hibs), the two oldest professional clubs based in Edinburgh. The two clubs have a fierce rivalry that dates back to the clubs' formation in the mid-1870s, making it one of the oldest rivalries in world football. In fact, the first derby was held on Christmas Day 1875 in Meadows Park.
A rivalry that can have its origins in the fact that the Hearts are supported by the wealthy class of West Edinburgh and the Hibs are supported by the working class of the east and south of the capital.
Thus, much of the football myth and legend is built around famous rivalries, whether between players and managers or, as is often the case, between clubs in the same city. These matches are very significant for the fans and take on more importance than any other game on the calendar. And the results can translate into bragging rights for winners for months or even years. This is also the magic of sport (if you are part of the winning team).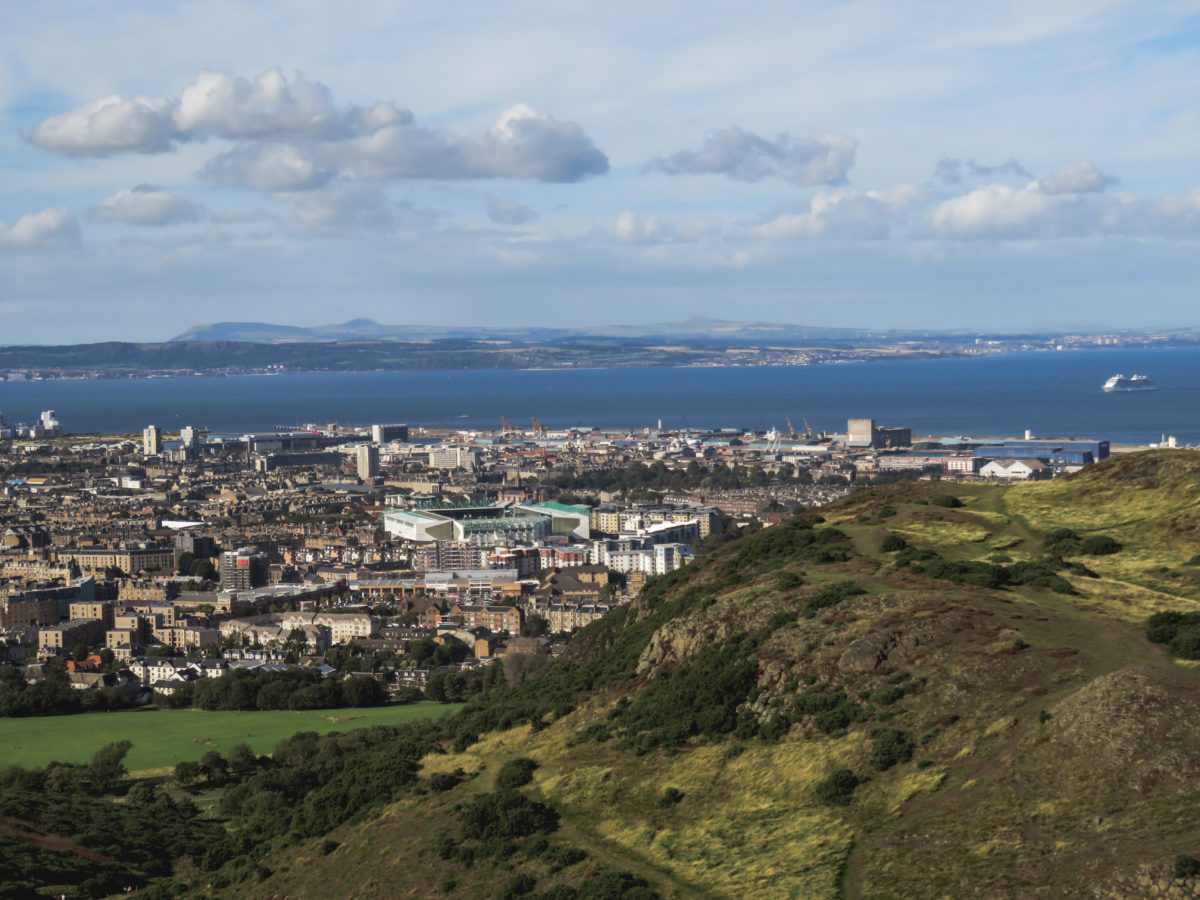 So yes, Heart of Midlothian against Hibernian is one of those famous matches that a good fan wouldn't want to miss although the two teams haven't been at the top of the Scottish league table for a long time (thanks to the two Glasgow teams who between them have been at the top of the championship since 1986). The last title for an Edinburgh team dates back to 1960 with the victory of the Hearts.
Games take place either at Easter Road (Hibs' lair) or Tynecastle (Hearts' stadium). I was lucky enough to be able to go to Easter Road. A chance because it was clearly not easy to get tickets. I'll tell you why.
The match was held on September 22, 2019, at Easter Road, the Hibernians hosting the home game. So I turned to their website to get tickets for my friends and me. But I read the following conditions: you had to be a "member" of the club (simple registration on the internet) for at least 1 year and you had to have already taken tickets for another Hibernians match.
Another match that didn't include one against Hearts, Celtic Glasgow or Rangers as these four teams are considered to be the main teams in the championship and the ones where there is the most risk of hooliganism. And that was the concern. Because of what some observers say are crazy fans, the league has set up this system, which means that tickets are not easily available at the official club ticket offices.
I managed to get a ticket through the Hearts website, but we were 4, and I didn't want to go alone. I even went to the ticket office right next to the stadium to try to get tickets, but without success. So I had put the game aside and just decided to see it in a pub.
It was my flatmate who managed to get tickets. How did she manage to get them? By simply talking to a man in a pub who told her that he had a Hibs membership card and that he could buy two tickets. Unable to attend the match, he passed his membership card to my flatmate and asked his son to get extra tickets for the rest of the group. When I was talking about luck before!
So I was able to go to the match and enjoy the Scottish atmosphere of this derby, especially through the Hibernians fans! Indeed, we met the son of our "saviour" at The Harp and Castle, home of the Hibs fans and I rediscovered the incredible atmosphere of British fans drinking beers before going to the stadium all together. Thanks to them, I learned a lot about the Scottish league, the rivalry between the two clubs and the customs of the fans. It's a great way to feel at home, surrounded by strangers but linked by the same passion, football.
Although not located in the Hibernians' 'ultras' section, the football match gave me the opportunity to experience a condensed Scottish life as well, with fans of all ages and genders around me. Although the match took place under rain worthy of the British weather, I was able to test the stadium fries as usual (very good, 3rd in my world ranking of the stadium fries championship) and I was able to witness the defeat of Hibs 1-2, a team that won my heart as the city it represents.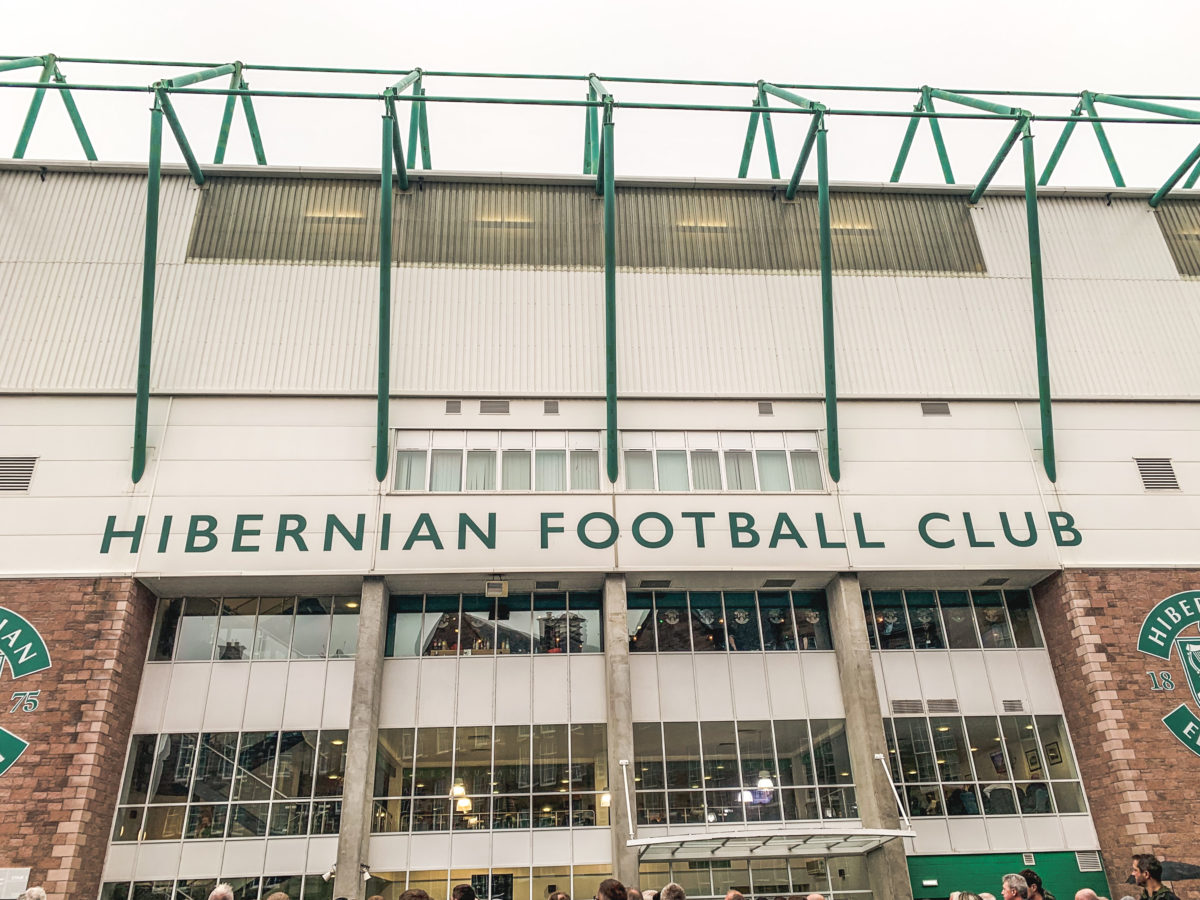 I left a part of me in Edinburgh. It was my home only for 4 months, yet it will always remain a place I would call 'home'. I hope this article will make you want to visit the Scottish capital. And you, have you ever lived abroad?