During my Erasmus in Edinburgh, I headed to Glasgow for a day to visit the rival city of my study area. It is true that one day is not much to visit a city, but it was enough to discover the charms of the industrial city.
So what to do in less than 24 hours for a short stopover in Glasgow?
The city is famous for its street art, its nightlife (although it has half as many pubs as Edinburgh) and its gastronomy – if you can call it Scottish gastronomy, but let's be honest it was in Glasgow that I tasted the famous fried Mars – that chocolate bar from Mars that is fried in doughnut dough. Let's just say I haven't touched any Mars since, but it was a must-try!
Edinburgh vs Glasgow
Before I share an itinerary with you, I have to talk about the so-called Edinburgh vs Glasgow rivalry. In my eyes, it is irrelevant as Edinburgh is so wonderful, but I am biased, I lived there for a few months and experienced so many beautiful things while I had to wander around Glasgow for about 10 hours.
In the end, it's just a game between the people of Edinburgh and Glasgow. I still remember my first day at university, when even the institution in its official presentations made jokes against Glasgow. It's a bit like in Switzerland where a Vaudois will joke with a Valaisan, a Genevois, or even a Swiss German and vice versa. It's good fun because in terms of cities, they couldn't be more different.
Edinburgh is a fairy tale, well, it has that Scottish aesthetic (and especially tourist) side, very photogenic of perfect beauty, almost static in its influence while it bubbles with life. On the contrary, its cousin Glasgow, although extremely dynamic, is more modest, and less flashy and this is what makes its charm.
It is said that Glasgow better represents Scottish authenticity, without the clichés that Edinburgh exhibits. So the bagpipes can be annoying, but wherever you go in the country's capital, I liked the effect of the Scottish man in a kilt playing the bagpipes. It brings it to life. Glasgow just loses to me in architectural splendour, and especially my castle is in Edinburgh, so ultimately my heart stays there too.
However, let's not stick to the idea that Edinburgh is better. Glasgow has the merit of having an atmosphere typical of these old industrial cities. From this, it has managed to reinvent itself and offer a lively, not ugly and festive city. And the following keywords alone will make you want to go there: beer, Harry Potter, nature and street art.
Explore Glasgow city centre
Arriving with the bus, at Buchanan station, we found ourselves directly in the city centre in order to start in the best way our somewhat express visit of the industrial city.
I would have liked to have gone to a cosy café to read a book on a sofa, but the time was not right to relax and see as much of Glasgow as possible. So, in a not-so-unusual move, we went to the local Costa Coffee for a large coffee to get our strength up before the day of exploring Glasgow.
We were then in George Square, considered to be the heart of Glasgow. Walking around the square, even on an early Saturday morning (it must have been 7.30 am), you can imagine the bustling atmosphere of the industrial city.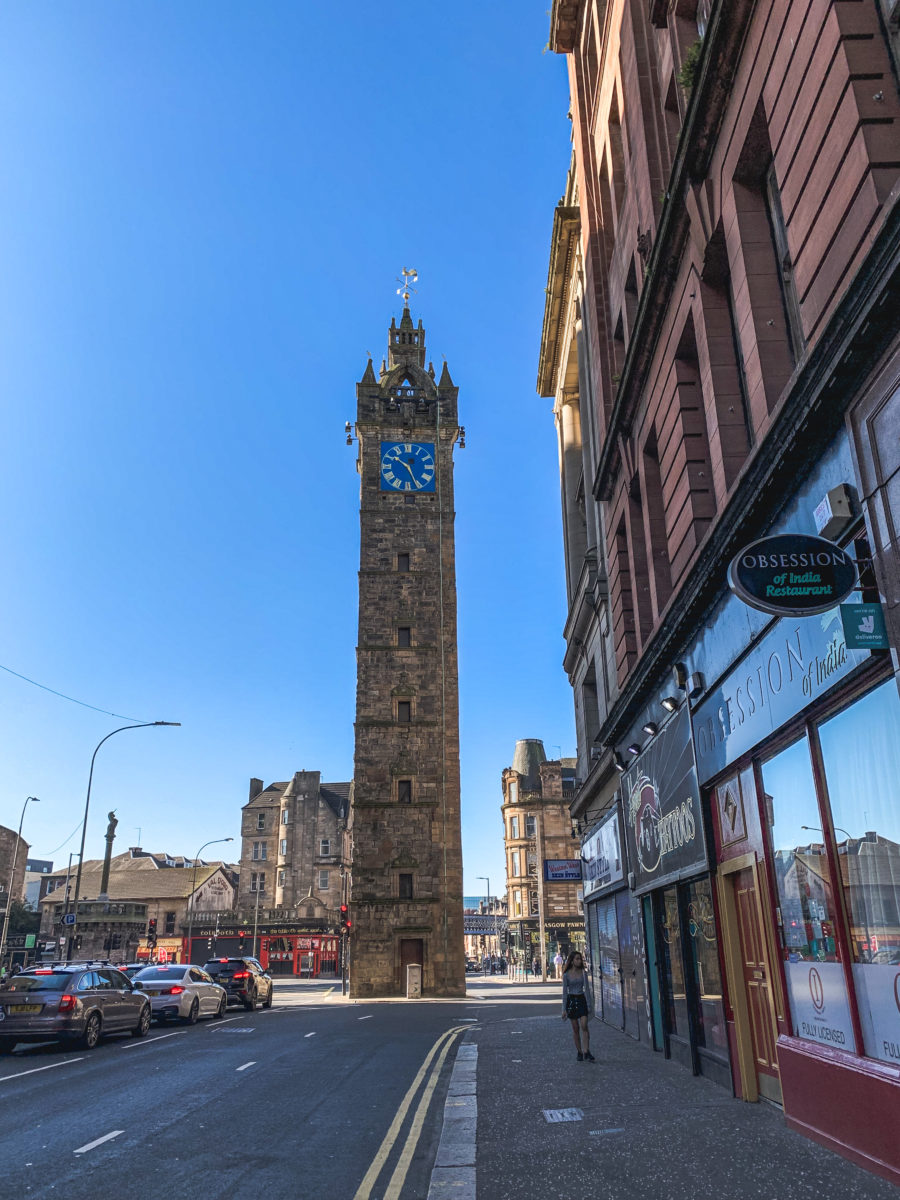 As we headed east toward the cathedral, we began to see some attractive murals. I discovered that Glasgow is full of murals and that street art has a very important place in the city. It adds colour to the city and gives a little more life to an industrial city that could have remained dull and austere. Not having been aware of this before planning our visit, we discovered these beautiful drawings rather by chance during our daily walk.
However, if you are interested in this in more detail, there is a tourist trail dedicated to exploring street art in Glasgow. To do so, visit the City Central Mural Trail website.
Strolling through the Glasgow Necropolis
When you go to the Glasgow Necropolis, you get that somewhat supernatural atmosphere where time seems to stand still. Just the thought that you are going to visit a necropolis has an unearthly, slightly sad, and impudent feeling. But you don't have to think like that in Scotland. Here the cemeteries are monuments in their own right and are beautiful.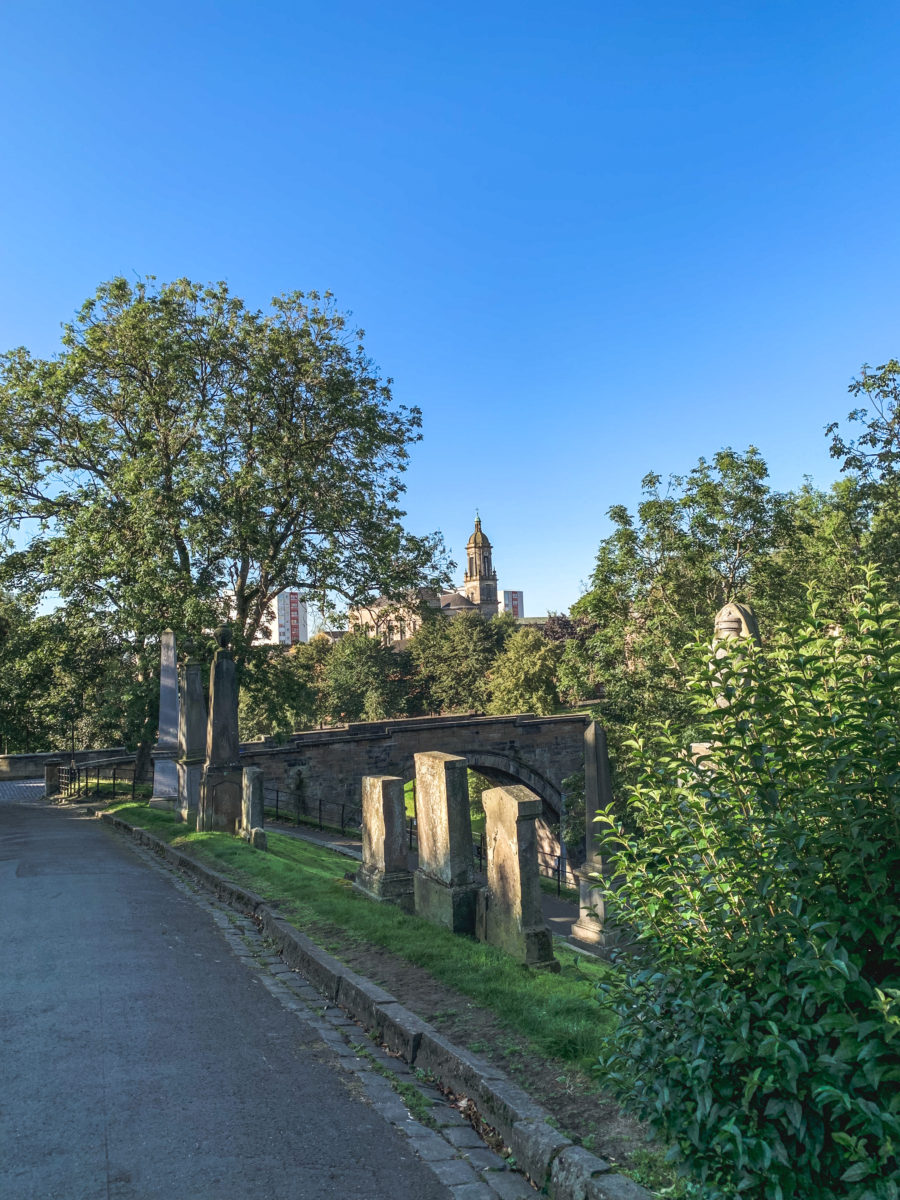 The one in Glasgow opened in 1832, so it exudes the Victorian style of that time. Walking around in the early morning, the place is quiet and gives the impression that the eternal rest enjoyed by its inhabitants is really peaceful. From mausoleums to funerary steles, don't hesitate to wander through its long alleys. Then venture to the ancient Scottish cathedral.
It is the oldest building in the city, with construction beginning in the 12th century, before the Scottish Reformation. The stained-glass windows are magnificent, and I recommend that you head to the lower crypt where the tomb of Glasgow's patron saint, St Mungo, lies.
Thirsty or hungry? Walk down Ashton Lane
Amidst all the hustle and bustle of Glasgow city centre, head to the west end as there are a number of hidden gems just waiting to be explored in Ashton Lane.
The pretty cobbled street of Ashton Lane in Glasgow's West End is quite magical, especially with those iconic fairy lights hanging over your head. Although it's a small street, accessed from Byres Road or University Avenue, there's plenty to do, from sipping pints to admiring the street art.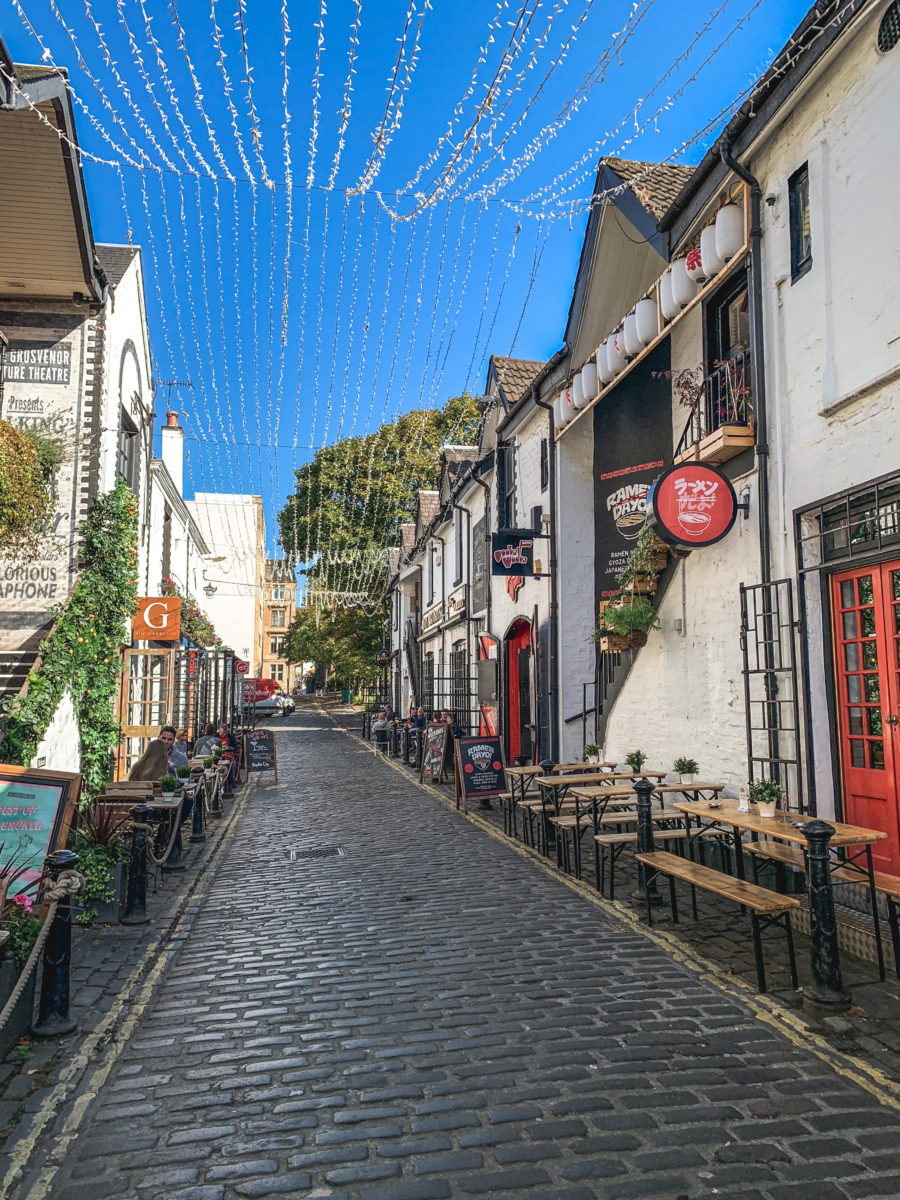 Browse the great vintage shops and boutiques, then stop for lunch at the Ubiquitous Chip, which brings a modern twist to traditional Scottish food, served in a pretty flowery courtyard. This is not where I've tasted typical Scottish food (for the record the fried Mars, I tasted it in the middle of Glasgow while walking around, as I was feeling peckish).
Many walls in Glasgow are covered with beautiful artworks, and Ashton Lane is no exception.
Admire the magical architecture of Glasgow University
If there's one place Harry Potter fans shouldn't miss, it's the University of Glasgow. So for those of you who have never received your Hogwarts invitation, head to another academic venue that will give you a magical feeling.
Founded in 1451 by James II of Scotland, it is the fourth-oldest university in the English-speaking world (second in Scotland following St Andrews) and is one of the Ancient universities.
The building is an architectural masterpiece. I was impressed by the charming aesthetics of the university, and it didn't take long to be convinced that the magical arts are taught in the various classrooms. The square courtyard with its beautiful gardens and the magnificent cloister makes this an enchanting environment. The University of Glasgow was used to represent Harvard University in the Outlander series (something I spotted immediately as I followed the fervour over this series long after its release and therefore after my Scottish stay).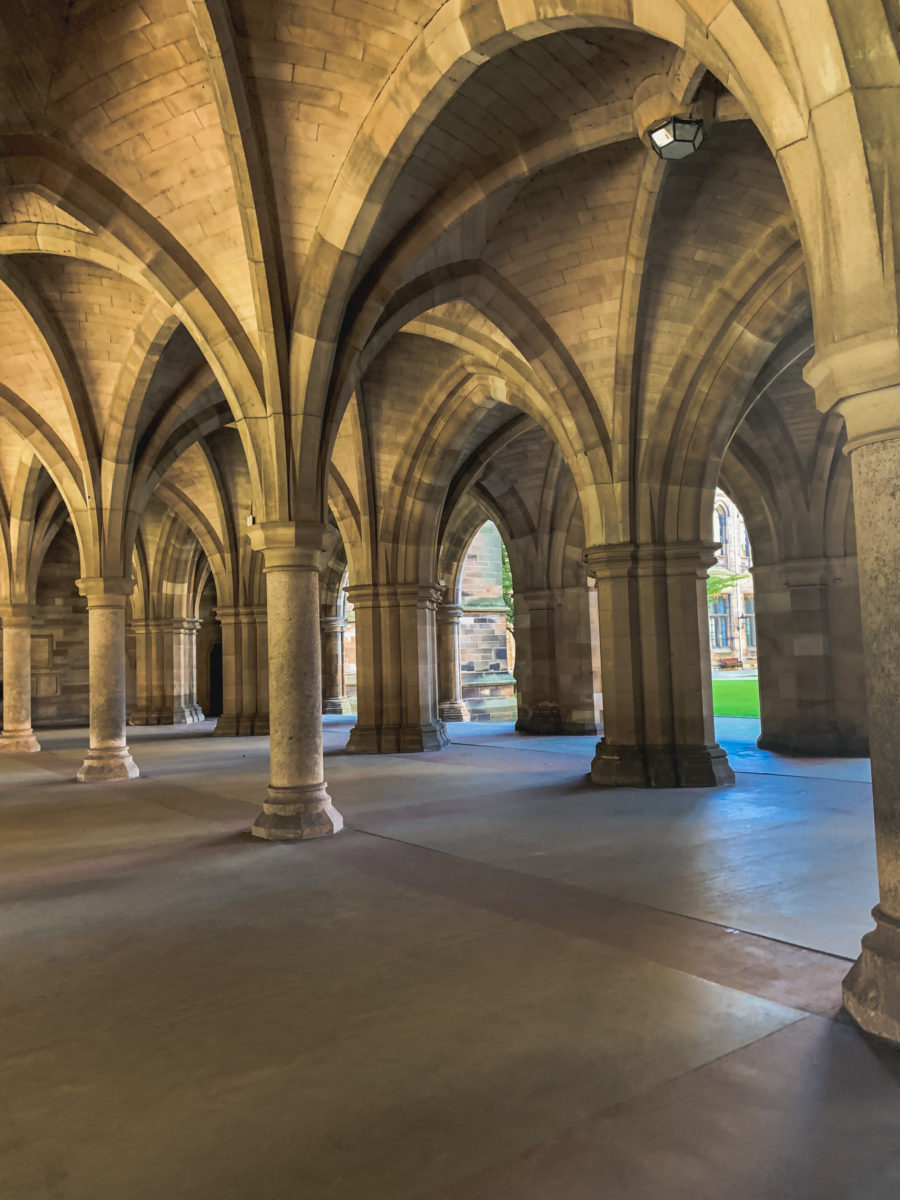 Ultimately, despite its severe lack of magic, Glasgow University is a symbolic place to be discovered in the city.
As if the magical truce of the day wasn't enough, we then headed to the botanical gardens, whose greenhouses bring a Victorian charm to the city.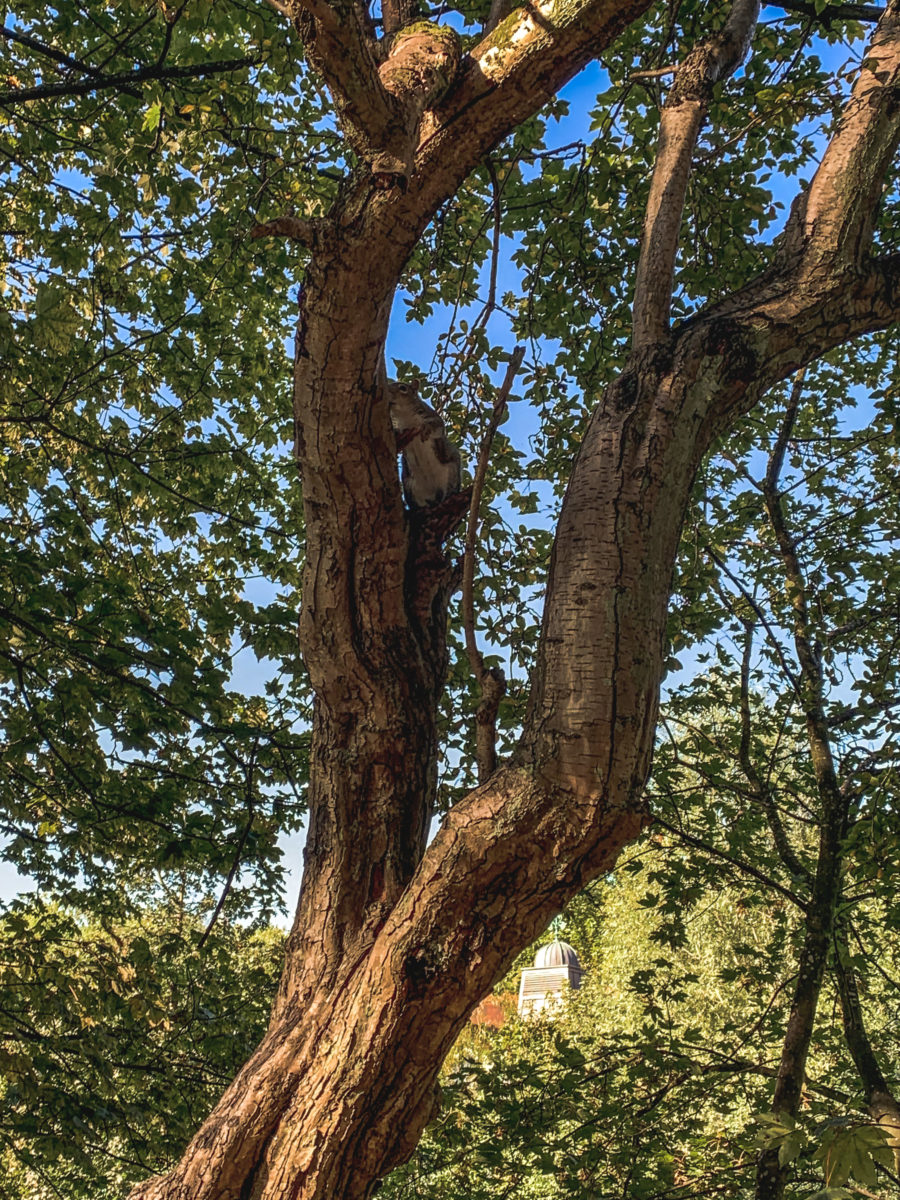 Rest in the botanical garden of Glasgow
The Glasgow Botanic Gardens is an idyllic (if the weather is good, we won't lie) place to rest and bask for a few minutes (or hours) in Glasgow. Naturally, we did nothing but rest, as I wanted to wander the various avenues of cactuses, ferns, exotic and carnivorous plants, and other lush greenery.
The main pleasure of visiting a botanical garden is often the greenhouses which allow a change of scent, temperature, humidity, and consciousness, ultimately not feeling like being in Scotland but rather in the tropics. The Anglo-Saxon reminder is in the architecture and its all-white Victorian structure. We are in the Kibble Palace which is entirely glazed and dates from the 19th century.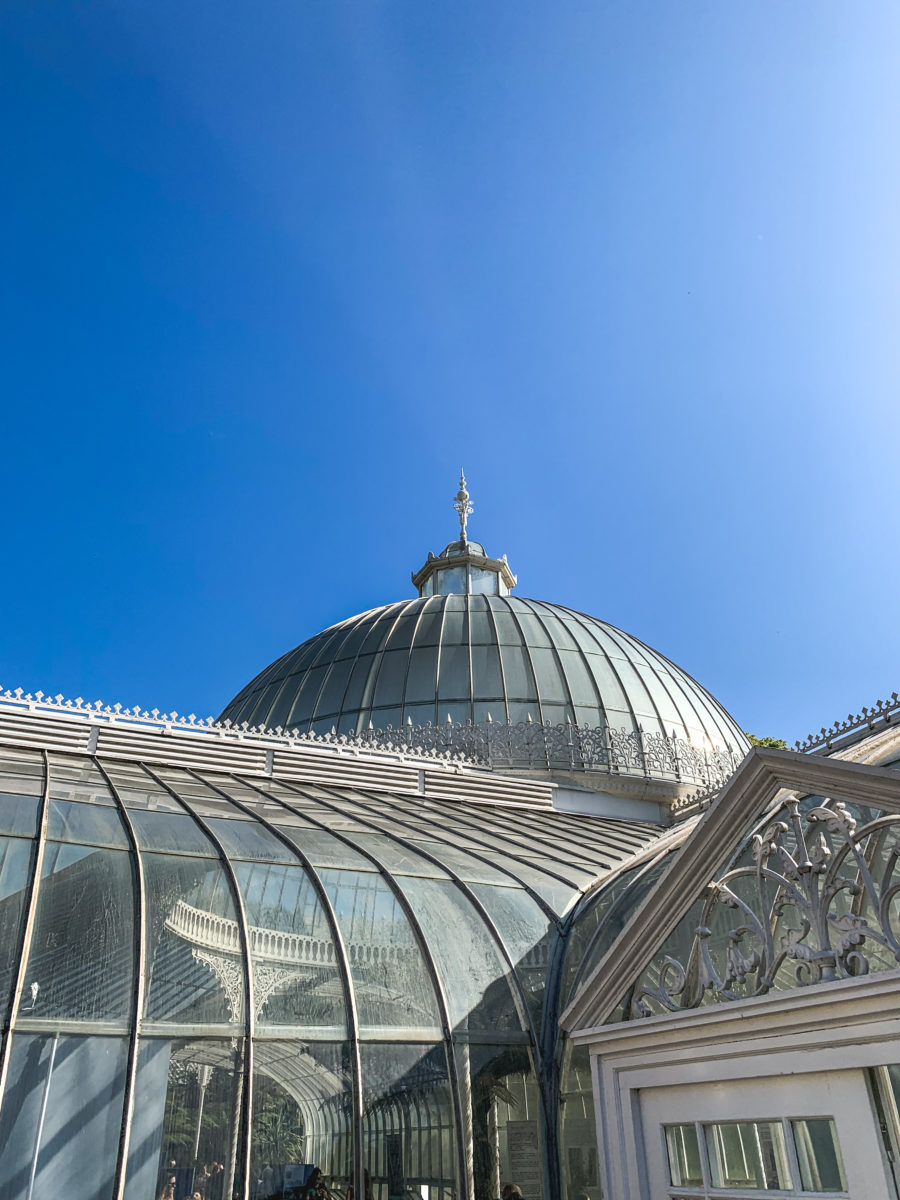 The greenhouse is the place to be for lovers, or for my mates and I, to look for the many marble statues hidden there, a giant hide-and-seek in the middle of all those ferns. Enjoy the light of the place, if the weather outside is suitable for this, and if it is not, take advantage of the greenhouse to take shelter for a few minutes.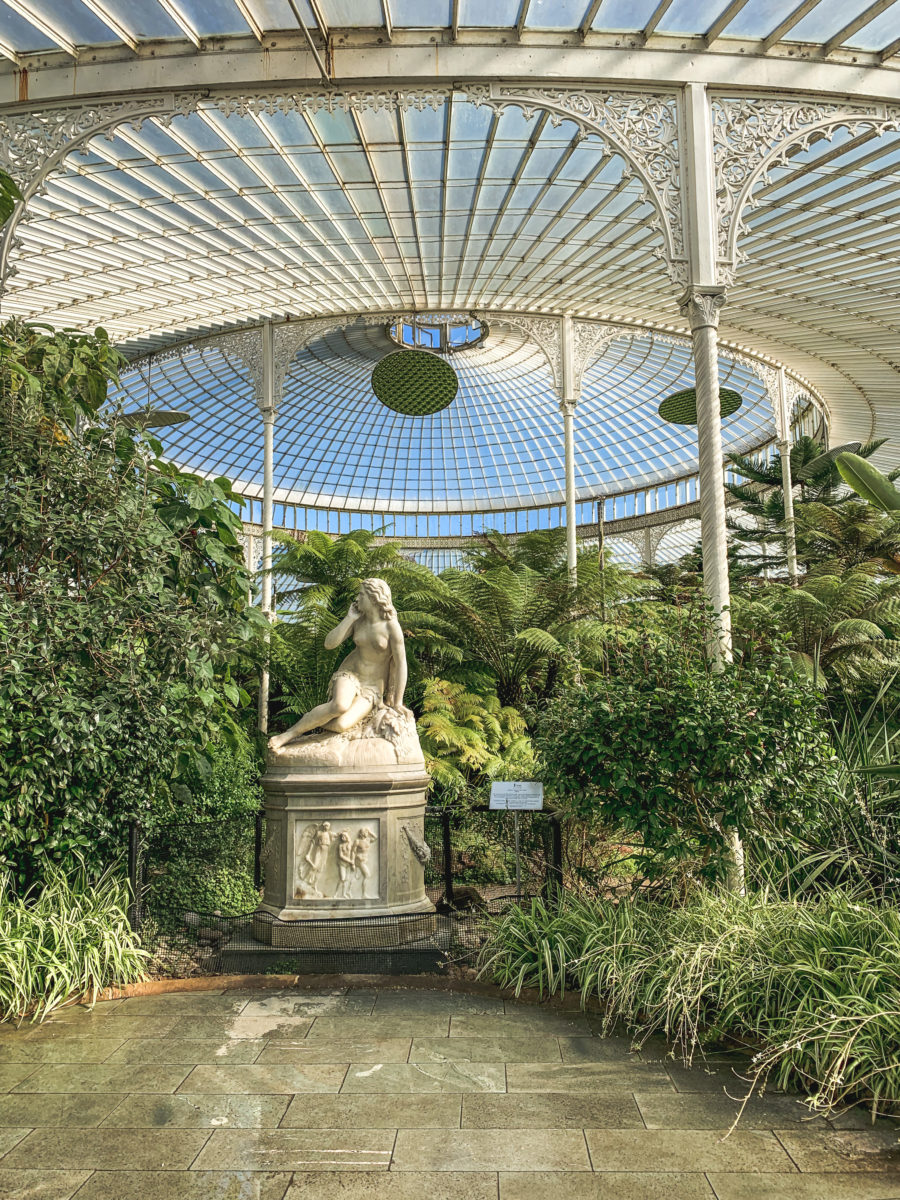 We didn't want to linger too long in the botanical garden, as we had an appointment at the end of the day. The reason for my visit to Glasgow was to visit Tennents Brewery, one of the first Scottish beers I drank when I arrived in Edinburgh. The brewery is located on the east side of the city centre towards the Necropolis and I'll give you a behind-the-scenes look below.
A visit to Wellpark for a refreshing Scottish beer
As you approach the brewery, the murals on the walls are adorned with the brand's colours. Tennent's was founded in 1740 on the banks of the Molendinar Burn by Hugh and Robert Tennent and is now owned by C&C Group plc, which bought the Tennent Caledonian Breweries subsidiary at the end of August 2009. The company produces Tennent's Lager, Scotland's leading lager brand, since it was first produced at the Wellpark brewery in 1885.
At Wellpark, you can take part in a guided tour to understand the importance of beer in Scotland, but more importantly, the behind-the-scenes story of Tennent's success. So, this beer doesn't have the warmth of the Argentine Quilmes or the gustatory happiness I feel with every sip of Guinness (by the way, the brewery visit in Dublin is worth it), but it has a personal history and I hope it will surprise you.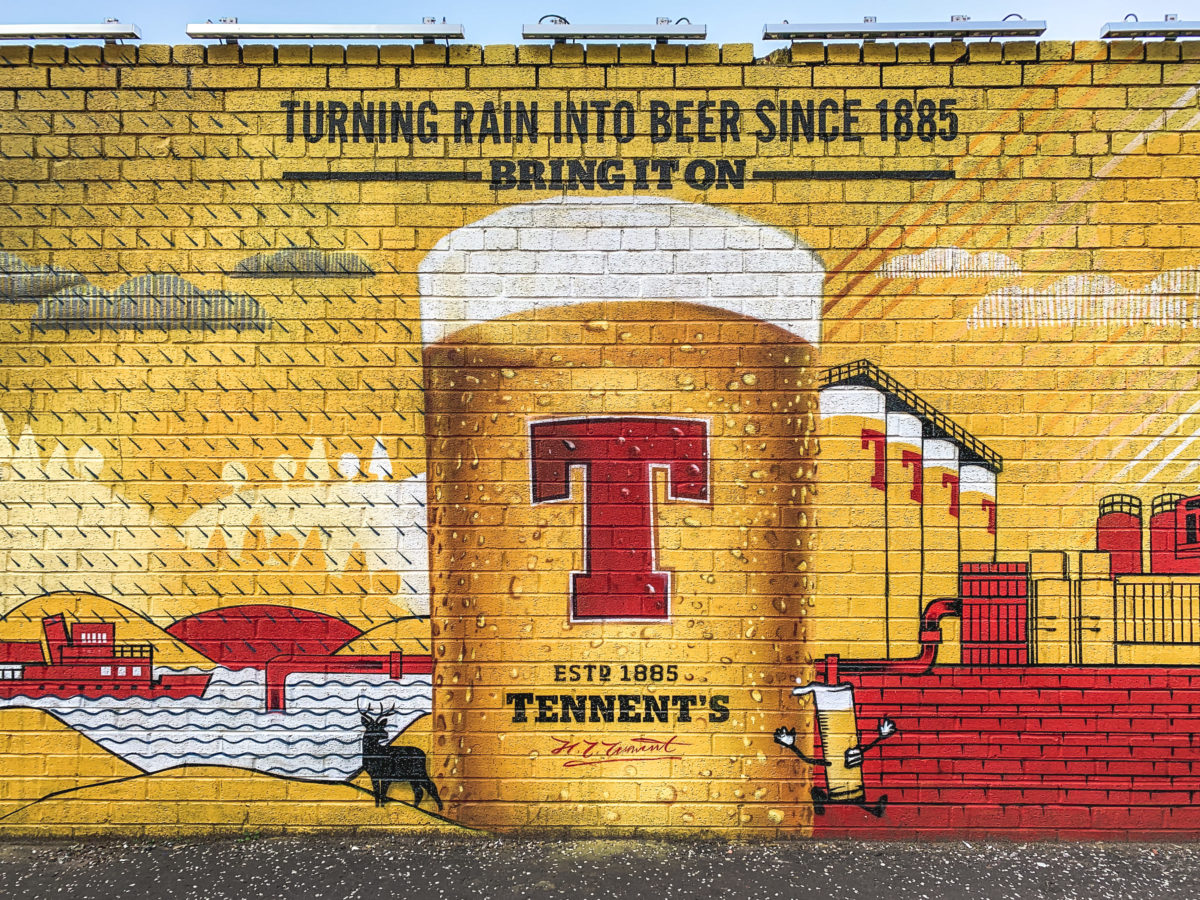 In any case, it's an unusual visit to make in Glasgow, if you're interested in hops or just a little thirsty. The brewery has been fulfilling Scotland's love of beer since 1556, and now produces an impressive 150 million (or so) bright and refreshing pints.
And just as in Dublin with Guinness, what stood out for me were the marketing efforts (occupational hazard some would say) and the intelligence of the advertising campaigns established for the brand.
Visiting a place like this really makes you realise that large breweries necessarily have to devote more space to store than to production. It was a clever brewer who came up with the idea of placing the fermentation tanks outside, rather than having to build vast halls to hold them all.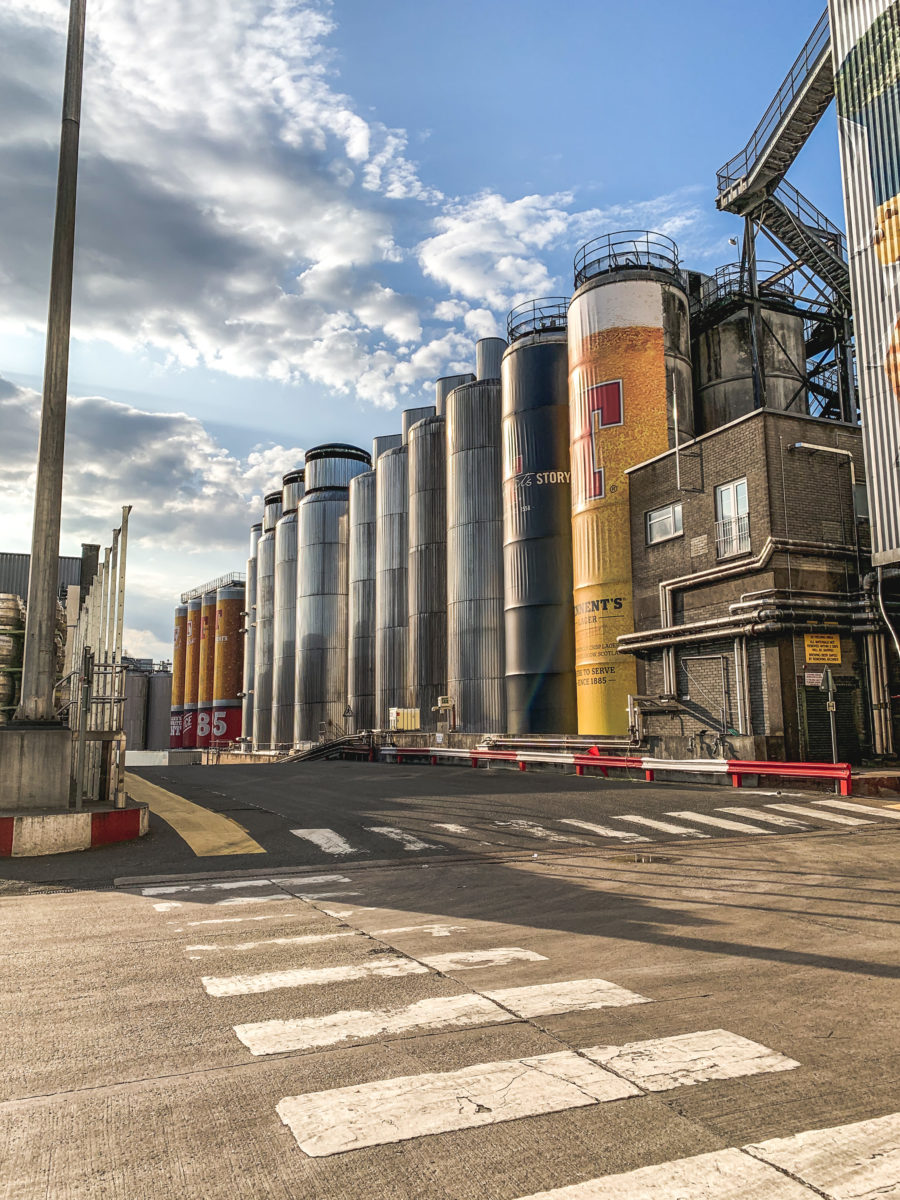 The brewery itself is cramped, with stairs leading up to the control room. There is a set of computer screens with some fairly old-looking software running on them, a huge mash filter and the top of a copper. This is where the brewing process of Tennent's Lager is explained a little.
A few facts to help you understand the creation of a beer (really, the only ones I've remembered):
It is brewed at high gravity from a wort of malt, wheat, and maize to around 7.5%.
Real hops are used in the form of pellets, with iso-hop extract added at the filtration stage.
The lager is a little more bitter than its competitors in the standard lager sector, at around 20 IBU.
It ferments at a fairly high temperature, between 13 and 15 degrees, before receiving an incredible two days of cold conditioning.
Then it is filtered and re-bottled for retail sale
Finally, we finish with a free pint at the Molendinar bar. This is an onsite bar that is used for hospitality and is not open to the public. Exhibits of old bottles and advertisements make it a mixture of a pub and a museum.
For practical information, the tours run from Friday to Sunday; be sure to allow two hours on site for the tour and then to enjoy the free pint in peace. Go here to register.
Getting to Glasgow from Edinburgh
All roads lead to Rome, some would say, but the one between Glasgow and Edinburgh is very easy. It is almost a straight line of 78 kilometers. Whether by road or rail, a mere hour and a half will be needed between Scotland's two great cities.
I preferred to take the bus. There are plenty of connections (as well as rail connections), several per hour all day long. And the prices are competitive too. A round trip will cost you about ten pounds. Here is the website I used: CityLink
Buses in Edinburgh leave from Edinburgh Bus Station and arrive at Buchanan Bus Station in Glasgow.
If you are travelling by train, you will need to go to Waverly station, which is located in Edinburgh city centre on Princes Street. However, you can also leave from Haymarket station, depending on where you are staying. Normally all trains from Edinburgh to the East and the Highlands pass through this secondary station. In Glasgow, trains arrive at Glasgow Central, but like Haymarket, there is also a secondary station where you can leave the train, called Queen Street.