Germany is becoming more and more popular for young people and the city of Freiburg is no exception. I was able to discover this lovely little town thanks to my friend Elodie who spent a year there. Through her eyes and her statements, Freiburg appears very simple yet so friendly and lively. And this is indeed the feeling I experienced during my few visits.
Situated at the foot of the Black Forest mountains, Freiburg im Breisgau is a quiet little town in south-eastern Germany, which is easy to visit and where there is a lighter and kind of carefree atmosphere. With almost 1,800 hours of sunshine per year, it is the warmest city in the country. Thanks to its geographical position, many Germans, Swiss and French people take advantage of coming for a weekend, or sometimes just for a short visit, to soak up what it has to offer.
The German Gemütlichkeit (cosiness) atmosphere that I love in this country works beautifully on those who are discovering Freiburg for the first time. The inhabitants of Freiburg are also a relaxed people, eco-bobo anyway but so tolerant, especially towards my inconsistent words in German (years of study… to babble a few words… So sad, because what a beautiful language this is, but that's another story). Let's focus instead on the beautiful Freiburg.
Must sees in Freiburg
Bächle
More specifically, Freiburg is best known for its cathedral and its bächle (from the German Bach, "stream" with a suffix -le which means "small"), then: small open gutters that line the pavements.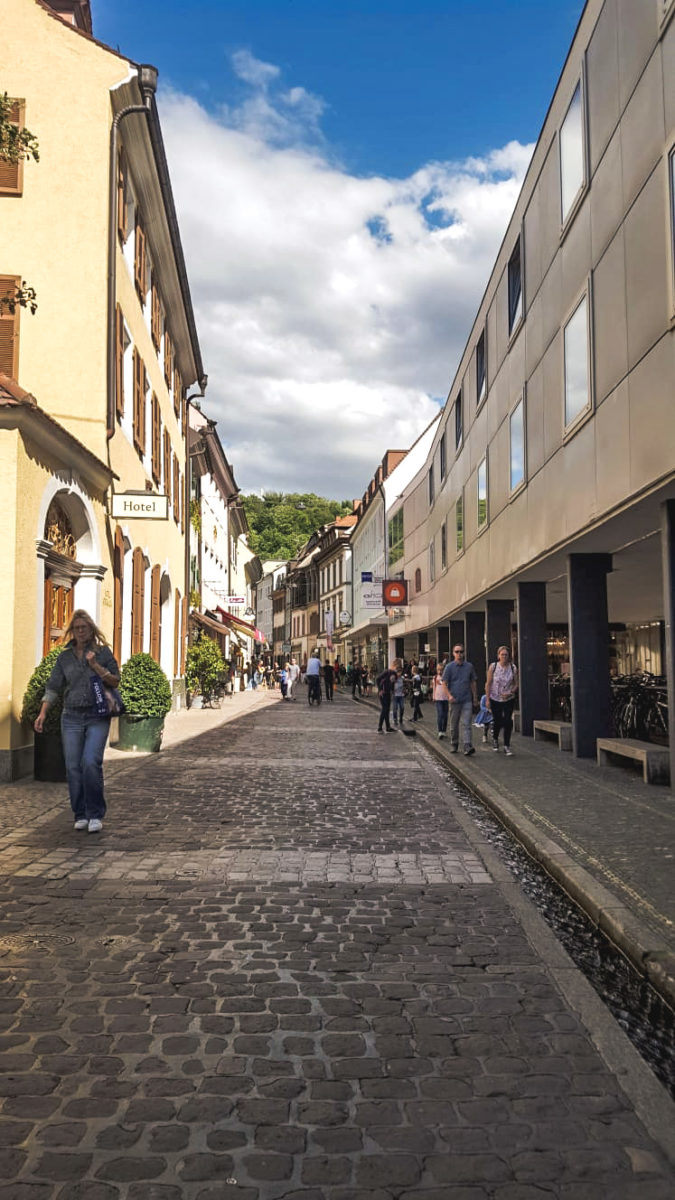 In fact, it seems that there is a belief (or a treacherous trap for singles as stated on the website) that says that if you accidentally walk (or fall in my case) into a bächle, you're going to marry a man from Freiburg. So here I am, destined for a German! If he likes beer and football (I'm not looking for a rare gem at least in this country), that might suit me! Also, the children put their little boats there on sunny days and that gives a nice cachet to Freiburg.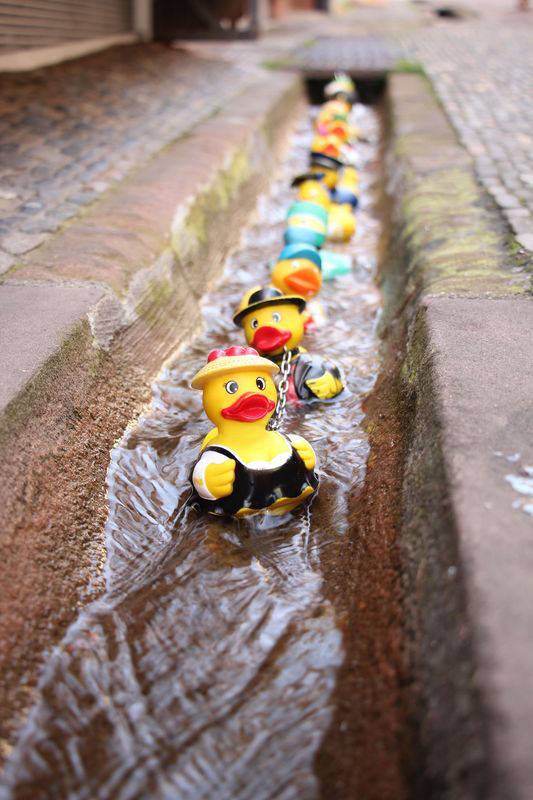 Green City
The history of the town goes back to 1091 when a duke had his castle built here and a town gently emerged on its outskirts. He gave it the status of a free market (hence its name, frei meaning "free" in German). It was relatively untouched by the various wars in this part of Europe during the Middle Ages, however, the city was badly damaged during the Second World War (unfortunately, like much of Germany), but it was able to rebuild itself and gradually become one of the first "green" German cities.
A pioneer in this field, the world's first eco-neighbourhood was created in Freiburg in the 1990s in Vauban, and above all, it closed its city centre to cars, which I still find very pleasant to walk around. Together with many other ecological acts, this makes Freiburg the ecological capital of Germany where it is good to live.
Old Town
Despite the bombing, Freiburg is known for its beautiful architecture, although it was essentially rebuilt after the Second World War according to the original plans. Its main architectural landmark is the Cathedral, more commonly called Münster by its inhabitants, whose construction began in 1200. It is highly recommended to climb up to the bell tower to enjoy a beautiful view of the city, however, I have not yet had the opportunity to climb up there (closed on my last visit).
Nevertheless, I greatly appreciated the square around the cathedral, which is full of typical houses of all colours, such as the "Historisches Kaufhaus" dating from 1532 or the "Zum Schönen Eck" from 1761, which, to my taste, are full of charm. You can find them all over the city, just by walking around.
Gateways to the city
Access to the Old Town can be reached via two other typical buildings that have been preserved since the Middle Ages, the Martinstor and the Schwabentor.
The Martinstor, or Martin Gate in English, is located at the "entrance" to Freiburg's main street and looks almost as if it were the Zytglogge in Bern. The building has two entrances, one for pedestrians and one for trams. The facade is beautiful and we leave with a nice postcard picture. However, even though it doesn't take away from its cachet, I think it's a shame that the McDonald's sign was allowed to be put up, literally on the façade above the tram access! But who knows, maybe the company is a sponsor for the maintenance of the building?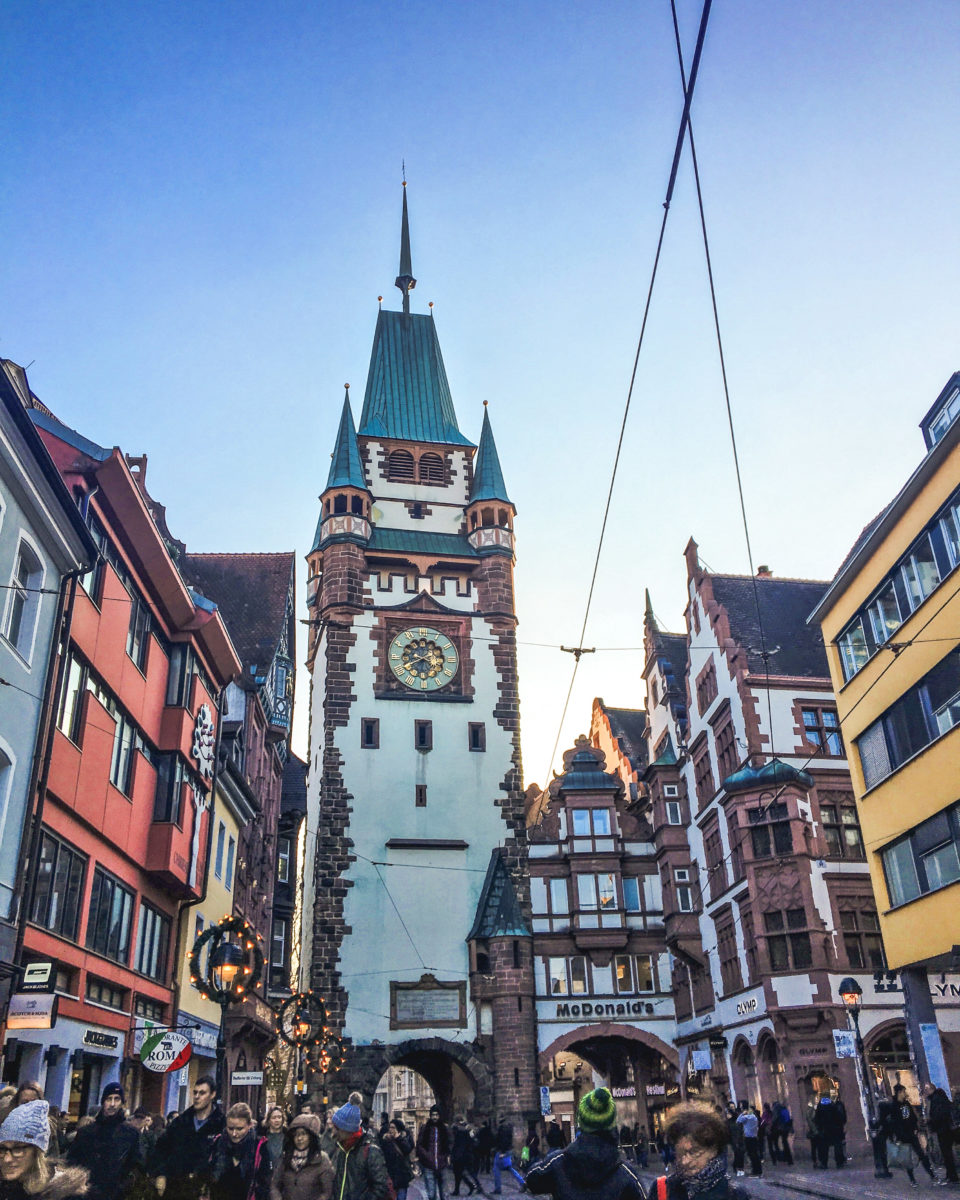 The Schwabentor or Swabian Gate is the second remaining vestige of the fortifications dating from the Middle Ages. It is more recent than its "big sister", however, I find it a little less attractive.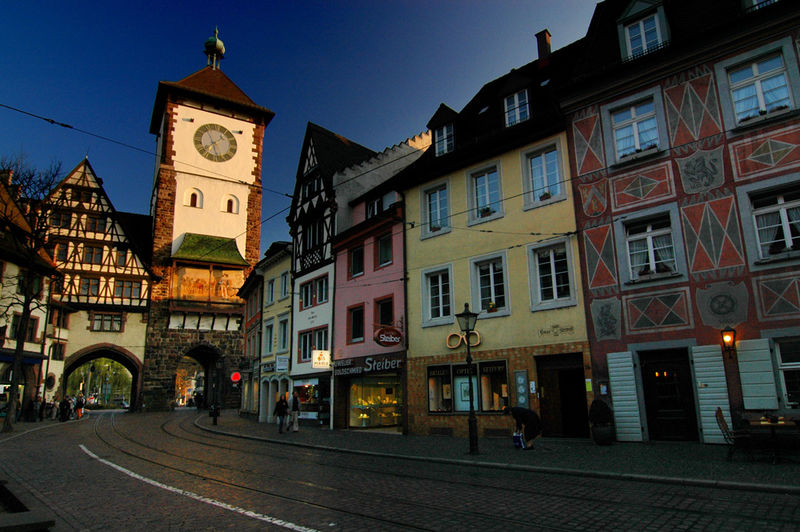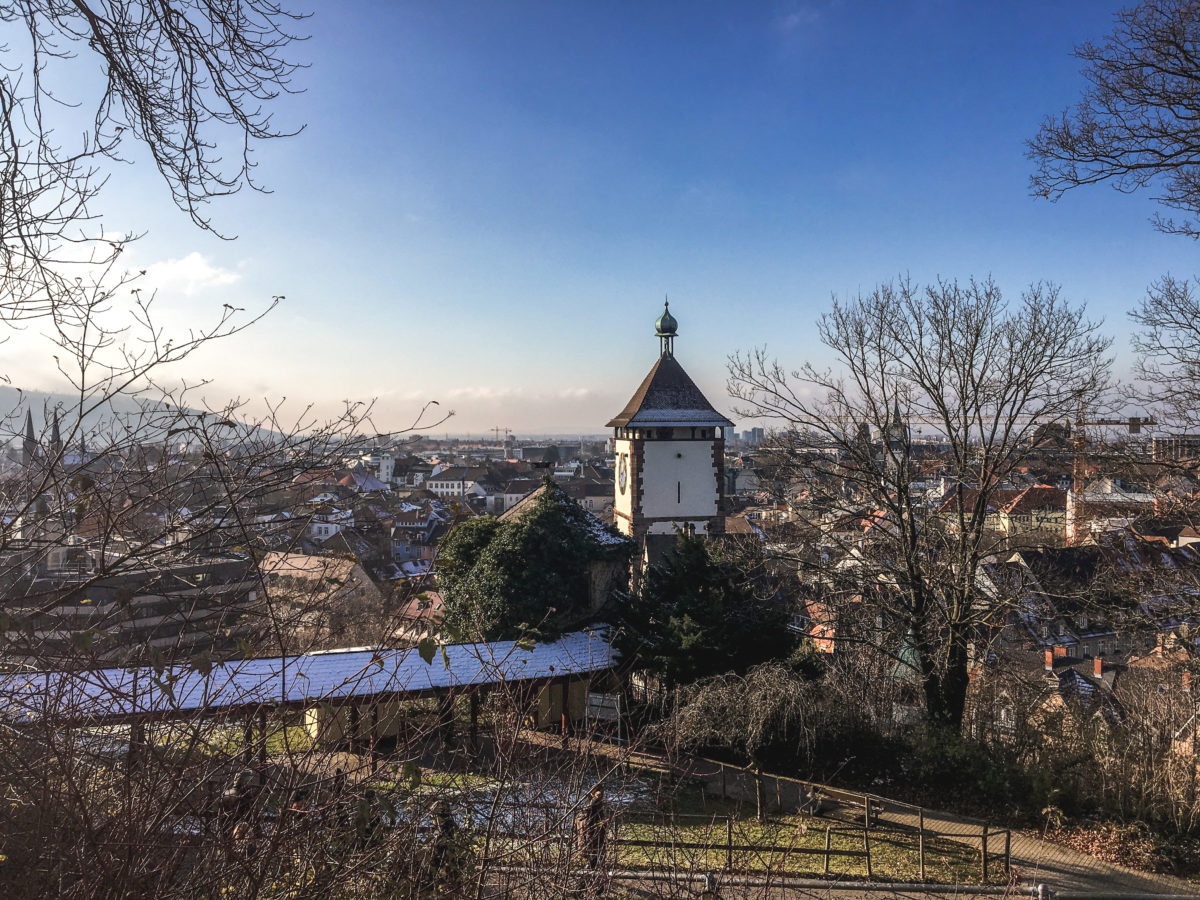 Nature in the German city
From the Schwabentor, we can go to the Schlossberg (literally "the castle mountain", more a hill than a mountain but I think I make this reflection with each article…). This particular hill offers a panoramic view of the town and the Rhine valley.
The ascent allows you to enjoy a corner of the forest just a stone's throw from the town centre, which offers a real moment of pleasant tranquillity in summer as well as in winter. For the lazy ones, the lift of the gourmet restaurant Greiffenegg Schlössle allows you to reach the platform without running out of breath (the lift is a bit hidden but if you take the stairs next to the Schwabentor, go through the kind of cave and you will reach the lift). Furthermore, I advise you to stop at the Kastaniengarten, one of the prettiest and oldest Biergärten in the area. Prost!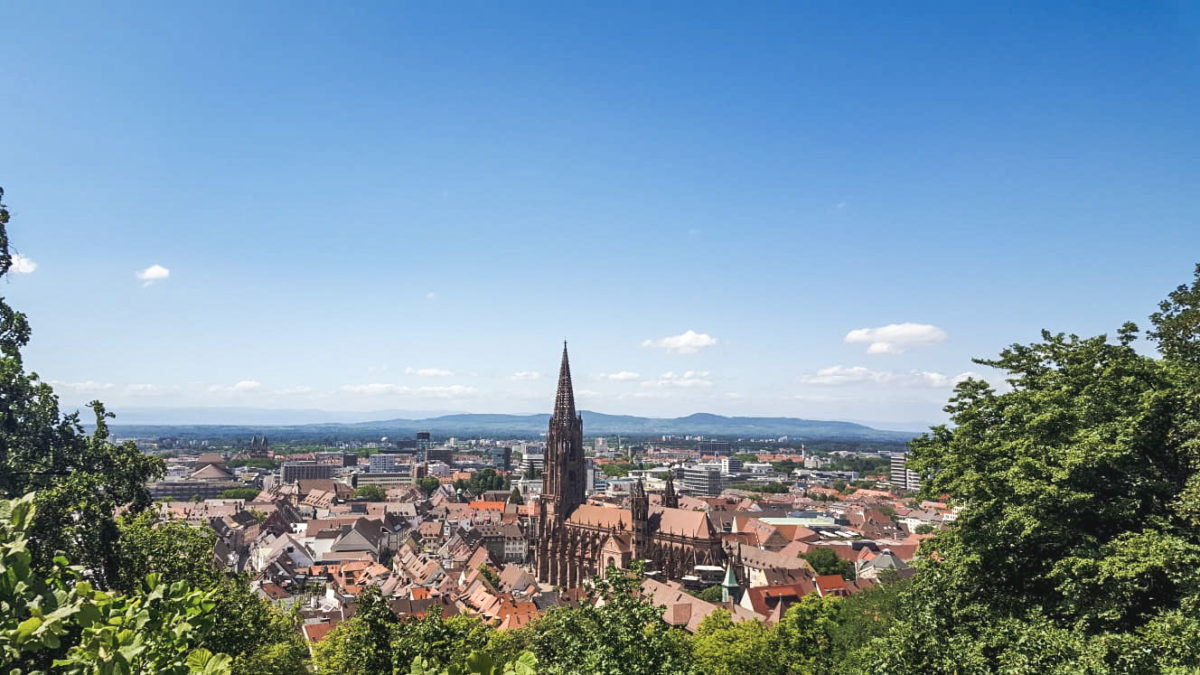 Then you have to continue in the direction of a sort of platform, the Kanonenplatz, where there is a magnificent view of the surroundings. You can still climb a small hill to reach the Ludwigshöhe, where you will get the same view. A nice metal map describes the various mountains and towns in the area.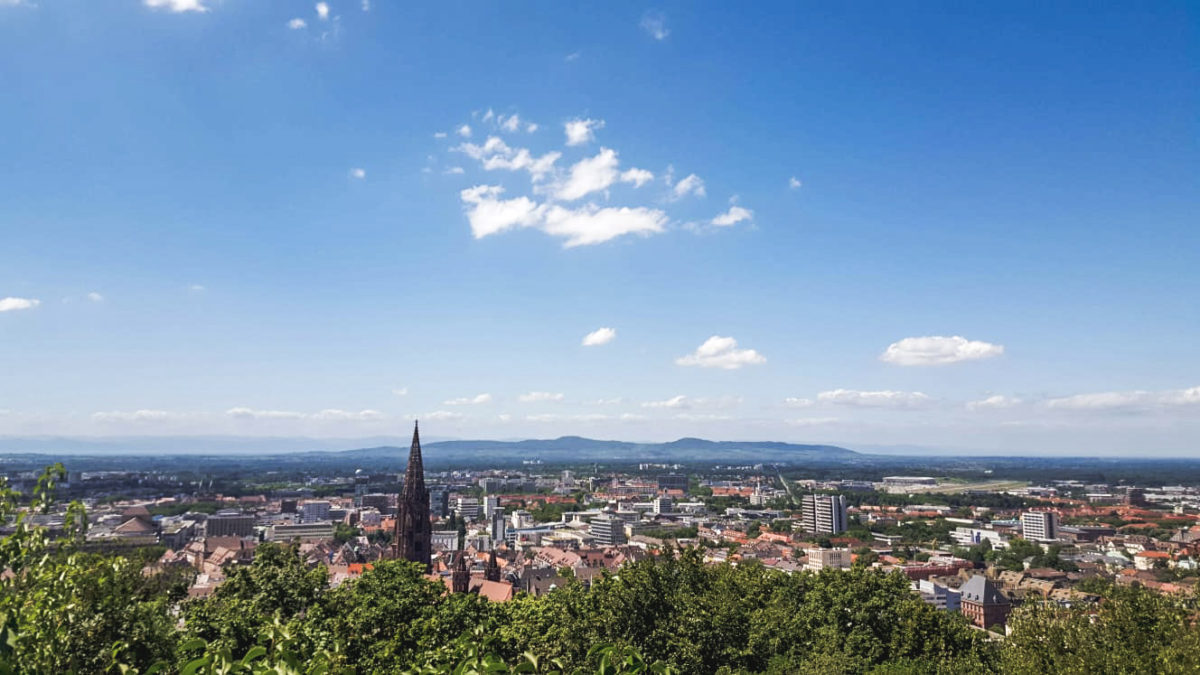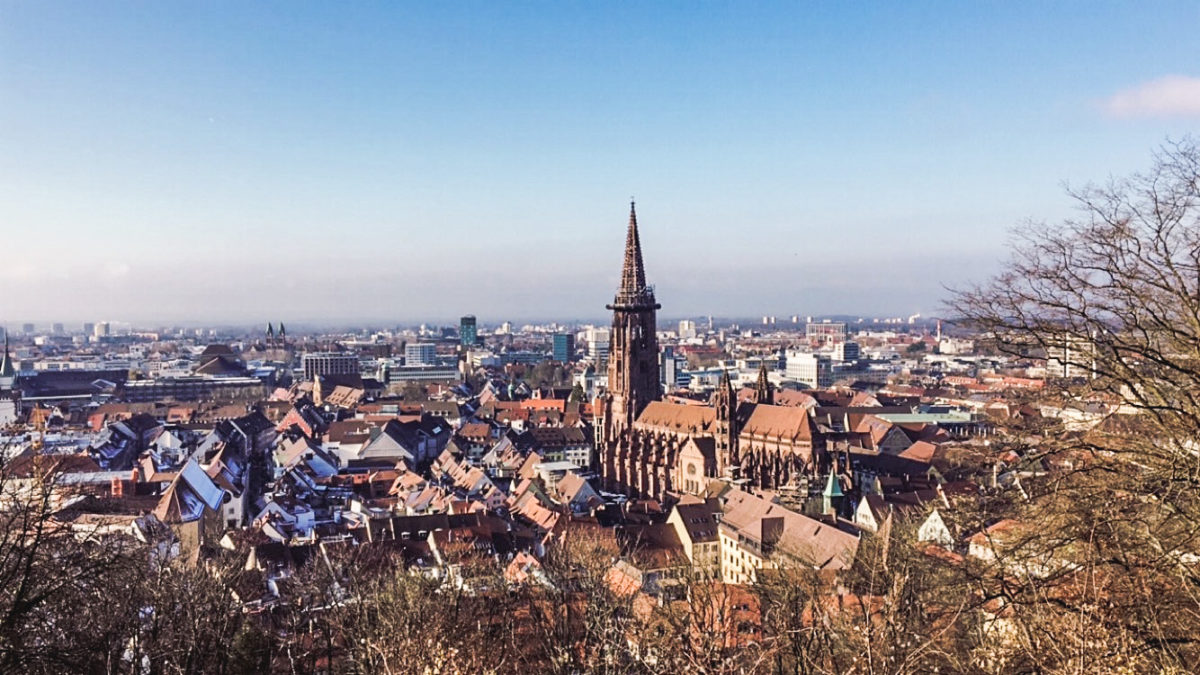 Alternatively, you can take the cable car from the city park to the Dattler restaurant on the Schlossberg. On this hill, there are numerous hiking trails with panoramic views from several lookout points. Afterwards, a rather winding and steep path leads to the Schlossberg tower, which dominates the mountain from a height of 35m.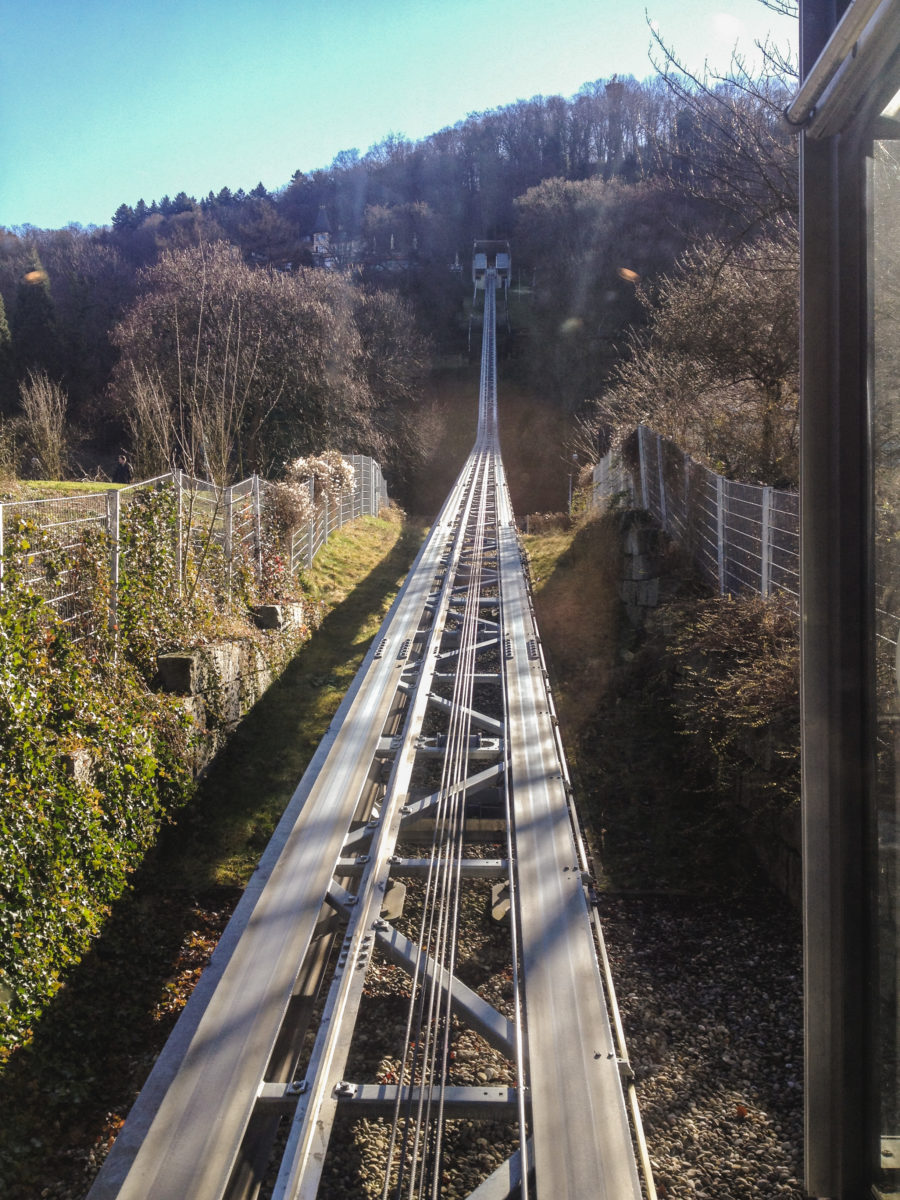 The Schlossberg is a nice glimpse of what the Black Forest has to offer to travellers (definitely a place to explore soon).
Student city
I told you at the beginning of the article that Freiburg is a young city, especially because of its status as a university city. This is why the atmosphere in the German city offers the opportunity for many outings and encounters along the Gässle, the picturesque little streets of the old town. Whether it's trendy, rock'n'roll or typically German, as you wander through the streets and bars of the city, there's something for everyone.
More popular encounters can also be made towards the Wiwili Bridge, which is an important connecting point for both pedestrians and cyclists for the inhabitants of Freiburg. It is one of the last surviving bridges of this style and is also an architectural eye-catcher with its blue colour and curved arches reminiscent of a more industrial New York style.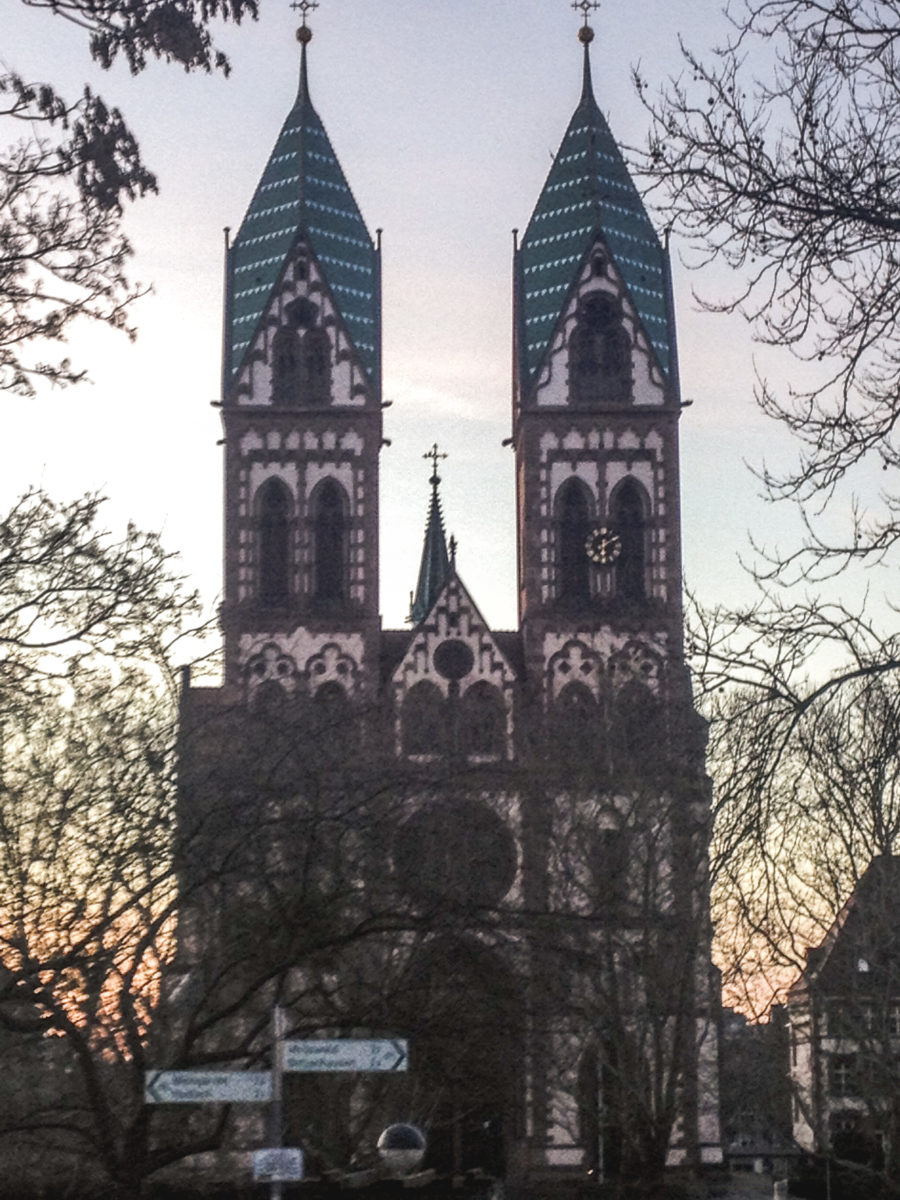 Finally, to practice your German, I leave you with my friend's text which describes, in her own words, what she felt in Freiburg. Du schaffst das !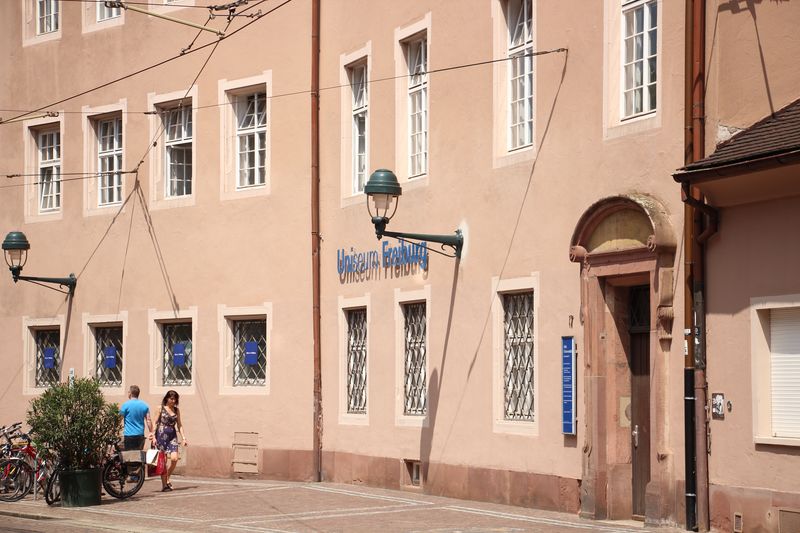 "Die Stadt liegt im Süden Deutschlands, in Baden-Württemberg. Ich habe ein ganzes Jahr in dieser Studentenstadt verbracht und konnte während meine Zeit dort ganz schön viel entdecken. Man kann manchmal denken, dass Freiburg eine sehr kleine Stadt ist, weil man alles im Zentrum finden kann. Es gibt aber viele Orte, die ein bisschen außerhalb der Stadt liegen und wo es sich total lohnt hinzugehen!
Zum Beispiel zum Titisee-Neustadt, Feldberg wo man im Sommer wandern und im Winter Ski fahren kann oder noch zum Schauinsland. Näher gibt es auch den Seepark beim Flückigersee, wo man viele verschiedene Aktivitäten und Sports praktizieren kann. Im Sommer ist es besonders schön, weil man dort auch baden kann. Im Altstadt ist es besonders schön an einem Markttag durch den Gassen zu spazieren, den Verkaufsbuden zu erkunden und den Freiburger Münster zu besuchen.
In die Stadt, und wenn man ein bisschen mehr Zeit hat, gibt es auch den Schwabentor, Augustinermuseum, Martinstor, Bertholdsbrunnen, das Konzerthaus und die Universität. Die Unibibliothek wurde im letzten Jahr neugebaut und ist einen Umweg wert.
Wenn das Wetter schön ist, empfehle ich es auf jeden Fall zum Schlossberg zu gehen! Dafür kann man entweder mit der Drahtseilbahn hinfahren, bis zum Schlossbergrestaurant oder kann man vom Schwabentor zum Kanonenplatz laufen und dann noch hoch bis zum Bismarckturm hochgehen. Von hier oben hat man einen sehr schönen Blick über Freiburg.
Am Abend kann man ins Stadtzentrum gehen und ein paar Bier trinken oder was typisches essen. Freiburg ist eine echt vielfältige Stadt und es gibt immer was Neues zu entdecken! Für mich ist die Stimmung in Freiburg sehr offen, auch wenn man gleichzeitig durch die Touristenmenge anonym bleiben kann."