In Lausanne, whether it's in the sub-station district, in unusual alleys or nestled in public monuments, if you're looking for a good place to enjoy a cup of coffee, you'll be spoilt for choice. So much so, that over the years, I have developed quite a long list of cafés that I recommend. At the end of this article, you will find an interactive map of the best cafés in Lausanne.
Shall we go for a coffee?
Whether it is a consensual social habit, a sacred ritual or a need for caffeine to wake up, the café (whether it is the drink in French – coffee, or the place – café) is a gathering place. A stimulating environment in terms of architecture, the art of living and atmosphere, but also a place to relax in a friendly setting.
The purpose of this post, however, is based on a conversation with a friend, Sophie, with whom we often share our good spots. What if, for a day, we went café crawling in places that we had not yet tried in Lausanne?
Café crawl – a term you've probably never heard of, as it doesn't currently exist in any dictionaries. The concept came to our mind with the influx of pub crawl (sometimes named bar tour, bar crawl or bar-hopping), a kind of drinking game where you go around bars drinking a glass of alcohol in each one, the aim being to go to as many bars as possible.
In fact, I mentioned it in the ultimate guide to Edinburgh, which is a great place for this sport (after all, there is a lot of walking involved in this kind of activity).
Carac-, fries- or spritz crawls, ideas are springing up for future outings.
Story and presentation of the 5 experimental cafés
Both working, we made an appointment on a Saturday in February 2022, with a list of 5 places that were still missing from our hunt for charming cafés in the capital of Vaud.
We had a wonderful sunny day, with shopping breaks, a nice lunch (at Yam'Mamia, with a great quesadilla), a book each that we didn't get to read, and lots of caffeine: enough to keep us awake to play the reviewers.
Saturday, 8 am – at home – coffee?
The alarm clock rang and the urgent need to drink my daily dose of coffee was present after a short night's sleep (I was talking about pub crawl just before, add the Bulldog Bar & Resto to your list, it's my favourite place to watch a good game while enjoying a Guinness and nachos).
Anyway, I texted my caffeine buddy that I would have enjoyed a coffee when I woke up with my head somewhere in the clouds. The direct answer was: "I'm hesitating to make one myself". To which I replied that we were going to drink enough during the day, perhaps having to switch to decaffeinated coffee in the late afternoon. Oh yes, it is also necessary at this point for me to integrate the fact that we are both drinking our coffee, black, against all odds.
She replied that for her, in the end, it would not change her habits, sipping between 4 and 5 coffees in a day. On the contrary, as I am used to drinking 1 or 2 cups of coffee, I am a bit of an underdog compared to Sophie's daily consumption.
Having set the tone, we travelled by train from Vevey to our first address, where we also hoped to find something to eat.
We didn't set any specific criteria for reviewing the places we were going to visit, it was just a matter of getting our spontaneous reactions. As the day progressed, we realised that having a glass of water, automatically with our coffee, was an essential part of appreciating the art of coffee.
10 am – Lausanne – Saladerie ium
It's a fact that Saladerie ium was on my list, while Sophie had never heard of it. To be quite honest, I didn't remember why it was on my list to be discovered, but it was a charming surprise, let's say bucolic and rural.
Indeed, you have to be a lover of old objects, bric-a-brac and above all dried out plants to feel completely at ease in this place, and incidentally of beetles (the minute Sophie told the owner that this insect was on his menu, I couldn't help but cast a suspicious glance around me every 5 seconds).
This may be a bad advertisement, but in the end I spent a pleasant hour, sitting directly at the window (none of the other tables were cleared), satisfied with a drinkable coffee and a good breakfast (and above all without any other beetle bugs).
The strength of the place is certainly the good humour and friendliness of the owner, Fred, as well as the small à la minute brunch menu. For 30 CHF, you can also have an all-inclusive and unlimited formula. It was only a French toast for Sophie and a healthy bowl for me, enough to give us strength before the next step.
What I will remember is a no-frills, 100% natural and authentic atmosphere, very casual, with a strong alternative-ecological bent; however, this may not make us come back, as we already have our favourites on our lists.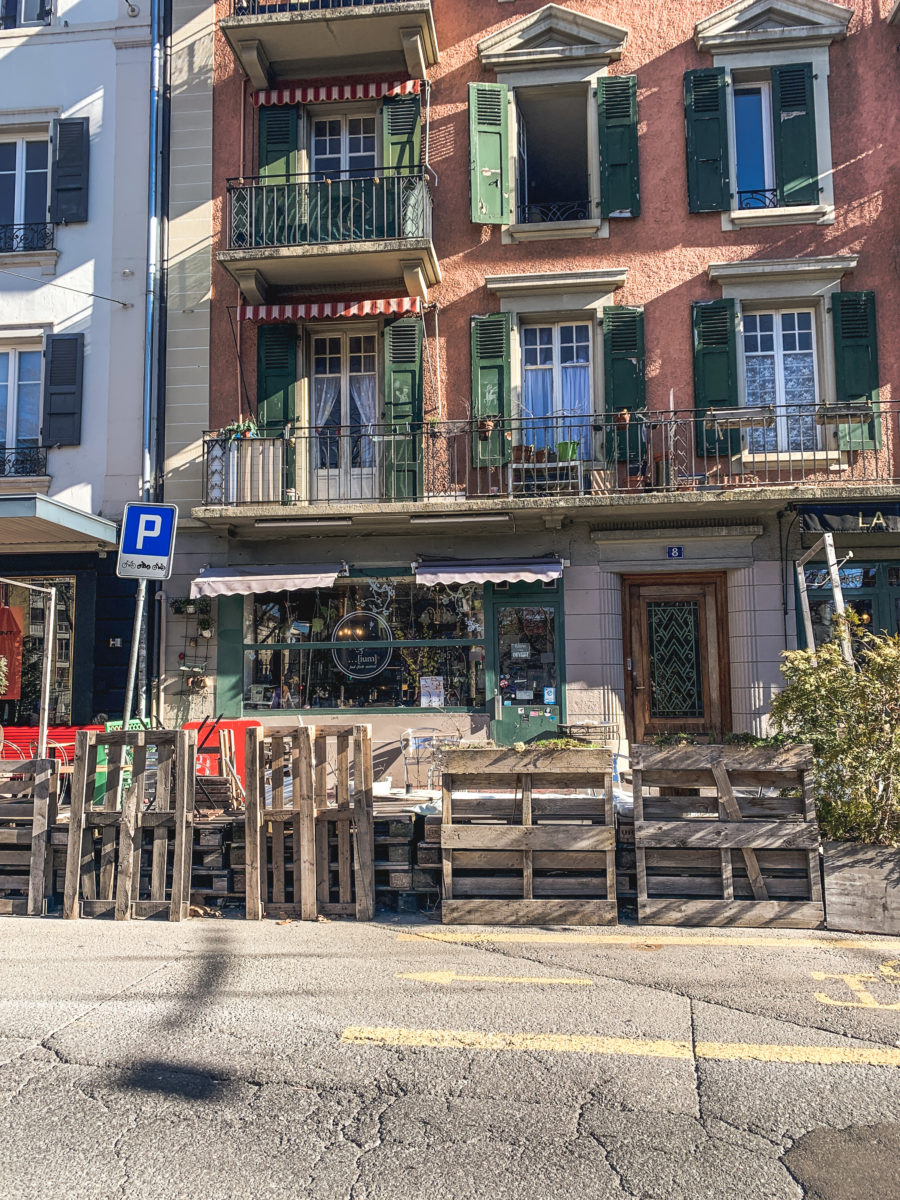 Place du Tunnel 8
1005 Lausanne


11 am – Lausanne – Café Couronne d'or
In barely five minutes, we went from the rustic Saladerie ium to the Café de la Couronne d'or. This one may be on the ground floor of a charming building, but the direct surroundings of grey concrete do not inspire the desire to enjoy the terrace, sunny though it is on this Saturday morning in February.
The interior is soberly furnished, and a place by the window catches my eye for another time. Indeed, it is a typical place where I can see myself coming back, reading a good classic, while enjoying a cup of coffee, which was very enjoyable. The little extra is the container, which has no handle.
We discovered a rather warm, neighbourhood atmosphere. This is perhaps due to its hidden position behind the Place de la Riponne or to the fact that it has been brightening up the Rue des Deux-Marchés since 1895! For Sophie, I quote "the atmosphere is quite simple, rustic, geared for skittle jugglers on the slack". Without going back any further on this somewhat excessive comment (but which does not seem so far from the truth), it is certain that the atmosphere is familiar.
I could see myself returning there in the evening, with a good plate of food, friends and a game of cards. A rustic-sausage atmosphere guaranteed!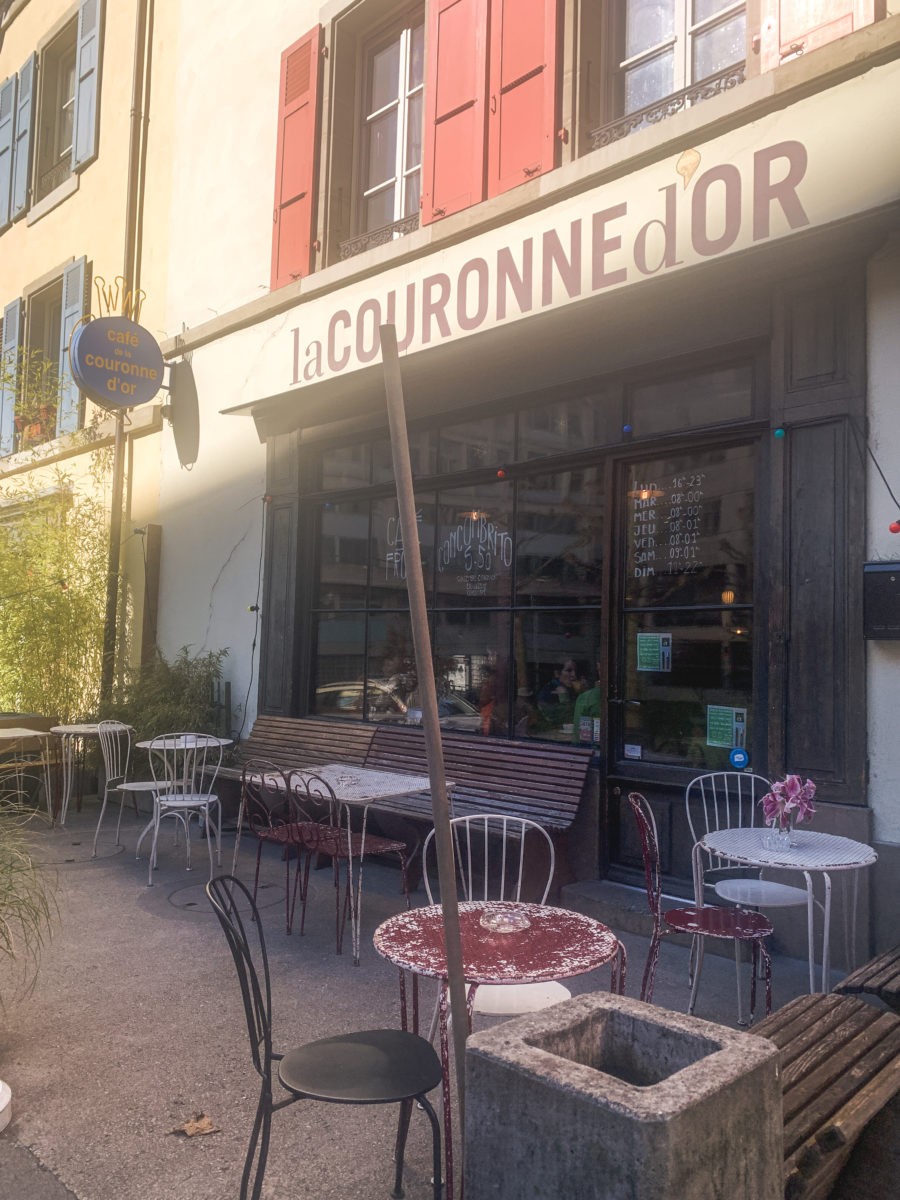 Rue des Deux-Marchés 13
1005 Lausanne
12 am – Lausanne – Le Barbare
The hunger was starting to set in, despite our brunch being barely 2 hours old, however, my excitement about discovering Le Barbare was not in my rumbling stomach but in its location. Indeed, Le Barbare is nestled at the top of my favourite Lausanne alley: Les Escaliers du Marché.
It was at the end of November 2021 that the Barbare reclaimed its place at this location, after several years of hibernation (closed in 2016). Taking advantage of a pleasant terrace, we managed to take the last table in the sun, although the lunch menu did not particularly entice us (a poor quiche and its salad).
A historic café in Lausanne, we learned from our friendly tablemate, who had many anecdotes about the city, about its sulphurous past, since people used to come to the Barbare to smoke hashish (at the end of the 1960s), among other things.
If it has also become mythical and dear to the hearts of the people of Lausanne, it is because the Café is renowned for its excellent hot chocolates. However, in view of the mission of our day's escapade, it was naturally a coffee that we ordered, which was simple but delicious, served in mismatched and floral cups.
The terrace overlooking the Escaliers du Marché is the highlight of the place, as is the façade of the building, which has been restored to its original plastered appearance after renovation. The interior is welcoming and bright, and when I went in to pay for our drinks, I couldn't help but take a tantalising look at the bar and its many pastries and huge tresse bread. It's worth coming back for brunch and sunbathing on the terrace.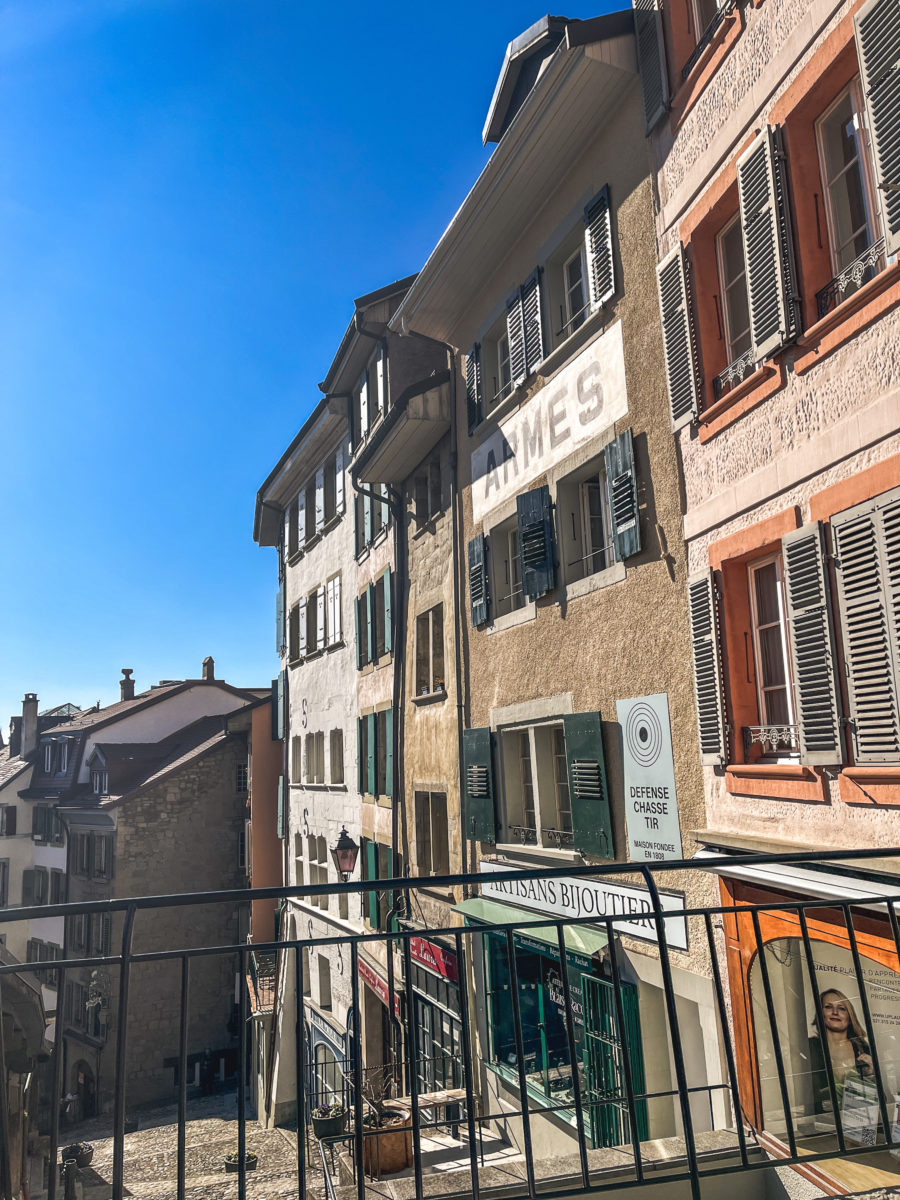 Escaliers du Marché 27
1003 Lausanne
14 pm – Lausanne – Café Mozart
After having eaten on the go and done a little shopping, we continued our journey to the penultimate address of our café crawl: Café Mozart.
This one had been on my list for a few months already because of its unusual aspect but in coherence with its name since it is the café-restaurant of the Music Conservatory of Lausanne.
Let's not prevaricate any longer, if I liked this café so much, it was certainly not for its coffee, which was quite average (and without a glass of water), but for its magnificent setting with a Parisian brasserie feel.
This was a debate that Sophie and I had been having since the Saladerie ium, on the fact that the decoration of a place is essential to make us appreciate it. I was rather of the opinion that this argument is not essential during my visits to cafés, but it is true that I could not but agree with Sophie, at Café Mozart, since the location and especially the atmosphere, thanks to the decoration, will make me come-back (and not its coffee).
Moreover, located in the heart of Lausanne, on the roof of the Conservatory, I encourage you to enter through the main entrance of the Conservatory and discover its interior, which is worth the diversions, whereas you could enter directly through the terrace from St-François. It is true that if the wind had not been out, blowing, we would have taken full advantage of the outdoor space which invites you to take a break from the noise and bustle of one of the busiest places in Lausanne.
A well-hidden café but one that will make me come back to discover its menu, while listening, with pleasure, to pieces of jazz and classical or mythical music that give the place a timeless cachet.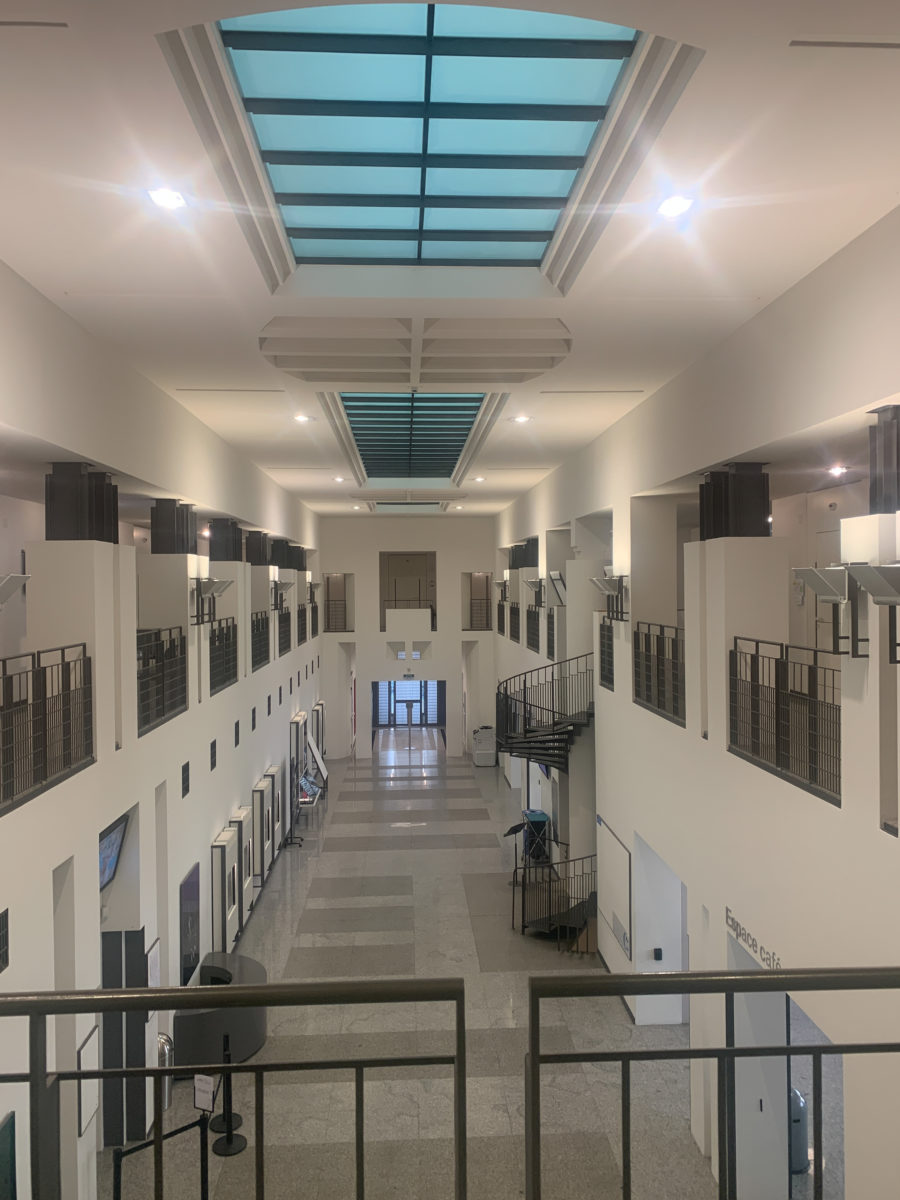 Rue de la Grotte 2
1003 Lausanne
15:30 pm – Lausanne – ça passe crème Café Balzac
The last step of our café crawl, I wanted to discover the new location of ça passe crème, an address I have been fond of for a few years. Unfortunately, the space, which doesn't allow more than 10 seats, was full. After talking to one of the owners about the layout of the place (as they sell coffee, they are considered a commercial space, which is why the café is closed on Sundays, which surprised me), we went out to look for a new spot to end our day.
A few steps away is Café Balzac. This one was not on either of our two lists to test, so we decided to go there for lack of space at ça passe crème. And it was a nice discovery, eclectic in its decoration (mosaic of exotic, even oriental objects) but highly appreciable for what is offered for tasting.
Since 2000, this Lausanne branch of the Balzac Café in Morges has been chocolate, coffee, tea and restaurant parlour. At first sight, we did not understand the link between this Café, its decoration and the famous French writer, but we noticed wonderful flavours.
After some research, I discovered that Honoré de Balzac was very fond of this drink, so much so that a book appeared on this subject: The Secrets of Balzac's Historical Coffee (only in French). He even declared, according to the author of this book:
"Coffee, my ambrosia, my Hippocrene, my Cigüe"
Although its excellent reputation is based on artisanal hot chocolate, we were again no exception and left it to Norbert, the friendly and attentive manager, to concoct a coffee according to our desires. A black coffee of course, but which came from Cuba for Sophie and Santo Domingo for me, each with a touch of chocolate as an aroma.
We greatly appreciated having an expert opinion from the owner, and above all being able to smell the blend before preparation. The experience was complete and delicious, enough to keep me ready to travel and discover authentic flavours with aromas from all over the world.
Nevertheless, as I do not have a long journey planned soon, it was my taste buds that travelled for a few moments to Café Balzac. A customer, sitting at the table next to ours, seeing us discussing with Norbert about coming back one day to have a hot chocolate, kindly offered us to taste the one she had ordered to get the first idea.
The verdict: rich, tasty, unctuous but also very consistent, which could pass for a meal and perhaps bore me. However, to find out, I'll have to come back. A chocolate crawl is coming up.
Boulevard de Grancy 49
1006 Lausanne
What about you, have you undertaken such an experience, a café crawl? Don't hesitate to tell me about it in the comments.
Furthermore, below, I end this post with my non-exhaustive list of cafés that I like in Lausanne. Naturally, knowing me, it will grow in view of the richness of Lausanne in this respect. So, if you fancy a little rocket fuel one of these days, please drop me a note!