« What an adventure!», is the last line of the film That Man from Rio (L'homme de Rio in French), which cradled my childhood and which perfectly describes my thoughts in memories of my trip to Brazil.
That Man from Rio is a French-Italian film released in 1964 and directed by Philippe de Broca. Adrien Dufourquet is on a one-week leave during his military service. He is looking forward to meeting his fiancée Agnès Villermosa, the daughter of an eminent archaeologist, who participated in the discovery of ancient Amazonian statues. However, one of them disappeared in the Musée de l'Homme in Paris, and a few minutes later its owner and director, professor Catalan, was kidnapped. Having no idea what was going on, Adrien joined Agnès at her home but later witnessed her abduction. Never losing track of her and armed with all his courage, Adrien sets off in pursuit of his beloved to the heart of the Amazonian forest.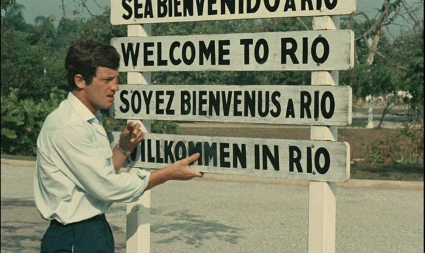 In addition to a tintinophile film synopsis, the acting and the lines intermingle with the wonderful Brazilian landscapes that are well highlighted by the director. This film is, in my opinion, a little gem far from the whimsical films of our generation with great special effects (besides, the sound effects are worth their weight in gold). Jean-Paul Belmondo, Adrien's interpreter, is absolutely perfect in this reckless role for the beautiful eyes of his sweetheart, the irresistible and crunchy troublemaker Françoise Dorléac.
Since watching this film a few years ago, my interest in this country and particularly in Rio de Janeiro has grown through my imagination. Through Adrien's adventures, I imagined myself exploring this country, dancing the samba until the end of the night and basking on the Copacabana beach.
Wishing to explore these lands, this dream gradually became reality when two of my friends decided to go and discover Brazil for six weeks in the footsteps of one of her family. Realizing how much I wanted to go there and make a part of this beautiful journey with them, I proposed to join them for two weeks during the stages of Foz Do Iguaçu, Rio de Janeiro and finally São Paulo.
Here I am, a few months later in July 2017, taking the plane, so excited at the idea of returning to South America, this continent full of wonders, and to meet my two friends, already in Brazil for a few weeks.
We made a route that allowed me to realize two essential places on my bucket list: the Iguaçu Falls and Rio de Janeiro. Here is our itinerary :
As my friends were in Southern Mato Grosso when I arrived, I went directly to Iguaçu, where the fabulous Falls were just waiting for us. We spent two full days there so that we could observe them from both sides, from Brazil and Argentina. We also had the opportunity to go for a walk in Paraguay, but the heavy atmosphere, at least for my friends, didn't please them.
Link to the article on the Falls
Link to the article on the Triple Frontier
Then we flew to Rio de Janeiro, the stage I absolutely didn't want to miss! If I came to Brazil, it was particularly to visit the cidade maravilhosa. Three full days there were clearly not enough to explore this city that has so much to offer.
Finally, we took a night bus to the economic capital of the country São Paulo to spend six days there with my friend's family. Dubious at first to spend as much time in this metropolis as in Rio, it was, on the contrary, incredible to live with locals and discover the surroundings through their eyes. This trip was a real discovery that reinforced my attachment to Latin America which, in my opinion, is the continent that has the most to offer both culturally and in terms of landscapes. I will give you more details about our stages soon. In the meantime, you can go and have a look at the Brazilian clichés that I have tried to dissect.