Although not fading away immediately, the tears of the 2004 tsunami and particularly of the civil war which will have caused thousands of deaths until 2009 have calmed down and dried up so that Sri Lanka can start smiling again and above all open up to tourism. Nearly 10 years after the declaration of the end of the war, this small country has become a fashionable destination that travellers love since Sri Lanka was crowned "major destination" for Asia and "best adventure destination" in 2017 by the World Travel Awards in the Asia & Australasia category.
So it was not innocently that I ventured into these faraway lands. Firstly, with the accounts of several of my friends who had spent holidays there, this island, formerly called Ceylon, seemed to have a lot to offer, and in particular, would allow me to spend a stay filled with adventure and relaxation. Besides, I had never set foot in Asia.
Asia is a continent that at first sight does not really attract me. In fact, you evoke with me South America or Europe and I am already looking at the flights, my bank account and my availability to fly to these destinations that amaze me, whereas when you mention Asia, my heart doesn't make as much excitement. It is true that the Asian culture and its landscapes, although so rich, have always attracted me the least. So, I also had hope when planning to go to Sri Lanka, to discover and why not fall in love with this part of the world.
VERDICT ?
I clearly loved Sri Lanka, I had a great time there with my friend Nath and the scenery was beautiful. However, when people ask me how was the trip and how I felt in this country, I am less enthusiastic, and my eyes don't light up as much as when I mention Brazil, Italy or Canada, countries and cultures that fascinate me and whose adventures are unforgettable. The country's energy just doesn't vibrate with mine. I absolutely must explore other corners of this part of the continent which, despite everything, offers travel opportunities that seem quite memorable to me (see my bucket list)!
Apart from that, I will tell you more in this article about our itinerary and the transportation we used.
ITINERARY
As we had only two weeks to explore the island, we decided to plan an itinerary in advance, as soon as we bought the plane tickets that we had bought only a month and a half before departure. Being sporty and loving nature and particularly animals, it was therefore logical that we chose the central and southern part of Ceylon, which allowed us to explore as many places as possible in a short time and to go on nice hikes. The north, as well as the east of the country, also looked very fascinating but this will be the subject of a new trip.
Our itinerary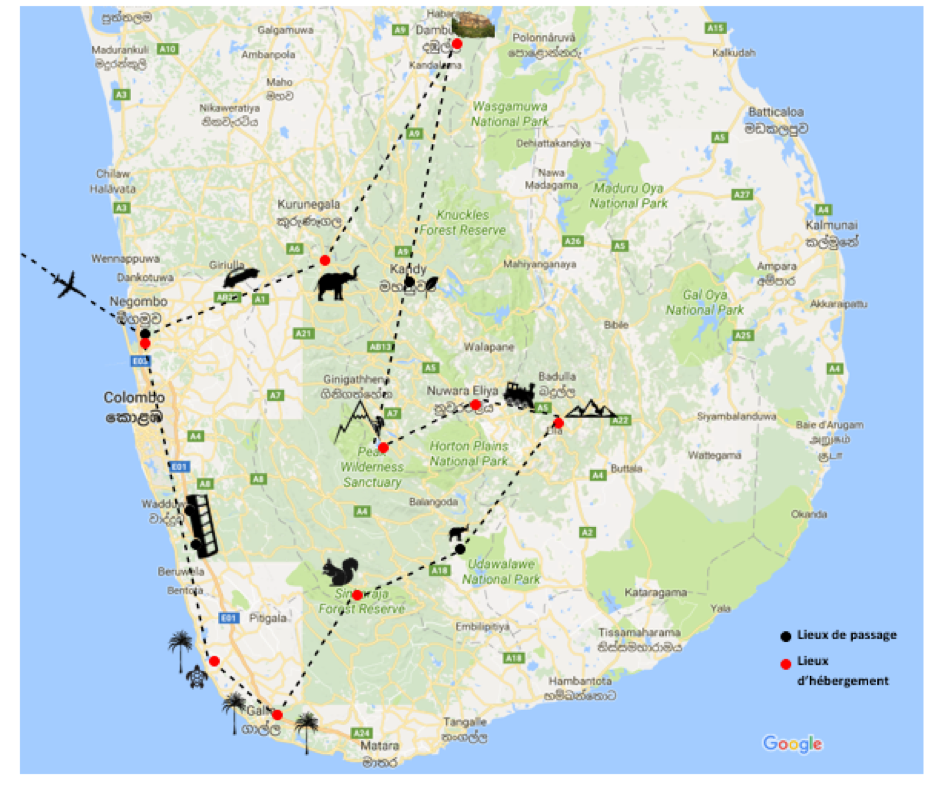 A few steps will soon be the subject of a separate article in order to better inform you and better explain our adventures.
STOP 1 – PINNAWALA ELEPHANT ORPHANAGE – 1 NIGHT
As soon as we arrive at the airport around 10 am, we meet our driver Nimal who will accompany us to Ella. We also drive directly to the elephant orphanage in Pinnawala, about 70 kilometres away, where we get our first impressions of the country and learn as much as we can from Nimal.
When we read about it on the internet before the trip, this place seemed to us a suitable environment to admire elephants since tourists cannot ride elephants there! However, the orphanage didn't seem as idyllic as we had expected. You can read my impressions of this place here.
We also discovered one of the branches of the Glenloch tea factory, which is about 100 metres from the orphanage. It was a wonderful discovery, to be able to learn about the making of tea from stem to cup. There are many tea factories to visit on the island, but we chose to make our visit to this one. I highly recommend a stop at one of these factories to understand the process of tea making. Very fascinating.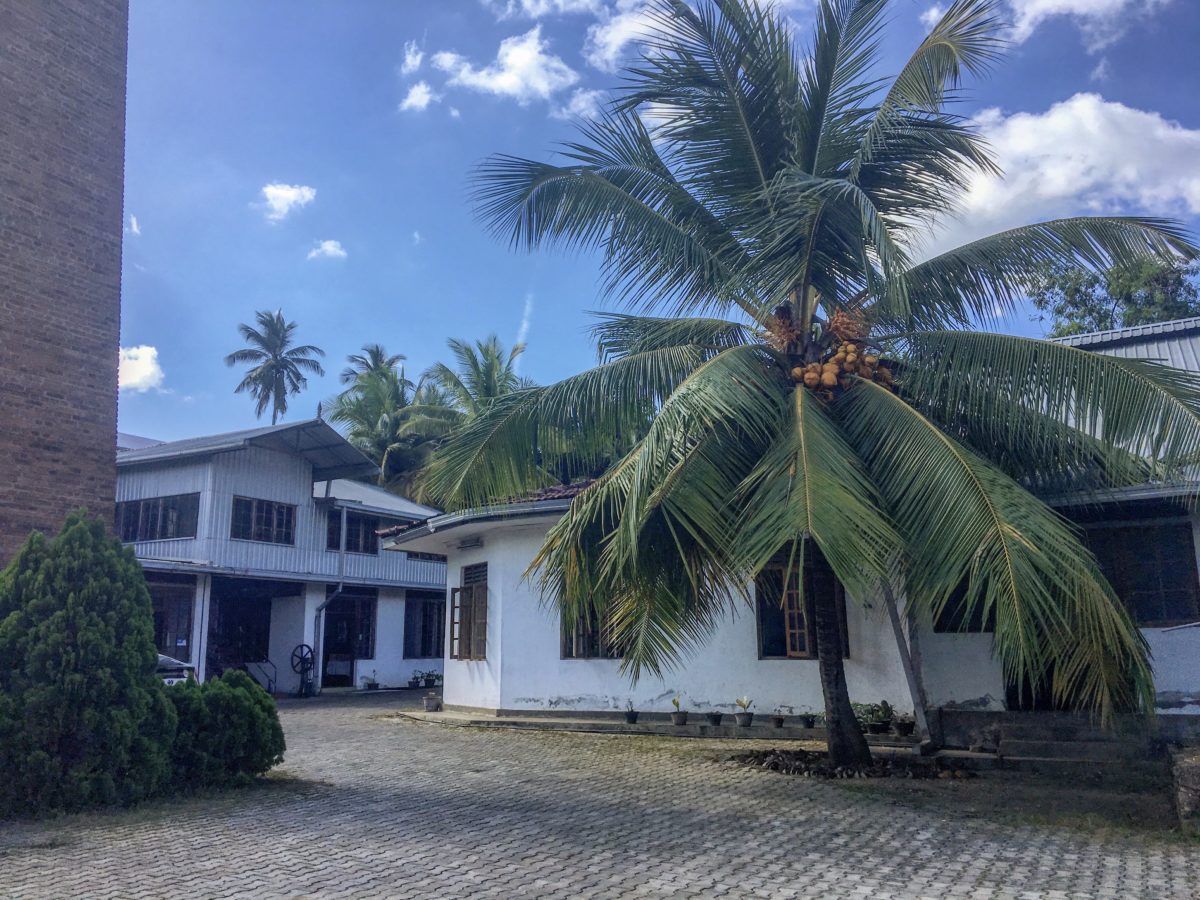 This is not the main tea factory of the Glenloch company in Sri Lanka, but in addition to making tea, they also have a nice garden with lots of fruit.
Having already forgotten all the steps of the tea making process, I leave you below two excellent articles (both in French), the first of which also talks about the living conditions of the tea pickers:
STOP 2 – SIGIRÎYA – 2 nights
We then head for Sigirîya, our most northerly and most fascinating stage in terms of the country's history. The Lion's Rock is the major archaeological site on the island (the only one we will make of the trip) and one of the most amazing landscapes I have ever had the opportunity to admire. It is clearly a place not to be missed despite its fairly high price ($30).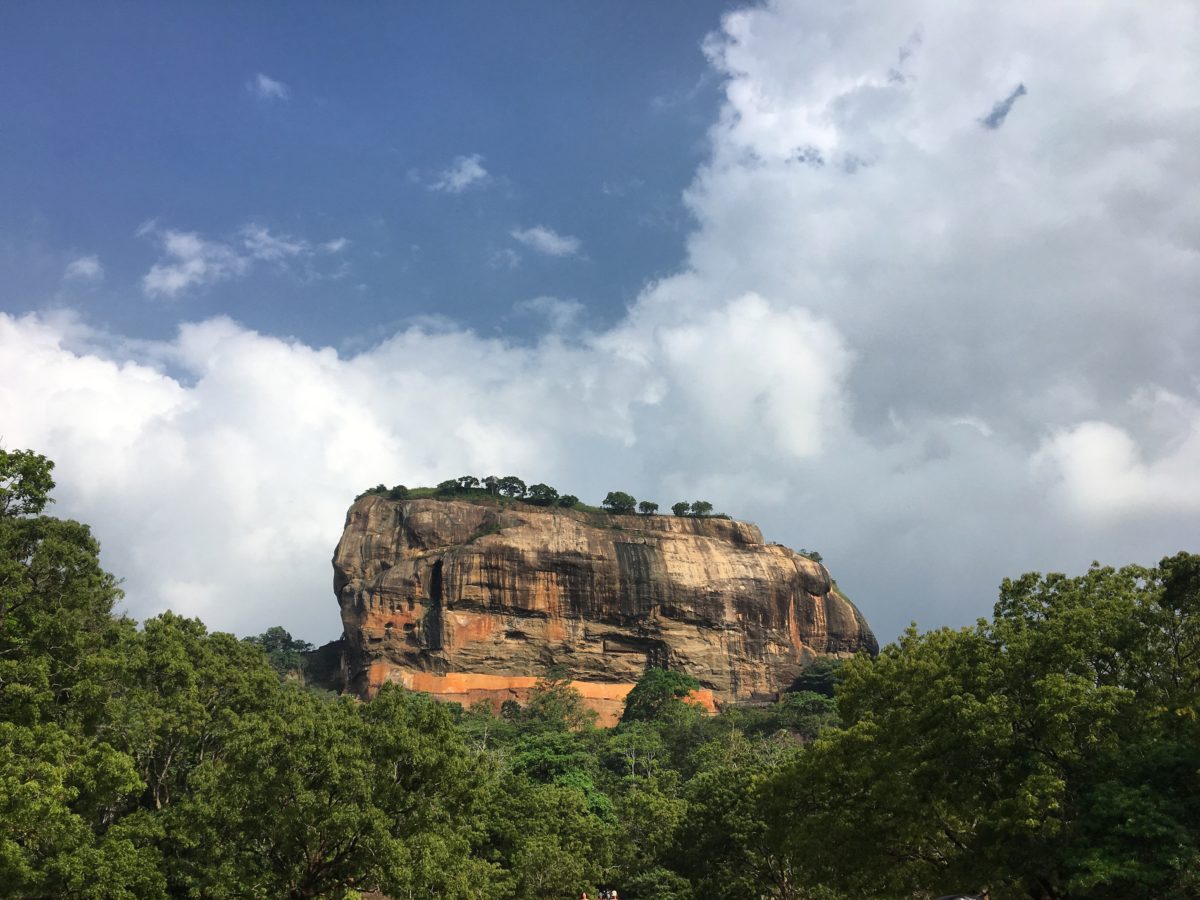 At the top of the rock, there is a breathtaking view of the surrounding area.
Sunset from the top, the sky was beautiful.
This stage also allowed us to watch the sunrise on the site of Sirigîya from Mount Pidurangala, but unfortunately, the somewhat mystical and foggy weather that day didn't allow us to attend the expected show.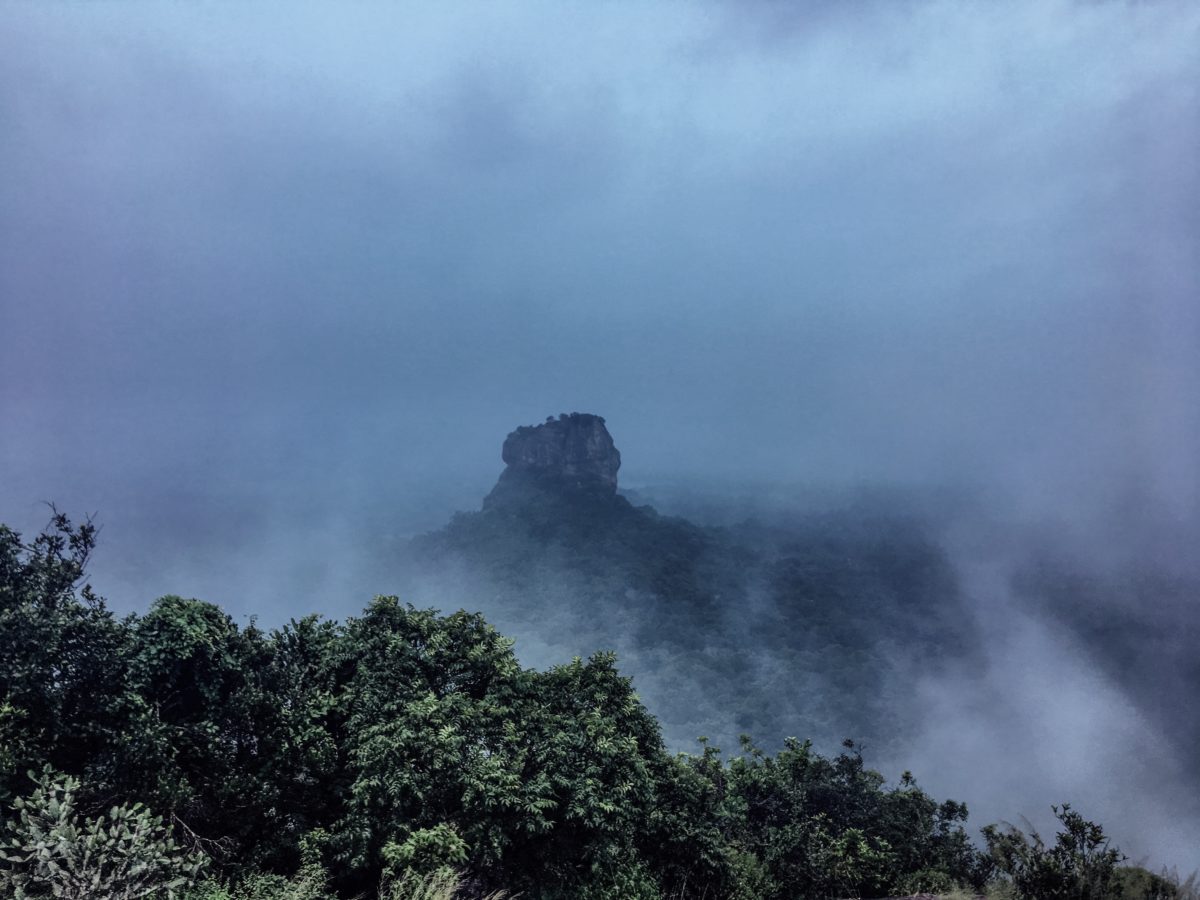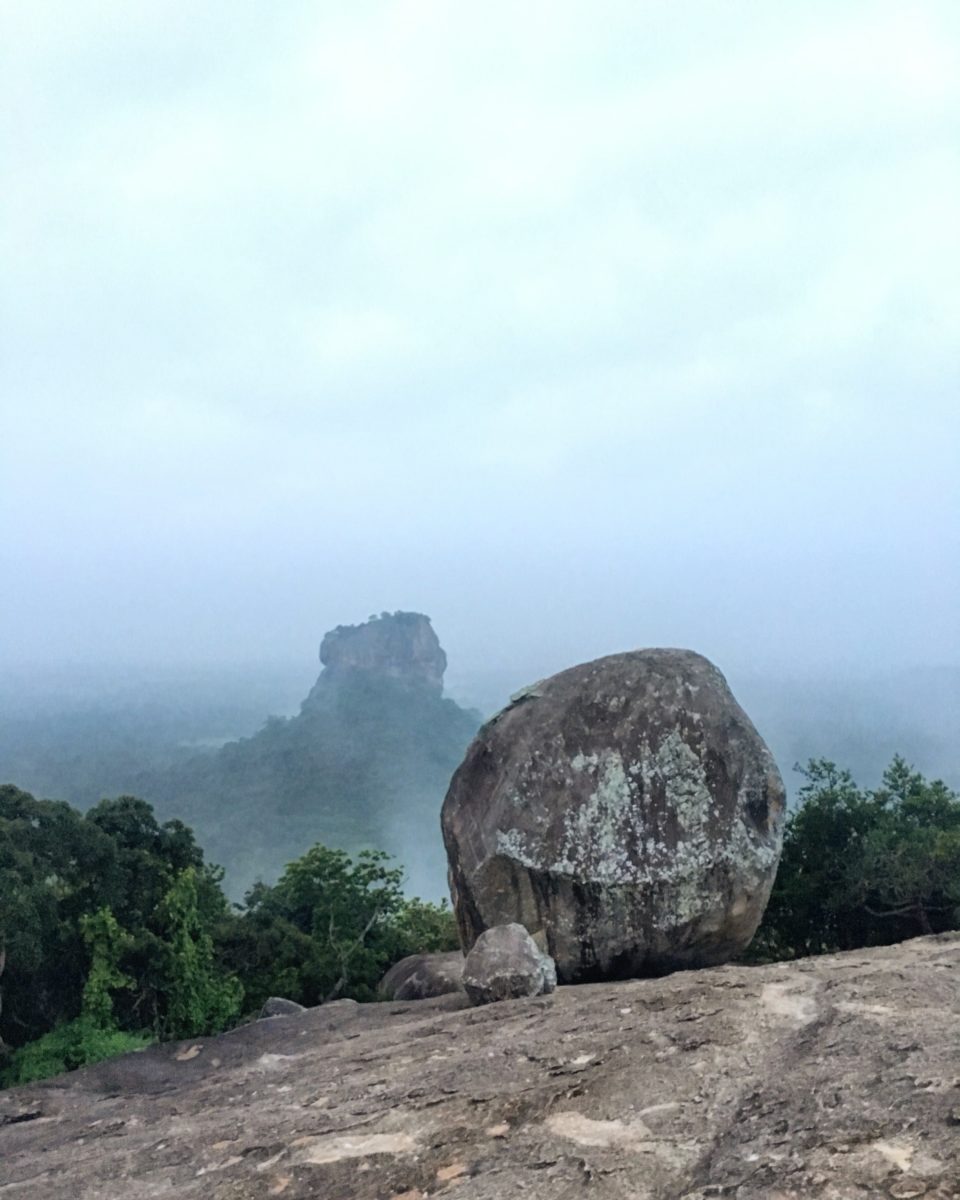 We also discovered the Sri Lankan friendliness of the family in which we were staying, which we highly recommend. It is the Sigiriya Paradise Inn Guest House.
And we discovered the local cuisine with a multitude of flavours, mostly spicy but delicious. It was also the occasion to taste the famous local beer, the Lion's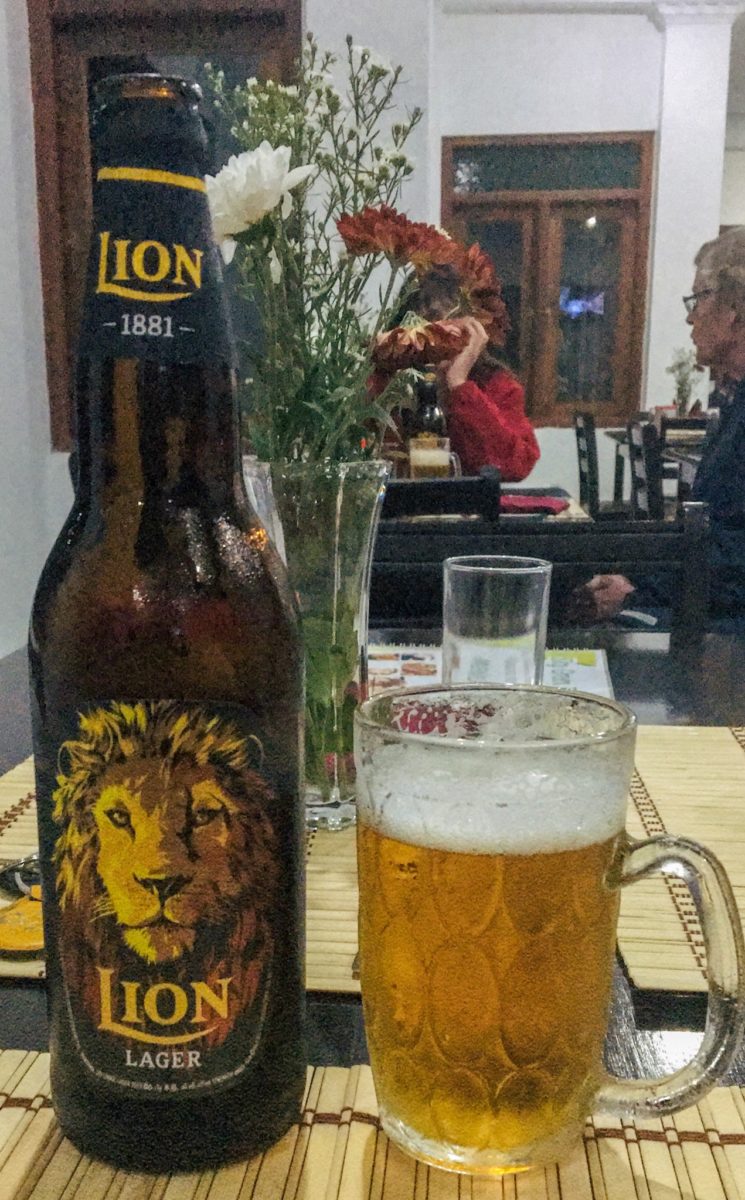 STOP 3 – ADAM'S PEAK – 1 night
Basically, we were not supposed to spend the night in Nallathanniya but in Kandy in order to take the famous train to Nuwara Eliya. However, our driver explained to us that our itinerary, i.e. to go from Nuwara Eliya to Adam's Peak and climb the mountain to see the sunrise at the top, was absolutely not feasible in one morning.
As a result, we have changed our route. On this one, we stopped at a spice garden to discover the benefits of plants (incredible but less for the wallet since these products are quite expensive. You have to be careful with the spice gardens you visit as they are often scams).
We have tested various products, which were revolutionary on the first try. However, in the long term, these kinds of products do not work, so I advise you to simply learn about plants and their benefits but avoid the souvenir shop where the products are expensive.
Afterwards, we went to the Peradeniya Botanical Garden, reputed to be one of the most beautiful in Asia. It was a lovely afternoon spent in this haven of nature. I recommend it, in particular for its impressive palm tree avenue.
If you are interested in the story of the ascent of Adam's Peak, please click here. It is by far the most difficult ascent I have ever done but also the one whose memories will remain engraved for a long time.
STOP 4 – NUWARA ELIYA – 1 night
From Nallathanniya, we drove the famous road from Colombo to Nuwara Eliya, the highest town in the country. This road winds through beautiful green tea plantation hills, where many factories with British names, a legacy of the colonial era, can be visited! Each bend reveals new panoramas even more beautiful than the previous ones: villages perched in the mountains, rivers, eucalyptus forests, etc.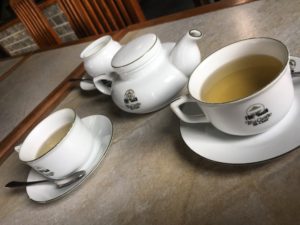 This manor is famous all over Sri Lanka! The tea was delicious. During the trip, we stopped for a cup of tea at the famous "Scottish manor" Mlesna Tea Castel St Clair. We also visited the tiny museum about the area which mainly explains the energy input of the water from the spectacular waterfalls that highlight this attractive landscape.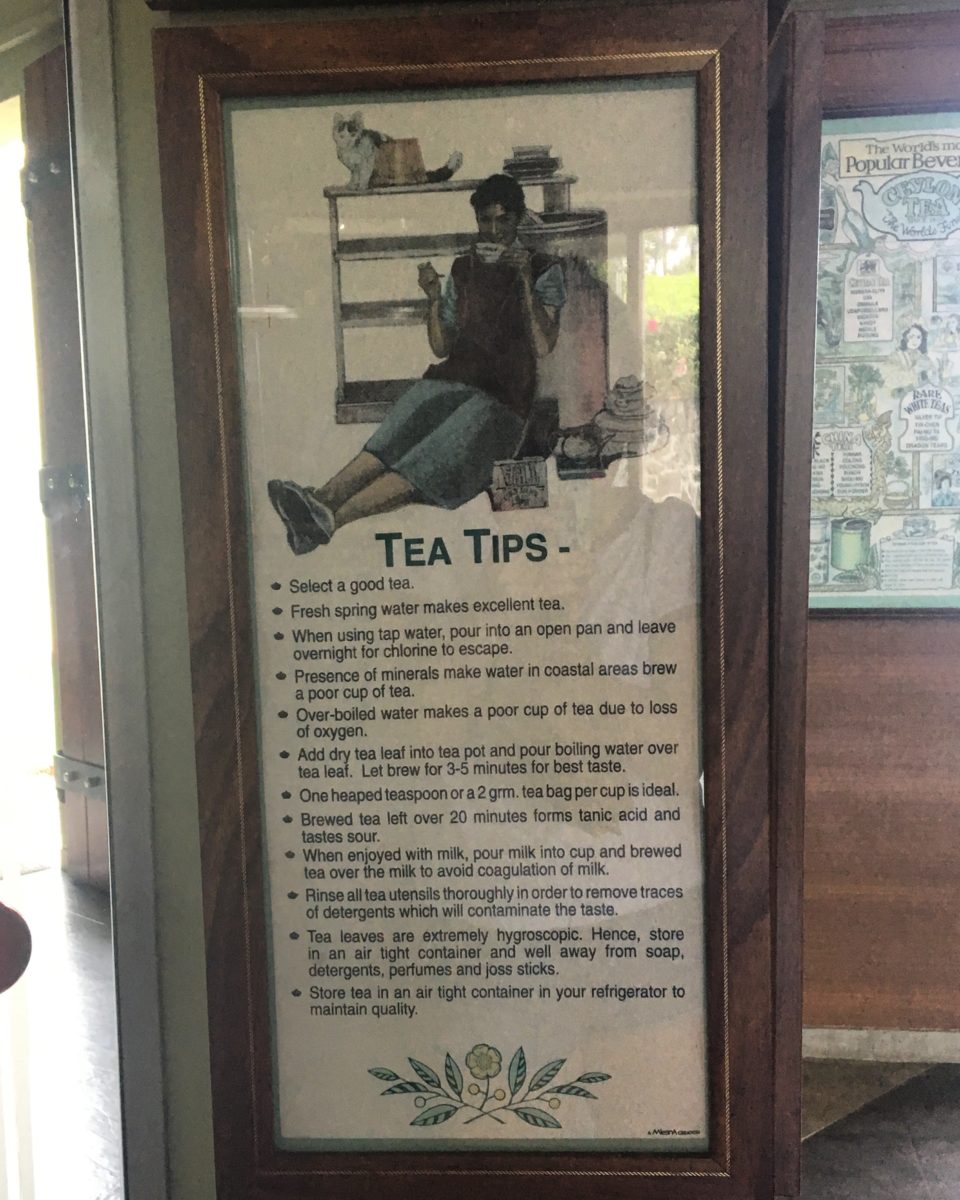 We spent the night in Nuwara Eliya, a town located at 1'900 meters. Nicknamed "Little England", it was created by the British colonists who, seduced by the cool climate, settled there in the 19th century. It is not a town of any real interest, it is intriguing to drive through it, to immerse yourself in the buildings of the colonial period, its golf course, its racecourse and its red telephone boxes, which are all so British symbols. It's agreeable, but it's clearly not worth a longer stop.
It was at this stage of the journey that we left our driver Nimal to take the train to Ella. The station is 5 kilometres from Nuwara Eliya and is called Nanu Oya. If there was one thing I really wanted to do in the area, it was to take the train that runs through the green hills of the island.
STOP 5 – ELLA – 3 nights
I fell in love with this area, it is clearly the stage I preferred. It was in Ella that we spent New Year's Eve but above all where we met some engaging people among the travellers on the road in Sri Lanka. The atmosphere was conducive to relaxation among backpackers but above all favourable to spectacular hikes, the details of which I will reveal to you soon.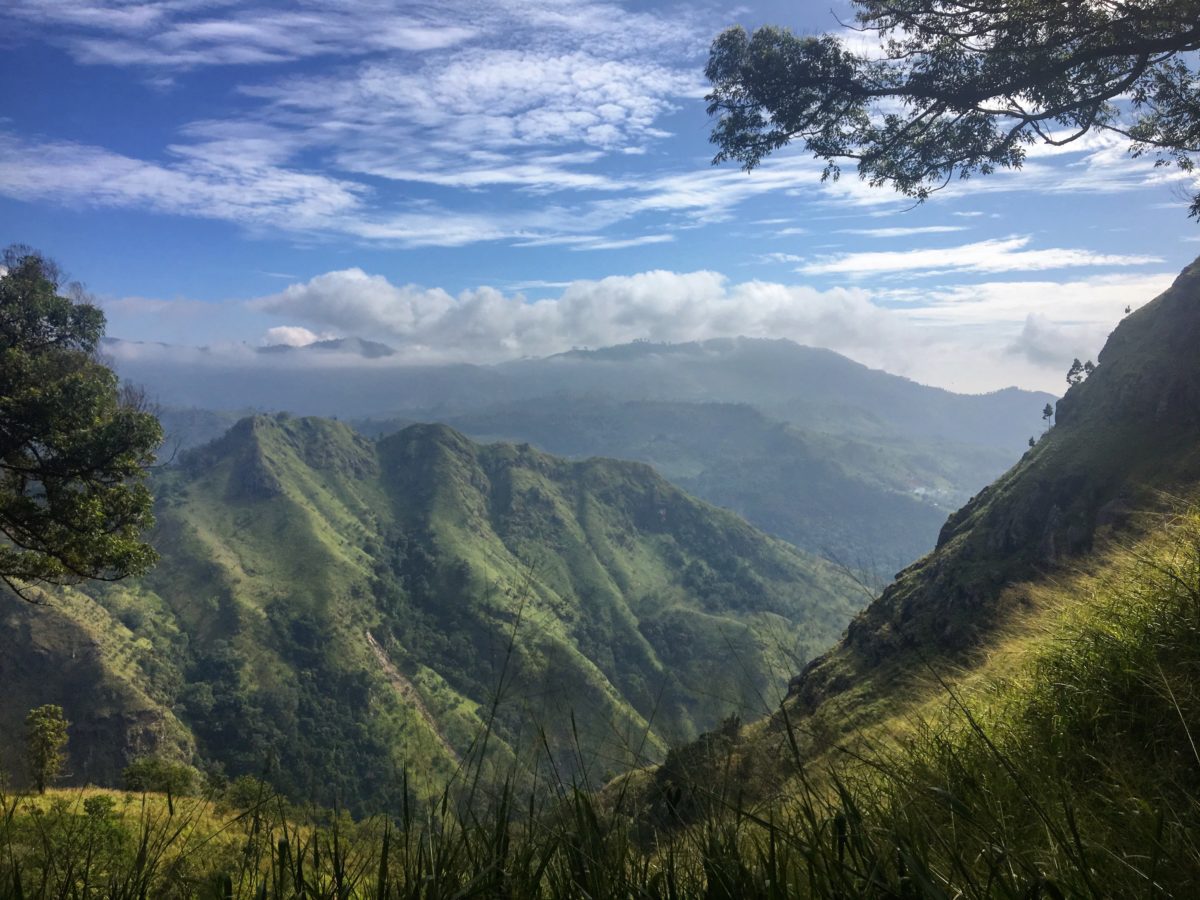 We hired a new driver to take us to Sinharaja. On the way, we stopped at the Elephant Transit Home, which takes in, cares for and feeds orphaned and abandoned baby elephants in the Uda Walawe National Park. It was an unplanned stop on our itinerary which made it an enriching experience to observe these adorable little mammals in an environment suitable for the protection of this animal. I talk about it in more detail in the article on Pinnawala here.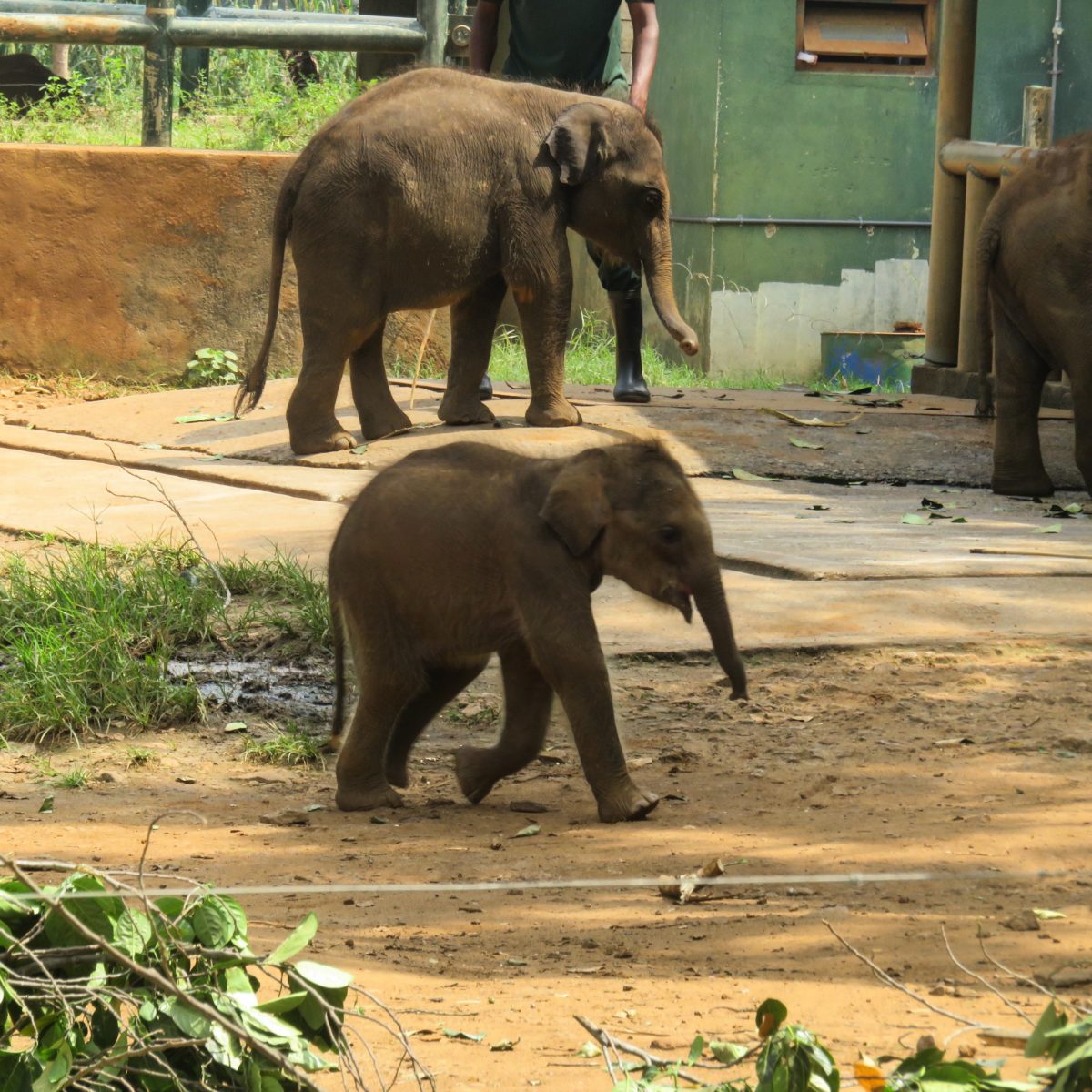 STOP 6 – SINHARAJA FOREST RESERVE – 1 night
This is the last witness of the primary virgin forest that covered the island before the arrival of the explorers. We did a guided hike, as it is the only way to get there. Overcoming, well let's say, putting aside my fear of small animals (please note that there, they are absolutely not small!), it was the opportunity to observe the primitive Sri Lankan flora. We met human beings from various horizons, thus forming an excellent team for this hike.
I spare you the pictures of less photogenic animals, such as large spiders or other scary looking insects. Just glancing at the pictures taken of them, I shudder and wonder how I managed to get so close!
STOP 7 – UNAWATUNA – 3 nights
Finally, we head for the beach and a little rest before returning to the grey Swiss winter. We chose the town of Unawatuna to enjoy the sunshine on the coast for a few days. Very popular with tourists, the bay is home to many restaurants on the beach and several activities are available.
One morning, we went to Galle, the old Dutch colonial city which was a real pleasure to discover. Listed as a World Heritage Site by UNESCO, it is pleasant to stroll through its narrow streets with shops for all tastes and prices but also nice cafés.
STOP 8 – HIKKADUWA – 2 nights
Last stop before heading to the airport, we made our way to a splendid spa hotel, run by a young Italian, twenty minutes by tuk-tuk from Hikkaduwa village centre. We took advantage of the place to rest but also to explore the underwater world as this spot is quite famous for snorkelling.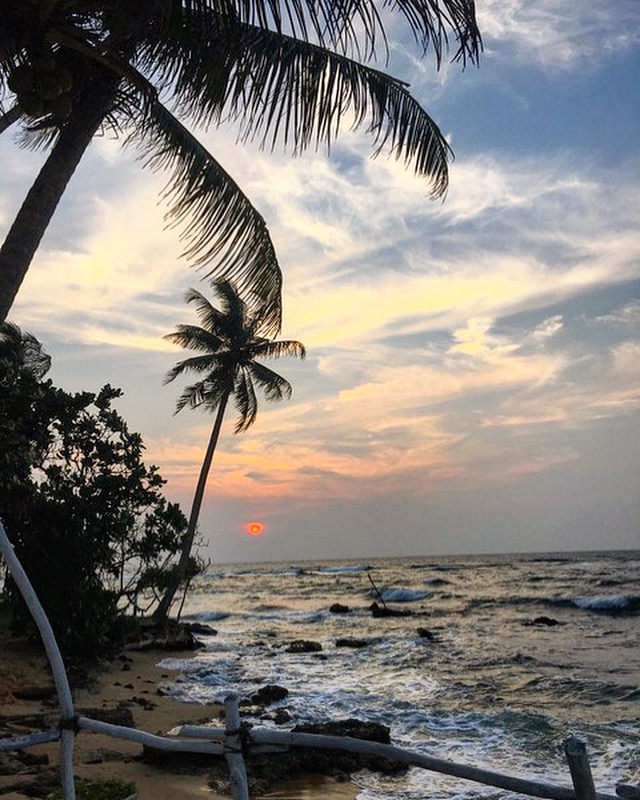 Besides, it was my first experience of such an activity and I will remember it for a long time after a few misadventures. I would therefore advise you to use a small pirogue to get away from the shoreline and return safely to the beach. The waves can become rough and mostly make you drift south where a nasty reef is positioned with many sea urchins (venomous in this part of the world) just before the beach…
After this somewhat stressful start to the day, we decided to experience the Ayurvedic services, a Sri Lankan and Indian tradition, in our hotel. An energetic body massage always feels good and helps you to relax, but we were not completely enchanted and came out more disappointed than zen.
STOP 9 – NEGOMBO (airport) – 1 night
We had chosen a hotel two kilometres from the airport as our flight left at 4 am. However, we still ventured into the pretty town of Negombo to spend our last evening there with a group of French friends we had met in Nuwara Eliya and whom we had met again and again during our stopovers. Negombo is ideally situated next to the airport and is a welcome stopover just before taking the plane.
MEANS OF TRANSPORT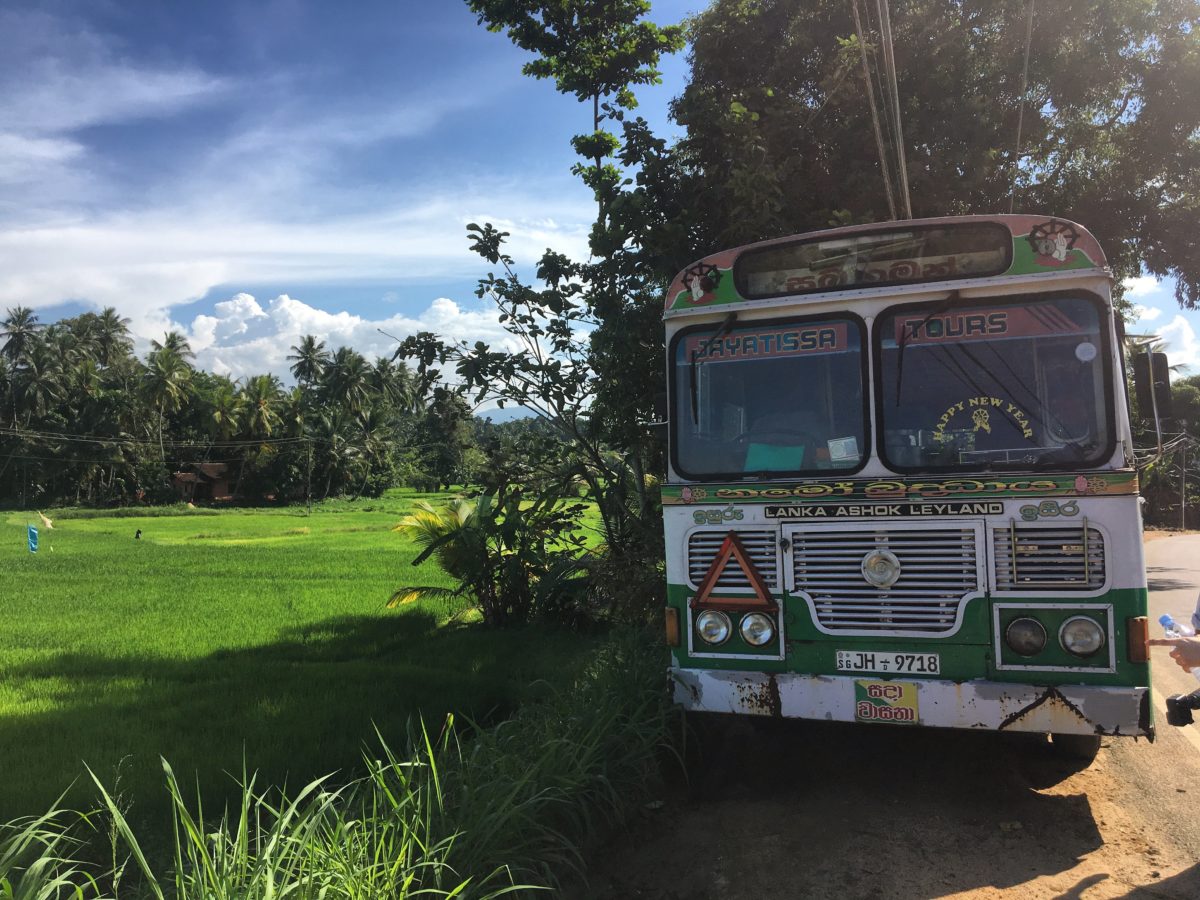 THE PRIVATE DRIVER
A week before leaving, we realized that for the itinerary we had planned, it was a good idea to hire a car, i.e. a private driver.
So we looked for a reliable and not too expensive driver agency. Since we were travelling during the Christmas and New Year period, most agencies were booked months in advance. Nevertheless, we finally found the Sanota Walkers agency with which we were able to complete half of our trip with Nimal.
Frankly, this is a guarantee of good comfort and well-deserved peace of mind. Moreover, we came across a friendly and decent driver. However, he was expecting to drive a couple, so he was surprised to encounter a pair of young women, 20 years old each, fresh out of the Swiss cold, which confused him a bit. In fact, it is not frequent for him to see our "type" of travellers, backpackers, and with our own wills and desires whereas he obviously deals more often with families or couples.
Thus, during a few days at his side, he taught us a lot about the country, its habits, its culture and its mentality, and we shared some precious moments. Despite this, we also experienced some absurd conversations, primarily because we clearly do not share the same vision of life.
I strongly recommend that you hire a private driver, as this allowed us to discover places not mentioned in the guides and which are absolutely incredible. However, I would strongly advise you to agree on the price and the services offered!
We had a problem with this agency because at the very beginning, and following what we had specified by email, they made a mistake with our reservation. Although English is a national language, they don't understand it as soon as it goes beyond the basics. So we had "booked" our driver for 10 days (which was good value for money) but a mistake on their part, which led to a misunderstanding with us, meant that we lost 3 days with him. We subsequently tried to claim compensation, but it was a lost cause, they never went into question regarding any reimbursement and simply apologised for the inconvenience caused… As a result, we highly recommend Nimal, our driver, you will find his contact details below, but avoid going through the unreliable agency.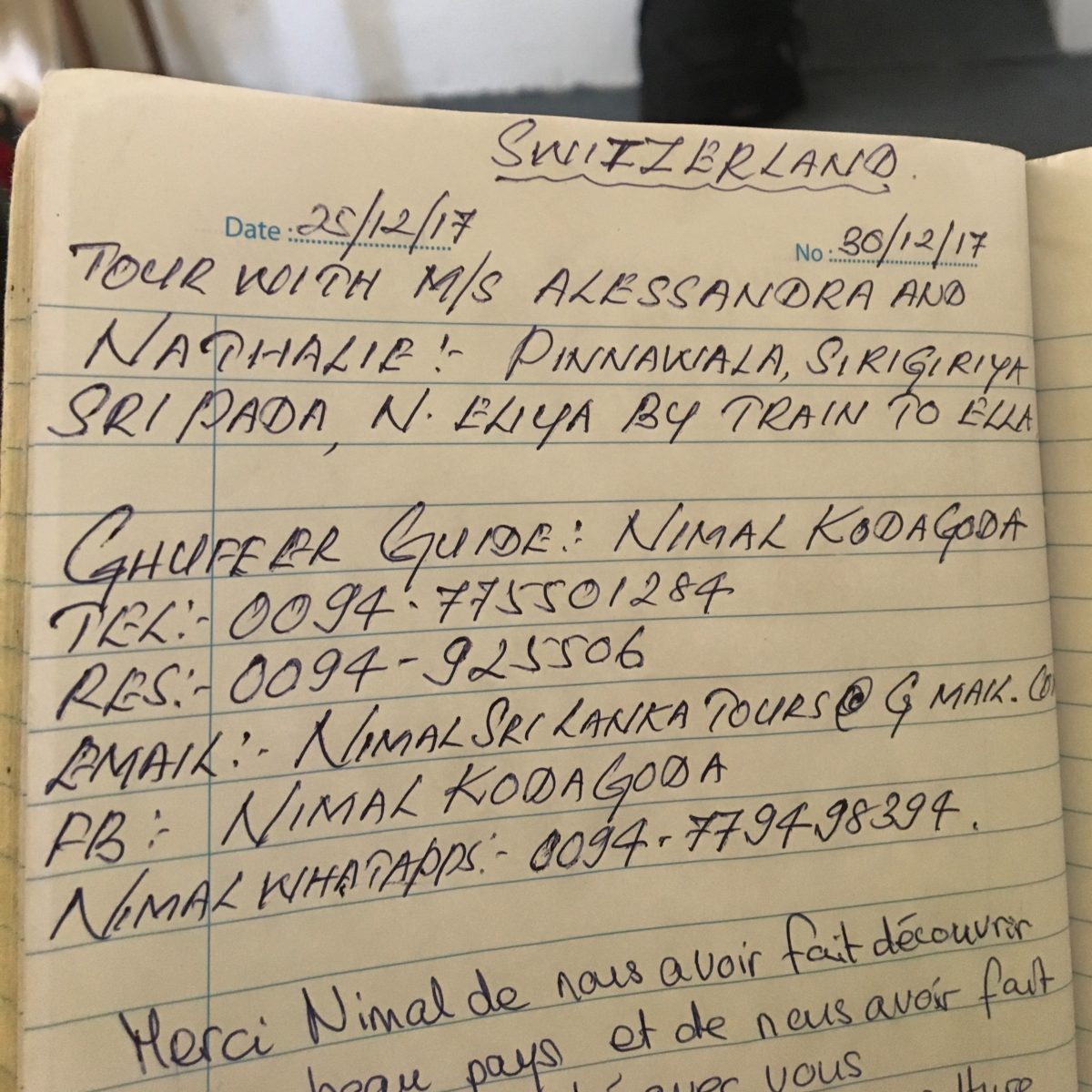 In addition, it is necessary to take into account that when you travel with a driver, he is not with you all the time, as he lets you eat, sleep and explore on your own. You are almost free. In fact, Nimal was really surprised when we offered him to sit with us and even eat together, which is unusual for drivers who are used to Middle Eastern tourists, less eager to share with them (according to him).
Trained in the English style, these drivers are proud and like to do things on their own. However, they still have a role in society of lesser importance, as attested when we invited him to eat at the restaurant with us, to sit at our table since it was our last evening together, and the waitress only gave Nath and I the menu and never laid eyes on Nimal… and I skipped over the wrong order for him when we asked her to take care of him too.
He is a big boy, and he knows how to defend himself but it really saddened us to see that being a driver in Sri Lanka is not a job that is well recognised by the people, even denigrated, while the conditions can sometimes be demanding (dirty dormitories to sleep in, no opportunity to have breakfast, etc.) and that during the tourist season, they don't see their family for long weeks, that's why we let him come back a day earlier so that he could see his family before starting a tour with other travellers.
BUS
Since we were without a driver sooner than expected, we fell back on the bus, which is the most used means of transport on the island. And how FUN it was! I absolutely loved travelling by bus, although my friends had advised me not to take it because of the way it was driven.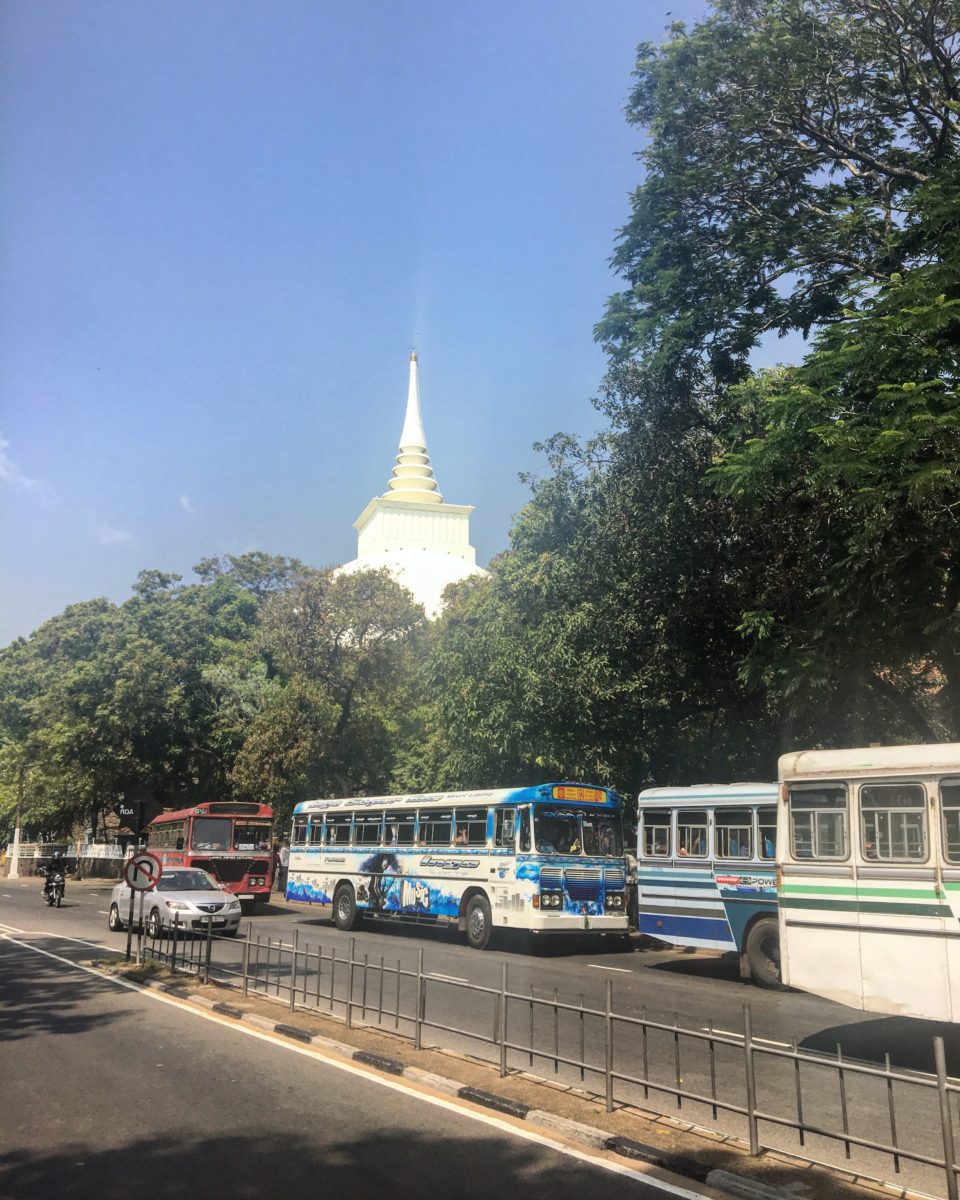 The advantage of the bus is that on the road, as you are the biggest, you feel safer.
Zigzagging in all directions, we shiver with excitement and fear when the bus decides to overtake an unfortunate tuk tuk-tuk, which itself overtakes another vehicle and another bus arrives in front of it… We decide to focus on the landscape rather than on the driver's skills who honks his horn at everything. In its guide (French one), Le Routard states: "coach drivers are embarking on a real competitive slalom and often seem to want to transform their rickety vehicles into collective coffins". Reading this, the interest in taking the bus automatically decreases, but the experience is really not that bad, and a bit of adrenaline is always welcome.
In fact, I will keep an unforgettable memory of our trip back to the capital, sitting at the open window, listening to music with my hair blowing in the wind, surrounded on my left by beautiful beaches and the ocean and on my right by the lush nature of the island. Or how to feel the good vibes of a country and feel completely integrated.
Apart from the adrenaline of arriving safely, what I really enjoyed is that taking the bus in Sri Lanka is a great way to share a taste of Sri Lankan life. Effigies and amulets of Buddha and other gods on all sides, the inside of the bus is heavily decorated! Local music is played, and above all, we share a moment with locals who look at us and want to talk to us in a friendly way. Most of the locals use this means of transport to get around, as attested by the young children we met at the botanical garden of Kandy who, when we asked them how they had come to the garden, a young person of the group declared: " by TATA ", in reference to buses of the TATA company.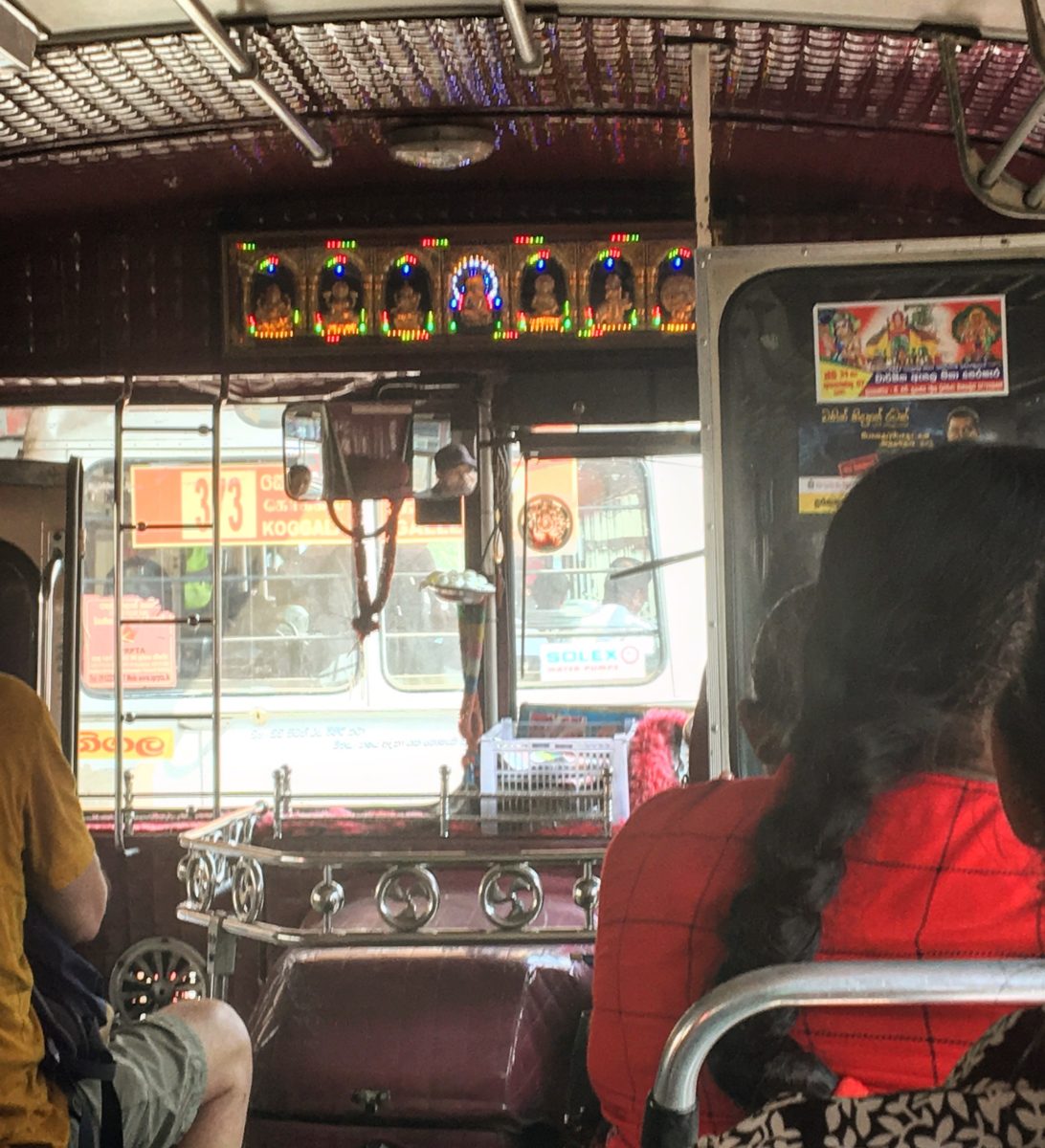 More unpleasant experiences can, of course, occur, as witnessed by the accounts of women we met on this trip, but we have never experienced serious problems, nor have we been greatly inconvenienced (heavy looks and somewhat obscene gestures are still frequent, but not enough to cause us fear, just anger and disgust).
The ultimate advantage of the bus is its price! Five hours on the bus for about 120 rupees or 70 cents is absolutely incredible. For that, you have to make a distinction between the buses as two companies are operating in the country, one private and one governmental, which will differ in price (by a few cents) but particularly in the stops. It is necessary to inquire on the spot!
IN TUK-TUK
This is the best means of transport when travelling short distances or when your hotels are off-centre. We remember our first trip with one of them… frankly we thought we'd never make it to our accommodation! Then you get used to it and short distances can become pleasant as the landscape opens up to you on both sides of the vehicle.
We even came across a couple of travellers who had rented and were driving around in tuk-tuks all over Sri Lanka, something we could hardly imagine but which can be super useful. Moreover, most locals have a tuk-tuk to get around and can sometimes transport their large family (technically, there is space for 3 in the back, but we saw whole families crammed into it.
On the other hand, a few tips :
Negotiate! Before getting into the tuk-tuk, always ask for the price of the ride, in particular, if you are in a very touristic place where a lot of drivers are waiting for you and will ask you an astronomical amount (well, it's a ridiculous price but because we are tourists and women… they charge much more). If the negotiation is stagnating, go to the competition, and maybe it will unblock the situation, or make it worse, it depends, which brings me to the second point.
Avoid famous and touristic places to take a tuk-tuk! If you move a few meters away, you may find drivers who are more accessible and less focused on tourists and the lure of profit.
Make sure your driver knows where he is going and, above all, that he takes the fastest route. We spent an hour or so in a tuk-tuk recommended by our hotel in Negombo to meet our friends at their hotel on the other side of town, while on the way back another tuk-tuk brought us safely in 25 minutes, which made us miss the beautiful sunset and above all the access to the biggest swimming pool in the country, the one at the Lagoon hotel. Our first driver didn't know the hotel of our friends (one of the most famous in the area after some research), but he was only saying that he knew the place. We had to tell him to ask people in the street to make him realise that he was not in the right direction. Although he asked us to pay him for an hour's ride, needless to say, we didn't pay him what he asked for.
TRAIN
All the guides and other blogs I have consulted before our trip agree that the railway line between Kandy and Ella is among the most beautiful in the world and that it is a must-see/do. So we decided to travel the route from Kandy to Nuwara Eliya to soak up the sumptuous scenery we were promised. Following a change in our itinerary in the middle of our trip, we finally took the train from Nuwara Eliya to Ella.
I think it was one of the most exciting stages for me, and it was a disappointment for various reasons. First of all, the seats had been fully booked until the end of January (we went to the station ticket office with our driver on December 29th). As a result, those with no seats assigned, almost fight for, on the one hand, getting on the train and on the other hand, having the opportunity to find a seat or sit at the door to take pictures of the landscape. Unluckily, on our journey, we did not find a place or have the opportunity to sit at the door to admire the panorama, so we spent almost 4 hours standing with our big bags.
This is the reality of a train journey
What's more, and we couldn't have predicted this, the weather wasn't at its best. Indeed, on this day the fog had lifted and made the tea plantations and the surrounding area look dull.
Despite everything, it was still a good experience to have taken the train in Sri Lanka, mostly surrounded by travellers of all nationalities, as the locals usually travel in 3rd class (also crowded). The stations you pass through are also imbued with an atmosphere full of charm and history, and the scenery, between two windows and two rays of sunshine, is magnificent, between a mixture of rice fields, small fields, forest and of course the famous tea plantations.
There are a few tracks on the island but the most touristy route is between Kandy and Ella. From the panorama seen from the bus, I think that the route between Colombo and Galle, along the coast, is also worth the trip.
For more information on the schedule (i.e. the train will never arrive on time, 30 minutes late for us), the Seat 61 site is well documented. The official website of the Sri Lankan railways also gives a vague idea of train routes and timetables.
It was a wonderful trip, very exotic, which taught me a lot about a part of the world that is totally unknown to me. If you are planning to travel to Sri Lanka, I invite you to read the tips on the blog (only in French) Tongs et Sri Lanka. It is a real treasure of information about the country, which greatly helped us in mapping out our itinerary.
What about you? Have you ever visited Sri Lanka? Find my impressions here.