Dublin, the capital of Ireland, had long been on my list of European cities to discover. As you know, I have in mind to visit all the European capitals before I turn 30 (see bucket list) and for 2019, the only one that was discovered is Dublin. Apart from crossing this city off my list, Dublin was to be explored for two main reasons: Trinity College Library and Guinness Storehouse!
I tell you more about my adventures in the library here, as this one will talk about Guinness, my favourite beer! So, coming to Ireland and not visiting its famous brewery would be like a serious crime for any self-respecting beer lover or for anybody who wants to spend €18.50. But anyway, we decided to pay the entrance fee for the Guinness Storehouse, since I couldn't leave without having discovered the secrets of this beer and above all, I also wondered if it tasted different in Ireland, but I'll come back to that later.
I'm clearly not an expert on beers, although I try to taste some at every new destination, however at no time has another beer managed to steal my preference for Guinness. I owe this to my dear daddy who introduced me at a very young age to the benefits of beer and especially Guinness.
This beer is unique, a bit like the Irish, which are people with such a wonderful accent! It has a power of taste and aroma that leaves a bitterness so particular that it has become internationally renowned. Having built up a solid reputation all over the world, particularly through its strong advertising, I thought that visiting its factory must be a bit of a tourist trap, especially seeing the modest sum of €18.50 to pay for a visit. Despite this, discovering Guinness Storehouse was my best experience in the Irish capital, although I think you have to enjoy beer to a minimum to get the most out of the visit.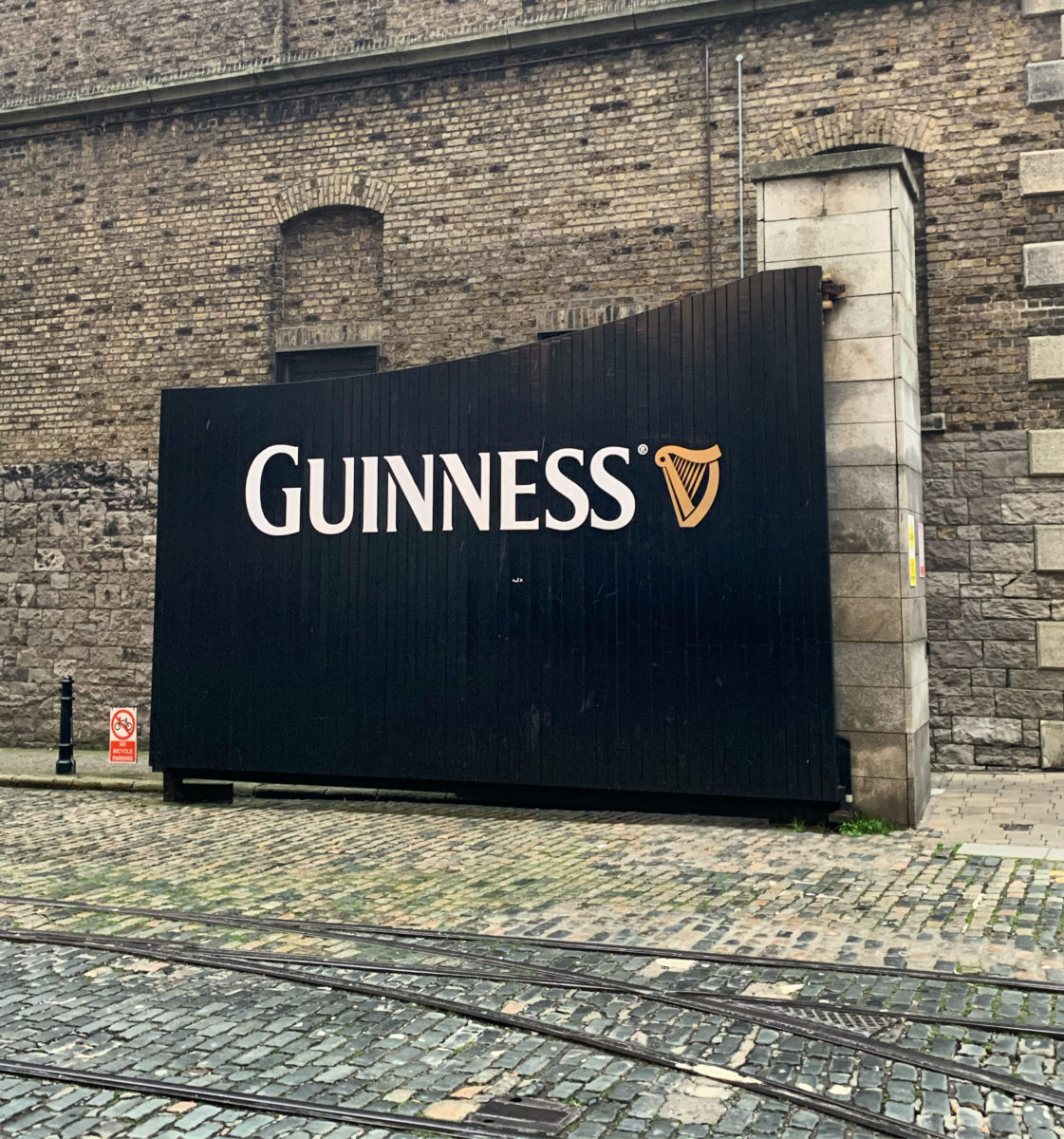 Stimulate your taste buds, information about the museum can be found below.
VISIT GUINNESS STOREHOUSE
If you want to discover the secrets of Guinness and understand how a certain but inspired Arthur Guinness managed to create such a refreshing and creamy beer, you'll need to go a little outside the centre of Dublin, specifically to this address: St James's Gate, Dublin 8, Ireland.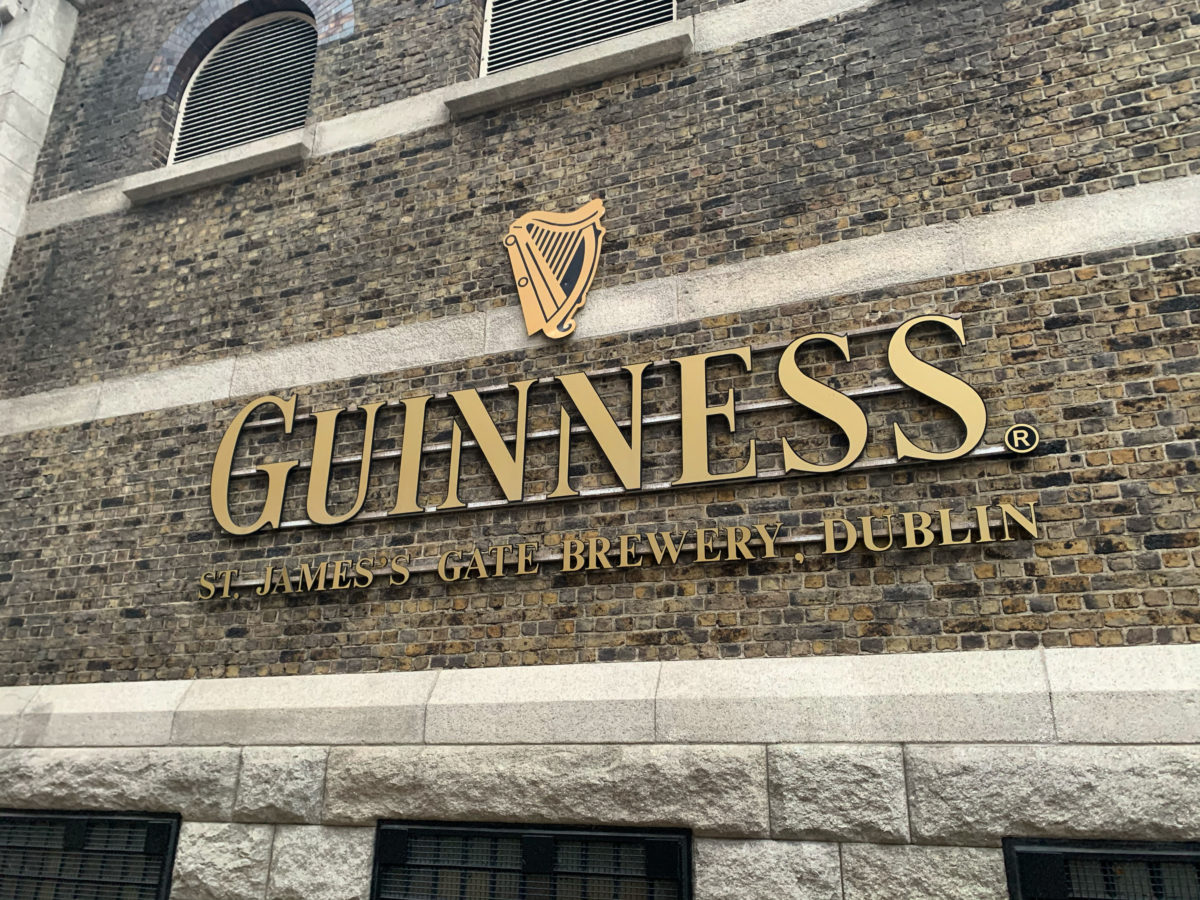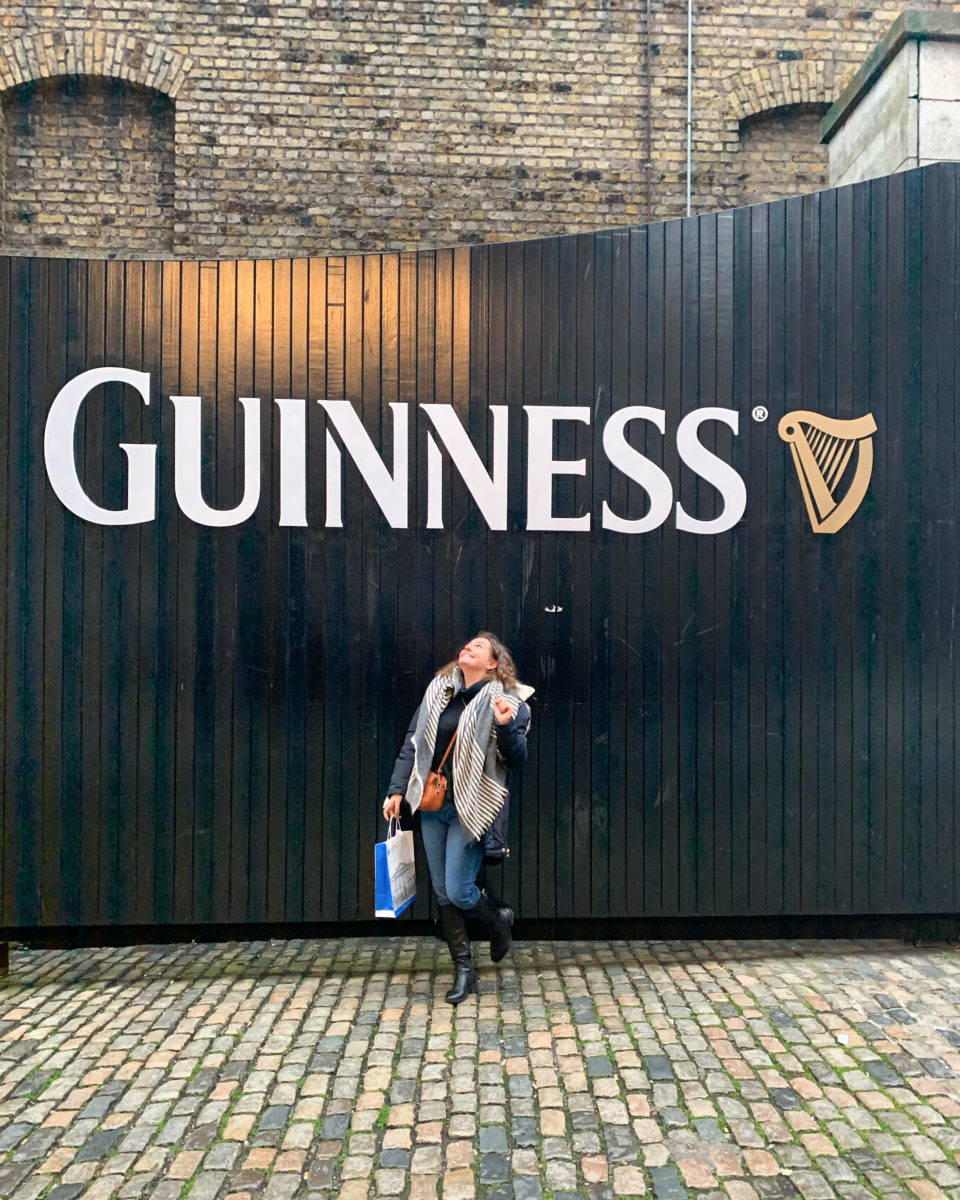 Guinness = happiness
The museum traces the history of the Irish beverage and is set next door to the legendary St James's Gate Brewery where Guinness is still brewed every day and exported throughout Ireland and the world.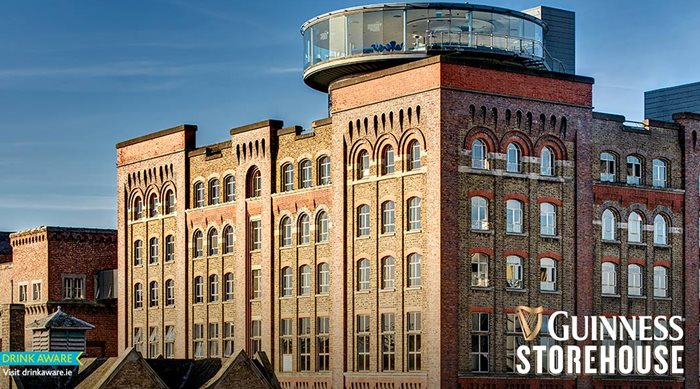 The museum has been laid out in the shape of a pint and built over 7 floors so that the visitor can learn as much as possible. So yes, this large building is impressive and imposing, but the quality of the exhibition and its layout allow for an interactive visit, despite the large crowds of tourists. Because yes, the Guinness Storehouse is the number 1 attraction on TripAdvisor and welcomes several hundred visitors every day. I therefore strongly advise you to book your tickets online (depending on the time of day, there are discounts) as well as your entry time. Their website is very well designed and allows you to see all that this museum has to offer.
We had taken our tickets in advance at €18.50 with an entry at 4.30pm where it was notified that this time slot was among the most chosen. I can't say how many people maximum are allowed per slot but at that time of day it was crowded. We had chosen this time because the visiting time was about 90 minutes, so we thought that tasting a Guinness at 6pm was a perfect way to start and then enjoy the Dublin nightlife. However, to be honest I was expecting a guided tour, but it is not the case and the tour starts right after we picked up our tickets. If you don't understand English or you don't speak the different languages offered at the animations, it is possible to take an audioguide for 2€ after passing the entrance, but please bring cash, they don't accept credit cards .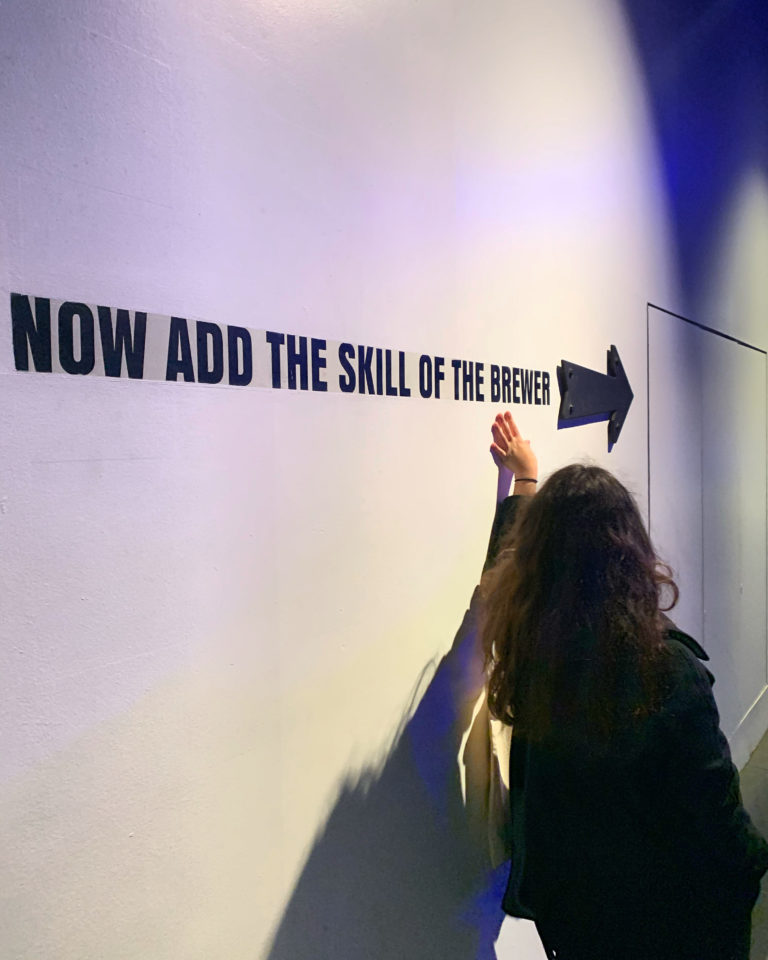 From here, let yourself be guided through the history of Guinness over 5 floors and then end up enjoying a delicious pint on the 6th or 7th floor (360° view of Dublin, however you couldn't see anything there at 6pm as the floor was so full of visitors). You won't be able to get bored in this museum ! Indeed, each floor and subject treated (manufacturing, marketing, etc.) calls upon non-standard elements and life-size reconstructions. A true modern museum where interaction, knowledge and fun mix perfectly to make the visitor happy. Although I was a bit on edge about having paid an expensive amount, in the end I came out of the factory, certainly a bit tipsy, but above all delighted with my visit.
PRODUCTION SECRETS
Nowadays, the mythical Irish beer comes in all forms, whether it is lager, red or dark beer. Yet it is the real Guinness that will be explained to you in detail in the museum. Above all, you should know that Guinness is a stout, a category of beer with a strong coffee or cocoa flavour and a dark colour. An Irish speciality, the stout origin is, however, English in origin because it is related to the porter (also a category of beer).
Guinness differs from other beers, firstly by its appearance with its thick, creamy white foam, and secondly by its strongly bitter aromas, giving it a beer with character. Guinness is also distinguished by a whole process during fermentation, which is explained in the museum.
Even though the beer-making process may seem a bit boring, except for real beer lovers, I was surprised to see how the museum makes you experience and discover it at every stage of the process, as the exhibitions are truly interactive. I had visited the Tennents Beer Factory in Glasgow a few weeks before and was already fascinated. It's amazing, in fact, to understand what happens before the beer is served or shipped all over the world.
Guinness was invented by Arthur Guinness. This Irish businessman began his brewing career by brewing Ale (a category of beer), but around the 1770s he became interested in brown beers, especially stouts, which is a name for stronger brown beers (hence the term stout, which means "strong").
Here are the 11 stages of beer, described by the Guinness brewery:
Ingredients
Grinding
Brewing
Separation
Boiling
Cooling
Fermentation
Maturation
Clarification
Packaging
Enjoy!
Water, barley, hops and yeast are the four natural ingredients, carefully selected to guarantee their quality. Each ingredient is special in itself, but when mixed according to the secret recipe, the result is simply extraordinary: Guinness. Here are 4 explanations given on these ingredients :
100,000 tones of barley grown in Ireland is used annually in the manufacture of Guinness and the beer is brewed using a combination of malted, unmalted and roasted barley. According to information gathered at the museum, it was the Mesopotamians who first discovered beer thousands of years ago. They discovered that barley was particularly suitable for brewing. Before barley could be used for brewing, the starches it contains had to be broken down. Malting starts this process. The barley is soaked in water until it starts to germinate and the sprouts are allowed to grow for a few days. The grain is then dried in an oven to stop the growth process.
Hops only grow in two regions of the world. This plant needs a specific amount of sunlight, available only between 35° and 55° north and south of the equator. Hops are purchased from Australia, the Czech Republic, Germany, the United Kingdom, the United States and New Zealand, where the highest quality hops are sourced.
Yeast is presented as a national treasure: Arthur Guinness' yeast. Legend has it that the yeast used in Guinness is descended from the strain used by Arthur Guinness himself. Indeed, it is known that since the beginning of the 19th century, part of the yeast from each brew has been transferred to the next. This ensures consistency. Yeast for Guinness is only grown here at St. James's Gate and is so valuable that a supply is always kept under lock and key in the manager's safe. If something happened to the main supply, this precious source could restock in just a few hours.
The water used to brew Guinness at St. James's Gate comes from the Wicklow Mountains. Part of the original lease that Arthur Guinness signed in 1759 gave him significant rights to the water in the town's stream. It was these rights that Arthur Guinness valiantly defended in the 1770s when the sheriffs of the Dublin Corporation threatened to cut off its water supply. Contrary to popular belief, water is not, and never has been, drawn from the River Liffey. The eight million litres of water that flows into the Guinness brewery every day comes from the mountains above the city of Dublin. A good source of water is essential for brewing. In fact, Arthur Guinness founded his brewery here in St. James's Gate because of the excellent water supply. The water used is freshwater with low mineral content. As it flows down the mountains, it absorbs calcium and magnesium sulphate.
Below are a few photos that will tell you more about the process, however, I won't explain everything, otherwise the experience will not be the same if you decide to visit the Guinness Storehouse.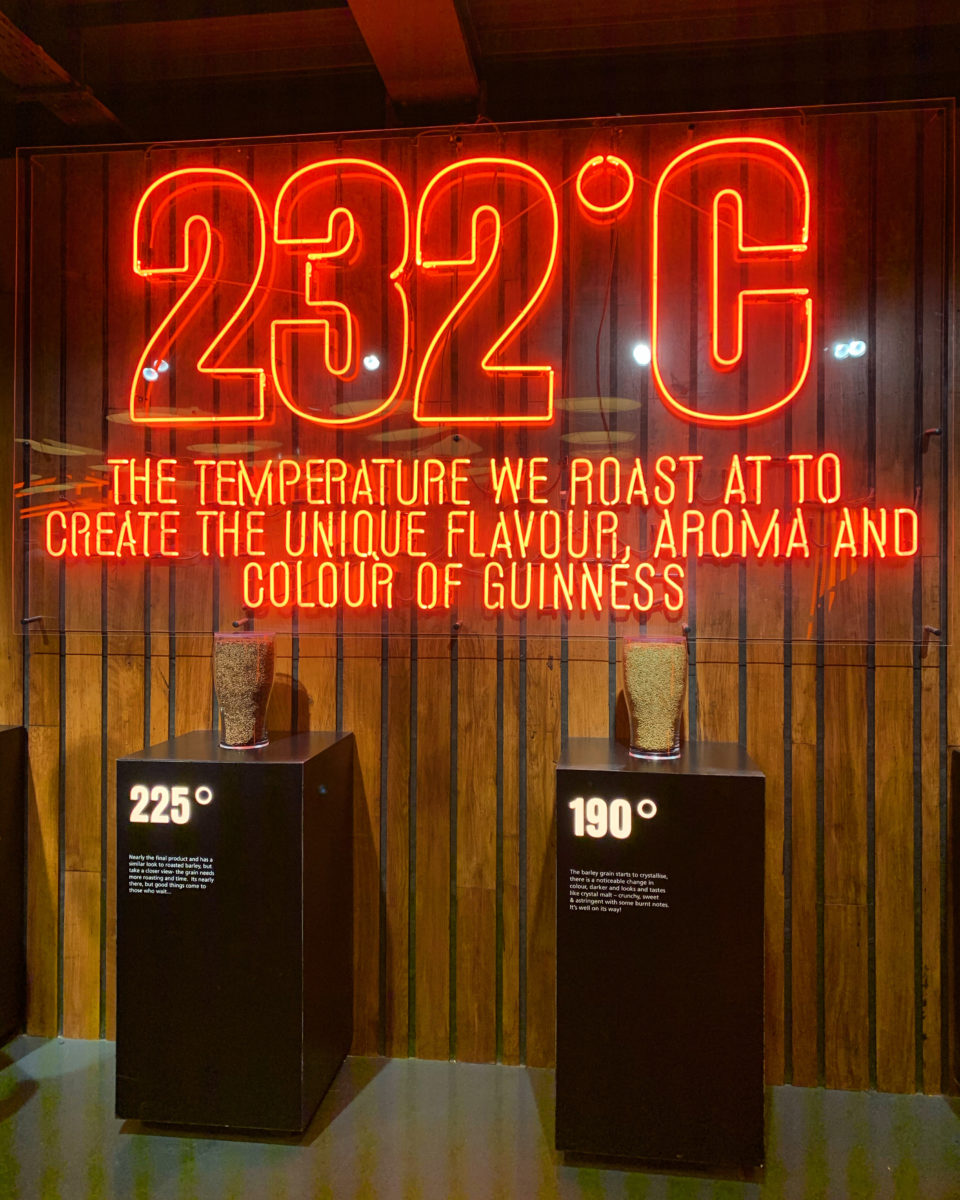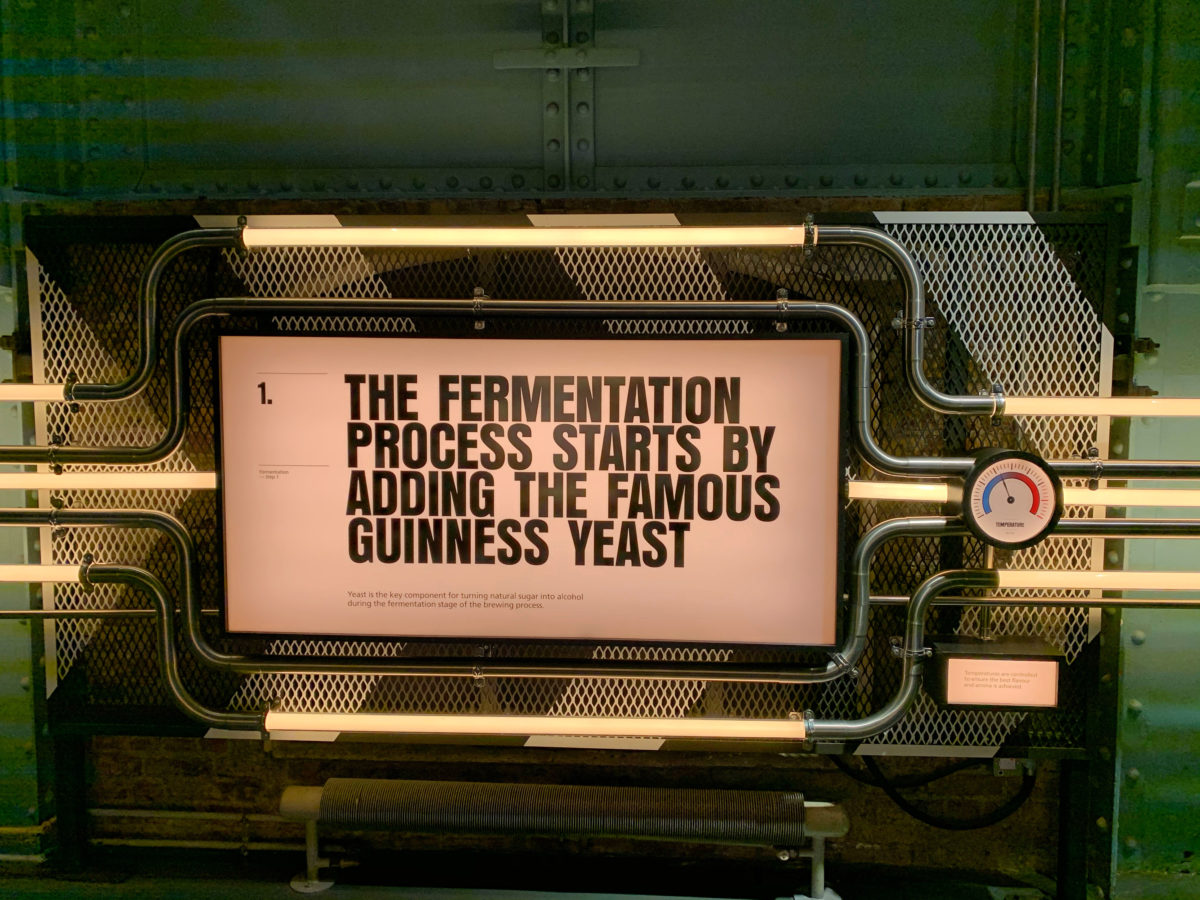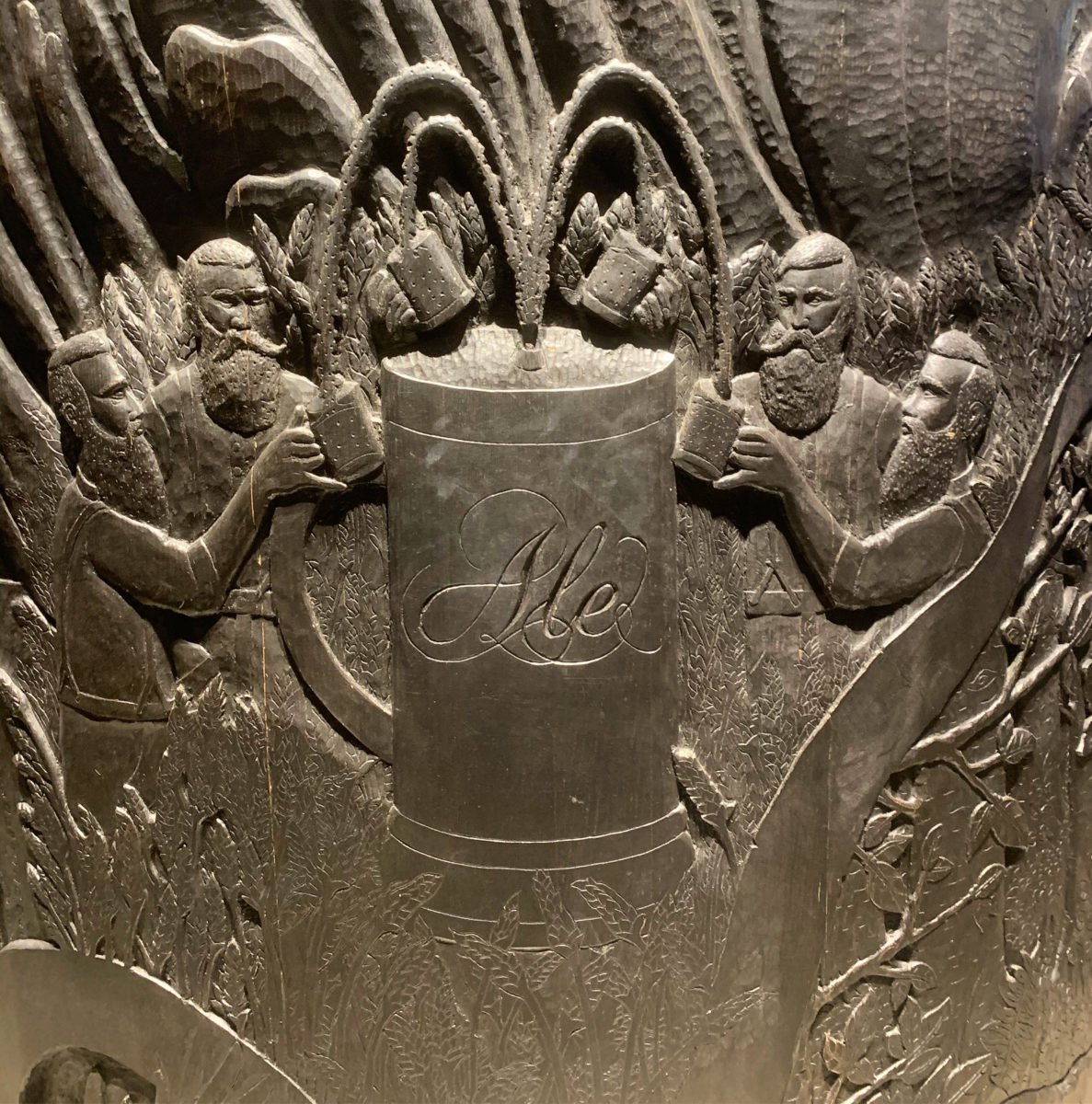 However, if you don't have the opportunity to visit Dublin, if you want to learn more or impress beer-loving friends, here are a few anecdotes about Guinness:
In the language of British brewers, "to store" means to add yeast. The museum is called Guinness Storehouse, the house where the yeast is added.
The brewery once housed the world's largest fermentation vat with a capacity of 2.3 million pints. It was about 26 metres high and was listed in the 1968 edition of the Guinness Book of Records (which has nothing to do with the brand).
It was thanks to the work of Louis Pasteur (a French microbiology pioneer who is best known for having developed a vaccine against rabies) who described the fermentation process in the 1850s, that brewers began to understand how yeast worked, although it had always been used to create beer.
The Guinness brand brews not only its excellent Guinness but also various other beers with its yeast, such as Hop House 13 Lager, Dublin Porter, West Indies Porter, Blonde American Lager, Rye Pale Ale, Nitro IPA and Irish Wheat. They all have different flavours, but all have a Guinness identity.
Each brew is tested 23 times and analysed 251 times by the team of scientists and brewers.
The majority of Irish people drink an average of one Guinness per day.
Guinness is not really black but rather dark ruby red, due to the way the ingredients are prepared (malted barley is roasted).
The brand's marketing strategy is impressive and is based on several symbols: the Celtic harp, the toucan and famous slogans such as "My Goodness, My Guinness". By the way, the floor developed for the marketing strategy is the most interesting in my eyes!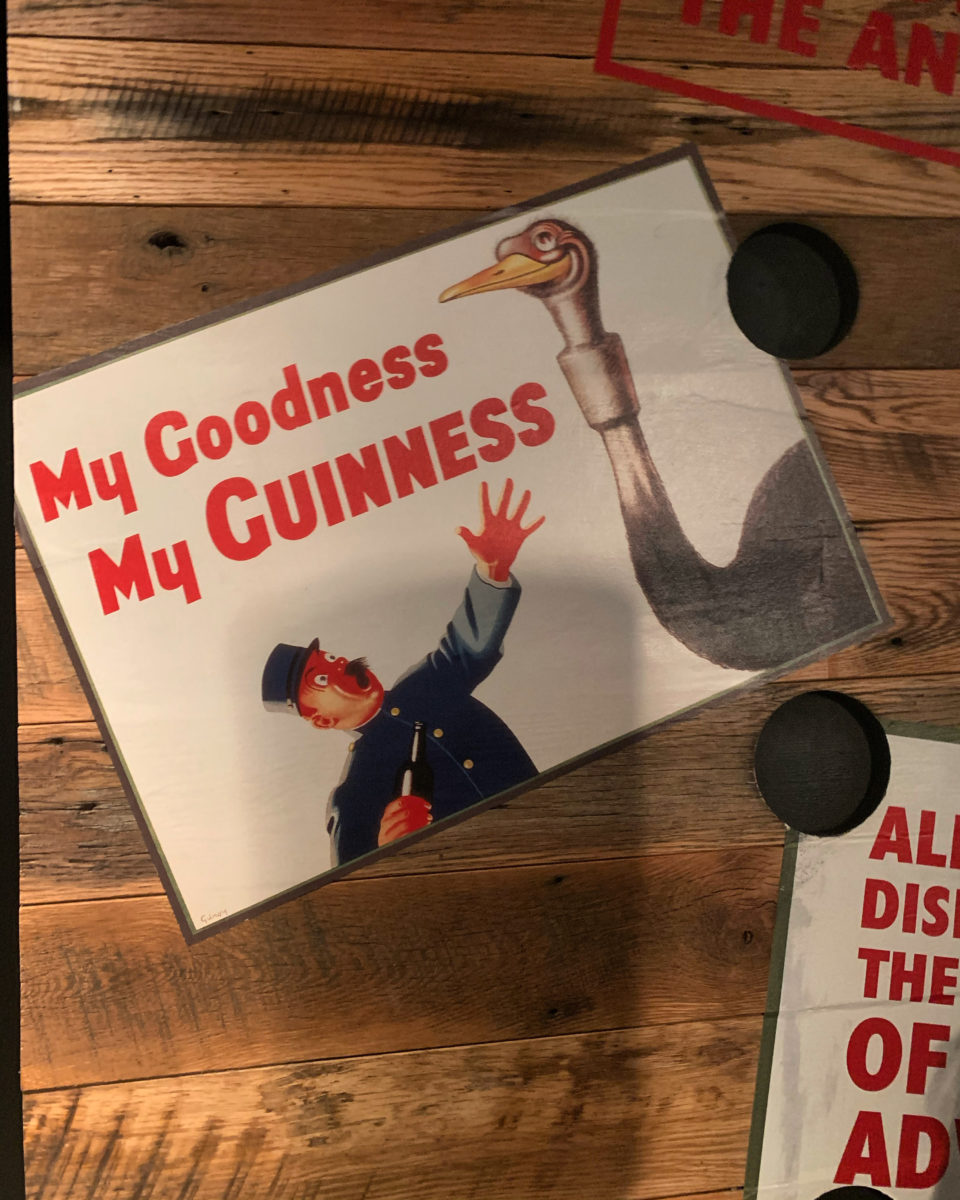 ACTIVITIES NOT TO BE MISSED DURING THE VISIT
Being very interactive, the museum is fun for young and old alike. But the main attraction of this experience, apart from the understanding of beer, is the opportunity to taste Guinness.
If you take the entrance ticket without extra charge, you will have the opportunity to taste Guinness twice! The ticket includes the tasting of a pint of Guinness or a branded Guinness beer but also the tasting of a small glass of Guinness where someone will explain how Guinness should really be drunk in order to feel all the aromas and personality. I was in such a hurry to drink this little glass to find out if it tasted better in Dublin than elsewhere that I forgot to listen to the guide's explanations. Just with this little glimpse of Guinness, I could see a difference, albeit subtle, but perhaps more refreshing than the one I had drunk the day before in Edinburgh before we left for Dublin.
It is really when I taste the beer, included in the entrance fee, that I will really make an impression. Guinness tastes the same as elsewhere! But to think that we savour it in its mythical place, perhaps I must have hallucinated a little and found it different.
Nevertheless, it was the one with my face printed on it that had the best flavours. Excessive narcissism and jokes aside, you have the opportunity, for 6€, to taste a pint of Guinness with your face printed on it. We might as well tell you, that we took this option because it's not every day that you can taste yourself… And then, in this special room, you can drink your beer quietly, hidden from the other tourists who invade the bar.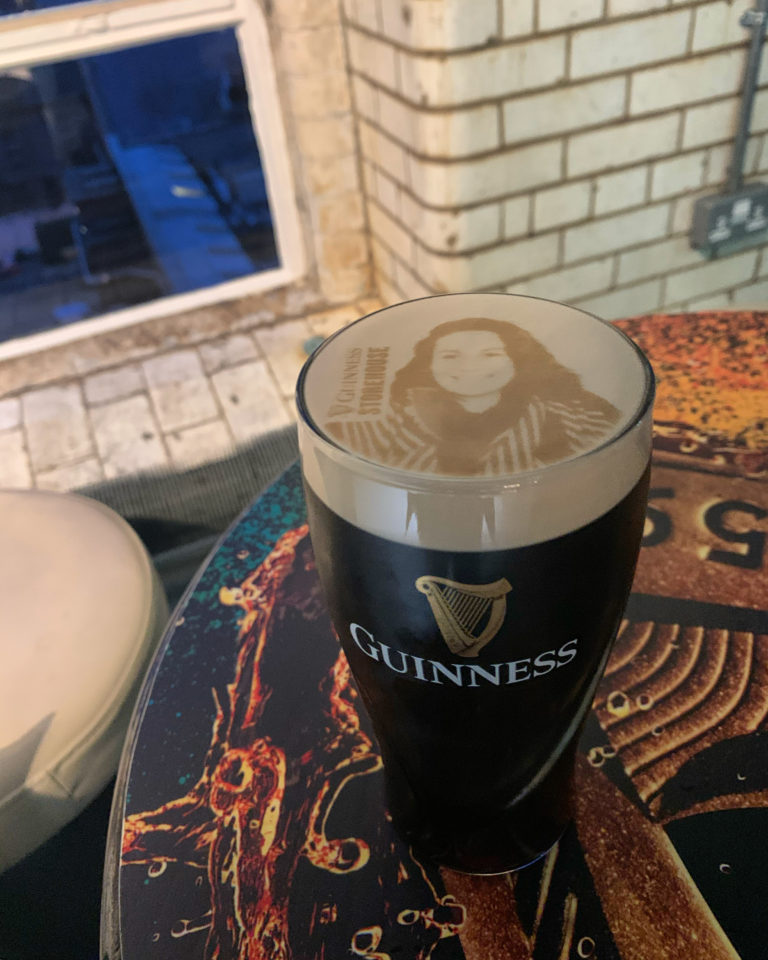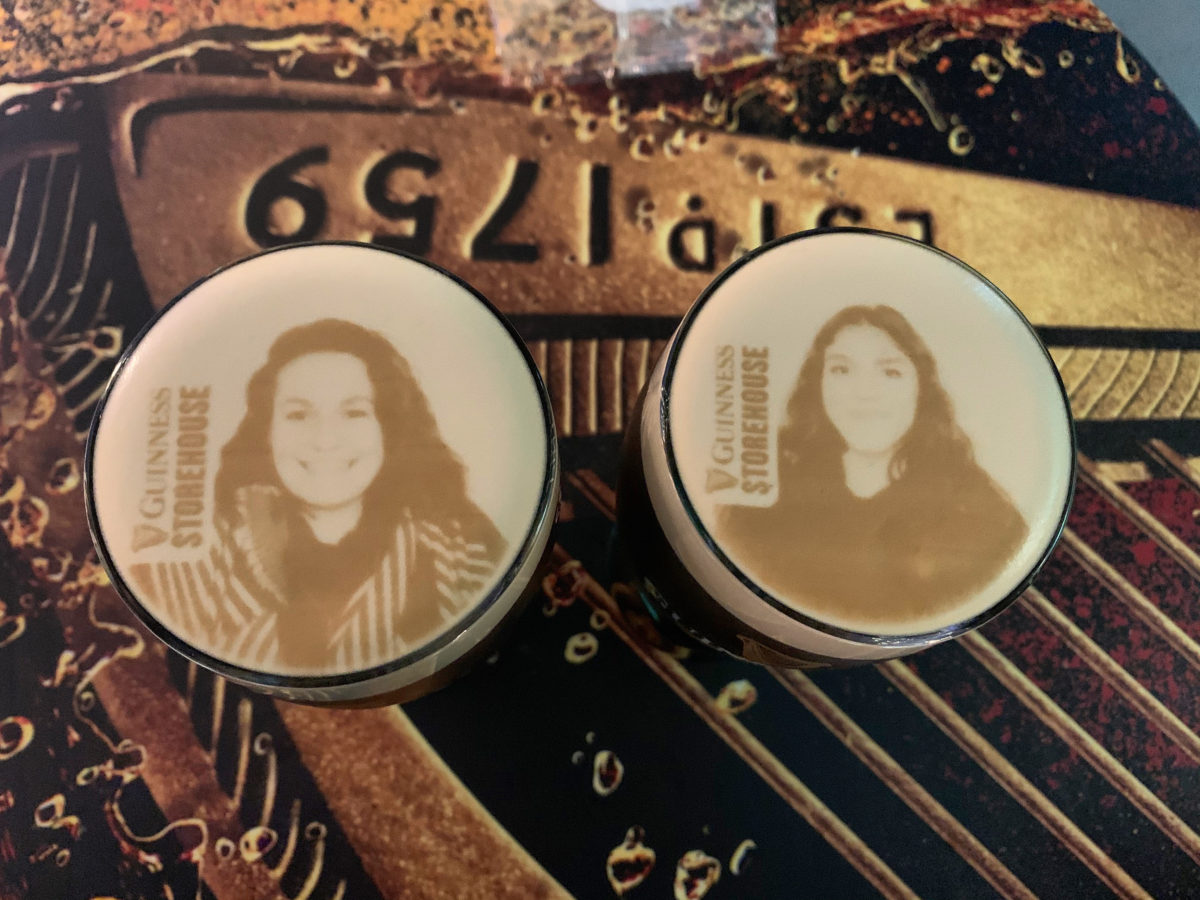 In addition, various packages are offered, such as learning how to serve a Guinness. We did not take part in the task, but we were able to observe a group following a barman's explanation of how Guinness should be served. This is because its draught service is different from other beers and the Irish brewery insists on this. For a Guinness to be served in the best possible way, a preparation time of 119.5 seconds is needed and not a hundredth of a second more or less! And yes, the Irish do not joke about their symbol. I don't think that all the bars in the world serving Guinness on tap really count 119.5 seconds, however, the pint is always served in 2 parts, as tradition dictates, with a settling time necessary for the foam to form (which is inflated with nitrogen and not CO2 unlike other beers).
GUINNESS STOREHOUSE SHOP
I have never seen so many Guinness gifts! At the same time, I can't see where there would be more, but in any case, they have a vast collection of souvenirs, so if you're looking for a great gift for your loved ones, this is the place to find them. I also found that their prices are not too different from the souvenir shops in town, so make sure you get official merchandise.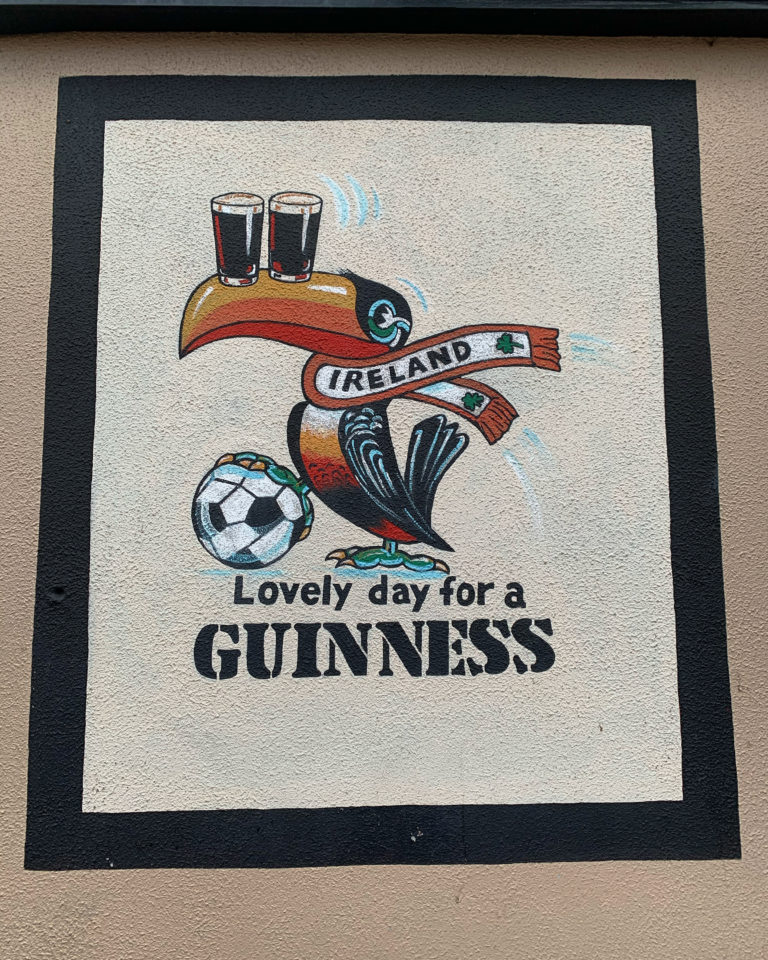 This photo was taken from the walls of a bar in Galway
TIPS FOR POURING GUINNESS BEER AT HOME
Finally, not all of us have the opportunity to travel to Dublin to taste the best Guinness possible, nor the opportunity to go to the pub to savour it on tap. As a result, the Guinness brand for its Guinness Draught beer (which is the official name for the Guinness that everyone knows) has invented a system for its cans.
This is a system called a gadget, which is a moulded plastic device placed just below the lid. When the can is opened, a small amount of beer and nitrogen is released from the gadget creating the famous creamy foam. This will give you the taste and texture of a pint served at the pub – but at home! Eventually, it is not necessary to use the two-step technique to pour the Guinness, but simply pour it in one go into a pint, as the gadget has been released.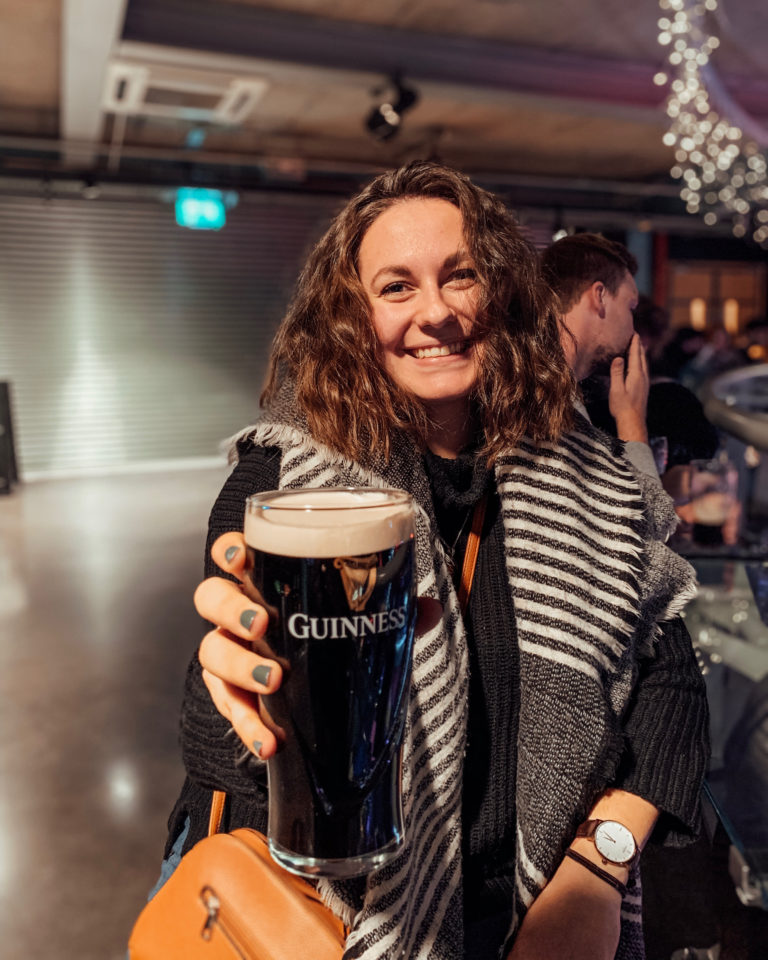 Slaìnte !