I can't thank my friend Viktoria enough for showing me a part of her country, North Macedonia, and its capital Skopje. It all started when she told us that to celebrate her thirtieth birthday, she would organize a party in her home country, Northern Macedonia.
Not going to lie, I took the opportunity to celebrate my friend, of course, but also to discover a country that was still totally unknown to me. Various twists and turns in the planning of this escapade made me couple this trip with the discovery of the capital of Kosovo – Priština (remember my wish to visit the European capitals before my 30th birthday).
This post tells the story of my discovery of Skopje, the capital of the country, with my friend Viktoria, one of her childhood friends living in the Macedonian capital, a Swiss friend of Viktoria's family and (suspense) my dad. I was talking about twists and turns, and my dad was one of them. I was delighted to discover these two countries with him.  
Why visit Skopje?
Travellers exploring the Balkan region won't want to miss the capital of North Macedonia. With its mix of tradition and unusual modern elements, the capital of North Macedonia is an essential stop on any good Balkan itinerary. It's unlikely that you've ever visited a place like Skopje, and isn't that reason enough to see what's going on?
While the city of Skopje has no shortage of curiosities, it's not the kind of destination that requires a lot of time to explore in-depth. The best things to do in Skopje show both the city's historical side and its modern attempt at reinvention, quickly revealing its complex and unusual nature. While a short visit is never enough to fully experience a city, an afternoon in Skopje is enough to understand why this Balkan city is so curious.
An afternoon in Skopje, between heritage and Disneyland revisited
I started my journey in the capital of the country, having arrived by road, at the bus station of Skopje. After a stop at the fortress overlooking the city, it was really when I arrived by bus that I saw the most of Skopje and that I discovered this first aspect of amazement in front of what I was seeing: big statues, imposing buildings of various architectures (neoclassical in Skopje – but why?), pirate ships; I assisted from the window of the bus to an eclectic and comic show. I don't think I've ever been so confused after arriving in any other place, I really had no idea what to do in Skopje.
This only made me want to explore and understand how Skopje, the capital of Macedonia, turns out to be so kitschy, even a nationalistic Disneyland.
I immediately noticed the red double-decker buses, which reminded me of the London ones. A thought that turned out to be right, as these buses are indeed from London. This is due to a terrible earthquake that devastated the city of Skopje in 1963. To help the city rebuild, the then Mayor of London loaned 18 red double-decker buses, which are still in operation almost 60 years later.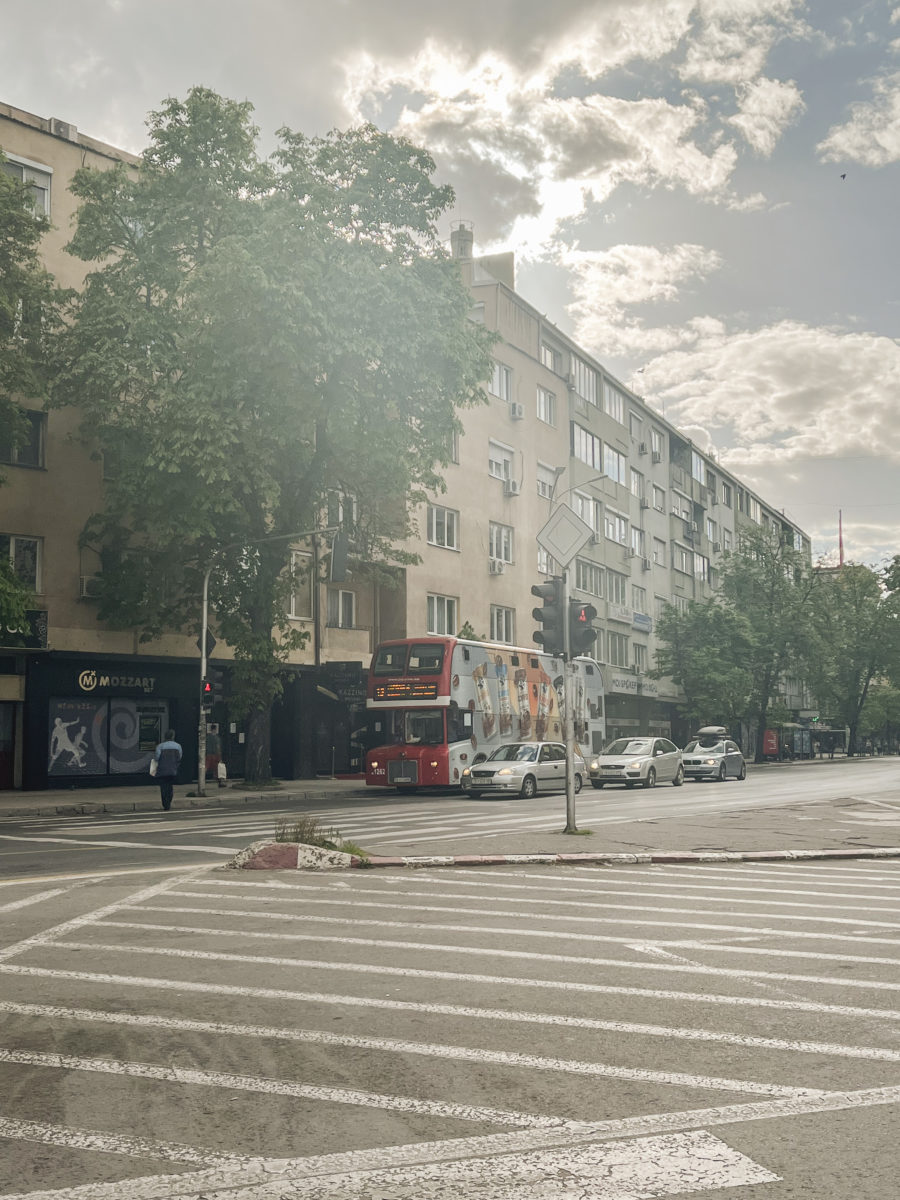 At first, I thought it was the "hop-on-hop-off" sightseeing buses, but then I thought that since Skopje is not such a tourist city, it must be the public transport of Skopiotes. Indeed, North Macedonia does not receive many tourists, rather towards the south and the lakes (which look like a beautiful region!). The potential is great to discover this unknown country. I mention here an escapade a few kilometres away from Skopje.
I met my friend and her friends at the bus station. The tour was about to begin. This is also what I like when I travel, to be able to discover a place through the memories and opinions of locals. Although she did not live in Skopje but in Kumanovo (25 km from the capital), Viktoria started to tell us various anecdotes about the city and the country. Her friend, who currently lives and works in the capital, completed the various comments. However, it is through the eyes that the city of Skopje presented itself to us.
What jumped out at me was that Macedonians are fond of shopping, and we passed through a large shopping centre before arriving at a huge square surrounded by tall buildings with a gigantic statue at its centre. It doesn't take me long to guess who the person was, riding a horse proudly: Alexander the Great.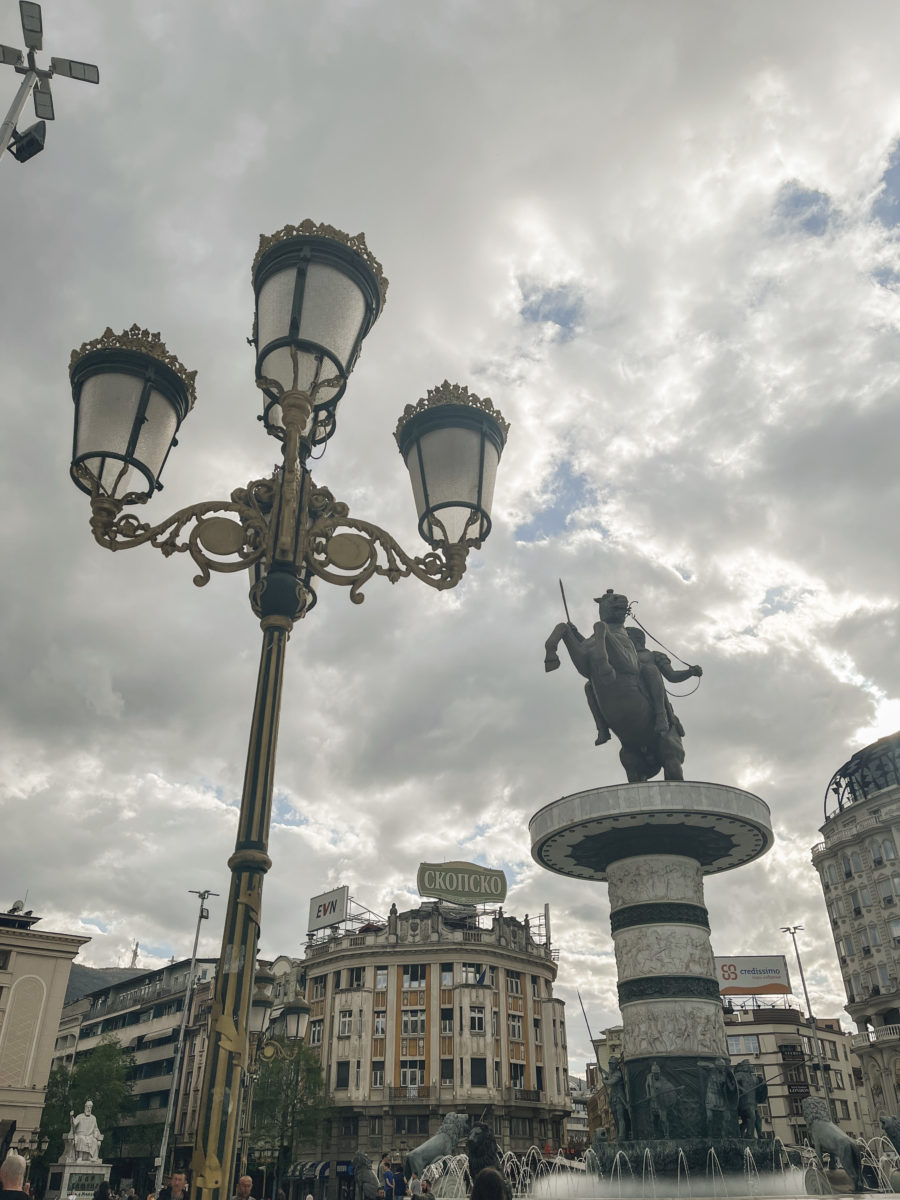 As Viktoria explains to me, in Macedonia it is very unlikely to restore monuments, they prefer to build new ones, always bigger and more eccentric. This is a pity because you don't feel that this part of the city has a past, a history. And yet there is plenty of material for this, with notably Philip of Macedonia and his son Alexander the Great, but also the whole Byzantine and Serbian occupation, etc. Fortunately, the more historical and traditional part will be felt later in our visit.
In the distance, I could see an Arc de Triomphe and as I turned around, I saw that my group was walking across a bridge that looked very familiar. With its many statues, one would swear one was transported to Prague, to the Charles Bridge. Except that it looks like a very pale copy, although considerably neater (that's also the charm of the Charles Bridge, its legendary darkness).
As we were exploring, I was struck by the impression of being in a reconstruction of several emblems of foreign countries (I mentioned the Arc de Triomphe, but there is also a bull statue reminiscent of Wall Street, or neon signs advertising Coca-Cola). An eccentricity that could give the capital a charm, but which makes it disjointed and not very warm, although on a human scale. Nevertheless, it is impressive to observe.
As if that wasn't enough, brand new, old-looking ships have also been built and are now moored on the Vardar River.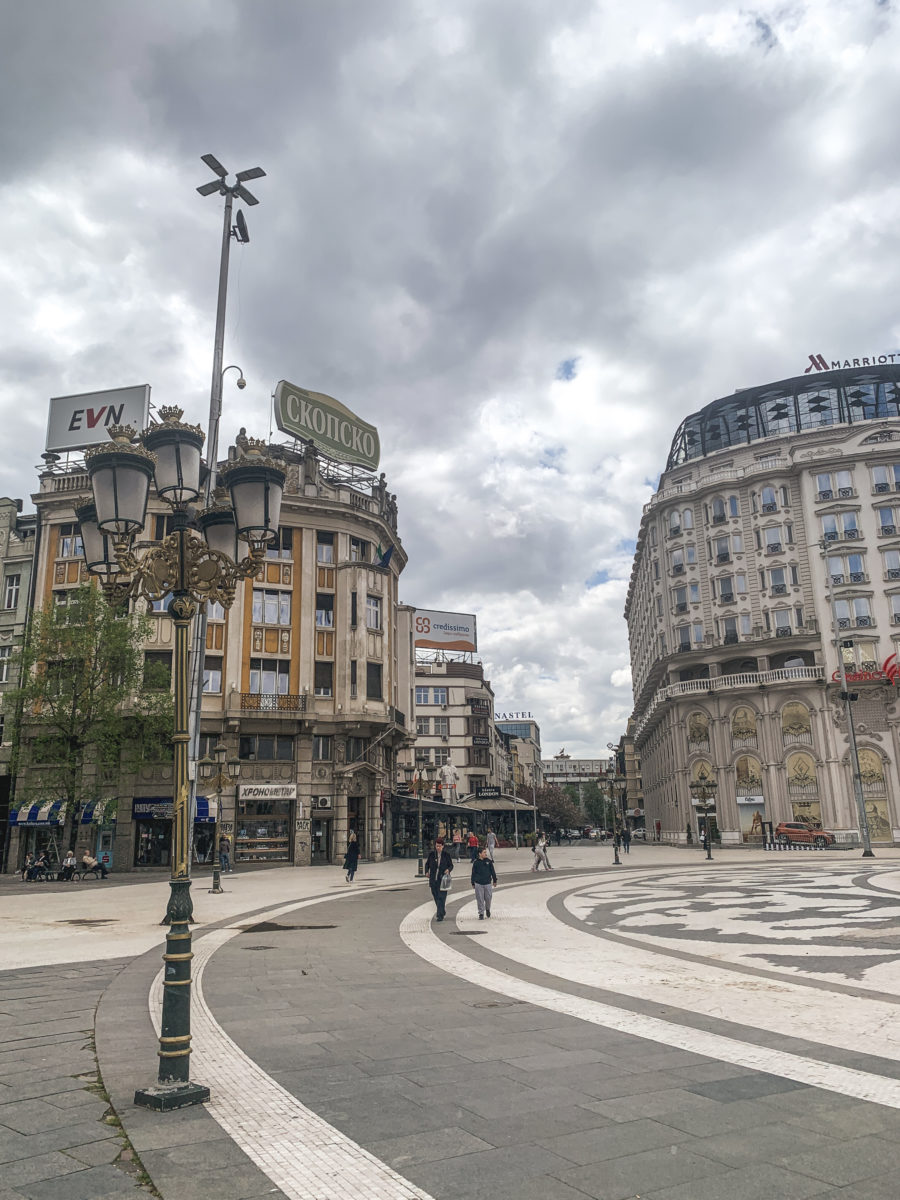 On further enquiry, I discovered that all this is the result of a project called "Skopje 2014" for the reconstruction and modernization of the capital. The gigantic fountain with the statue of Alexander the Great is part of it and cost the country about 7. 5 million for the country…
Nicknamed "Warrior on a horse", with its 14 m height, it is the symbol of the scandal that plagues North Macedonia, wanting to spend (or waste) public money for a capital that doesn't need so much grandeur, nor pale copies of other famous places in the world, nor a cult dedicated to a great emperor (but who is really worth a kitschy fountain and dozens of statues dedicated to this family in the city ?).
It's as if Macedonia, or at least the city of Skopje, had said to itself, with this urban planning operation, "we are showing the world what we can do"…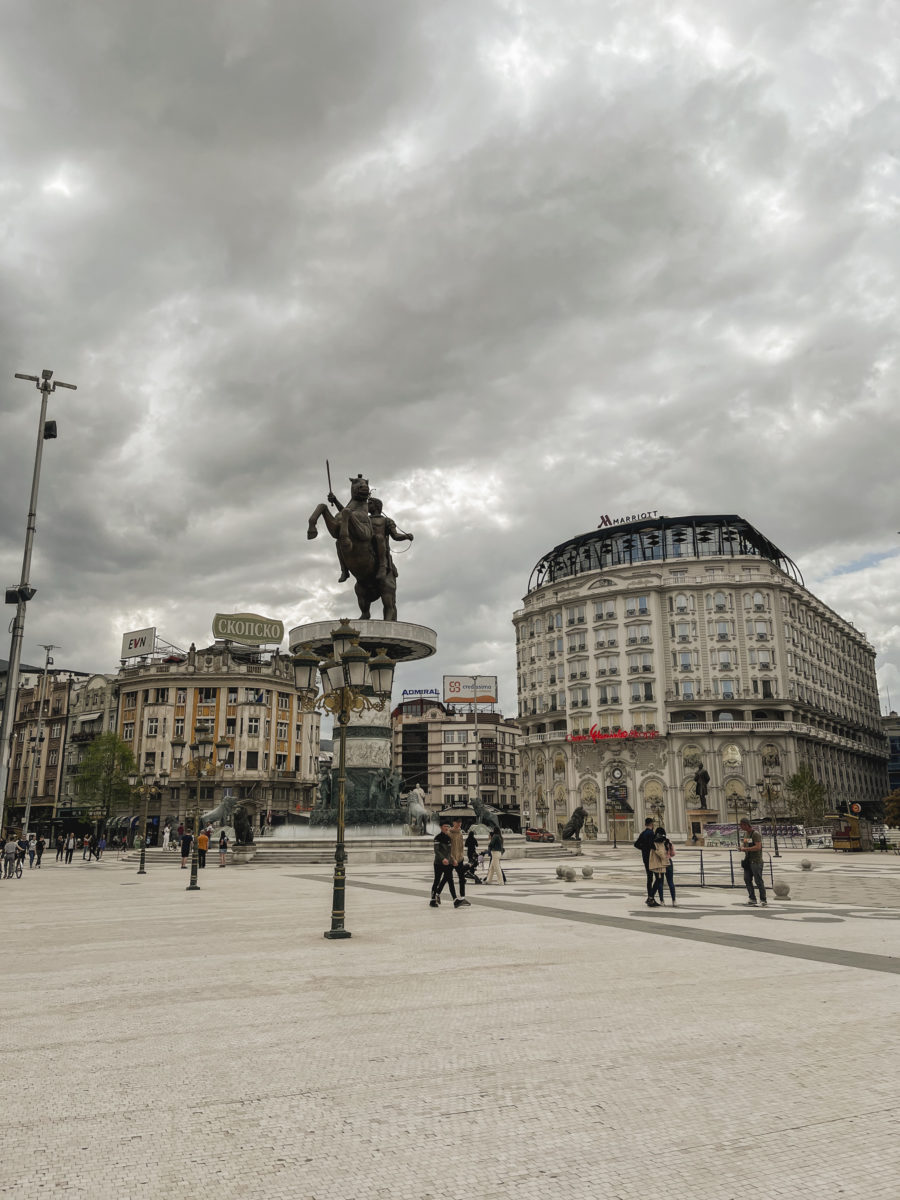 This Skopje 2014 project, even today, is not unanimously supported, naturally because of its total cost (more than 200 million euros) but also because of its historicist and nationalist character, with no representation of the Albanian minority (still a quarter of the population of Skopje).
In the end, it takes me barely twenty minutes in this part of the city to get fed up with all these statues. They are literally everywhere: on the ground, on the bridges, on the roofs, in the water of the Vardar, basically everywhere.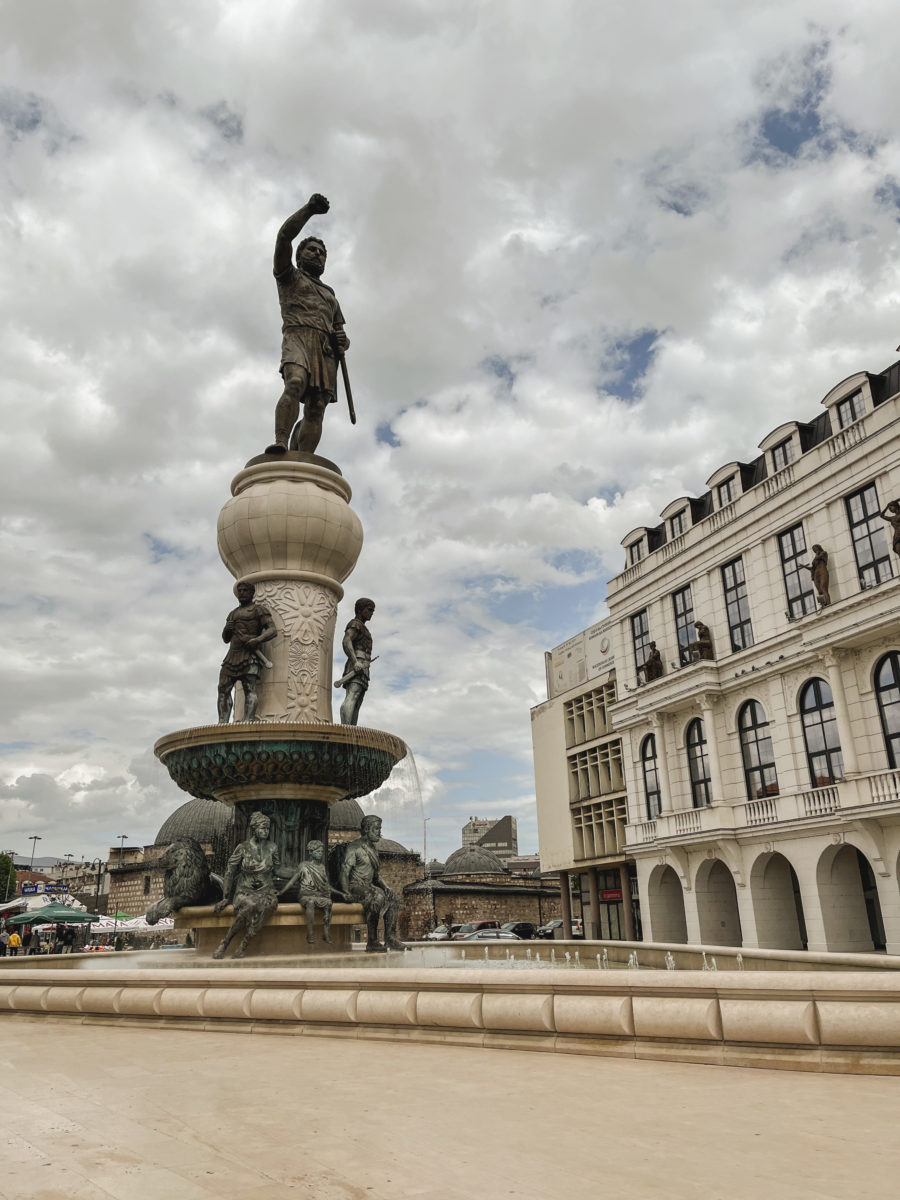 I didn't see Skopje before they were built, so I can't compare. But no matter what you think of the new look of downtown Skopje, it's an interesting experience to walk around these crazy-looking buildings and form your own opinion about them.
I reconciled myself with the city, by arriving in its more historical part: called Old Skopje. This is the district of the Old Bazaar. Miraculously spared by the 1963 earthquake, this is the reason why its authenticity contrasts with the kitsch and the fake of the new part. It is a beautiful testimony to the Ottoman presence.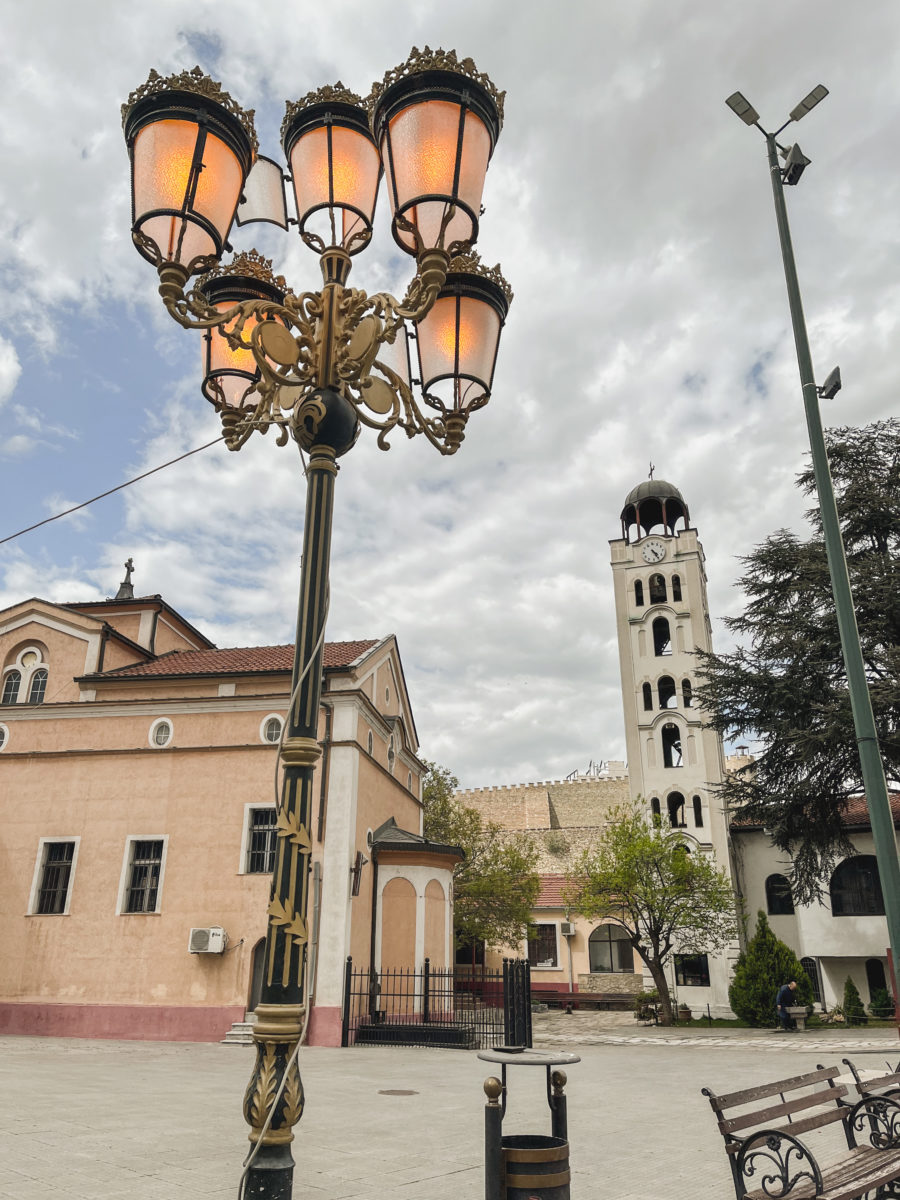 I learned while tasting a Turkish coffee in an alley (I loved discovering this aspect in Turkey, coffee being an important ritual in my eyes – by the way, in this shop, they make it in the sand, which is fascinating), that the bazaar of Skopje is the second-largest bazaar of the European continent, after the one in Istanbul. Here, as in many Balkan cities, the coffee scene is very important, Skopje being no exception with its thick, super cheap and naturally delicious coffee.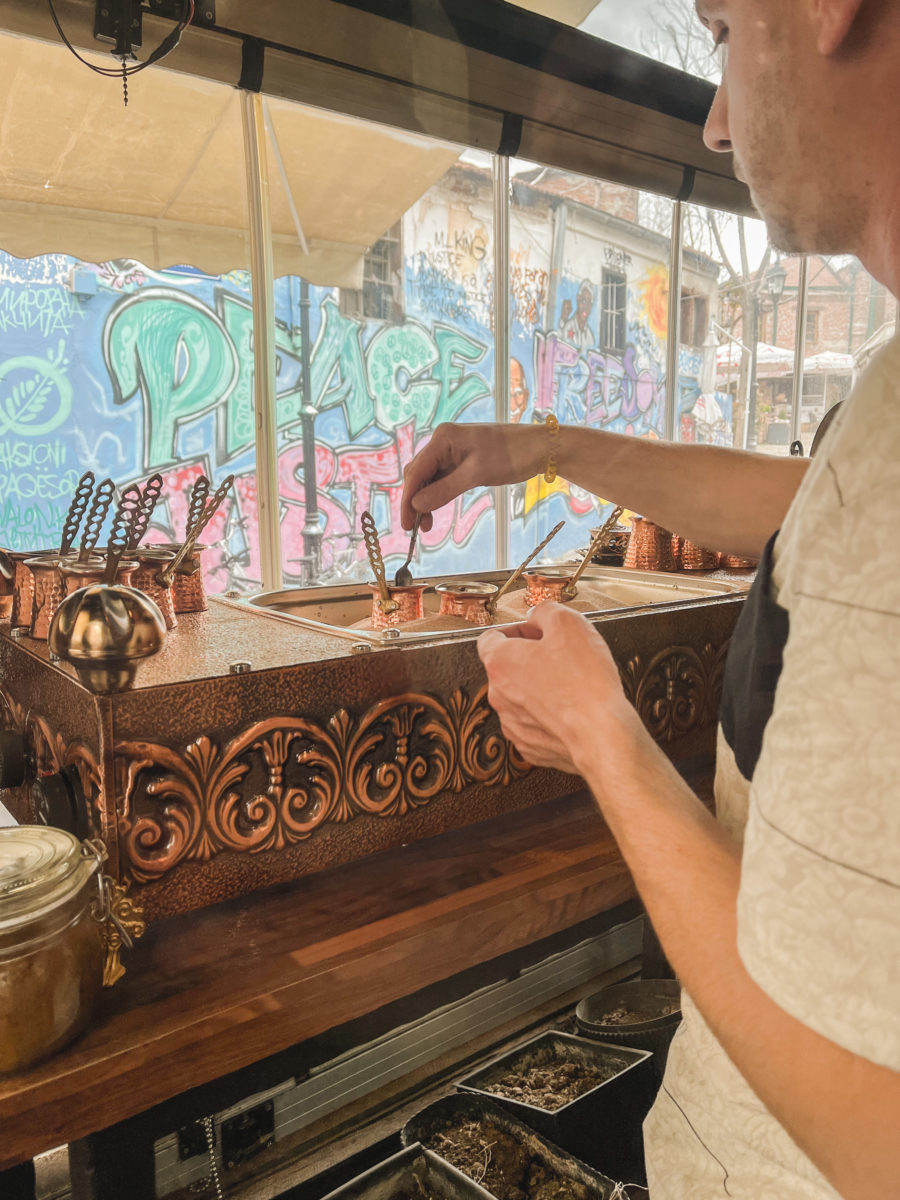 Skopje's past in the Ottoman Empire allows me to learn more about the non-contemporary history of the country. It was at this time that the city became predominantly Muslim and undertook a commercial function, due to its optimal position between Central and Western Europe and Greece.
Today, North Macedonia, like Skopje, is characterized by great ethnic diversity, being situated in the meeting zone between Macedonians and Albanians. In the course of its past, Roma, Turks, Jews and even Serbs came to settle in the city. I told you that it was mainly Muslim towards the beginning of the 19th century, today the population is mainly Orthodox Christian, after the annexation in 1912 of Vardar Macedonia by Serbia. There is, however, an Albanian Christian minority in Skopje, from which Mother Teresa, for example, is descended
Yes, for the record, Mother Teresa was born in Skopje (formerly Üsküb under the Ottoman Empire) in 1910. She lived there for the first 18 years of her life, before going on a mission to India. The city pays a lot of tribute to her, and it is true that I had to read her Wikipedia entry to understand her story, having also seen tributes in Priština (the main street is called Mother Teresa Street), and having thought she was from Kosovo. In the end, it is a question of ethnicity, which is what governs the Balkans.
Mother Teresa is Albanian, a people who live in Kosovo (which has emancipated itself from Serbia). So she is specially commemorated in her ethnic Albanian Balkan homeland – come on, guess what the airport in Tirana, the capital of Albania, is called? There is a museum dedicated to her in Skopje, I think if you are interested in it, it is worth a visit.
From stall to stall, we strolled through these pleasant alleys, easily surprised, my dad and I to discover this so authentic aspect after the decadence of the new part. Part of us, however, laughed at the coincidence that Alexander the Great is the son of Philip of Macedonia. It didn't take much to proclaim myself Empress Alessandra the Great, my father being called Philip.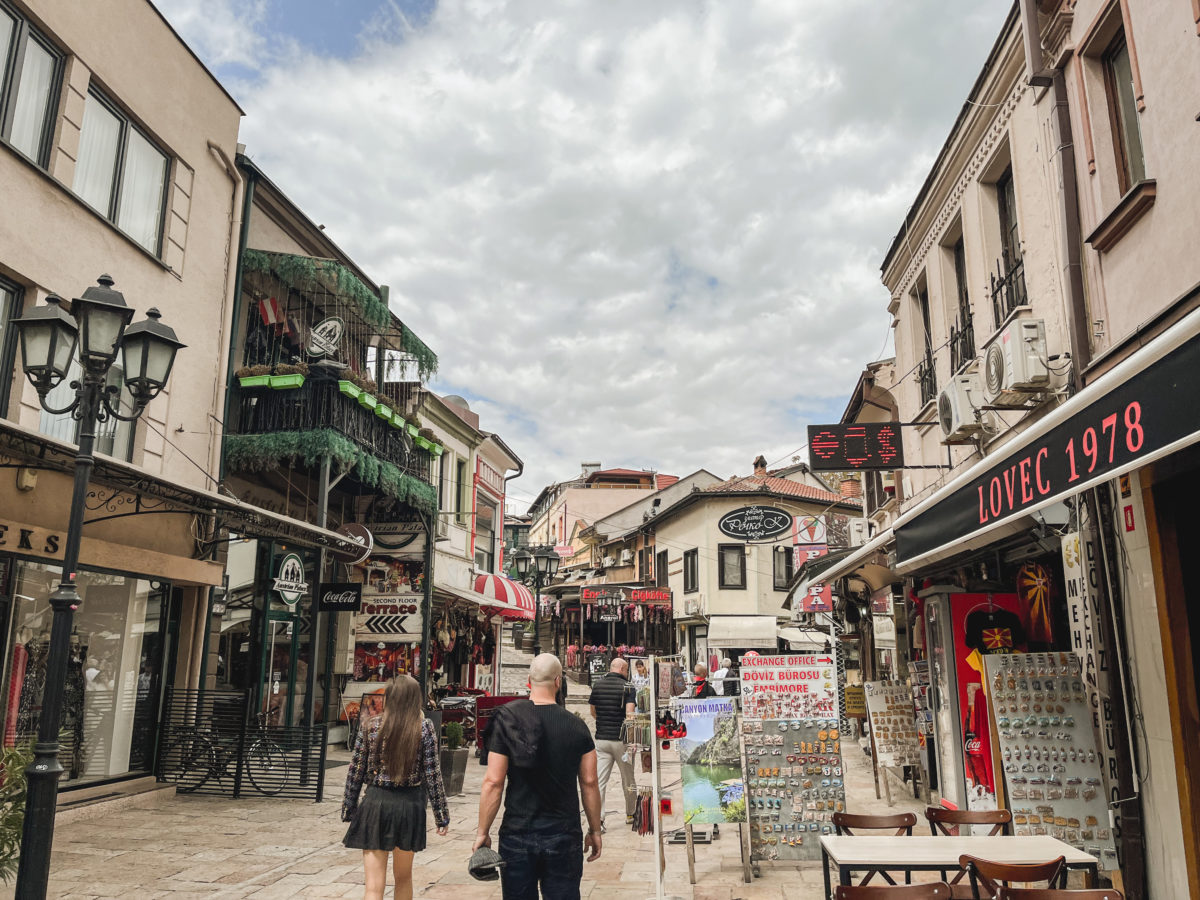 You can feel the authenticity as I was saying because it seems to me that this is the heart of the city for the inhabitants of Skopje. We eat there, we do our market and our shopping in the numerous shops, and we also pray there, because it is there, in the middle of this labyrinth of lanes that churches, but also mosques are hidden, the country being 33.3% Muslim.
It is easy to get lost in the maze of narrow streets, but you can also find real gems in the most unexpected places, like the bezisten (old covered market) or the Haman (public baths). The old bazaar is in such contrast to the rest of the city. It seems as if time stopped a century ago.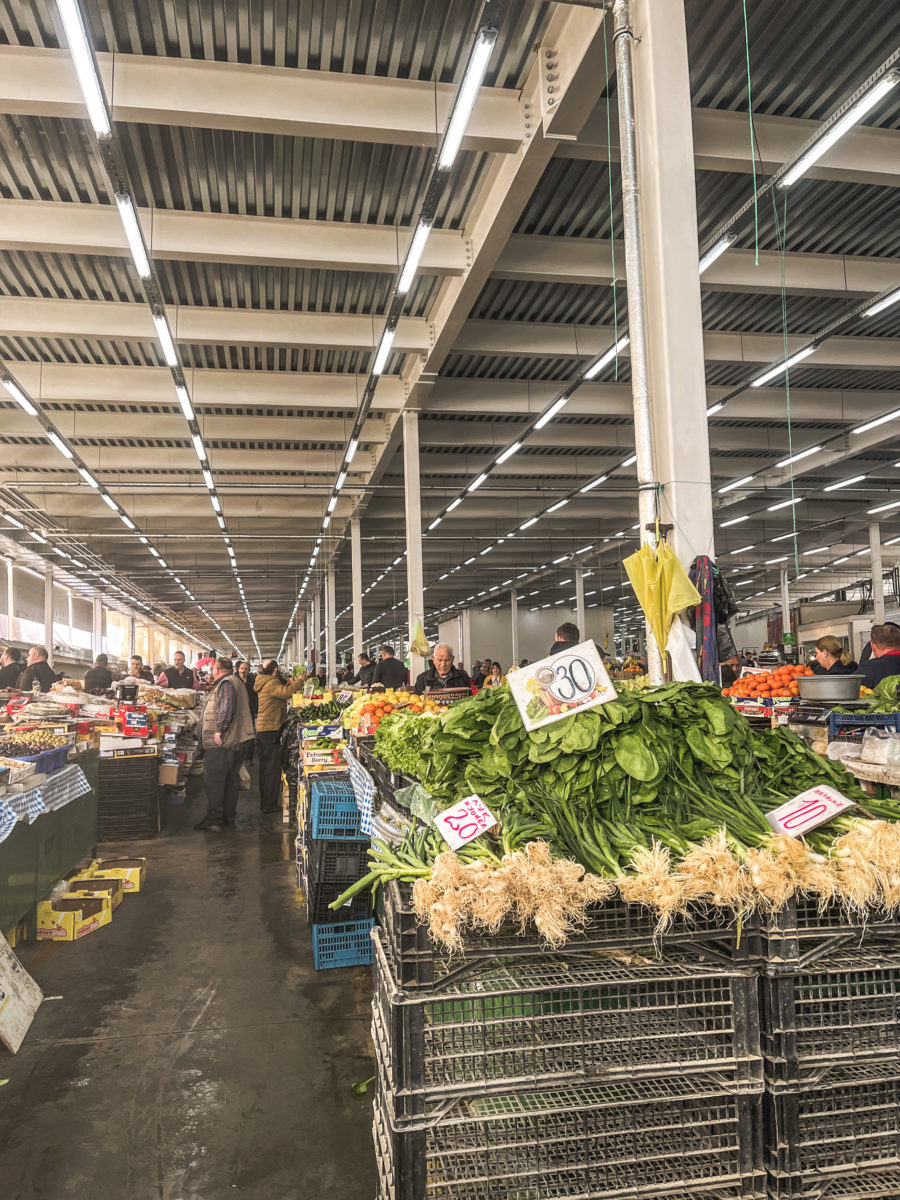 After wandering around and buying various things, we decided to have a bite to eat, as my friend was keen to show us the delights of her country. It was 3:30 pm and I wondered how we were going to do it, having festivities (again including tons of food) with the whole family at 8 pm that evening… no one seemed to mind, and we ordered various dishes to share… a real feast.
It was especially the time to discover a local custom, that of drinking an eau de vie as an apéritif… An idea which pleased my dad but which left me dubious, having eaten nothing since breakfast and wanting to have something in my stomach before ingesting 42 degrees bottoms up. I was reassured that it could be tasted and not drunk as a shot (at least not as an apéritif). I knew it was a bad move, as I spent the next few days drinking 40+ degrees of alcohol before each meal…
Long live the Rakija tradition. It is alcohol obtained by distilling fermented fruit juices, very popular throughout the Balkans.
In the end, the city of Skopje will bring you many moments that may be considered "WTF", but this is part of the obvious pleasure of discovering new and more unusual places.
Arrival from Priština to Skopje
After a nice day of exploration of the Kosovar capital, we went on a Saturday morning to the bus station in Priština to take a bus to Skopje. The different websites we browsed did not allow us to know the frequency of the buses nor their precise timetable (even Rom2Rio was of no help to me). Favouring reliability, having seen that there would be a bus around 11:30 am, we arrived at the station around 10:30 am. Almost at the snap of a finger, we had the opportunity to take two tickets to Skopje to actually catch a bus at 11:30.
The usual practice is to take the ticket on the bus, however, we wanted to secure a seat, which left us waiting for an hour in the bus station. The bus cost 7 euros for a 1.5-hour journey.